Canon EOS 80D DSLR Camera with 18-200mm F3.5-6.3 DC C Macro OS HSM Lens
Free Shipping for Orders over $98*

(*excludes bulky items)
No SURCHARGE FOR CREDIT CARDS
24.2 Megapixel APS-C Sensor
DIGIC 6 Image Processor
Full HD 1080p video recording at 60 fps
Burst shooting of up to 7 fps
ISO range of 100-25,600
Near 100% coverage optical viewfinder
Servo AF II Autofocusing system
3.0", 1.04M-dot, variable angle touchscreen LCD
45-point Autofocus module
Improved Dual Pixel CMOS Autofocus
HDR and Time Lapse movie modes
Creative Filter options
Built-in Wi-Fi and NFC capability
2 Years Genuine Warranty with Canon Australia

The improved Dual Pixel CMOS Autofocus feature of the Canon EOS 80D DSLR Camera makes it a very formidable upgrade from its predecessor, the 70D. With the help of the Servo AF II Autofocusing system and its 45-point Autofocus module, tracking subjects during still live view shooting is a breeze. However, this Canon DSLR is more than a one-trick pony. Sporting a 24.2 Megapixel APS-C Sensor, it captures captivating stills via the DIGIC 6 Image Processor. Image enhancements can also be accessed through the device's Creative Filter options. Low-light shooting is no problem too because of its wide ISO range of 100-25,600. Taking more images in a shorter time is also allowed via the 80D's burst shooting of up to 7 fps. Likewise, its near 100% coverage optical viewfinder reduces the need to crop images during processing. Full HD 1080p video recording at 60 fps is also possible with this Canon prosumer camera and you can also take advantage of HDR and Time Lapse movie modes. All recorded media and live views of shots can be reviewed through the 3.0", 1.04M-dot, variable angle touchscreen LCD. Once you are satisfied with the shots, you can share them to other mobile devices with its built-in Wi-Fi and NFC capability. This camera comes with Sigma 18-200mm F3.5-6.3 DC C Macro OS HSM Lens.
---
Product Features in Detail

DIGIC 6 Image Processor
The EOS 80D camera is equipped with Canon's DIGIC 6 Image Processor, which helps provide excellent image quality and processing speed in both photos and video. High light sensitivity allows for high resolution with less noise when shooting in dark conditions at ISO 12800. The DIGIC 6 Image Processor also powers the camera's performance capabilities, providing full resolution high-speed continuous still shooting and distortion correction in-camera. Video recording in MP4 format provides seamless compatibility with mobile devices and tablets. Highly compressed MP4 video not only preserves space on your memory card but also improves playback on mobile devices. Recording HD videos using HDR movie feature is possible, expanding creative possibilities.

A touchscreen LCD that offers flexibility
The EOS 80D camera comes with a Vari-angle Touch Screen 3.0-inch Clear View LCD monitor II for shooting videos and stills at a variety of angles, high or low, with up to 270° of vertical rotation and up to 175° of horizontal rotation. Whether shooting with a tripod or handheld, the EOS 80D's LCD excels in moviemaking at virtually any number of angles and positions, making it easy to create great movies of athletes on the field, kids in the park, documentary interviews and more. The screen is touch-sensitive, delivering intuitive touch panel operation. Two-finger touch gestures can be used for zooming or changing images. Menu and quick control settings can be accessed, and focus point and shutter release can be activated with the touch of a fingertip using Touch AF. Displaying fine detail (at approximately 1.04 million dots), this screen can be ideal for composing and reviewing images. The LCD's surface is also treated with a smudge-resistant coating to help minimize fingerprints and maintain a bright, clear image display, even in bright light.

45-point, all crossfire Autofocus system
For next-level AF operation, the EOS 80D camera has a wide-area, 45-point, all cross-type AF system. Excellent in dim light, it has improved low luminance performance to EV -3 and is compatible with most EF lenses (lenses with maximum apertures of f/8 or higher, and some lenses with extenders attached may operate at a maximum of 27 points). It also features 4 types of AF area selection modes useful for a number of different AF situations. These include user-selectable Single-point AF, Zone AF, where users can select from one of 9 predefined AF zones; Large Zone AF, where one of three zones can be selected; and 45-point AF auto selection, where the camera detects the AF point automatically.

An almost perfect viewfinder
Providing a bright and comprehensive view, the EOS 80D camera's Intelligent Viewfinder helps bring the thrill of SLR photography with each use. Approximately 100% coverage means there's virtually no guesswork when it comes to composition, and with all settings available at a glance, the Intelligent Viewfinder helps photographers keep their eye on their subject so the image can be captured at the right instant. The Intelligent Viewfinder displays AF points and AF mode, has a grid display, a horizontal electronic level, plus numerous other points of information, all of which can be hidden for manual focus, or if the photographer simply wants to observe his/her subject without all the image parameters displayed.

Dual Pixel CMOS AF 2.0
The EOS 80D camera features Canon's improved Dual Pixel CMOS AF for fast and smooth AF during Live View and movie shooting. Boasting enhanced speed, smoother tracking and compatibility with all EF and EF-S lenses, the EOS 80D's Dual Pixel CMOS AF system excels, providing stellar AF and tracking even in difficult shooting conditions. This Canon technology is made possible by placing two photodiodes per pixel, instead of one, and enabling each pixel to perform phase-difference detection autofocus. This means fast, accurate AF and virtually no loss in image quality with extended coverage across approximately 80% of the image plane.
The benefits of Dual Pixel CMOS AF are clearly evident in video shooting, where bringing scenes and subjects into focus is a critical element of the final composition. On the EOS 80D, Dual Pixel CMOS AF helps ensure focus is achieved naturally and precisely, even when switching between subjects. Combined with the predictive power of Movie Servo AF, subjects in motion are smoothly and consistently tracked – once the EOS 80D locks focus, it virtually doesn't let go.
Aim high with NFC and Wi-Fi
The new EOS 80D camera incorporates wireless technology right into its compact design. The camera's exposure settings, such as aperture, shutter speed, ISO, focus and shutter can be operated wirelessly using a compatible iOS® or Android™ smartphone with the free Canon Camera Connect app. Using a compatible smartphone with the Camera Connect app installed, you can shoot remotely from a distance, even in Live View mode, for those difficult-to-capture shots; you can also review images on the EOS 80D without having to take it out of the bag, and easily transfer and save images directly from the camera to a smartphone. Full DLNA (Digital Living Network Alliance) compatibility means easy sharing between the EOS 80D and other DLNA products, like HDTVs, smartphones and more. Still images can even be transferred between two wireless-enabled Canon cameras over a Local Area Network (LAN). Images and video can be uploaded instantly to CANON iMAGE GATEWAY# for easy sharing on social networking sites, and photos can even be printed on a wireless PictBridge-certified printer without the need for a PC. Remarkably, the EOS 80D has all of these wireless features without the need for any additional accessories; they're built right in!
Meanwhile, Near Field Communication helps provide a virtually seamless connection to numerous compatible Android™ smartphones, and the Canon Connect Station CS100. To transfer your photos and videos, simply tap the EOS 80D camera to the Connect Station CS100 and the transfer is done! With the Connect Station CS100, you can store, view and organize all of your photos and videos from just one device.

Superb HD video recording
The EOS 80D camera makes it easy to capture and share high-definition, high-quality movies quickly, easily and with virtually no compromise. In bright daylight or at dusk, whatever the speed of the action, the EOS 80D can help make sharp, beautifully exposed movies that are as easy to share as they are to capture. The camera's Dual Pixel CMOS AF system focuses fast, and Movie Servo AF tracking helps maintain focus even when the action gets going. The Vari-angle Touch Screen monitor also makes it easy to compose from most any vantage point, while Creative Filters and a clever Video Snapshot feature encourage experimentation. The ability to record movies as both MOV and MP4 files makes sharing fast and easy. Manual volume recording control, digital zooming and a headphone terminal add to the EOS 80D's impressive collection of high-end moviemaking features.

RGB + IR Metering Sensor
Among the advanced electronics onboard the EOS 80D camera, a fine-tuned RGB+IR metering sensor not only helps ensure accurate exposure, but also uses Color Tracking to detect skin color and help provide precise AF. This is particularly useful when establishing focus for portraits in situations where other AF systems may falter. When a skin tone is detected, AI Servo AF starts off on skin-colored points, then tracks the subject based of the original AF point's color information, maintaining focus on the person even when they're in motion.

Enhance videos wth HDR and Time Lapse
The EOS 80D camera introduces a number of new HDR (High Dynamic Range) modes that offer a great range of highlight and shadow detail for naturally rendered images, especially in contrasting lighting. In HDR Movie mode, the EOS 80D captures two HD movie frames at different exposures, one standard and one underexposed, in short succession at up to 60 fps, then combines them together for playback at up to 30 fps. HDR effects for still photography include Natural, Art standard, Art bold, Art vivid and Art embossed.

Meanwhile, it also has a Time-Lapse Movie feature that takes still photos at set intervals and joins them to create a silent movie. Ideal for showing the moving clouds across the sky, growth of a plant, changes in scenery, the flow of people walking and more, the EOS 80D's Time-Lapse Movie function creates professional-quality movies in-camera without the need for a computer, saving precious time when out in the field.
Type

Type
Digital, AF/AE single-lens reflex camera with built-in flash
Recording Media
SD, SDHC and SDXC Memory Cards
SD speed class compatibility
UHS speed class compatibility
High-speed writing is supported when a UHS-I-compatible SD card is used
Compatible with Eye-Fi Cards
Multimedia cards (MMC) cannot be used (card error will be displayed)
Image Format
Approx. 22.5mm x 15.0mm (APS-C)
Compatible Lenses
Canon EF Lenses (including EF-S lenses, excluding EF-M lenses)
Lens Mount
Canon EF Mount

Image Sensor

Type
CMOS Sensor
Pixels
Approx. 24.2 megapixels
Pixel Unit
Approx. 3.72 µm square
Total Pixels
Approx. 25.8 megapixels
Aspect Ratio
3:2 (Horizontal: Vertical)
Color Filter System
RGB primary color filters
Low Pass Filter
Fixed position in front of the image sensor
Dust Deletion Feature
1. Self Cleaning Sensor Unit
- Removes dust adhering to the low-pass filter.
- Self-cleaning can be done automatically when the power is turned on or off. Manual cleaning also possible.
2. Dust Delete Data acquisition and appending
- The coordinates of the dust adhering to the low-pass filter are detected by a test shot and appended to subsequent images.
- The dust coordinate data appended to the image is used by the EOS software to automatically erase the dust spots.
3. Manual cleaning

Recording System

Recording Format
Design Rule for Camera File System 2.0 and EXIF 2.3
Image Format
Still Image: JPEG, RAW (14 bit Canon Original), M-RAW, S-RAW, RAW+JPEG, M-RAW+JPEG, S-RAW+JPEG
Video: MOV (4K Movie: Motion JPEG, Full HD Movie: MPEG4 AVC/H.264*; Audio: Linear PCM), MP4 (Movie: MPEG4 AVC/H.264*; Audio: AAC)
* Variable (averaged) bit rate
File Size
3:2 Aspect Ratio
Large: 24.0 Megapixels (6000 x 4000)
Medium: Approx. 10.6 Megapixels (3984 x 2656)
Small 1: Approx. 5.9 Megapixels (2976 x 1984)
Small 2: Approx. 2.5 Megapixels (1920 x 1280)
Small 3: Approx. 0.35 Megapixels (720 x 480)
RAW: 24.0 Megapixels (6000 x 4000)
mRAW: 13.5 Megapixels (4500 x 3000)
sRAW: 6.0 Megapixels (3000 x 2000)

4:3 Aspect Ratio
Large: Approx. 21.3 Megapixels (5328 x 4000)
Medium: 9.5 Megapixels (3552 x 2664)
Small 1: Approx. 5.0 Megapixels (2976 x 1680)
Small 2: Approx. 2.1 Megapixels (1920 x 1080)
Small 3: Approx. 0.31 Megapixels (640 x 480)
RAW: 24.0 Megapixels (6000 x 4000)
mRAW: 13.5 Megapixels (4500 x 3000)
sRAW: 6.0 Megapixels (3000 x 2000)
16:9 Aspect Ratio
Large: Approx. 20.2 Megapixels (6000 x 3368)
Medium: Approx. 8.9 Megapixels (3984 x 2240)
Small 1: Approx. 5.0 Megapixels (2976 x 1680)
Small 2: Approx. 2.1 Megapixels (1920 x 1080)
Small 3: Approx. 0.29 Megapixels (720 x 408)
RAW: 24.0 Megapixels (6000 x 4000)
mRAW: 13.5 Megapixels (4500 x 3000)
sRAW: 6.0 Megapixels (3000 x 2000)

1:1 Aspect Ratio
Large: Approx. 16.0 Megapixels (4000 x 4000)
Medium: Approx. 7.1 Megapixels (2656 x 2656)
Small 1: Approx. 3.9 Megapixels (1984 x 1984)
Small 2: Approx. 1.6 Megapixels (1280 x 1280)
Small 3: Approx. 0.23 Megapixels (480 x 480)
RAW: 24.0 Megapixels (6000 x 4000)
mRAW: 13.5 Megapixels (4500 x 3000)
sRAW: 6.0 Megapixels (3000 x 2000)

Values of Pixels recorded are rounded off to the nearest 10,000th or 1,000th.
JPEG images are generated in the aspect ratio that was set.
RAW images are generated in [3:2] and the set aspect ratio is appended.
Backup Recording
N/A
File Numbering
The following three types of file numbers can be set:
1. Continuous numbering
- The numbering of captured images continues even after you replace the card.
2. Auto reset
- When you replace the card, the numbering will be reset to start from 0001. If the new card already contains images, the numbering will continue from the last recorded image in the card.
3. Manual reset
- Resets the file number to 0001, and creates a new folder automatically.
Color Space
sRGB, Adobe RGB
Picture Style
1. Auto
2. Standard
3. Portrait
4. Landscape
5. Fine Detail
6. Neutral
7. Faithful
8. Monochrome
9. User Defined 1-3
- In Basic Zone modes, Auto is set automatically.
- In Creative Zone modes, you can select or set the Picture Style.
- [Auto] is the default setting for [User Def. 1-3].

White Balance

Settings
Auto, Daylight, Shade, Cloudy*, Tungsten Light, White Fluorescent Light, Flash, Custom, Color Temperature setting
* Effective in twilight and sunset as well.
Auto White Balance
Option between ambience priority and white priority settings
Color Temperature Compensation
Blue/amber bias: ±9 levels
Magenta/green bias: ±9 levels
*Corrected in reference to the current WB mode's color temperature.
Color Temperature Information Transmission
Provided

Viewfinder

Type
Eye-level SLR (with fixed pentaprism)
Coverage
Magnification
Approx. 0.95x (with 50mm lens at infinity, -1m-1) / 28.3° angle of view
Eye Point
Approx. 22mm (at -1m-1 from eyepiece lens center)
Dioptric Adjustment Correction
-3.0 to +1.0 m-1 (diopter)
Focusing Screen
Fixed
Viewfinder Information
Information display with translucent liquid crystal
- AF area selection mode
- AF point information
- Area AF frame
- Spot metering circle
- Electronic level
- Grid display
- Aspect line (4:3, 16:9, 1:1)
- Flicker detection
- Warning symbol
You can set whether to display or hide [Electronic level], [Grid display] and [Flicker detection].
Depth Of Field Preview
Provided

Autofocus

Type
TTL secondary image-forming phase-difference detection system with AF-dedicated CMOS sensor
AF Points
Up to 45 points (Cross-type AF points: Max. 45) The number of AF points, cross-type AF points and dual cross-type AF points vary depending on the lens used.
Note that, with aspect ratio of 1:1, the maximum number of AF points becomes 35. (Each left and right end line of AF points in total of ten are not usable.)
AF Working Range
One-shot AF, room temperature, ISO 100
(Based on Canon's testing standards and environment)
Focusing Modes
1. Autofocus
- One-Shot AF
- Predictive Al Servo AF (Al Servo AF III+)
- AI Focus AF
+ Switches between One-Shot AF and AI Servo AF automatically.
2. Manual focus
AF Point Selection
1. Manual Selection: 1 pt AF
- The checkmark cannot be removed from this option.
2. Manual Selection of Zone: Zone AF
- All AF points divided into nine focusing zones.
3. Manual Selection of Zone: Large Zone AF
- All AF points divided into three focusing zones
4. Auto Selection: 45 point AF
Selected AF Point Display
AF Assist Beam
Intermittent firing of built-in flash

Effective range:
Center: Approx. 13.1 ft. / 4.0m
Periphery: Approx. 11.5 ft. / 3.5m

With an EOS-dedicated Speedlite attached, the Speedlite's AF-assist beam is emitted instead.

Exposure Control

Metering Modes
63-zone (18 x 12) metering with approx. 7,560-pixel RGB+IR metering sensor and TTL full-aperture. The following metering modes selectable:
(1) Evaluative metering (linked to all AF points)
(2) Partial metering on the center part of the viewfinder (approx. 6.0% of viewfinder)
(3) Spot metering (approx. 3.8% of viewfinder)
(4) Center-weighted average metering
Metering Range
EV 1-20 (room temperature, ISO 100, with evaluative metering)
Exposure Control Systems
Creative Zone
1. Program AE (Shiftable)
2. Shutter-priority AE
3. Aperture-priority AE
4. Manual exposure
5. Bulb
6. Custom shooting mode C1 or C2
Basic Zone
1. Scene Intelligent Auto (Program AE/non-shiftable)
2. Flash Off
3. Creative Auto
4. Special Scene
Food
Kids
Candlelight
Night Portrait
Handheld Night Scene
HDR Backlight Control
Portrait
Landscape
Close-up
Sports
5. Creative Filters
Grainy B/W
Soft Focus
Fish-eye Effect
Toy Camera Effect
Miniature Effect
Water Painting Effect
HDR Art Standard
HDR Art Vivid
HDR Art Bold
HDR Art Embossed
Exposure Compensation
Manual: ±5 stops in 1/3- or 1/2-stop incrementsAEB: ±3 stops in 1/3- or 1/2-stop increments* Indicated up to ±3 stops on the LCD panel and in the viewfinder.
AE Lock
1. Auto AE lock
In the One-Shot AF mode with evaluative metering, AE lock takes effect when focus is achieved.
2. Manual AE lock
In P, Av, Tv and M mode, enabled with the AE lock button. (Press again to update)
Enabled in all metering modes.

Shutter

Type
Vertical-travel, mechanical, focal-plane shutter with all speeds electronically-controlled
Shutter Speeds
1/8000 to 30 sec., bulb (Total shutter speed range. Available range varies by shooting mode.)X-sync at 1/250 sec.Shutter speed's control range can be set.
Shutter Release
Soft-touch electromagnetic release
Self Timer
10-sec. delay, 2-sec. delay
Shutter Lag Time
1. During SW-1 ON, time lag between SW-2 ON and start of exposure: Approx. 0.06 sec.
2. Time lag between simultaneous SW-1/SW-2 ON and start of exposure: Approx. 0.14 sec.
* Shutter-release time lag may become longer during silent shooting, and Live View shooting.

Built-In Flash

Type
Auto pop-up, retractable, built-in flash at the pentamirror
Flash Metering System
E-TTL II autoflash with all EX Series Speedlites
Guide Number
Approx. 39.4 ft./12m (at ISO 100)Up to approx. 17mm focal length (equivalent to approx. 28mm in 135 format)
Flash Coverage
Up to approx. 17mm focal length (equivalent to approx. 28mm in 135 format)
FE Lock
Provided
Flash Exposure Compensation
±3 stops in 1/3- or 1/2-stop increments

External Speedlite

EOS Dedicated Speedlite
E-TTL II autoflash with all EX Series Speedlites
Zooming to Match Focal Length
Provided
Flash Metering
E-TTL II autoflash
Flash Exposure Compensation
±3 stops in 1/3- or 1/2-stop increments
FE Lock
Provided
External Flash Settings
1. External flash control
- Flash firing
- E-TTL II Flash metering
- Flash mode
- Radio transmission wireless flash shooting
- Optical transmission wireless flash shooting
- Zoom
- Sync setting
- Flash exposure compensation
- FEB
- Clear settings

2. Flash Custom Function setting

Drive System

Drive Modes
1. Single shooting
2. High-speed continuous shooting
3. Low-speed continuous shooting
4. Silent single shooting
5. Silent continuous shooting
6. 10-sec. self-timer/remote control
7. 2-sec. self-timer/remote control
Continuous Shooting Speed
High-speed continuous shooting: Max. approx. 7.0 fps
* With 1/500 sec. or faster shutter speed, maximum aperture (varies depending on the lens), Anti-flicker shooting set to Disable, with a fully-charged Battery Pack LP-E6N and at room temperature (73°F/23°C).
* With the AF mode set to One-Shot AF and the Image Stabilizer turned off when using the following lenses: EF 300mm f/4L IS USM, EF 28-135mm f/3.5-5.6

Low-speed continuous shooting: Max. approx. 3.0 fps
Silent continuous shooting: Max. approx. 3.0 fps

Live View Functions

Shooting Modes
Still photo and video recording
Focusing
1. Dual Pixel CMOS AF
* Dual Pixel CMOS AF is possible with all EF lenses.
* Contrast AF is not provided

2. Manual focus
* Magnify the image by 5x or 10x and focus manually.
Metering Modes
1. Evaluative metering (315-zone)
2. Partial metering (approx. 6.1% of viewfinder)
3. Spot metering (approx. 2.6% of viewfinder)
4. Center-weighted average metering
* AE lock possible. The active metering timer can be changed.
Metering Range
EV 0-20 (room temperature, ISO 100, with evaluative metering)
Grid Display
1. 3x3
2. 6x4
3. 3x3+diag
Exposure Simulation
Possible
Silent Shooting
Provided (Mode 1 and Mode 2)

Video Shooting

File Format
MOV:
Movie: MPEG-4 AVC/H.264
*Variable (average) bit rate
Audio: Linear PCM

MP4:
Movie: MPEG-4 AVC/H.264
*Variable (average) bit rate
Audio: AAC
File Size
MOV:
MP4:
Frame Rates
MOV:
1920 x 1080 (Full HD): 30 fps (29.97 fps) / 24 fps (23.98 fps)

MP4:
1920 x 1080 (Full HD): 60 fps (59.94 fps) / 30 fps (29.97 fps) / 24 fps (23.98 fps)
1280 x 720 (HD): 60 fps (59.94 fps) / 30 fps (29.97 fps)
Continuous Shooting Time
Continuous Shooting TimeMOV

MP4Bit rate indicates video output only, audio is not included.
With MOV and MP4, if the recording time reaches 29 min. 59 sec., the movie shooting stops automatically.
With MOV and MP4, movie shooting does not stop automatically even if the file size reaches 4GB.
Focusing
Dual Pixel CMOS AF
*Contrast AF is not possible.Manual focus* Magnify the image by 5x or 10x and focus manually (not possible during movie shooting).
Exposure Control
Exposure Control
Exposure Compensation
±3 stops in 1/3- or 1/2-stop increments
Likewise ±3 stops for still photo shooting.

LCD Monitor

Type
TFT color, liquid-crystal monitor
Monitor Size
Wide 3.0-inch (Screen aspect ratio of 3:2)
Approx. 3.03 in. diagonal (approx. 2.51 in. wide, approx. 1.67 in. high)
Pixels
Approx. 1.04 million dots
Coverage
Approx. 100%
Viewing angle: Approx. 170° vertically and horizontally
Brightness Control
Adjustable to one of seven levels
Interface Languages
25 (English, German, French, Dutch, Danish, Portuguese, Finnish, Italian, Norwegian, Swedish, Spanish, Greek, Russian, Polish, Czech, Hungarian, Romanian, Ukraine, Turkish, Arabic, Thai, Simplified/Traditional Chinese, Korean, Japanese)

Playback

Display Format
Highlight Alert
With single image display, overexposed highlight areas will blink.

Image Protection and Erase

Protection
Erase protection can be applied or canceled for a single image, all images in a folder or all images in the card.
Erase
Erase a single image, selected images, all images in a folder, all images in a card or erase only unprotected images.

Direct Printing

Compatible Printers
PictBridge-compatible printers (wireless LAN)
Printable Images
RAW and JPEG images compliant to Design rule for Camera File System.
Movies cannot be printed.
Digital Print Order Format
Compliant to DPOF Version 1.1
Direct Image Transfer - Compatible Images
Not provided
Customization
Custom Functions
26 Custom Functions are settable.
Custom Controls
Functions can be assigned to the following buttons:
- Shutter button halfway pressing
- AF-ON button
- AE lock button
- Depth-of-field preview button
- Lens AF stop button
- SET button
- Main Dial
- Quick Control Dial
- Multi controller
My Menu Registration
Up to six top-tier menu options and Custom Function settings can be registered.
Up to five My Menu tabs can be added.

Interface

USB Terminal
SuperSpeed USB (USB 2.0)
- For PC communication
- For GP-E2 connection
- For Connect Station connection
Video Out Terminal
HDMI Type C (Resolution switches automatically)
* Video is not displayed unless the video format appropriate for the connected TV set, [NTSC] or [PAL], is set.

Power Source

Battery
Battery Pack LP-E6N (or LP-E6) x1 When the battery grip is used, two battery packs (LP-E6N or LP-E6) can be installed. Also usable with six AA/R6 batteries.
Number of Shots
The capacity of the Ni-MH battery is 1900 mAh.
Battery Check
Automatic battery check when the power switch is turned ON. Displayed in 6 levels.Battery level displayed on LCD panel and in viewfinder. Displayed in four levels with the battery grip with AA/R6 batteries.
Power Saving
Power turns off after the set time (1, 2, 4, 8, 15 or 30 min.) of non-operation elapses.
Date/Time Battery
Built-in secondary battery
Maintains date/time for about 3 months when fully charged. Recharge time: approx. 8 hr.To become capable to maintain the right date/time for one month after main battery power exhaustion.
Start-up Time
Approx. 0.16 sec. (Based on CIPA testing standards)
* Excluding the recognition time for genuineness (genuine Canon battery) at the installation of the battery.

Dimensions and Weight

Dimensions (W x H x D)
Approx. 13.9 x 10.5 x 7.9 cm (5.47 x 4.14 x 3.09")
Weight
Approx. 1.6 lbs / 0.73 kg (Based on CIPA guidelines)
Approx. 1.43 lbs / 0.65 kg (Body only; excluding the battery, card, body cap and eye cup)

Operating Environment

Working Temperature Range
32-113°F/0-45°C
Working Humidity Range
85% or less
For Sigma 18-200mm F3.5-6.3 DC C Macro OS HSM Lens:

Model
Sigma 18-200mm F3.5-6.3 DC 'C' Macro OS HSM Lens
Lens Construction
16 elements in 13 groups
Lens type
Zoom lens
Max Format size
APS-C / DX
Focal length
18–200 mm
Image stabilisation
Yes (Sony and Pentax versions don't have OS)
Lens mount
Canon EF, Nikon F (DX), Pentax KAF3, Sony Alpha, Sigma SA
Maximum aperture
F3.5 - F6.3
Minimum aperture
F22.0
Optics
Elements
16
Groups
13
Special elements / coatings
SLD glass elements, Double-sided aspheric lenses
Filter size
62mm
Angle of view (SD1)
76.5° - 8.1°
Minimum focusing distance
39cm/15.4in.
Maximum magnification
0.33×
Autofocus
Yes
Motor type
Ultrasonic
Focus method
Internal
Distance scale
Yes
Blades
7 (Rounded diaphragm)
Diameter
71 mm (2.8″)
Length
86 mm (3.4″)
Zoom method
Rotary (extending)
Zoom lock
Yes
Filter thread
62 mm
Weight
430g/ 15.2oz.
Hood (LH676-01) included.
Corresponding AF Mounts
[18-200mm F3.5-6.3 DC MACRO OS HSM]
SIGMA / NIKON (D) / CANON
[18-200mm F3.5-6.3 DC HSM]
DC lenses have an image circle that covers APS-C size image sensors. Not for use on digital cameras having image sensors larger than APS-C size or on 35mm or APS film cameras, as vignetting will occur. The angle of view varies depending on which camera the lens is mounted on. To find the 35mm camera-equivalent focal length, multiply the DC lens focal length by the crop factor (digital multiplier) of 1.5, 1.6, or 1.7, depending on the brand of DSLR camera on which the lens will be used. To find which DC lens is equivalent to a full-frame lens, divide the focal length of the full frame lens by the same crop factor.
Sony and Pentax mounts are not incorporated with OS function.
AF will not function with Pentax ist* series and K100D DSLR cameras that do not support HSM.
The appearance and specification are subject to change without notice.
*Nikon Mount: Built in motor lens: compatible with D40, D40x, D60, D3000, D5000
* The appearance, specifications, and the like of the product are subject to cchange for improvement without notice.
This product comes with 24 Months Warranty from Canon Australia.
Our products are sourced from authorised Australian suppliers and therefore come with genuine Australian warranty.
Camera Warehouse does not participate in 'Grey Market' or 'Parallel Import' activities.

EOS 80D DSLR Camera with 18-200mm F3.5-6.3 DC C Macro OS HSM Lens
Rechargeable Lithium-Ion Battery LP-E6N
Battery Charger LC-E6
Eyecup Eb
Wide Strap
24 months warranty card from Canon Australia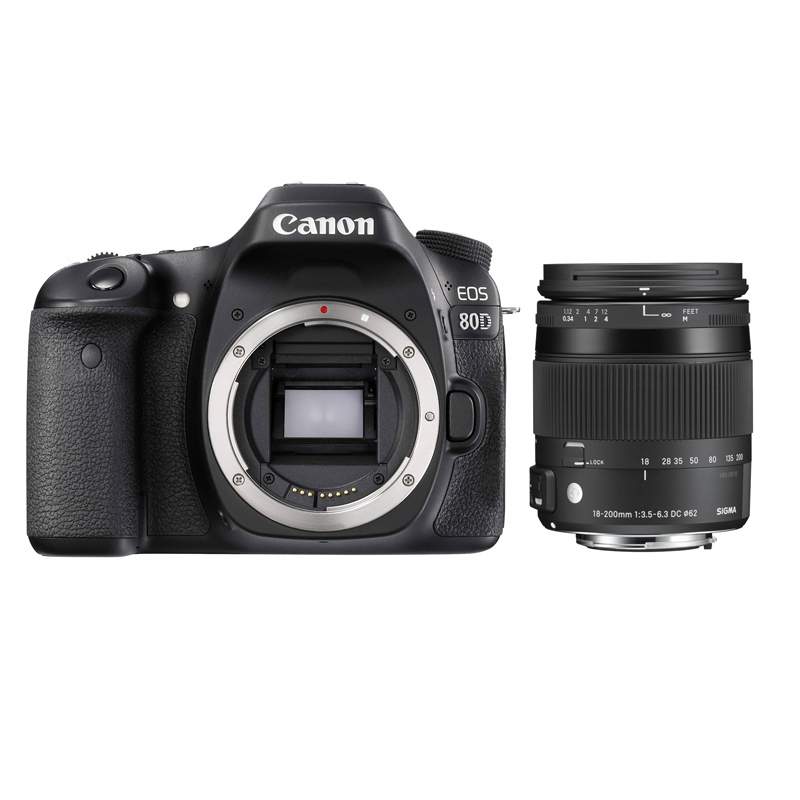 Canon EOS 80D DSLR Camera with 18-200mm F3.5-6.3 DC C Macro OS HSM Lens