Sigma 18-200mm F3.5-6.3 DC C Macro OS HSM Lens
Price as low as
A$535.50
Regular Price
A$595.00
Free Shipping for Orders over $98*

(*excludes bulky items)
No SURCHARGE FOR CREDIT CARDS
- F22 Minimum aperture(W)
- 62mm filter
- 39cm/15.4in.minimum focusing distance
- SLD glass and Aspherical lens
- 18-200mm F3.5-6.3 DC MACRO OS HSM
- Compatibility: Only with APS-C DSLR Cameras
- 2 Years Genuine Warranty with Sigma Australia
F22 Minimum aperture(W)
62mm filter
Internal autofocus
SLD glass elements, Double-sided aspheric lenses
Hypersonic motor
18-200mm F3.5-6.3 DC MACRO OS HSM 'C'
Standard zoom up to 200mm
Petal-Type Hood
Compatibility: Only with APS-C DSLR Cameras
2 Years Genuine Warranty with Sigma Australia
---
Now Sigma has unleashed the latest 18-200mm F3.5-6.3 DC Macro OS HSM Contemporary series (C) lens! This is the best super lens that ever existed for APS-C / DX format SLRs. Having a 28-300mm equivalent zoom range, it has an all new upgraded optical formula than its older predecessor. However, it is lighter and smaller to give you more compact grip on the camera. In addition to fine SLD glass elements and double-sided aspheric lenses is the petal type hood, so you are perfectly certain that your lenses are strong and sturdy. With a minimum aperture of F22 and 62mm filter, you will now guarantee that you are in the right track of capturing images in your own style. Bring the memories into life using the standard zoom that reaches up to 200 mm. This lens is versatile and would fit into your desired SLR. It has a lens mount for Canon EF, Nikon F (DX), Pentax KAF3, Sony Alpha and Sigma SA. It is compatible only with APS-C DSLR Cameras.
---
Product Features in Detail
The definitive ultra-compact, high-performance all-in-one lens
The ideal match for today's compact digital SLRs. A standard superzoom lens that offers outstanding optical performance throughout the zoom range.
Among zoom lenses with a zoom ratio of 7x or higher, this lens is one of the most compact available
The ultra-compact 18-200mm F3.5-6.3 DC MACRO OS HSM is about the same size as a typical standard zoom lens. Yet it offers outstanding optical performance throughout the zoom range, fulfilling the needs of the high-megapixel era. It is the most compact and lightweight lens among APS-C format interchangeable superzoom lenses with an optical stabilization function. With its full suite of the latest Sigma technologies, it expresses the essence of our high-performance Contemporary line. Thanks to its compact package, outstanding performance, and refined build, it's the ideal all-in-one lens, excellent for travel photos, snapshots, family portraits, photojournalism, and virtually every type of photographic scene.
The full realization of the Contemporary product concept for you to hold in your own hands and appreciate with your own eyes.
Featuring the very latest technologies and combining optical performance with compactness, Contemporary line lenses are the perfect choice in a wide variety of photographic situations. Leveraging its advanced technologies, Sigma has solved the difficult problem of keeping size and weight low without compromising optical performance. These are lenses that you will use every day, covering wide-angle, telephoto, and macro needs.
Ready for every scene, from true macro to distant telephoto, this lens sets a new benchmark for standard zooms
Developed to offer high performance, compact and lightweight portability, and full macro capability.
HSM (Hyper Sonic Motor)
HSM (hypersonic motor) delivers high AF speed and extremely quiet performance. An enhanced algorithm offers even smoother automatic focusing, and full-time manual focus override is another key feature.
Optical Stabilizer
Sigma's own unique OS (Optical Stabilizer) function is incorporated. It offers effective correction of approximately 4 stops, which makes it possible to compensate for camera shake even in macro range photography where a small blur can be easily identified.
4.6mm smaller in diameter than its predecessor, this lens combines the compact form of a genuine kit lens with high performance
Developed to offer high performance, compact and lightweight portability, and full macro capability.
TSC (Thermally Stable Composite)
Conventionally it is considered essential to leverage the qualities of metal and polycarbonate in camera and lens layout design. A first for the industry, the barrel of the new series of Sigma lenses features a new TSC (Thermally Stable Composite)* that offers minimal thermal shrinkage combined with exceptional hardness. It also offers 25% greater elasticity than polycarbonate. Since its thermal shrinkage is low, TSC matches well with metal parts, further contributing to the high-precision construction of the lens.
Specially designed cam for smooth zooming
Specially designed cam makes possible smooth and rhythmical zooming, allowing photographers to find the right focus instantly and shoot with perfect timing.
A refined, integrated design made with the photographer in mind
All lenses in Sigma's new Contemporary line come with a hood with a high-quality rubberized connector and feature a newly designed lens cap and AF/MF switch, and are designed for intuitive use and superior functionality.Inside, HSM (Hyper Sonic Motor) delivers high AF speed and extremely quiet performance. An enhanced algorithm offers even smoother automatic focusing.
Superior image quality througout the netire zoom range
From infinity to macro distances, this lens delivers superior and stable optical performance.
Flare and ghosting reduction
From an early stage in the lens design process, flare and ghosting have been measured to establish an optical design resistant to strong incident light sources such as backlighting. Sigma's Super Multi-Layer Coating reduces flare and ghosting to help photographers produce sharp and high contrast images even in backlit conditions.
46-megapixel Foveon direct image sensor
The 46 effective megapixel (4,800 × 3,200 × 3 layers) and 44 recording megapixel (4,704 × 3,136 × 3 layers) 23.5 × 15.7mm APS-C X3 direct image sensor captures all primary RGB colors at each and every pixel location, ensuring the capture of full and complete color. Using three silicon-embedded layers of photo detectors, stacked vertically to take advantage of silicon's ability to absorb red, green and blue light at different respective depths, it efficiently reproduces color more accurately, and offers sharper resolution, pixel for pixel, than any conventional image sensor. Since color moiré is not generated, the use of a low-pass filter is not required, meaning light and color, generated by the 46-megapixel APS-C X3 direct image sensor is captured with a three-dimensional feel.
A lens customizable to your needs
Exclusive software and Sigma USB dock make customization simple.
---
Included in the Box
Sigma 18-200mm F3.5-6.3 DC C Macro OS HSM Lens
Lens Hood
2 Years Genuine Warranty with Sigma Australia
---
Warranty Information
The Sigma 18-200mm F3.5-6.3 DC C Macro OS HSM Lens comes with 2 Years Genuine Warranty with Sigma Australia.
Our products are sourced from authorised Australian suppliers and therefore come with genuine Australian warranty.
Camera Warehouse does not 'Grey Import' products or participate in 'Grey Market' or 'Parallel Import' activities.
Model
Sigma 18-200mm F3.5-6.3 DC 'C' Macro OS HSM Lens
Lens Construction
16 elements in 13 groups
Lens type
Zoom lens
Max Format size
APS-C / DX
Focal length
18–200 mm
Image stabilisation
Yes (Sony and Pentax versions don't have OS)
Lens mount
Canon EF, Nikon F (DX), Pentax KAF3, Sony Alpha, Sigma SA
Maximum aperture
F3.5 - F6.3
Minimum aperture
F22.0
Optics
Elements
16
Groups
13
Special elements / coatings
SLD glass elements, Double-sided aspheric lenses
Filter size
62mm
Angle of view (SD1)
76.5° - 8.1°
Minimum focusing distance
39cm/15.4in.
Maximum magnification
0.33×
Autofocus
Yes
Motor type
Ultrasonic
Focus method
Internal
Distance scale
Yes
Blades
7 (Rounded diaphragm)
Diameter
71 mm (2.8″)
Length
86 mm (3.4″)
Zoom method
Rotary (extending)
Zoom lock
Yes
Filter thread
62 mm
Weight
430g/ 15.2oz.
Hood (LH676-01) included.
[18-200mm F3.5-6.3 DC MACRO OS HSM]
SIGMA / NIKON (D) / CANON
[18-200mm F3.5-6.3 DC HSM]
DC lenses have an image circle that covers APS-C size image sensors. Not for use on digital cameras having image sensors larger than APS-C size or on 35mm or APS film cameras, as vignetting will occur. The angle of view varies depending on which camera the lens is mounted on. To find the 35mm camera-equivalent focal length, multiply the DC lens focal length by the crop factor (digital multiplier) of 1.5, 1.6, or 1.7, depending on the brand of DSLR camera on which the lens will be used. To find which DC lens is equivalent to a full-frame lens, divide the focal length of the full frame lens by the same crop factor.
Sony and Pentax mounts are not incorporated with OS function.
AF will not function with Pentax ist* series and K100D DSLR cameras that do not support HSM.
The appearance and specification are subject to change without notice.
*Nikon Mount: Built in motor lens: compatible with D40, D40x, D60, D3000, D5000
* The appearance, specifications, and the like of the product are subject to change for improvement without notice.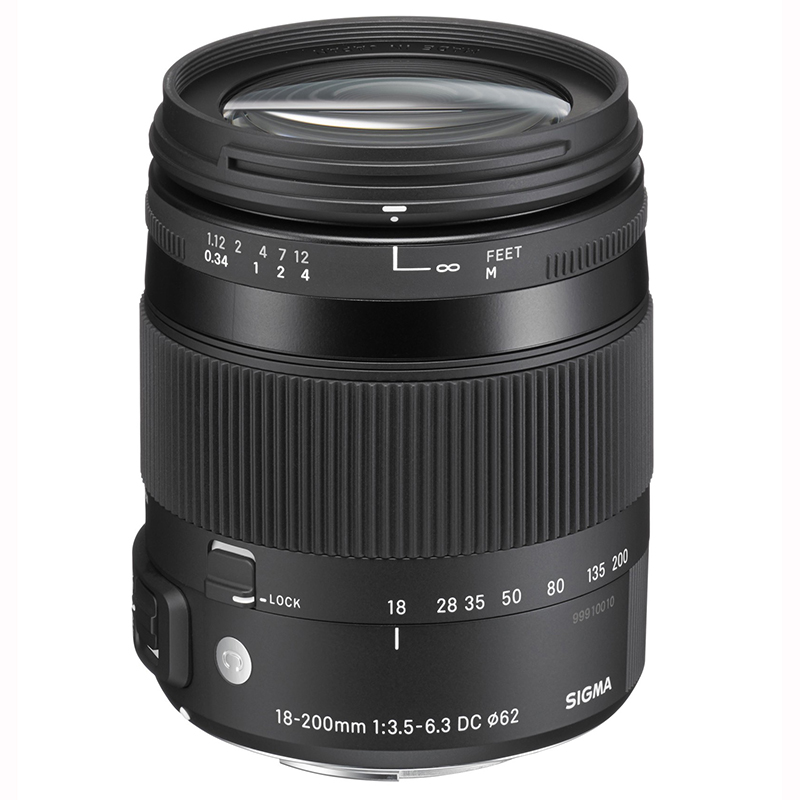 Sigma 18-200mm F3.5-6.3 DC C Macro OS HSM Lens