Sigma 50mm F1.4 DG HSM ART Lens
Price as low as
A$1,198.00
Free Shipping for Orders over $98*

(*excludes bulky items)
No SURCHARGE FOR CREDIT CARDS
Large f/1.4 maximum aperture
F16 Minimum aperture(W)

77mm filter

Internal autofocus

0.40 m (15.75″) minimum focusing distance

SLD glass elements, aspheric elements

50mm F1.4 DG HSM

13 elements in 8 groups


Hyper Sonic Motor

Available for Canon, Nikon and Sony DSLR mounts
Compatibility: with APS-C and Full Frame Sensor DSLR Cameras
The new Sigma 50mm 1.4 DG HSM ART has been reengineered and redesigned to set a new standard for the art of photography. With a large 1.4 aperture (Minimum of F16), the Sigma 50mm 1.4 prime lens is pro level player for capturing everything including landscape photography, portrait photography, studio photography and even street photography. Its Hyper Sonic Motor (HSM) guarantees smooth, quiet and precise autofocusing, and combined with Super Multi-Layer coating and Special Low Dispersion (SLD) glass, this type is of a high performance lens for contemporary DSLR sensors. Having 13 elements in 8 group's optics and internal autofocus allow unparalleled performance even at extensive apertures. Close-up shooting is easily achieved with a 0.40 m (15.75″) minimum focusing distance. The Sigma 50mm 1.4 lens is the new excellent standard for modern photography that everyone would love. This lens is compatible with APS-C and Full Frame Sensor DSLR Cameras.
---
Product Features in Detail

The Art line delivers high-level artistic quality
Sigma is organizing all its interchangeable lenses into three product lines; Contemporary, Art and Sports. Designed with a focus on sophisticated optical performance and abundant expressive power, our Art line delivers high-level artistic expression. Developed with the maximum emphasis on artistic touch, our Art line lenses are designed to meet the expectations of users who value a creative, dramatic outcome above compactness and multifunction. Along with landscapes, portraits, still-life, close-up and casual snaps, they're perfect for the kind of photography that unleashes the inner artist. Ideal for studio photography, they offer just as much expressive scope when capturing architecture, starry skies, underwater shots and many other scenes. The SIGMA 35mm F1.4 DG HSM is the first lens from the Art line.

Compensate for color aberration to ensure unsurpassed expressive performance
Aberration is an important factor for the lens performance. To actualize a high-performance lens, one of the essential elements is aberration correction. When it comes to aberration, there are chromatic aberration of magnification and axial chromatic aberration. It is possible to correct the chromatic aberration of magnification in photo-editing software whereas axial chromatic aberration cannot be corrected afterwards. This lens incorporates FLD ("F" Low Dispersion) glass elements, which have performance equal to fluorite, and SLD (Special Low Dispersion) glass elements, and by optimizing the power alignment of the lens, both types of aberration have been corrected. The lens achieves ultra-high image quality through the entire focusing range. Also, by appropriate alignment of aspheric lenses, astigmatism and field curvature are corrected. The result is superior optimum resolution even in peripheral areas.

Large maximum aperture of F1.4
In 2005, Sigma released a lens that has aperture value F1.4 designed for digital SLRs, "SIGMA 30mm F1.4 EX DC HSM". Since then, we have produced high-performance lenses by incorporating the latest optical technique, such as the standard lens designed for a full size image sensor, the SIGMA 50mm F1.4 EX DG HSM and the medium telephoto lens with large aperture, SIGMA 85mm F1.4 EX DG HSM. This lens, SIGMA 35mm F1.4 DG HSM, is our fourth lens that achieves extraordinary expressive power at the aperture value at F1.4. For wide angle photography, it ensures excellent brightness with the large F1.4 aperture and a beautiful bokeh effect.

Attractive blur effect
Correction of coma aberration enabled less blur on a point light source in peripheral areas, and the function is best used for astrophotography and illuminations. It is also possible to create an attractive blur to the out of focus areas. The aspheric lens elements used as the first lens have secured peripheral brightness while correcting distortion. The rounded diaphragm creates an attractive blur to the out-of-focus areas of the image.

Flare and ghosting conscious design
In order to achieve high rendering on this flagship lens, flare and ghosting were thoroughly measured from an early stage to establish an optical design which is resistant to strong incident light such as backlight. The Super Multi-Layer Coating reduces flare and ghosting and provides sharp and high contrast images even in backlit conditions

Astonishing rendering performance
Utilizing know-how and the latest design technology accumulated through the past developments, it corrects the aberration thoroughly and achieves high resolution and astonishing rendering performance even near the edge of the image.

Achieving both high resolution and beautiful bokeh
While pursuing a high level of resolution on the focused point, bokeh in front and behind the point of focus is carefully maintained to have soft rendering. Aberrations including sagittal coma flare and color distortion that affect the image quality are thoroughly corrected. From open aperture, high-definition rendering without blur is achieved. Moreover, by ensuring vignetting at the minimum and preventing color blur around the front and back of the focus point, it also achieves natural bokeh.

Excellent correction of sagittal coma flare
It is ideal for a wide aperture standard lens to have a high rendering performance from open aperture throughout the entire image. For instance, the molded glass aspherical lens elements provide excellent correction to sagittal coma flare. It is perfect for astronomical photography and shooting of illumination because of the reduced blur on the point light sources near the edge of the image. It also creates an attractive bokeh in portraits and indoor shooting.

Correction of axial chromatic aberration
For axial chromatic aberration that is hard to correct even during the image processing, SLD (Special Low Dispersion) glass elements are incorporated, ensuring high image quality throughout the entire focusing range. The lens achieves sharp and high contrast image rendering.

Rich peripheral brightness
It secures very rich brightness in the peripheral areas, which can be a common problem for a lens with a large diameter. By positioning wide elements in the front group, it has improved the efficiency at large apertures. Since it is capable of minimizing vignetting, very clear depiction across the image is ensured.

Designed to minimize flare and ghosting
Flare and ghosting were thoroughly measured and monitored from the lens development stage to establish an optical design which is resistant to strong incidental light such as backlight. The Super Multi-Layer Coating reduces flare and ghosting and provides sharp and high contrast images even in backlit conditions.

Minimum focusing distance of 40cm
The lens incorporates a floating system that adjusts the distance between lens groups while focusing, thereby reducing the amount of lens movement required. This achieves a minimum focusing distance of 40cm and maximum magnification ratio of 1:5.6. As there is less variation in aberration at different shooting distances, the lens delivers high rendering performance throughout the entire focusing range.

Hyper Sonic Motor
The HSM (Hyper Sonic Motor) ensures high speed and quiet AF as well as full-time manual focus override by rotation of the focus ring. With the enhanced AF algorithm, smoother AF is achieved.

Brass made bayonet mount
This lens incorporates a brass made bayonet mount which has both high accuracy and durability. A special treatment to reinforce its strength is applied to the surface giving it greater strength and making it highly resistant to long-term use.
| | |
| --- | --- |
| Model | Sigma 50mm F/1.4 DG HSM ART Lens |
| Lens Construction | 13 elements in 11 groups |
| Lens Type | Prime Lens |
| Max. Format Size | 35mm FF |
| Focal Length | 50mm |
| Lens Mount | Canon EF, Nikon F (FX), Sony Alpha, Sigma SA |
| Max. Aperture | F/1.4 |
| Min. Aperture | F/16 |
| Lens Elements | 13 |
| Lens Groups | 11 |
| Special Elements | SLD Glass Elements, Aspheric Elements |
| Filter Size | 77mm |
| Angle of View | 46.8 degrees |
| Min. Focusing Distance | 40 cm (15.7") |
| Max. Magnification | 01:05.6 |
| Autofocus | Yes |
| Motor Type | Ring-type ultrasonic |
| Full Time Manual | Yes |
| Focus Method | Internal |
| Focus Notes | Floating focus system |
| Distance Scale | Yes |
| DoF Scale | Yes |
| Blades | 9 (rounded diaphragm) |
| Diameter | 85mm (3.35") |
| Length | 100mm (3.94") |
| Filter Thread | 77mm |
| Corresponding Mounts | Sigma DG HSM, Nikon DG HSM, Canon DG HSM |
This product comes with 2 Years Warranty with Sigma Australia.Our products are sourced from authorised Australian suppliers and therefore come with genuine Australian warranty.Camera Warehouse does not participate in 'Grey Market' or 'Parallel Import' activities.
Sigma 50mm F1.4 DG HSM ART Lens
Owner's manual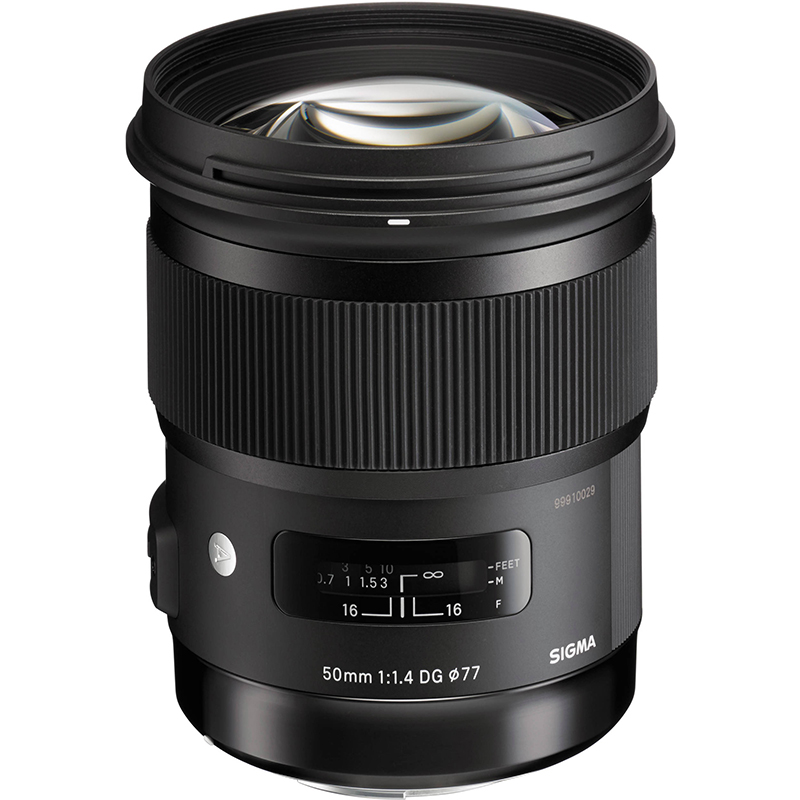 Sigma 50mm F1.4 DG HSM ART Lens