Sony FDR-AX700 4K HDR Camcorder
Free Shipping for Orders over $98*

(*excludes bulky items)
No SURCHARGE FOR CREDIT CARDS
- 4K HDR Video Recording
- 1.0 - Type Stacked Exmor RS™ CMOS Image Sensor
- 12x Optical Zoom and 18x Clear Image Zoom
- 12 Months Genuine Warranty from Sony Australia
4K HDR Video Recording
1"-Type Stacked CMOS Sensor
Bionz X Image Processor
12x Optical Zoom and 18x Clear Image Zoom
Zeiss Vario Sonnar T* Lens
273-Point Phase Detection Autofocus
Optical SteadyShot Image Stabilization
0.39" OLED EVF / 3.5" XtraFine LCD
High-Speed 120 fps Recording
S-Gamut and S-Log Shooting
Wi-Fi / NFC Connectivity
12 Months Genuine Warranty from Sony Australia
---
The Sony FDR-AX700 Camcorder offers 4K HDR recording using HDR (HLG) images with the 1.0 - Type Stacked Exmor RS™ CMOS Image Sensor. It comes loaded with a powerful high-speed BIONZ X image processor and advanced new movie AF algorithm to deliver focus with high-speed 120 fps recording, precision, and flexibility. The camcorder features a wide-angle Zeiss Vario Sonnar T* lens with 12x Optical Zoom and 18x Clear Image Zoom. S-Gamut and S-Log shooting helps provide an easy to customize color grading for image enlightenment. The Optical SteadyShot image stabilization minimizes camera shakes and with 273-Point Phase Detection Autofocus, the camcorder is able of covering a wide area to capture fast moving objects resulting to smooth videos and stills. FDR-AX700 also features 0.39" OLED EVF / 3.5" XtraFine LCD and Wi-Fi / NFC Connectivity for easy sharing.
---
Product Features in Detail
4K HDR (HLG) movie quality
High Dynamic Range (HDR) technology puts a visual revolution on display by revealing far wider ranges of color and brightness, fully realizing the exceptional quality of high-resolution 4K images. Moreover, with Hybrid Log-Gamma (HLG) recording capability, the FDR-AX700 makes it easy to immediately enjoy, without extra processing, HDR images, simply by connecting the camera to a HLG-compatible Sony TV via a USB cable.
XAVC S for high-bitrate recording
The XAVC S format is used for 4K and HD recording. High bitrates of up to 100 Mbps for 4K, and 50 Mbps for full-HD recording, ensure beautifully detailed movies with minimal compression noise. Since 100 Mbps recording is possible even at the highest rate of 120fps in Full HD, high-quality slow-motion sequences can be created during post-processing.
1.0-type Exmor RS™ CMOS sensor
A large 14.2-megapixel (effective) 1.0-type stacked CMOS image sensor delivers beautiful background bokeh defocus effects and superior sensitivity for capturing high-quality images with less noise, even under dark or bright conditions. This sensor integrates up to 273 phase-detection AF points that densely cover approx. 84% of the image area, for precise tracking of subjects throughout the shooting frame.
ZEISS® Vario-Sonnar® T* lens
Custom ZEISS optics are fine-tuned to deliver the full beauty of 4K, with pin-sharp detail to every corner, thanks to the use of both advanced aspherical (AA) and Extra-low Dispersion (ED) glass elements. The 29 mm wide angle means grand landscapes can be captured, or you can get a closer view with up to 12x optical and 24x Clear Image zoom.
Enhanced BIONZ X image processing engine
The enhanced BIONZ X image processing engine is optimized for faster processing, to drive focusing speeds, stunning 4K HDR (HLG) capture, and incredible slow motion recording at up to 960(NTSC)/1000(PAL)fps.
Wide AF coverage
Up to 273 phase-detection AF points cover approx. 84% of the entire image area. This makes AF coverage widespread and dense enough to quickly capture subjects, such as fast-moving ones that are otherwise difficult to focus on.
Adjustable AF Tracking Depth Range
Select an AF tracking depth configuration within a range from "1" to "5" — from the narrowest setting for relatively little movement to the widest setting for relatively dynamic movement. This lets you take advantage of specific ways to track subjects according to your expressive intentions, subject movement, and shooting conditions.
High-speed AF
The Fast Hybrid AF system enables data readout from a wide autofocus coverage area via the phase-detection AF sensor, while the enhanced BIONZ X image processor realizes high-speed data processing for accurate AF tracking on fast-moving subjects.
Reliable subject tracking
Subject tracking performance is optimized by combining high-speed readout and processing of AF data, plus a new algorithm developed specially for movies. After focus is achieved, wide AF area coverage helps the camcorder to maintain and track focus on a moving subject with reliable tenacity and precision. [1] WIDE [2] NARROW
Optical SteadyShot™ (Active Mode)
Optical SteadyShot™(Active mode) lets you shoot stable, beautiful images.
Adjustable AF Subject Switching Sensitivity
Five levels of AF Subject Switching Sensitivity are available. RESPONSIVE setting allows the camera to switch quickly among multiple subjects or focus points, while LOCKED ON setting favor a single subject.
AF area indication and adjustment
Easily keep track of your focus areas with phase-detection AF frames around in-focus subjects. Switching between focus points is seamless as well, with a simple touch on the screen to select a new focus target.
Professional menu operation
Adapted from Sony professional camcorders, access to desired menu selections is prompt and efficient, thanks to the menu's shallow hierarchy design. Furthermore, the semi-transparent menu is overlaid on the live image, so you can conveniently change or check settings while monitoring the image.
High-precision OLED Tru-Finder™
The 2359 dots OLED Tru-Finder reproduces images with extraordinary precision and accurate color. This high-contrast electronic viewfinder (EVF) lets you confidently, easily monitor composition, shooting and playback of footage even in bright sunlight.
Extra Fine LCD touch panel
The 3.5-type Extra Fine LCD screen lets you monitor high-resolution images of approximately 1,555k dots, so it's very convenient and comfortable on the eyes as it reproduces moving pictures with subtle gradations of detail intact, allowing you to focus accurately on subjects in the shooting frame. Moreover, its touch panel feature allows you to select an autofocus point with ease.
Manual dial
The manual dial and buttons on the side of the body allow swift, easy adjustment of IRIS (aperture), GAIN/ISO and shutter speed.
Lens ring
The lens ring with increased depth enables easy, natural adjustment of either focusing or zooming, depending on which mode you select via a convenient switch.
Built-in ND filters
Choose among Clear, 1/4, 1/16 and 1/64 Neutral Density filters to adjust the light level entering the lens. This gives video makers the freedom to precisely control shutter speed and aperture for greater creative possibilities. In conjunction with the camcorder's large image sensor, it allows creation of beautifully smooth bokeh background defocus effects without increasing shutter speed, even if you're shooting outdoors in sunny conditions.
Grip shaped for easy holding
The grip is shaped to conform to various kinds of hands, so the camera is easy for anyone to hold. This makes handheld shooting especially steady, even on extended shoots under tough conditions.
Dual slots
Dual slots for SD card and SD card/Memory Stick™ support both simultaneous and relay recording. Use Relay mode where long recording sessions need to span across both cards or, for critical recordings, the simultaneous recording mode provides a backup, for improved flexibility in client and production workflows.
Large zoom seesaw lever
The large zoom seesaw lever gives you complete control over your focal length and entire zoom range. Zoom as slowly, or quickly, as needed with smooth, precisely controlled results every time.
Highly compatible Multi-Interface (MI) Shoe
The MI Shoe is compatible with various general-purpose accessories and further expands the camcorder's shooting capabilities in a range of situations.
LANC port
The built-in LANC port allows connection to a LANC-compatible accessory, so you can control the camcorder remotely with ease.
High-quality output via 4K HDMI
Send clean 4K video to external monitors and even off-board recorders, or simply enjoy your recordings on a TV, with the HDMI output. The full-size (Type-A) HDMI terminal reduces strain on the cable and minimizes damage or accidental disconnection.
S-Gamut and S-Log shooting
S-Gamut and S-Log shooting gives you flexibility to make more expressive movies by performing color grading in post-production. S-Log3 and S-Log2 gamma provides wide dynamic range shooting (1300%) to minimize blown highlights and black crush.
Time Code / User Bit
For professional workflows and multi-camera editing requirements, standard SMPTE Time Code and User Bit can be included with your recordings. With embedded Time Code, synchronizing multiple cameras for editing is incredibly simple, while custom eight-digit User Bit codes allow fast indexing and media management on larger projects.
Picture Profile
Tailor the look of your movies or make adjustments to meet the needs of post-production, with ten customizable Picture Profile settings. Full adjustments of gamma, gradation and color spaces can be saved for immediate recall and more efficient shot matching.
Zebra function
Especially useful for shooting in S-log gamma settings, where it can be difficult to accurately judge exposure, zebra metering indicates areas of overexposure using clear stripes on the image preview. An adjustable level lets you accurately dial in the ideal exposure for everything from skin tones to sunlit landscapes.
Super Slow Motion and Slow & Quick Motion
Enjoy creative ways to express time's passage. The Super Slow Motion and Slow & Quick Motion let you capture motion in the blink of an eye, at up to 960(NTSC)/1000(PAL)fps (40x super slow motion), or in compelling time-lapse sequences, captured at 1fps for playback at up to 60x natural speed.
Proxy recording
Speed up your editing and delivery with the option of onboard proxy recording. Lower-resolution proxy files are captured alongside full-resolution 4K video, for easy sharing and online collaboration, as well as more efficient editing on under-powered computers. When you're ready, simply substitute the proxy files with the full-resolution ones to finalize your video.
Sensor
SENSOR TYPE
1.0-type (13.2 mm x 8.8 mm) stacked Exmor RS CMOS sensor
EFFECTIVE PIXELS (VIDEO)
Approx.14.2 M pixels(16:9)
EFFECTIVE PIXELS (STILL IMAGE)
Approx. 14.2M pixels(16:9)/Approx. 12.0M pixels(3:2)
Processor
IMAGE PROCESSOR
BIONZ X™ image processor
Lens
LENS TYPE
ZEISS® Vario-Sonnar® T*
FILTER DIAMETER
2.44 in
LENS COVER
Lens Cap
APERTURE
F2.8–F4.5
FOCAL DISTANCE
f = 9.3–111.6 mm
FOCAL LENGTH (35 MM EQUIVALENT) (VIDEO)
f=29.0-348.0 mm (16:9)
FOCAL LENGTH (35MM EQUIVALENT) (STILL IMAGE)
f=29.0-348.0 mm(16:9),f=32.8-393.6 mm(3:2)
MINIMUM FOCUS DISTANCE
Approx. 0.39 in (Wide), approx. 39.37 in (Tele), Approx. 13/32 inch (Wide), Approx. 39 3/8 inch(Tele)
IRIS DIAPHRAGM
7 blades
ND FILTER
OFF, 1/4, 1/16, 1/64
Zoom
OPTICAL ZOOM
12x
CLEAR IMAGE ZOOM
4K: 18x, HD: 24x
DIGITAL ZOOM
192x
Viewfinder
VIEWFINDER TYPE
1.0 cm (0.39 type) OLED/Color 2,359,296 dots equivalent
FIELD OF VIEW
100%
DIOPTER ADJUSTMENT
Yes
LCD
SCREEN TYPE
8.8 cm(3.5 type) Xtra Fine LCD™ display (1,555K) Wide (16:9)
TOUCH PANEL
Yes
BRIGHTNESS CONTROL
Yes (Menu)
MARKER/GRID DISPLAY
Marker
ANGLE ADJUSTMENT
Opening Angle: max. 90 deg., Turning Angle: max. 270 deg.
Image Stabilization
IMAGE STABILIZATION TYPE
Optical SteadyShot image stabilization w/ Active mode (Wide to Tele)
Focus
FOCUS TYPE
Fast Hybrid AF (phase-detection AF/contrast-detection AF)
FOCUS POINTS
Max. 273 points (phase-detection AF)
AF DRIVE SPEED
Yes(7 steps)
AF SUBJECT TRACK SET
Yes(AF Tracking Depth(5 steps), AF Subject Switching Sensitivity(5 steps))
FOCUS MODE
Auto/Manual(Touch Panel/Dial)
FOCUS AREA
Wide/Zone/Center/Flexible Spot
PHASE AF FRAMES
Yes (On/Off)
FAST INTELLIGENT AF
-
LOCK-ON AF
Yes
MANUAL FOCUS ASSIST
Magnified display for precise manual focus (x4/x8), Peaking Display
Exposure
MODE
Auto, Flexible Spot(Touch Panel), Manual(Dial/Menu)
METERING MODES
Multi-segment/Spot
EXPOSURE COMPENSATION
AE Shift (Dial/Touch Panel)
LOW LUX MODE
Yes
AUTO IRIS CONTROL
F2.8-F11
MANUAL IRIS CONTROL
F2.8-F11
MANUAL EXPOSURE ASSIST
Zebra Pattern Display
BACKLIGHT COMPENSATION
Yes (Auto)
GAIN CONTROL
Auto/Manual
AGC LIMIT
Yes
MINIMUM ILLUMINATION
[NTSC] Standard: 3 lux(1/60 Shutter Speed), Low Lux 1.7 lux(1/30 Shutter Speed), NightShot: 0 lux(1/60 Shutter Speed), [PAL] Standard: 3 lux(1/50 Shutter Speed), Low Lux 1.7 lux (1/25 Shutter Speed), NightShot: 0 lux(1/50 Shutter Speed)
Shutter Speed
AUTO CONTROL RANGE
[NTSC] 1/8-1/10000 [PAL] 1/6-1/10000
STANDARD
[NTSC] 1/60-1/10000 [PAL] 1/50-1/10000
MANUAL IRIS CONTROL (PHOTO MODE)
[NTSC] 1/60-1/10000 [PAL] 1/50-1/10000
MANUAL SHUTTER
[NTSC] 1/8-1/10000 [PAL] 1/6-1/10000
SMOOTH SLOW
-
White Balance
WHITE BALANCE MODES
Auto/Onepush A/Onepush B/Outdoor/Indoor/WB Temp
WHITE BALANCE SHIFT
Yes(Outdoor -7 to +7 15 steps)
Flash
FLASH METERING SYSTEM
-
FLASH COMPENSATION
-
FLASH MODE
-
Storage Media
MEDIA TYPE
AVCHD, Still: Memory Stick PRO Duo™ (Mark 2), Memory Stick PRO-HG Duo™, Memory Stick XC-HG Duo™, SD/SDHC/SDXC Memory Card (Class 4 or Higher), XAVC S 4K (100 Mbps): SDXC Memory Card(UHS-I U3), XAVC S 4K(60 Mbps): SDXC Memory Card(Class 10 or Higher), XAVC S HD: SDXC Memory Card(Class 10 or Higher)
INTERNAL MEDIA
-
Recording
RECORDING FORMAT (VIDEO)
AVCHD format ver. 2.0 compatible: MPEG4-AVC/H.264, XAVC S format: MPEG4-AVC/H264, XAVC S Proxy: MPEG-4 AVC/H.264
VIDEO RESOLUTION
[NTSC] XAVC S 4K: 3840 x 2160/30p, 24p XAVC S HD: 1920 x 1080/120p, 60p, 30p, 24p AVCHD: 1920 x 1080/60i (FX, FH), 1440 x 1080/60i (LP) XAVC S Proxy: 1280 x 720/60p, 30p, 24p, 640 x 360 60p, 30p, 24p [PAL] XAVC S 4K: 3840 x 2160/25p XAVC S HD: 1920 x 1080/100p, 50p, 25p AVCHD: 1920 x 1080/50i (FX, FH), 1440 x 1080/50i (LP) XAVC S Proxy: 1280×720/50p,25p, 640×360/50p,25p
SLOW & QUICK MOTION (S&Q)
[NTST] Rec Format 4K: 30p, 24p/HD: 60p, 30p, 24p Frame Rate 4K: 1fps, 2fps, 4fps, 8fps, 15fps, 30fps Frame Rate HD: 1fps, 2fps, 4fps, 8fps,15fps, 30fps, 60fps, 120fps [PAL] Rec Format 4K: 25p/HD: 50p, 25p Frame Rate 4K: 1fps, 2fps, 3fps, 6fps, 12fps, 25fps/HD: 1fps, 2fps, 3fps, 6fps, 12fps, 25fps, 50fps, 100fps
SUPER SLOW MOTION (SS)
[NTSC] Rec Format HD: 60p, 30p, 24p Frame Rate HD: 240fps, 480fps, 960fps [PAL] Rec Format HD: 50p, 25p Frame Rate HD: 250fps, 500fps, 1,000fps
VIDEO RECORDING RATE (ABR / VBR)
XAVC S 4K: Approx. 100 Mbps, 60 Mbps, XAVC S HD: Approx. 100 Mbps (1,920 x 1,080/120p, 100p), 60 Mbps (1,920 x 1,080/120p, 100p), 50 Mbps, 25 Mbps, 16 Mbps/ AVCHD FX: Approx. 24 Mbps, FH: Approx. 17 Mbps, LP: Approx. 5 Mbps, XAVC S Proxy: Approx. 9 Mbps (1,280 x 720)/Approx. 3 Mbps (640 x 360)
RECORDING FORMAT (STILL IMAGE)
JPEG (DCF Ver. 2.0, Exif Ver. 2.3, MPF Baseline-compliant)
PICTURE PROFILE
Yes (Off/PP1-PP10) Parameters: Black level, Gamma (Standard, Still, Cine1-4, ITU709, ITU709(800%), S-Log2, S-Log3, HLG, HLG1-3), Black Gamma, Knee, Color Mode (Standard, Still, Cinema, Pro, ITU709 Matrix, B/W, S-Gamut, S-Gamut3.Cine, S-Gamut3), Saturation, Color Phase, Color Depth, Color Correction, WB Shift, Detail, Copy, Reset
PROXY RECORDING
Yes
STILL IMAGE SIZE (PHOTO MODE)
12.0 megapixels 3:2 (4,240 x 2,824), 14.2 megapixels 16:9 (5,024 x 2,824)
Audio
MICROPHONE
Built-in Stereo Microphone
AUDIO RECORDING FORMAT
Dolby Digital 2ch Stereo, Dolby Digital Stereo Creator, MPEG-4 AAC-LC 2ch, MPEG-4 Linear PCM 2ch (48 kHz/16 bit)
MIC LEVEL CONTROL
Yes (31 steps)
AUTO WIND NOISE REDUCTION
-
MY VOICE CANCELING
-
SPEAKER
Monaural Speaker
Advanced Feature
HIGH SPEED REC
-
SCENE SELECTION
Night Scene/Sunrise & Sunset/Fireworks/Landscape/Portrait/Spotlight/Beach
NIGHTSHOT INFRARED SYSTEM
Yes
TIME CODE/USER BIT
Yes
OTHER FEATURES
Face Detection, Intelligent Auto(Portrait/Baby/Walk/Tripod/Backlight/Landscape/Spotlight/Twilight/Macro/Low light)
Playback
FAST PLAYBACK
About 5 times/10 times/30 times/60 times
SLOW PLAYBACK
Forward: 1/5 speed, Reverse: 1/2 speed
TRIMMING PLAYBACK
-
MOTION SHOT VIDEO
-
SLIDE SHOW (STILL IMAGE)
-
Projector
LIGHT OUTPUT
-
RESOLUTION OUTPUT
-
PROJECTED IMAGE SIZE
-
ENDURANCE (BATTERY LIFE)
-
PROJECTOR INPUT
-
KEYSTONE ADJUSTMENT
-
Wireless Function
WI-FI®
Yes (Wi-Fi Compatible, IEEE 802.11b/g/n (2.4 GHz band))
NFC™
Yes (NFC forum Type 3 Tag compatible)
Terminal / Shoe
ACCESSORY SHOE
Yes (Multi Interface Shoe)
HDMI TERMINAL
Yes (HDMI)
PROJECTOR INPUT
-
MULTI/MICRO USB TERMINAL
Yes
REMOTE TERMINAL
integrated into Multi/Micro USB Terminal/Stereo mini-mini jack (Φ2.5 mm)
STD OUTPUT
Composite Video Out(AV Cable(sold separately))
MICROPHONE INPUT
Stereo minijack
HEADPHONE JACK
Stereo minijack
MEMORY CARD SLOT
Slot A:Memory Stick PRO Duo and SD/SDHC/SDXC cards compatible, Slot B:SD/SDHC/SDXC cards compatible
DC IN
Yes
Power
BATTERY TYPE
InfoLITHIUM with AccuPower Meter System (V Series)
POWER CONSUMPTION (LCD)
4K:5.1W
POWER CONSUMPTION (VIEWFINDER)
4K:4.8W
POWER REQUIREMENTS
7.4V (battery pack), 8.4V (AC Adaptor)
CHARGE ON CAMCORDER (CHARGING TIME WITH SUPPLIED BATTERY)
Yes(Approx. 2h 50min)
USB CHARGING
-
USB POWER SUPPLY
-
Size & Weight
DIMENSIONS (W X H X D) (MAIN UNIT ONLY)
Approx. 116 x 89.5 x 196.5 mm (Approx. 121 x 104 x 274.5 mm (including Lens Hood and Large Eyecup)), Approx. 4 5/8 x 3 5/8 x 7 3/4 in (Approx. 4 7/8 x 4 1/8 x 10 7/8 in(including Lens Hood and Large Eyecup))
DIMENSIONS (W X H X D) (INCLUDING SUPPLIED BATTERY)
Approx. 116 x 89.5 x 196.5 mm (Approx. 121 x 104 x 274.5 mm (including Lens Hood and Large Eyecup)), Approx. 4 5/8 x 3 5/8 x 7 3/4 in (Approx. 4 7/8 x 4 1/8 x 10 7/8 in(including Lens Hood and Large Eyecup))
WEIGHT (MAIN UNIT ONLY)
Approx. 2 lb 1 oz (including Lens Hood and Large Eyecup), Approx. 935 g (including Lens Hood and Large Eyecup)
WEIGHT (INCLUDING SUPPLIED BATTERY)
Approx. 1,030 g (NP-FV70A)(supplied battery), Approx. 1,080 g (NP-FV100A), Approx. 2 lb 2.7oz (NP-FV50A), Approx. 2 lb 4.3 oz (NP-FV70A)(supplied battery), Approx. 2 lb 6.1 oz (NP-FV100A)17, Approx. 985 g (NP-FV50A)
This product comes with 2 Years Warranty with Sony Australia.Our products are sourced from authorised Australian suppliers and therefore come with genuine Australian warranty.Camera Warehouse does not participate in 'Grey Market' or 'Parallel Import' activities.
Sony FDR-AX700 4K HDR Camcorder
Rechargeable Battery Pack(NP-FV70A)
AC Adaptor
Power Cord
Operating Guide
Remote Commander (RMT-835 with Battery(CR2025)
Lens Hood
Lens Cap
Large Eyecup
12 Months Genuine Warranty from Sony Australia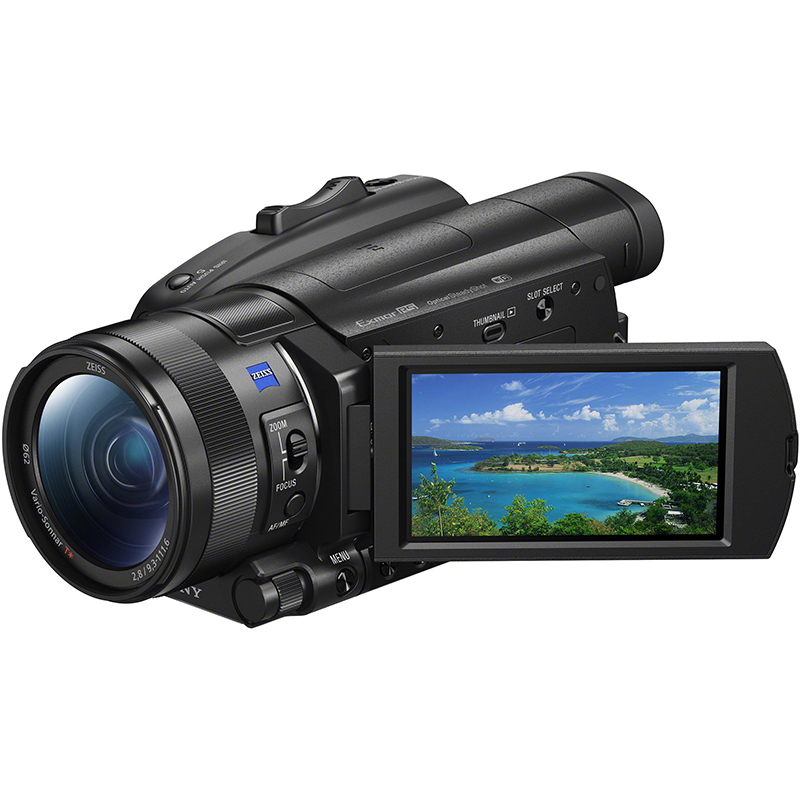 Sony FDR-AX700 4K HDR Camcorder
SKU: Sony FDRAX700
UPC: 4548736068551