Regular Price
A$1,849.00
Special Price
A$1,599.00
save: A$250.00
Free Shipping for Orders over $98*

(*excludes bulky items)
No SURCHARGE FOR CREDIT CARDS
24.3 Megapixel EXMOR Full Frame CMOS Sensor
BIONZ X Image Processor
Full HD XAVC S Video recording at 50 Mbps
3", 1229k-Dot Tiltable TFT LCD monitor
0.5", 2.36M-dot OLED Tru-Finder Electronic Viewfinder
5-Axis SteadyShot INSIDE Image Stabilization
Fast Hybrid Autofocus
14-bit RAW format support
Customizable function buttons
Wi-Fi and NFC connectivity
HDMI Terminal
Compatible with Sony E-Mount and A-Mount lenses
Durable and lightweight Magnesium alloy body
2 Years Genuine Warranty with Sony Australia The imaging and video prowess of the Sony A7 II Mirrorless Digital Camera starts with the BIONZ X Image Processor that powers the 24.3 Megapixel EXMOR Full Frame CMOS Sensor. This combination gives rise to photos of superb detail and Full HD XAVC S Video Recording at 50 Mbps. Moving subjects are clearly captured with the help of the Fast Hybrid Autofocus while image blur caused by camera shake can be countered by the 5-Axis Steadyshot INSIDE Image Stabilization.
Meanwhile, the 3", 1229k-Dot Tiltable TFT LCD monitor can be used to find the perfect angle for every photo. For a live preview on how the camera settings will affect a certain image, you can take peek inside the 0.5", 2.36M-dot OLED Tru-Finder Electronic Viewfinder. Aside from JPEG, this Sony Alpha camera is capable of 14-bit RAW format support for better post-processing. Quick camera settings adjustments can also be programmed to any of the customizable function buttons.
The A7 II makes large-screen viewing possible via its HDMI Terminal. Online sharing of recorded media as well as remote smartphone control is made possible by this camera's Wi-Fi and NFC connectivity. The Sony A7 II Mirrorless Digital Camera is fortified by a durable and lightweight Magnesium alloy body and it is compatible with Sony E-Mount and A-Mount lenses.
---
Product Features in Detail
5-axis image stabilization
The α7 II dramatically expands your range of expression by compensating for five types of camera shake during handheld shooting of still images and movies. The highly effective 4.5-step compensation lets you confidently zoom in faraway subjects, snap detailed close-ups, capture night scenes and more — all with minimal camera shake blur.
Compatibility with wide-ranging mountable lenses
New 5-axis image stabilization lets you enjoy unparalleled handheld shooting freedom with more of your favorite mountable lenses. The short flange-back distance in the E-mount α7 II contributes to broad lens compatibility.
Automatic optimization for every α lens
Confidently use your favorite E-mount and A-mount lenses, knowing the α7 II will analyze information from the lens to optimize depiction performance and 5-axis image stabilization for the particular lens you mount. When using E-mount lenses with optical stabilization (OSS), the α7 II combines the best of in-lens and in-camera image stabilization.
Focal plane phase-detection AF with A-mount lenses
The α7 II offers focal plane phase-detection AF even when an A-mount lens is mounted via LAEA3(LA-EA16) mount adapter. So you can take advantage of the wide AF coverage, high-speed response, high tracking capability, and high optical performance of A-mount lenses.
High-performance Fast Hybrid AF
The newly enhanced Fast Hybrid AF system delivers extremely high-speed response, highly accurate prediction, and wide area coverage for autofocusing and tracking you can always depend on. It's remarkably fast for a full-frame camera AF system (30% faster than the α7) and accurately predicts subject movement so you can steadfastly track your subject.
35 mm full-frame 24.3 megapixel7 Exmor® CMOS sensor
The image sensor delivers beautiful images from corner to corner and stunning 24.3 megapixel resolution. You'll enjoy low noise, an extremely wide dynamic range, and amazingly rich and subtle gradations. Moreover, innovations that could only be achieved by Sony reproduce details more faithfully so that every scene looks incredibly real.
Supports 14-bit uncompressed RAW format
New compatibility with 14-bit uncompressed RAW format lets you choose the optimal format for your needs. The camera thereby ensures supreme quality of tonal gradation to maximise the benefit of the image sensor's wide dynamic range.
BIONZ X™ image processing engine
BIONZ X™ faithfully reproduces textures and details in real time, as seen by the naked eye, via extra high-speed processing capabilities. Together with front-end Large Scale Integration that accelerates processing, it enables more natural details, more realistic images, richer tonal gradations, and lower noise when shooting still images and movies.
Robust magnesium alloy body
The remarkably compact and lightweight body is solidly built to withstand the rigors of shooting in the field. It's the ideal blend of light weight, solid reliability and steady handling, thanks to a top cover, front cover, and internal structure constructed of rigid magnesium alloy.
Robust lens mount
The strength and rigidity of the body and lens mount have been enhanced to provide an especially solid foundation for mounting large, heavy lenses such as super telephoto lenses and those preferred for movie shooting.
High-contrast, high-resolution XGA OLED Tru-Finder™
The viewfinder offers impressive visibility that contributes to stress-free, intuitive operation. You can accurately monitor what will appear in your final images because it faithfully displays the effects of your various camera settings. Moreover, an advanced 3-lens optical system ensures rich tonal gradation and extremely high contrast.
Enhanced grip and shutter button
The grip is refined in shape and height to support a more secure grasp of the camera even when a large lens is mounted. This also contributes to more confident operation of the shutter button and dials. Moreover, the shutter button has been reshaped and shifted forward to enable more natural shooting with less camera shake.
Full-frame expression without the bulk
The α7 II packs powerful movie-making capabilities in extremely compact dimensions. You can create movies of breathtaking visual and sound quality with exquisite background blur, remarkably clear details, and the sensitivity to bring dark scenes to vibrant life. Features like Picture Profile and P/A/S/M modes further expand your creative options.
Detail reproduction technology and diffraction-reducing technology
Detail reproduction technology depicts details more faithfully with a more natural sense of dimension, while diffraction-reducing technology suppresses the effects of diffraction to faithfully reproduce fine details even when shooting at small aperture settings.
Stable viewfinder image
Monitor the stabilizing effects of camera shake compensation in the viewfinder or LCD screen while shooting still images by pressing the shutter button halfway or magnifying the image, and while shooting movies by entering movie mode. Even when using a telephoto or macro lens, you can fine-tune framing and focusing with stress-free stability.
Lock-on AF tracking
It's easy to keep moving subjects in focus with enhanced Lock-on AF, which analyzes even more information from the scene to ensure usage of the optimal AF point for smooth, stable autofocusing. Its ability to detect and track moving subjects has now been significantly improved, thanks to Sony's advanced proprietary image analysis technology.
S-Log gamma setting
This proprietary Sony gamma setting, featured in professional camcorders, creates a 1300% wider dynamic range for smooth expression of gradation with reduced whiteout and blackout. Through color grading in post-production, you can make the most of the low-noise image and super-rich detail to achieve various types of image expression.
Area-specific noise reduction
Area-specific noise reduction selectively divides the image into areas based on patterns (such as edges, textures, and flat areas like blue skies), then applies the most appropriate noise reduction for each area to markedly reduce noise and achieve a new level of clarity.
Picture Profile
Fine-tune the look of movies before shooting by adjusting gradation, color adjustment and detail. Adjusted parameters can be saved with other settings as a profile, and up to 7 profiles can be stored for later recall.
Meticulously crafted controls
Controls are refined for intuitive operation and immediate adjustment of parameters while viewing scenes through the viewfinder. The front and rear dials have been thoroughly refined and positioned with overall handling in mind to enable easier, more efficient turning. It' a level of refinement that even surpasses that of other α7 series models.
Time code / User bit
This function provides a "Record Run" setting that only advances the time code while recording, a "Free Run" setting that advances the time code whether recording or not, a drop frame method, and a non-drop frame method. The α7 II can also output an embedded time code when the clean HDMI output setting is in use.
Clean HDMI output
An HDMI terminal makes it easy to transfer Full HD movie signals in real time to an external monitor for accurate, large-screen viewing and listening. This feature supports uncompressed movie recording on external recording equipment and lets you output uncompressed movies with the shooting info display function off.
Anti-dust system and coating
To keep your photos blemish-free, a special anti-static coating on the surface of the optical filter suppresses the attachment of both dry and moist dust particles when changing lenses. An anti-dust mechanism also vibrates at high speed when you select Cleaning Mode to remove any particles adhering to the filter.
Easy button customization
Button customization empowers you to shoot just the way you like, with frequently used functions assigned to the customizable buttons of your choice. You can easily assign any of 56 functions to any of 10 buttons to enjoy speedier, more intuitive operation and maximum convenience.
Convenient tiltable LCD screen
The LCD screen tilts upward approx. 107 degrees and downward approx. 41 degrees to accommodate wide-ranging shooting angles. This flexibility combines with compact mobility to greatly expand your shooting options. Viewing is also clear under direct sunlight thanks to WhiteMagic™ technology that nearly doubles the brightness of the display.
Multi Frame NR (Noise Reduction)
This mode composites four shots to significantly suppress noise and raise sensitivity, letting you clearly capture dark scenes without a tripod or flash. Camera shake blur is also lowered while contrast and detail are raised.
Pro-quality XAVC S format
For extremely high image quality and minimal noise, record movies in the high-bit-rate XAVC S format, which was developed based on the professional XAVC 4K/HD format. It enables Full HD (1920 x 1080) image recording at 50 Mbps (60p/50p, 30p/25p, 24p) and employs linear PCM sound for high-quality sound recording.
5fps AF/AE shooting with accurate tracking
When your subject is moving fast, you can beautifully capture the decisive moment with sharp, well-exposed results via 5fps continuous AF/AE shooting. A dramatically improved algorithm accurately predicts subject movement so you can steadfastly track the subject even when shooting continuously.
One-touch remote and one-touch sharing
One-touch remote lets you use your smartphone or tablet as a viewfinder and remote control for a digital camera, and one-touch sharing lets you transfer your photos and videos from your camera. Either way, by installing PlayMemories Mobile app to your NFC-enabled Android smartphone or tablet, you can avoid complex set-up sequences and establish wireless connection simply by touching your device to the camera.
You are now ready to control your camera from your smartphone to take a photo from a previously out-of-reach spot, or simply be in your own group shot, as well as transfer them instantly to your smartphone for sharing on SNS. No NFC? No problem. You can also pair the devices manually.
PlayMemories Camera Apps™
The exciting new application download service, PlayMemories Camera Apps, lets you add new functions to your camera's existing feature-set to heighten photographic expression according to your own creative needs.
Supported in Capture One Express (for Sony)
Capture One Express (for Sony) is one of the world's best RAW converters, rendering precise colors and incredible detail. It contains flexible digital asset management, all the essential adjustment tools, and fast, responsive performance in one customizable and integrated solution.
LENS

LENS MOUNT
Sony E-mount lenses
LENS COMPATIBILITY
Sony E-mount lenses

SENSOR

TYPE
35 mm
SENSOR
35 mm full frame (35.8 x 23.9mm) Exmor™ CMOS sensor
NUMBER OF PIXELS (EFFECTIVE)
24.3MP
NUMBER OF PIXELS (TOTAL)
24.7MP
IMAGE SENSOR ASPECT RATIO
3:2
ANTI-DUST SYSTEM
YES

RECORDING (STILL IMAGES)

IMAGE SIZE (PIXELS), 3:2
35mm full frame L: 6000 x 4000 (24M), M: 3936 x 2624 (10M), S: 3008 x 2000 (6.0M) APS-C L: 3936 x 2624 (10M), M: 3008 x 2000 (6.0M), S: 1968 x 1312 (2.6M)
IMAGE SIZE (PIXELS), 16:9
35mm full frame L: 6000 x 3376 (20M), M: 3936 x 2216 (8.7M), S: 3008 x 1688 (5.1M) APS-C L: 3936 x 2216 (8.7M), M: 3008 x 1688 (5.1M), S: 1968 x 1112 (2.2M)
IMAGE SIZE (PIXELS), SWEEP PANORAMA
Wide: horizontal 12,416 x 1,856 (23M), vertical 5,536 x 2,160 (12M) Standard: horizontal 8,192 x 1,856 (15M), vertical 3,872 x 2,160 (8.4M)
IMAGE QUALITY MODES
RAW, RAW & JPEG, JPEG Extra fine, JPEG Fine, JPEG Standard
RAW OUTPUT
14 bit
UNCOMPRESSED RAW
Yes
PICTURE EFFECT
Posterization (Colour) Posterization (B/W) Pop Colour Retro Photo Partial Colour (R/G/B/Y) High Contrast Monochrome Toy Camera(Normal/Cool/Warm/Green/Magenta) Soft High-key
CREATIVE STYLE
Standard Vivid Neutral Clear Deep Light Portrait Landscape Sunset Night Scene Autumn Leaves Black & White Sepia Style Box
DYNAMIC RANGE FUNCTIONS
Auto High Dynamic Range (Auto Exposure Difference, Exposure Difference Level (1-6 EV, 1.0 EV step)), Dynamic Range Optimizer (Auto/Level (1-5)), Off

RECORDING (MOVIE)

RECORDING FORMAT (MOVIE)
AVCHD 2.0 / MP4 / XAVC S (up to 1920 x 1080/60p 50Mbps)
VIDEO COMPRESSION
XAVC S: MPEG-4 AVC/H.264 AVCHD: MPEG-4 AVC/H.264 MP4: MPEG-4 AVC/H.264
AUDIO RECORDING FORMAT
AVCHD / MP4 / XAVC S
MOVIE FUNCTIONS
Audio Level Display, Audio Rec Level, Auto Slow Shutter, HDMI info. Display (On/Off selectable), Time Code/User Bit, Dual Video Rec, Auto Slow Shutter, Record Control

STORAGE MEDIA

COMPATIBLE RECORDING MEDIA
Memory Stick PRO Duo, Memory Stick PRO-HG Duo, Memory Stick XC-HG Duo, SD memory card, SDHC memory card (UHS-I compliant), SDXC memory card (UHS-I compliant)

NOISE REDUCTION

NOISE REDUCTION
Long exposure High ISO NR
MULTI FRAME NR
Auto/ISO 100 to 51200

WHITE BALANCE

WHITE BALANCE MODES
Auto WB, Daylight, Shade, Cloudy, Incandescent, Fluorescent (Warm White / Cool White / Day White / Daylight), Flash, Colour Temperature (2500 to 9900K) & Colour Filter (G7 to M7: 15 steps, A7 to B7: 15 steps), Custom, Underwater
AWB MICRO ADJUSTMENT
G7 to M7 (15 steps), A7 to B7 (15 steps)
BRACKETING
3 frames, H/L selectable

FOCUS

FOCUS TYPE
Fast Hybrid AF(phase-detection AF/contrast-detection AF)
FOCUS SENSOR
Exmor" CMOS sensor"
FOCUS POINT
35mm full frame: 117 points (phase-detection AF) APS-C: 99 points (phase-detection AF) / 25 points (conotrast-detection AF)
FOCUS SENSITIVITY RANGE
EV-1 to EV20 (ISO100 equivalent with F2.0 lens attached)
AF MODE
Single-shot AF (AF-S), Continuous AF (AF-C), Direct Manual Focus (DMF), Manual Focus
FOCUS AREA
Wide (117 points (phase-detection AF), 25 points(contrast-detection AF)) Zone Center Flexible Spot (S/M/L) Lock-on AF ( Wide / Zone / Center / Flexible Spot (S/M/L))
TYPE
Yes (with Built-in LED type)
AF ILLUMINATOR RANGE
Approx. 0.3m - Approx. 3.0m (with FE 28-70mm F3.5-5.6 OSS attached)

EXPOSURE

METERING TYPE
1200-zone evaluative metering
METERING SENSOR
Exmor" CMOS sensor"
METERING SENSITIVITY
EV -1 to EV 20 (at ISO 100 equivalent with F2.0 lens attached)
METERING MODE
Multi-segment, Center-weighted, Spot
EXPOSURE MODES
AUTO (iAUTO, Superior Auto), Programmed AE (P), Aperture priority (A), Shutter-speed priority (S), Manual (M), Scene Selection, Sweep Panorama, Movie
AUTO (AE) BRACKETING
Cont./Bracket: Single, With 1/3 EV, 1/2 EV, 2/3 EV, 1.0 EV, 2.0 EV, 3.0 EV increments, 3/5 frames selectable
AE LOCK
Locked when shutter button is pressed halfway. Available with AE lock button. (On/Off/Auto)
ISO SENSITIVITY (RECOMMENDED EXPOSURE INDEX)
ISO 50–25600

VIEWFINDER

VIEWFINDER TYPE
0.5"-type electronic viewfinder (colour)
NUMBER OF DOTS
2 359 296 dots
BRIGHTNESS CONTROL (VIEWFINDER)
Auto / Manual ( 5 steps between -2 and +2 )
FIELD COVERAGE
100%
MAGNIFICATION
Approx. 0.71 x (with 50mm lens at infinity, -1m)
DIOPTRE ADJUSTMENT
-4.0 to +3.0m
EYE POINT
Approx. 27mm from the eyepiece lens, 22mm from the eyepiece frame at -1m-1(CIPA standard)

LCD SCREEN

TYPE
3.0" type TFT LCD
TOTAL NUMBER OF DOTS
1,228,800 dots
BRIGHTNESS CONTROL (LCD)
Manual ( 5 steps between -2 and +2 ), Sunny Weather mode
FOCUS MAGNIFIER
35mm full frame: 5.9x, 11.7x, APS-C: 3.8x, 7.7x
PEAKING MF
Yes (Level setting: High/Mid/Low/Off, colour: White/Red/Yellow)

OTHER FEATURES

FACE DETECTION
On/On (Regist. Faces)/Off
CLEAR IMAGE ZOOM
Still / Movie: Approx. 2x
DIGITAL ZOOM (STILL IMAGE)
35mm full frame: up to 8x APS-C: up to 8x
DIGITAL ZOOM (MOVIE)
35mm full frame: Approx 4x. APS-C: Approx 4x.
LENS COMPENSATION
Peripheral shading, chromatic aberration, distortion

SHUTTER

SHUTTER SPEED
Still images: 1/8000 to 30 sec., Bulb Movies: 1/8000 to 1/4 (1/3 step), Up to 1/60 in AUTO mode (up to 1/30 in Auto Slow Shutter mode)

IMAGE STABILIZATION

COMPENSATION EFFECT
4.5 steps (based on CIPA standard. Pitch/yaw shake only. With Sonnar T* FE 55mm F1.8 ZA lens mounted. Long exposure NR off.)

FLASH CONTROL

FLASH CONTROL
Pre-flash TTL
FLASH COMPENSATION
+/- 3.0 EV (switchable between 1/3 and 1/2 EV steps)
FLASH MODES
Off Autoflash Fill-flash Slow Sync. Rear Sync. Red-eye reduction (on/off selectable) Wireless Hi-speed sync.
EXTERNAL FLASH COMPATIBILITY
Sony α System Flash compatible with Multi Interface Shoe, attach the shoe adaptor for flash compatible with Auto-lock accessory shoe
FE LEVEL LOCK
YES

DRIVE

DRIVE MODES
Single shooting, Continuous shooting, Self-timer (10/2 sec. delay selectable), Self-timer (Cont.) (10 sec. delay 3/5 exposures selectable), Bracketing (Cont., Single, White Balance, DRO)
CONTINUOUS DRIVE SPEED (APPROX. MAX.)
5 fps (in High Continuous Shooting)

PLAYBACK

PLAYBACK MODES
Single (with or without shooting information Y RGB histogram & highlight/shadow warning) 9/25-frame index view Enlarged display mode (L: 18.8x, M: 12.3x, S: 9.4x, Panorama (Standard): 25.6x, Panorama (Wide): 38.8x) Auto Review (10/5/2 sec,Off) Image orientation (Auto/Manual/Off selectable) Slideshow Panorama scrolling Folder selection (Date/ Still/ MP4/ AVCHD/XAVC S) Forward/Rewind (movie) Delete Protect

INTERFACE

PC INTERFACE
Mass-storage, MTP, PC remote
NFC™
YES
HD OUTPUT
HDMI micro connector (Type-D), BRAVIA Sync (link menu), PhotoTV HD, 4K still image playback
MULTI INTERFACE SHOE
Yes
OTHERS
Microphone terminal (3.5mm Stereo minijack), Headphone terminal (3.5mm Stereo minijack), Vertical Grip Connector
INTERFACES
Headphone minijack, Microphone minijack, Multi/Micro USB Terminal, Multi Interface Shoe, Vertical Grip Connector

AUDIO

MICROPHONE
Built-in stereo microphone or ECM-XYST1M / XLR-K1M (sold separately)
SPEAKER
Built-in, monaural

PRINT

COMPATIBLE STANDARDS
Exif Print, Print Image Matching III, DPOF setting

CUSTOM FUNCTION

CUSTOM FUNCTION TYPE
Custom key settings Programmable Setting

POWER

SUPPLIED BATTERY
NP-FW50 W-series Rechargeable Battery Pack
BATTERY LIFE (STILL IMAGES)
Up to 350 shots
BATTERY LIFE (CIPA, MOVIES)
Actual: Approx. 60 min. with viewfinder, approx. 65 min. with LCD screen (CIPA standard) Continuous: Approx. 100 min. with viewfinder, approx. 100 min. with LCD screen (CIPA standard)
EXTERNAL POWER
AC Adaptor AC-PW20 (optional)

WiFi

WIRELESS & NETWORK CAPABILITIES
Downloadable Camera Apps, NFC One-touch functionality, Wi-Fi

SIZE & WEIGHT

DIMENSIONS (W X H X D)
126.9 x 95.7 x 59.7 mm
WEIGHT (WITH BATTERY AND MEMORY CARD INCLUDED)
556 g (Body Only) / 599 g (With battery and media)
This product comes with 2 Years Warranty with Sony Australia. Our products are sourced from authorised Australian suppliers and therefore come with genuine Australian warranty. Camera Warehouse does not participate in 'Grey Market' or 'Parallel Import' activities.
Sony A7 II Mirrorless Digital Camera
NP-FW50 Rechargeable Battery
AC Adapter
Accessory shoe cap
Body cap
Eyepiece cup
Micro USB cable
Shoulder strap
2 Years Genuine Warranty with Sony Australia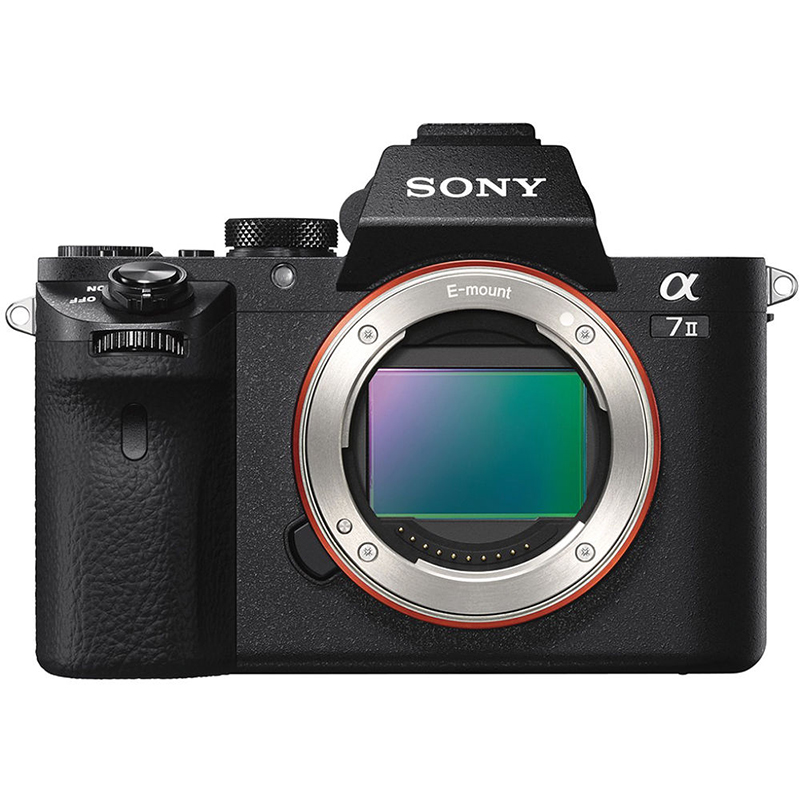 Sony A7 II Body Only