Pentax KP Digital SLR Camera Body Silver with DA 40mm f/2.8 XS Lens
Free Shipping for Orders over $98*

(*excludes bulky items)
No SURCHARGE FOR CREDIT CARDS
With Pentax DA 40mm f/2.8 XS Lens
24.3 effective megapixel, APS-C AA CMOS Sensor
Prime IV image processor with accelerator
Maximum ISO of 819,200
Pixel Shift Resolution System
Five-axis SR II Shake Reduction System
100% FOV Optical Viewfinder
27-point SAFOX11 Autofocus
Full HD video recording
AA Filter Simulator
Tiltable LCD monitor
Customizable info screen control
Built-in Wi-Fi for use with Image Sync app
Weather-proof and dust-proof body
12 Months Genuine Warranty with Pentax Australia
The most impressive feature that pops out from the Pentax KP Digital SLR Camera is its maximum ISO of 819,200. With this range, light sensitivity especially during low-light settings is not a problem. However, this Pentax digital SLR camera has more to offer. The core of its amazing image quality is the combination of the 24.3 effective megapixel, APS-C AA CMOS Sensor and Prime IV image processor with accelerator that reduces noise and enhances detail. Speaking of detail, the Pixel Shift Resolution System allows the capturing of a single, high-resolution shot by combining multiple images. Meanwhile, using the AA filter simulator maintains colour consistency and eliminates moire that exceeds the sensor resolution. Image blur due to camera shake can also be negated by the five-axis SR II Shake Reduction System. Finding the perfect angle can be done through the 100% FOV Optical Viewfinder. Faster captures, especially of moving subjects, can be triggered by the 27-point SAFOX 11 Autofocus. Beyond still images, the Pentax KP is also capable of full HD video recording with viewable feeds through the tiltable LCD monitor. For easier usage, you can also take advantage of its customizable info screen control to optimize often-used options. For easier sharing of snapshots or footages online, you can activate the built in Wi-Fi for use with the Image Sync app. All these features are housed in a weather-proof and dust-proof body that protects the device from harsh natural occurrences.

---
Product Features in Detail

24.32 Effective Megapixel APS-C CMOS Sensor
The PENTAX KP features a new-generation 24.32 effective megapixel AA Filter-less APS-C CMOS sensor for outstanding image quality. It delivers well-defined images with true-to-life reproduction of gradation and texture. This new sensor enables shooting in extremely low-light conditions, with super-high-sensitivity to ISO 819200, making the camera ideal for low-light photography.


In-body SR II Shake-Reduction
Thanks to the built-in SR II shake-reduction mechanism, the PENTAX KP effectively minimizes camera shake and delivers sharp, blur-free images, even in camera-shake-prone conditions such as when using a telephoto lens, shooting low-light scenes without flash illumination, or photographing sunset scenes. In addition to more common camera shake caused by pitch and yaw, this five-axis mechanism also compensates for camera shake caused by horizontal and vertical shift (often generated in macro photography) and camera shake caused by roll. It assures a compensation effect of approximately five shutter steps (CIPA standard compliant, smc PENTAX-DA 18-135mmF3.5-5.6ED AL [IF] DC WR、f=135mm) — a level equivalent to that of PENTAX's flagship model — to expand the limits of handheld photography. When taking a panning shot, this mechanism efficiently controls the SR unit to compensate for all affecting factors without requiring any switching action.


Pixel Shift Resolution System
The PENTAX KP features Pixel Shift Resolution System,* the latest super-resolution technology, which captures four images of the same scene by shifting the image sensor by a single pixel for each image, then synthesizes them into a single composite image. Compared to the conventional Bayer system, in which each pixel has only a single color-data unit, this innovative system obtains all color data in each pixel to deliver super-high-resolution images with far more truthful colors and much finer details than those produced by conventional APS-C-sized image sensors. To make this system more useful with a wider range of scenes and subjects, the PENTAX KP also provides ON/OFF switching of the motion correction function,** which automatically detects a moving object during continuous shooting and minimizes negative effects during the synthesizing process.


AA filter simulator
By applying microscopic vibrations to the image sensor unit at the sub-pixel level during image exposure, the PENTAX KP's AA (anti-aliasing) filter simulator provides the same level of moiré reduction as an optical AA filter. Unlike an optical AA filter, which always creates the identical result, this innovative simulator lets the user switch the AA filter effect on and off and adjust the level of the effect, making it possible to set the ideal effect for a particular scene or subject based on the prevailing photographic conditions.


SAFOX11 Autofocus Module
The PENTAX KP features the high-speed SAFOX 11 phase-matching AF sensor module to deliver dependable, responsive autofocus operation. Of its 27 focus sensors, 25 are cross-type sensors positioned in the middle to assure pinpoint focus on the subject at a minimum brightness level as low as -3 EV. A completely new, much-improved algorithm assures better autofocusing accuracy and speed than models equipped with the conventional SAFOX 11 module. The camera also provides useful customization features to assist in autofocus operation, such as a choice of operation modes—focus-priority, release-priority or advance-speed-priority—and the Selected-area Expansion function to automatically refocus on a subject when it moves away from the initial point.


Optical Viewfinder for 100% FOV and .95 magnification
The optical viewfinder achieves a 100% optical field of view for framing accuracy in a highly compact form factor. Treated with a new coating, its glass prism improves reflectance resulting in a brighter viewfinder image. Also, its improved design assures 0.95-times viewfinder magnification for a broader image field and enhanced focus and composition confirmation.


Electronically controlled shutter unit
The PENTAX KP's shutter unit combines a reliable mechanical shutter mechanism (with a top speed of 1/6000 second) with an electronically controlled shutter mechanism. The electronic shutter mode provides a super-high shutter speed of 1/24000 second with reduced noise and vibration at shutter release, making it ideal for low-noise, low-vibration shooting in Live-view and mirror-up applications. The camera also provides a high-speed continuous shooting function with a top speed of seven images per second.


Professional H.264 video
The PENTAX KP captures flawless, high-resolution Full HD movie clips (1920 x 1080 pixels; 60i/30p frame rate) in the H-264 recording format. It also provides an external microphone terminal for manual setting of the audio recording level and monitoring of the sound pressure level for microphone input. In addition to various visual effect modes available during movie recording,* it features a range of movie recording functions, including a 4K Interval Movie mode that connects a series of 4K-resolution still images (3840 x 2160 pixels) at a fixed interval to create a single movie file, and the Star Stream mode to record the traces of stars in the Interval Movie mode.

A range of customization features
The PENTAX KP provides a grip replacement system for easy, quick change of the grip to accommodate the photographer's shooting style or a mounted lens. It offers a variety of customization functions to simplify and enhance camera operation, including Smart Function for speedy selection and easy setting of desired camera functions using the Fx (Function) and setting dials; and control panel customization to change the panel's layout to suit the photographer's preference.

Tiltable LCD Monitor
The PENTAX KP's 3.0-inch LCD monitor has approximately 921,000 dots, and provides a vertical tilt function to facilitate high- and low-angle shooting. In addition to its wide-view design, it features an air-gapless construction, in which the air space between LCD layers is eliminated to effectively reduce the reflection and dispersion of light for improved visibility during outdoor shooting. It also comes equipped with such convenient features as: the Outdoor View Setting mode, which instantly sets the optimum monitor brightness level for a given lighting condition; and a red-lighted monitor display function, which facilitates monitor viewing when the photographer's eyes have become accustomed to a dark location during nighttime photography.


Real-time Scene Analysis System
Supported by the combination of the approximately 86,000-pixel RGB light-metering sensor and the high-performance PRIME IV imaging engine, the PENTAX Real-time Scene Analysis System accurately and efficiently analyzes such factors as a brightness distribution in the image field and the subject's primary color and motion. By adopting a breakthrough artificial intelligence technology called deep learning to its image detection algorithm, this system assesses each individual scene more accurately while selecting the most appropriate exposure level and finishing touch for a given scene.


Multiple Bracketing Options
New Motion Bracketing and Depth-of-field Bracketing functions to capture three images of same scene by automatically shifting aperture and/or shutter-speed settings in user-selected steps.


Dust Removal II
DR II (Dust Removal II) mechanism to shake dust off from the image sensor surface using ultrasonic vibrations.
| | |
| --- | --- |
| Type | TTL autofocus, auto-exposure SLR digital-still camera with built-in retractable P-TTL flash |
| Lens Mount | PENTAX KAF2 bayonet mount (AF coupler, lens information contacts, K-mount with power contacts) |
| Compatible Lens | KAF4, KAF3, KAF2 (power zoom not compatible), KAF, KA mount lens |
| Standard Output | ISO AUTO / 100 to 819200 (EV steps can be set to 1EV, 1/2EV or 1/3EV) |
| ISO AUTO Setting | ISO Range (Maximum), ISO Range (Minimum) |
| ISO Sensitivity Options | (AUTO, Tv) |
| Minimum Shutter Speed | (AUTO: SLOW/MIDDLE/FAST, TV: 1/6000 to 30 sec.) |
| Image Stabilizer | Sensor-shift shake reduction (SRII) |
| AA Filter Simulator | Moiré reduction using SR unit. OFF/Type1/Type2/Bracket (2 frames)/Bracket (3 frames) |
| Type | TTL method using image sensor |
| White Balance | AUTO WB, Multi Auto WB, Daylight, Shade, Cloudy, Fluorescent Light (D:Daylight Color, N:Daylight White, W:Cool White, L:Warm White), Tungsten Light, CTE, Manual WB (up to 3 settings), |
| White Balance | Color Temperature Configuration (up to 3 settings), Copying the white balance setting of a captured image |
| Fine Adjustment | Adjustable ±7 steps on A-B axis or G-M axis |
| Image Sensor | Primary color filter, CMOS. Size: 23.5 x 15.6 (mm) |
| Effective Pixels | Approx. 24.32 megapixels |
| Total Pixels | Approx. 24.96 megapixels |
| Dust Removal | Image sensor cleaning using ultrasonic vibrations |
| Type | Pentaprism Finder |
| Coverage (FOV) | Approx. 100% |
| Magnification | Approx. 0.95x (50mmF1.4 at infinity) |
| Eye-Relief Length | Approx. 20.5mm (from the view window), Approx. 22.3mm (from the center of lens) |
| Diopter Adjustment | Approx. -2.5m to + 1.5m-1 |
| Focusing Screen | Interchangeable Natural-Bright-Matte III focusing screen |
| Type | TTL method using image sensor |
| Autofocus AF Method | Contrast detection |
| AF Mode | Single AF (AF.S), Continuous AF (AF.C) *Continuous AF (AF.C) is available with the dedicated lens. |
| AF Active Area | Face detection, Tracking, Multiple AF points, Select, Spot |
| Focus Peaking | Highlight Edge/Extract Edge/OFF |
| Display | Field of View approx. 100%, Magnified view (up to 16x), Grid Display (4x4 Grid, Golden Section, Scale display, Square 1, Square 2, Grid Color: Black/White ), Histogram, Highlight Alert, Composition Adjustment |
| File Format | RAW (PEF/DNG), JPEG (Exif 2.3), DCF2.0 compliant |
| Recorded Pixels | JPEG: L(24M:6016x4000), M(14M:4608x3072), S(6M:3072x2048), XS(2M:1920x1280) RAW: (24M:6016x4000) |
| Quality Level | RAW (14bit): PEF, DNG JPEG: ★★★ (Best), ★★ (Better), ★ (Good), RAW + JPEG simultaneous capturing available |
| Color Space | sRGB, AdobeRGB |
| Storage Medium | SD, SDHC and SDXC Memory Card (Conforms to USH-I standards) |
| Storage Folder | Folder Name: Date (100_1018,101_1019...) or User assigned folder name (Default |
| Recording File | File Name: |
| File Name Numbering | Sequential, Reset |
| Type | Tiltable TFT color LCD monitor featuring an air-gapless structure, tempered-glass front panel |
| Size | 3.0 inch (aspect ratio 3:2) |
| Dots | Approx. 921K dots |
| Adjustment | Brightness, Saturation and Colors adjustable |
| Outdoor View Setting | Adjustable ±2 step |
| Night Vision LCD Display | ON/OFF |
This product comes with 12 Months Genuine Warranty with Pentax Australia.
Our products are sourced from authorised Australian suppliers and therefore come with genuine Australian warranty.
Camera Warehouse does not participate in 'Grey Market' or 'Parallel Import' activities.
KP Digital SLR Camera Body Silver
Pentax DA 40mm f/2.8 XS Lens
O-ST162 Strap
D-LI109 Rechargeable Lithium-Ion Battery
D-BC109 Battery Charger
AC plug cord
S-SW167 CD-ROM Software
Grip S O-GP167 (on camera)
Digital Camera Utility 5
12 Months Genuine Warranty with Pentax Australia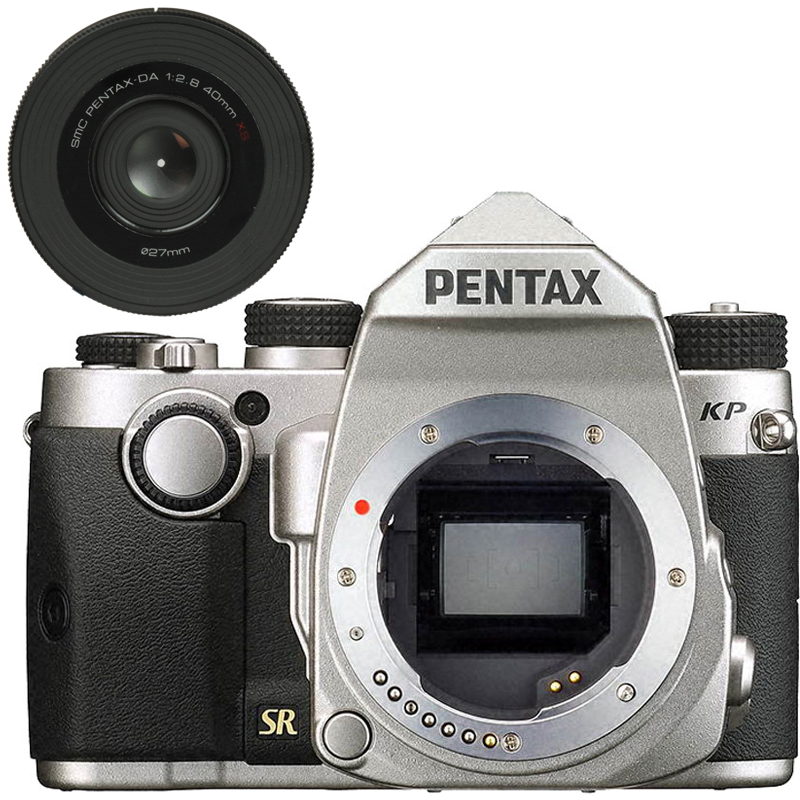 Pentax KP Digital SLR Camera Body Silver with DA 40mm f/2.8 XS Lens