Olympus OM-D E-M1 Mark II Body Only
ON SALE - WHILE STOCKS LAST
Regular Price
A$1,948.00
Special Price
A$1,428.00
save: A$520.00
Free Shipping for Orders over $98*

(*excludes bulky items)
No SURCHARGE FOR CREDIT CARDS
20.4 Megapixel Live MOS Sensor
TruePic VIII Image Processor
Advanced 5-Axis Image Stabilization
Lightweight, Weatherproof Body
15fps Seq. Shooting (Mechanical)
60fps Seq. Shooting (Electronic)
1/8000s High-Speed Mechanical Shutter
Cinema 4K Video
121-Point Dual FAST AF
Fully-Articulating 3.0" Touch Monitor
50 Megapixel High-Res Shot Mode
Focus Bracketing and Stacking
Built-In Wi-Fi
2 Years Genuine Warranty with Olympus Australia
Olympus brings you the world's fastest sequential shooting that has ever been made to a mirrorless camera history. Unlike its former kin, the OM-D E-M1 Mark II boasts an image processor that is 3.5 times faster with 3 time faster transfer speed and a larger buffer memory capacity which is twice as big as its predecessor. The high image quality is well preserved by its 20.4 Megapixel Live MOS Sensor and TruePic VIII Image Processor. While in focus, the camera renders an advanced 5-Axis Image Stabilization for a better image on 15fps Seq. Shooting (Mechanical), 60fps Seq. Shooting (Electronic), or even shooting Cinema 4K Video. This lightweight and weatherproof camera includes fully-articulating 3.0" touch monitor and features 1/8000s High-Speed Mechanical Shutter, 121-Point Dual FAST AF, plus focus bracketing and stacking modes that is perfect for macro photography. The OM-D E-M1 Mark II also comes equpped with a built-in Wi-Fi to easily share your recorded images and videos to a smartphone.
---
Product Features in Detail

High-speed sequential shooting and high-speed AF that can capture split-second moments
Unparalleled sequential shooting performance, an incredibly advanced fast new AF system, and a 120-fps high-speed viewfinder help you capture once-elusive split-second moments in high resolution.

Maximum 18 fps AF/AE tracking sequential shooting
By developing the 20M Live MOS sensor together with the TruePic VIII image processor, framing and sequential shooting of moving subjects using 18-fps AF/AE tracking is made possible while maintaining the high 20M pixel count. With AF/AE tracking high-speed sequential shooting that beats that of DSLRs, it easy to frame fast-moving subjects and capture the precise moment in the finest detail.

Maximum 60 fps AF/AE lock sequential shooting
Development the new 20M Live MOS sensor together with the TruePic VIII image processor made maximum 60-fps AF/AE lock high-speed sequential shooting possible at a 20M pixel count. Amazing sequential shooting speed beyond that of DSLR cameras lets you capture split-second moments that cannot be seen with the naked eye, in incredible detail.

Pro Capture
Pro Capture is a new feature that provides time-lag-free shooting so you can capture the precise, desired moment. The camera begins recording 20M images once the shutter button is half-pressed, and retains up to 14 of the most recent images when the shutter button is full-pressed. By capturing moments just prior to when the shutter is released, Pro Capture makes up for time lag caused by human reflexes and camera processing.
High-speed AF system
The E-M1 Mark II's AF system has received dramatic improvements over that of its predecessor in precision, tracking, and operability.
High-speed viewfinder
This model is equipped with a high-speed viewfinder with a maximum frame rate of 120 fps, and a minimum display time lag of 0.006 sec. for optimal image display. With this display you won't miss capturing the precise moment when shooting fast-moving subjects.
High-speed response
Camera operation speed has been significantly accelerated with release time lag shortened by approximately 70%, and playback frame advance made 3 times faster.
Unrivaled mobility and ultimate reliability
A compact, lightweight body that is splashproof, dustproof, and freezeproof provides unrivaled mobility and ultimate reliability, allowing you to shoot in the most severe environments.
Amazingly compact, lightweight body and system
An amazingly compact, lightweight body and system provide a different dimension in mobility. Even when a 600mm f/4 (35mm equivalent) super-telephoto lens is attached, the camera is portable and handheld shooting is comfortable.
Top-class image quality
The Zuiko Lens Systems is known for its excellent optical performance. Maximising that performance are the 20M Live MOS sensor and TruePic VIII image processor. These combined with further improved image stabilisation technology, provides top-class image quality among interchangeable lens cameras.
50M High Res Shot
This function is perfect for scenes where you need a higher resolution in photos, such as shooting artwork and landscapes. The camera moves the sensor in half-pixel increments while capturing eight shots, which are then used to generate a single high-resolution shot equal to that captured with a 50M sensor. Using the high resolving power of M.Zuiko PRO or M.Zuiko Premium lenses yields the best results. The new TruePic VIII image processor effectively suppresses blur caused by moving subjects. It is also possible to capture 25M-equivalent images if you want to keep the file size smaller.
The world's most powerful stabilisation performance: 6.5 shutter speed stops
This model is equipped with a new type of in-body 5-axis image stabilisation that compensates for all types of camera shake. When combined with in-lens image stabilisation, 5-axis sync IS provides the world's most powerful stabilisation performance equivalent to 6.5 shutter speed stops. Even the in-body 5-axis image stabilisation on its own boasts outstanding stabilisation performance equivalent to 5.5 shutter speed stops.
OM-D Movie
With powerful image stabilisation and 4K image quality, cinema-like video can be shot handheld.
Other new functions
Many new functions and user interface displays are included on the E-M1 Mark II.
C-AF tracking sensitivity: You can select from five tracking sensitivity levels to match the subject or shooting environment
Preset MF: This function lets you instantly set the focus to your preferred position. (Distance setting values are rough estimates.)
AF Home settings: Assign AF home settings to one of the buttons, program your most frequently used AF target position, AF Target mode, and AF mode as your AF Home settings, and pull them up simply by pressing the assigned button.
Low shutter speed limit: This function lets you set the shutter speed at which the ISO setting begins to automatically rise when in ISO Auto. This is convenient for when you want to shoot at low ISO settings or high shutter speeds.
Save settings/Mysets: Backing up camera settings on a computer lets you avoid having to reset them after a firmware upgrade.
Assign save folder/new folder: This function lets you assign a folder on the memory card for saving recorded images. You can also create new folders. Doing so helps make image editing and management easier.
Grid settings: You can change the colour of the grid to make shooting easier in dark locations such as stage performances.
Date/time/second display: You can organise images up to second increments.
Tab scroll menu: Scrolling a tab screen that collects separate genres makes it much easier to access the menu.
Micro Four Thirds interchangeable lens system camera
Memory
SD, SDHC[1]

, SDXC

[1]

, Eye-Fi Card compatible

[2]
1 Slot1: UHS-I, II compatible, Slot2: UHS-I compatible.
2 Not compatible with Endless Memory.
Sensor size
17.4 mm (H) x 13.0 mm (V)
Lens mount
Micro Four Thirds Mount
4/3 Live MOS Sensor
Number of pixels / aspect ratio
Number of effective pixels: Approx. 20.4 million pixels
Total number of pixels: Approx. 21.8 million pixels
Aspect ratio: 1.33 (4:3)
Dust reduction
Supersonic Wave Filter (image sensor dust reduction system)
DCF2.0, Exif2.3
File format
RAW (12-bit lossless compression), JPEG, RAW+JPEG
Recording image size
[RAW] 5184 x 3888 pixels
[JPEG] 5184 x 3888 pixels - 1024 x 768 pixels
Dual Slot Settings
Standard, Auto Switch, Dual Independent, Dual Same
When two cards are inserted, the card to be saved on to or to be viewed can be designated.
Folder creation and selection
With
Copy
Copy single file, copy multiple files, copy all
When copied, the new file will be given a different name from that of the original file.

Image Stabilisation System

Built-in 5-axis sensor-shift image stabilisation for movie and still photos
yaw / pitch / roll / vertical shift / horizontal shift
Mode
4 modes (S-IS AUTO, S-IS1, S-IS2, S-IS3), OFF
Live View image stabilisation
Activation by half-pressing shutter button or enlarging the view
Focal length setting
11 settings: 10 programmable settings (10 lenses), 1 open setting
Lens IS priority
With
5 axis Sync IS
With
When using M.Zuiko Digital lenses equipped with image stabilisation
Stabilisation performance
5.5 EV
Based on CIPA measurement conditions. When using M.Zuiko Digital ED 12-40mm f/2.8 PRO (focal length =40mm (35mm equivalent: 80mm))
Eye-level electronic viewfinder, approx. 2.36M dots
Field of view / Viewfinder magnification
Approx. 100% / Approx. 1.30x[1]

- 1.48x

[2]

(-1m

-1

, 50mm lens, Infinity)

1: Finder Style 1, 2 (aspect ratio 4:3)
2: Finder Style 3 (aspect ratio 4:3)
Eye point / Dioptre adjustment range
Approx. 21 mm (-1m-1

, Distance from rear lens surface) / -4 ~ +2m

-1
Preview
Live View preview with depth of field preview lock
Display Grid
Off / normal grid / trichotomy / golden grid / scale / diagonal / movie grid
grid colour is selectable
Level Gauge
2-axis (horizontal/vertical) level gauge
Finder Style
3 styles
Brightness and Colour Temperature Control
Adaptive brightness technology (EVF Auto Luminance) / ±7 level manual brightness control /±7 level manual colour temperature control
S-OVF (Simulated OVF)
Expands the Live View dynamic range.
Available in the EVF when in P, A, S and M modes. Art filter, WB and exposure are not reflected in EVF.
Eye Cup
Optional eyecup EP-13 is available.
Approx. 100% field of view,
exposure compensation preview, WB adjustment preview,
gradation preview, face detection preview (up to 8 faces),
grid line, magnification display (x3 / x5 / x7 / x10 / x14),
Display modes: Standard, Histogram, Highlight & Shadow, Level Gauge, Off (Image Only)
Preview
Preview with depth of field preview lock
Live View Boost
Live View Boost 1 , Live View Boost 2 (slow frame rate for dark areas)
Settings can be assigned for each shooting mode
Exposure compensation will not be applied
3.0-inch vari-angle monitor
Approx. 1037k dots (3:2), electrostatic capacitance touch panel
Touch control
Shutter release, magnification, AF area selection, AF area size adjustment, AF touch pad, frame forward/backward, magnified playback, Live Guide, Super Control Panel, Wi-Fi connection, movie controls, movie effects, movie teleconverter , selfie controls (shutter release, e-Portrait, custom self timer)
Tilting capability
With (mirror display when monitor is in self portrait position)
Brightness / Colour temperature control
±7 levels / ±7 levels
Colour tone select
Vivid / Natural
High-speed imager AF: Imager phase detection AF and imager contrast AF (active AF automatically selected by camera; when a Micro Four Thirds lens is attached, imager phase detection AF is always selected)
Focusing point
121-point cross-type phase detection AF and 121-point contrast AF
Focusing point selection mode
All target, group target (9-area or 5-area), single target
Focus mode
Single AF (S-AF) / Continuous AF (C-AF) / Manual Focus (MF) / S-AF + MF / AF tracking (C-AF + TR) / Preset MF[*]
Distance setting values are rough estimates and not compatible lens except the AF lens.
AF performance
C-AF lock (5 steps), AF scanner (3 types)
AF limiter
With (Fn button can be assigned to On/Off; can save 3 settings)
Distance setting values are rough estimates.
AF targeting pad
With (activate / deactivate with double tap on rear monitor)
Magnified frame AF
3x , 5x , 7x , 10x , 14x
Autofocusing is possible in the magnified frame; can be assigned to button to turn magnify frame AF on and to activate magnification; touch icon on monitor to turn off; enables selection of AF point from over 800.
Super spot AF
With (Contrast AF in center of the monitor when magnified)
Available only when a Micro Four Thirds lens is attached.
Face detection AF / Eye detection AF
With (Eye Detection AF mode : off / nearer-eye priority / right-eye priority / left-eye priority)
Manual focus assist
Focus ring rotation activates Live View image magnification and / or focus peaking when in S-AF+MF or MF mode
Peaking function
Activate with Fn button or focus ring
Change peaking settings using the Info button
Colour selection: white, black, red, yellow
Intensity selection: high, normal, low
Back light effect: on, off
AF Focus Adj.
Adjust all, adjust by lens (for Phase detection AF only)
AF illuminator
With
Digital ESP metering (324-area multi pattern metering), centre-weighted average metering, spot metering[*]

, spot metering with highlight control, spot metering with shadow control

(TTL Image sensor metering)
Also available AF target spot metering
Metering range
EV- 2 - 20 (using 17 mm f/2.8, ISO 100)
Exposure mode / Shooting mode
iAuto (Live Guide can be used), P: program AE (programme shift can be performed), A: aperture priority AE, S: Shutter priority AE, M: Manual (Live Bulb, Live Time and Live Composite are available), Custom 1~3, Art Filter, Underwater wide / Underwater macro (to be assigned to the Fn1 button)
Live Guide
Saturation, Colour, Brightness, Background Blur, Expressing Motion, Shooting Tips
Multiple effects can be used simultaneously.
ISO sensitivity
AUTO ISO (default) : LOW (approx. 64) ‐ 6400 with customizable upper limit (200 - 6400)
Manual ISO : LOW (approx. 64), 200 - 25600 (adjustable in 1/3 or 1 EV steps)
Exposure compensation
±5 EV, adjustable by 1/3, 1/2 or 1 EV steps
When shooting in HDR or in video, only adjustable up to ±3 EV steps
Live View only reflects up to ±3 EV steps
AE lock
Locks with a half-press of the shutter button, AEL / AFL button (can be set to Fn button as well)
[Focal-plane shutter (mechanical shutter)]
1/8000 - 60 sec., with selectable EV adjustment steps (1/3, 1/2, 1)
Live Bulb / Live Time: selectable exposure time (1 / 2 / 4 / 8 / 15 / 20 / 25 / 30 min.), with 8-min. default setting. Live Composite: maximum shooting time 3 hours
[Electronic first curtain shutter (Anti-shock mode)]
1/320 - 60 sec.
[Electronic shutter (Silent mode)]
1/32000 - 60 sec.

Sequential shooting maximum speed

[Sequential shooting H] approx. 15 fps with selectable 10-15 fps
[Sequential shooting L] approx. 10 fps with selectable 1-10 fps
[Anti-shock sequential shooting L] approx. 8.5 fps with selectable 1-8 fps
[Silent sequential shooting H] approx. 60 fps with selectable 15, 20, 30, 60 fps
[Silent sequential shooting L] approx. 18 fps with selectable 1-10, 15, 18 fps
[Pro Capture H] approx. 60 fps with selectable 15, 20, 30, 60 fps
[Pro Capture L] approx. 18 fps with selectable 1-10, 15, 18 fps
When using the M.Zuiko Digital ED 12-40mm f/2.8 PRO
Maximum sequential shooting speed may be affected by several factors including lens used, brightness, aperture, shutter speed, and ISO setting.
When in Pro Capture mode, slower shutter speeds and flash cannot be used.
When ISO is 8000 or above, the maximum sequential shooting speed is 30 fps, and the actual shooting speed may become slower than the set shooting speed by a few frames per second. When using ISO Bracketing, performance will be affected at ISO 2000 or above.
Focus and exposure are fixed at the values of the first shot when using sequential shooting H.
Maximum sequential shooting speed is 8.5 fps for anti-shock sequential shooting L, even when set to 9 or 10 fps.
Sequential shooting frame count
1- 99 frames
Pre-shutter Frames
For Pro Capture mode
Number of frames recorded prior to full-press of the shutter button can be set from 0 to 14 frames.
Self-timer
Operation time: 12 sec., 2 sec., custom (Wait time: 1-30sec., Shot interval: 0.5 / 1 / 2 / 3sec., Number of shots: 1-10, Every time AF: ON/OFF)

Flash intensity control method

TTL Auto, Auto[*]

, Manual, Super FP

[*]

(FP-TTL AUTO, FP-MANUAL)

Available on the external flash
Bundled standard flash
FL-LM3 (dustproof and splashproof flash)
GN = 9.1 (ISO100・m) / GN = 12.9 (ISO200・m)
Bounce Capability (up and down: 45, 60, 75, 90 degree / left and right 30, 60, 90, 120, 150, 180 degree)
Powered by the camera
Flash mode
Redeye, Fill-in, Flash Off, Red-eye Slow sync. (1st curtain), Slow sync. (1st curtain), Slow sync. (2nd curtain), Manual (1/1 (FULL) ~ 1/64)
Synchronisation speed
1/250 sec.
When using Super FP: 1/125-1/8000 sec.
When using electronic shutter: 1/50 sec. up to ISO6400, 1/20 sec. for ISO 8000 and higher, and 1/20 sec. for ISO bracketing
Flash intensity control
Up to ±3 EV in 1/3, 1/2, 1 EV steps selectable
Compatible external flash
FL-50R, FL-36R, FL-20, FL-14, FL-300R, FL-600R, FL-900R, STF-8

Compatible external flash

FL-50R, FL-36R, FL-300R, FL-600R, FL-900R
Control method
Triggered and controlled by Olympus Wireless RC Flash system compatible flashes: included FL-LM3 or separately available FL-600R and FL-900R, STF-8
External Flash intensity type
TTL Auto, Auto, Manual, FP-TTL-AUTO, FP-MANUAL
Channel
4 channels
Group No.
4 groups (External flash 3 groups + commander flash)
Auto WB, 7 Preset WBs, 4 Capture WBs, Custom WB(Kelvin setting)
White balance compensation
±7 steps along A-B / G-M axis (Except for Custom WB)
sRGB, Adobe RGB
i-Enhance, Vivid, Natural, Muted, Portrait, Monotone, Custom, e Portrait, Underwater, Colour Creator, Art Filters
Gradation
Auto, Normal, High Key, Low Key [except when using i-Enhance, Underwater, Art Filters, Color Creator]
Hilight and shadow control
±7 steps each for highlight, shadow, midtone
Pop Art (I, II / a.b.c.d.e.f)
(Variation / Art Effect)
Soft Focus ( - / c.e)
Pale & Light Colour (I, II / a.b.c.d.f)
Light Tone ( - / d.f)
Grainy Film (I, II / b.c.d.g.h)
Pin Hole (I, II, III / d)
Diorama ( I,II / d)
Cross Process (I, II / b.c.d.f)
Gentle Sepia ( - / a.b.c.d.f)
Dramatic Tone (I / b.c.d.e.f) (II / b.c.d.e.f.g.h)
Key Line (I, II / a.b.c.d.e)
WaterColour (I, II / a.b.c.d)
Vintage (I, II, III / a.b.c.d.e.f.i)
Partial Colour (I, II, III / a.b.c.d.e.f)
Detail of Art Effect
a. Soft Focus Effect
b. Pin-Hole Effect
c. White Edge Effect
d. Frame Effect
e. Star Light Effect
f. Blur Effect (Top & bottom, Left & Right)
g. B&W Effect (None, Yellow, Orange, Red, Green)
h. Pict. Tone (None, Sepia, Blue, Purple, Green)
i. Shade Effect (Top & bottom, Left & Right)
Colour Ring (for partial color)
18 colour selectable
Colour pattern : 30 colours / Saturation setting -4 ~ +3
2, 3 or 5 frames in 0.3 / 0.7 / 1.0 EV steps selectable, 7 frames in 0.3 / 0.7EV steps selectable
ISO bracketing
3 frames in 0.3 / 0.7 / 1.0 EV steps selectable
White balance bracketing
3 frames in 2, 4, 6 selectable steps for A-B/G-M axis.
Flash bracketing
3 frames in 0.3 / 0.7 / 1.0 EV step selectable
Art Filter bracketing
i-Enhance, Vivid, Natural, Muted, Portrait, Monotone, Custom, Art Filters, Colour Creator selectable
Focus bracketing
3 to 999 shots, focus steps adjustable from 1 to 10 (compatible with Micro Four Thirds lenses)
Focus stacking
8 shots are taken at different focus points and automatically composited together into a single image
Angle of view becomes slightly smaller
Compatible with :
M.Zuiko Digital ED 60mm f/2.8 Macro
M.Zuiko Digital ED 12-40mm f/2.8 PRO
M.Zuiko Digital ED 40-150mm f/2.8 PRO
M.Zuiko Digital ED 30mm f/3.5 Macro
M.Zuiko Digital ED 7-14mm f/2.8 PRO
M.Zuiko Digital ED 8mm f/1.8 Fisheye PRO
M.Zuiko Digital ED 300mm f/4.0 IS PRO
HDR1, HDR2 (painting-like)
ISO sensitivity is fixed at 200, and maximum shutter speed setting is 4 sec.
Exposure compensation can be performed.
Bracketing for HDR post process
3 or 5 frames in 2.0 or 3.0 EV steps, or 7 frames in 2.0 EV steps.
This sequential shooting H AE bracketing is specifically for shooting images that will be HDR-processed on a PC.
With (can be confirmed in Live View)
Horizontal and vertical compensation can be performed simultaneously.
Equivalent to 50 megapixels / 25 megapixels (8 shots combined into a single JPEG using sensor shift)
Available in P/A/S/M mode, RAW+JPEG or JPEG.
JPEG: 8160 x 6120(50M) 5760 x 4320(25M) / RAW: 10368 x 7776
RAW data can be developed in-camera. Development by PC is possible with Olympus Viewer 3 ver. 2.0
Shutter Type
Electronic shutter
Shutter Speed
1/8000 - 60 sec.
Shutter start delay
0, 1/8, 1/4, 1/2, 1, 2, 4, 8, 15, 30sec.
Charge Time
0, 1, 2, 4, 8, 15, 30sec.
Electronic first curtain shutter
Shutter Speed
1/320 - 60 sec.
For speeds over 1/320 sec., mechanical shutter will automatically be selected.
Shutter start delay
0, 1/8, 1/4, 1/2, 1, 2, 4, 8, 15, 30 sec.
Electronic shutter
Shutter Speed
1/32000 - 60 sec.
Shutter start delay
0, 1/8, 1/4, 1/2, 1, 2, 4, 8, 15, 30 sec.
Silent Mode Settings
Settings for sound, AF illuminator, and flash can be customised (default setting is Off for all three)
0.5 sec. - 60 sec.

Update interval time / composite method

0.5 sec. - 60 sec. / Lighten Mode (Bright area prioritisation)
Interval Time 1 sec. - 24 hours, Max 999 frames
Automatic creation of time-lapse movies possible

Number of picture / Function

2 frames / auto gain adjustment, exposure on recorded picture (RAW)
4:3 (Default) / 3:2 / 16:9 / 1:1 / 3:4
x2
2-axis
MOV(MPEG-4AVC/H.264), AVI(Motion JPEG)
Mode / frame rate / compression method
[MOV]
4096 x 2160 (C4K) / 24p / IPB (approx. 237 Mbps)
3840 x 2160 (4K) / 30p, 25p, 24p / IPB (approx. 102 Mbps)
1920x1080 (FHD) / 30p, 25p, 24p / ALL-I (A-I), IPB (SF, F, N)
1920x1080 (FHD) / 60p, 50p / IPB (SF, F, N)
1280x720(HD) / 60p, 50p, 30p, 25p, 24p / ALL-I (A-I), IPB (SF, F, N)
60p: 59.94 fps, 50p: 50.00 fps, 30p : 29.97 fps, 25p : 25.00 fps, 24p: 23.98 fps, C4K 24.00 fps
FHD ALL-I (A-I: ALL-Intra / approx. 202 Mbps), FHD IPB (SF: SuperFine / approx. 52 Mbps, F: Fine / approx. 30 Mbps, N: Normal / approx. 18 Mbps)
HD ALL-I (A-I: ALL-Intra / approx. 102 Mbps), HD IPB(SF : SuperFine / approx.26Mbps, F:Fine / approx.14Mbps, N : Normal / approx.10Mbps)
[AVI]
HD (1280x720) / 30p
Frame rates may drop when particular Art Filters and Movie Effects are used.
Speed Class 10 SD card is recommended for shooting movies.
UHS-II or UHS-I Speed Class 3 card is recommended for 4K, C4K, ALL-I shooting.
Maximum recording time
[MOV] Approx. 29min
[AVI] HD: Approx. 7min[*]
Excluding when particular Art Filters are used
Art Filter Movie
With (Frame rates may drop when certain Art Filters are used)
Movie Effect
One-shot Echo / Multi-echo / Art Fade / Old Film
One-push Movie Digital Converter
Approx. 3x (enlarges view of touched area)
Time Lapse Movie
[AVI ]
3840 x 2160 (4K) / 5 fps
1920 x 1080 (FHD) / 5 fps, 10 fps, 15 fps
1280 x 720 (HD) / 5 fps, 10 fps, 15 fps, 30 fps
Clips
1, 2, 4, 8 sec.
(Further continued shooting possible up to 16 seconds by pressing movie record button again)
Quick Movie / Slow Movie
With (this function is not available for videos with certain frame rates)
Image Stabilization for Movie
M-IS1 (Image sensor shift and electronic image stabilizer with multi motion IS),
M-IS2 (Image sensor shift with multi motion IS), Off
While using M-IS1, field of view may be affected.
Grid Line / Focus Peaking
4 types of grid lines / 4 colours for focus peaking
Time code
Rec run/free run, drop frame/non-drop frame
REC Bit
With
Live View Output via HDMI
Monitor Mode (outputs video and info display to a connected monitor)[1]
Record Mode (outputs video only, with no info display)[2]
1 Info display is not shown on the camera while recording. Footage is simultaneously displayed on the HDMI monitor (normal size) and on the camera (normal size or enlarged). However, the image cannot be enlarged on the camera when a movie is being recorded.
2 Movie quality is set to YCbCr 4:2:2, frame rate follows movie setting (24p, 30p and 60p settings are not recommended.), and sound will be recorded.
Movie Picture Mode
Flat
Exposure Control
Programme AE, aperture priority AE, shutter priority AE, manual
AE Lock
With
Wave Format (Stereo linear PCM/16-bit, Sampling frequency 48kHz)
Microphone / Speaker
Built-in stereo microphone / built-in mono speaker
External stereo microphone can be attached
Microphone function
Wind noise reduction, recording volume, microphone volume limiter, Audio dubbing possible for still pictures (up to 30 sec.)
May affect audio quality.
IC recorder linkage
Slate Tone / Synchronised Audio Rec-Movie Rec
LS-100 compatible
Via smartphone GPS data
Wireless Shooting
Live View, Rec View, Wireless Touch AF shutter, Self Timer (w/Countdown guidance, Sequential shooting, movie recording capability), Wireless Release, Movie Recording, Power Off
iAuto / ART / P / A / S / M (Live Bulb, Live Time, Live Composite) and drive mode can be selected.
Aperture, shutter speed, exposure, ISO sensitivity, white balance can be adjusted.
When in private connection
Image Share
File Type: JPEG, MOV
Connect to up to 4 devices simultaneously. Marking function for image share.
Easy Connection
QR code setting
Via USB cable (camera can be operated by both PC or camera controls)
Single-frame, information display, index display (4/9/25/100 frames), Clips, calendar, enlargement (2x - 14x), movie (with sound, FF/REW/Pause), picture rotation (auto), slideshow (with sound including BGM, Slide show effects, replaceable BGM), Light Box display
Information display
Histogram (independent luminance / RGB available), Highlight/Shadow point warning, AF frame, Photographic information, OFF
Trimming (beginning / end) / in-movie image extraction (4K only)
MOV format only
Editing function
RAW data edit, Gradation auto, Monochrome, Sepia, Red-eye fix, Saturation, Resize (1280x960, 640x480, 320x240), Trimming, Aspect, e-Portrait, Image Overlay, Post recording
RAW data edit
RAW data edit based on settings of the camera (including e-Portrait, Color Creator, Art Filter, ART-BKT). 2 programmable settings, preview capability.
Print reservation (DPOF), Direct print (PictBridge compatible)
34 languages selectable :
- English, French, German, Spanish, Italian, Japanese, Korean, Traditional Chinese, Simplified Chinese, Russian, Czech, Dutch, Danish, Polish, Portuguese, Swedish, Norwegian, Finnish, Croatian, Slovenian, Hungarian, Greek, Slovakian, Turkish, Latvian, Estonian, Lithuanian, Ukrainian, Serbian, Bulgarian, Rumanian, Indonesian, Malay, Thai
Modes C1, C2, and C3 can be accessed by mode dial
Menu my set
Modes C1, C2, and C3 can be accessed via the menu
Dial customization
Dial function and dial direction are customizable for both dials
Lever Customization
Select assignment from 3 different modes, power switch, or off (no function assignment)
Button Customization
Buttons can be customized (select from 35 functions)
Buttons on lenses and HLD-9 power batter holder can also be customized from the camera
Some buttons may have restrictions to what functions can be assigned
Copyright Settings/Lens info Settings
With / With (save up to 10 lenses)
USB Type-C
Remote controller connector
φ2.5Pin Jack (when using separately available RM-CB2)
HDMI connector
Micro HDMI (type D)
Flash attachment
Hot shoe, sync terminal
Wireless LAN
Built-in (IEEE 802.11b/g/n)
Microphone input jack
φ3.5 stereo mini jack (plug-in power on/off)
Headphone connector
φ3.5 stereo mini jack
PC interface
Super Speed (USB3.0)
BLH-1 Li-ion battery (included)
Battery status display
Remaining power (4 steps, %, or by-minute display), shot count, degradation
Power Battery Holder
HLD-9 power battery holder is separately available (holds one BLH-1 battery).
AC Adapter
AC-5 AC adapter is separately available (connects to power battery holder HLD-9 to provide power to camera).
Sleep mode
With (1 / 3 / 5 min. off)
W: 134.1 mm, H: 90.9 mm, D: 68.9 mm (based on CIPA standards: excludes protrusions)
Weight
Approx. 574 g (with BLH-1 battery and Memory card, based on CIPA standards)
Approx. 498 g (body only)
-10℃ ~ +40℃ (when in operation) / -20 ~ +60℃ (when stored)
Humidity
30 - 90% (when in operation) / 10 - 90% (when stored)
Body, USB cable, cable clip, shoulder strap, instruction manual, warranty card, FL-LM3 flash, BLH-1 Li-ion battery, BCH-1 rapid Li-ion battery charger
This product comes with 2 Years Genuine Warranty with Olympus Australia‌. Our products are sourced from authorised Australian suppliers and therefore come with genuine Australian warranty. Camera Warehouse does not participate in 'Grey Market' or 'Parallel Import' activities.
Olympus OM-D E-M1 Mark II Compact System Camera (Body Only)
USB Cable
Cable Clip
Shoulder Strap
Instruction Manual
FL-LM3 Flash
BLH-1 Li-ion Battery
BCH-1 Rapid Li-ion Battery Charger
2 Years Genuine Warranty with Olympus Australia‌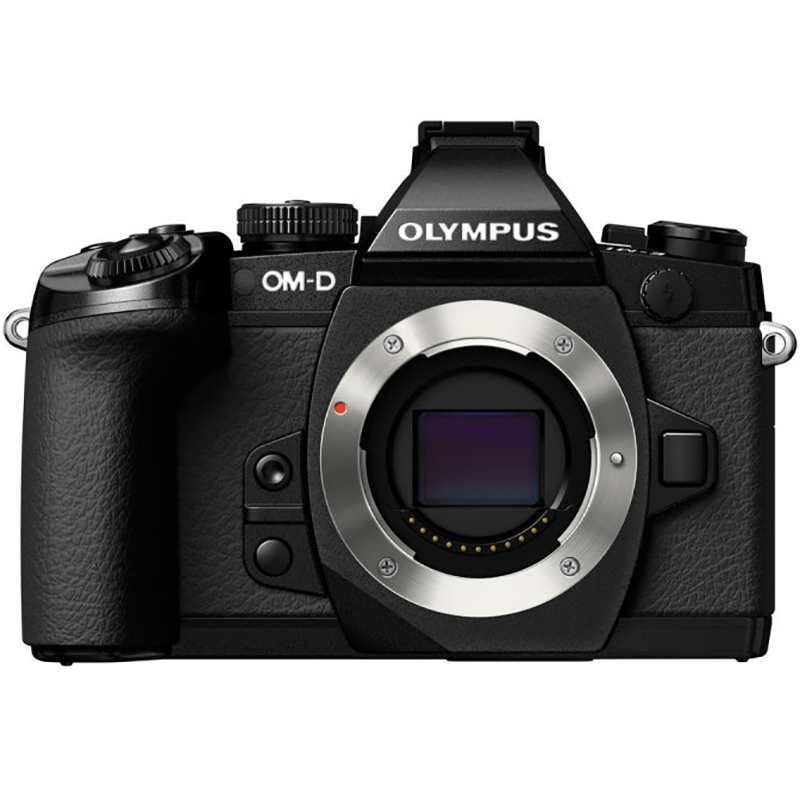 Olympus OM-D E-M1 Mark II Body Only
SKU: Olympus V207060BA000
UPC: 50332191174