DJI Mavic Air Fly More Combo Onyx Black
Free Shipping for Orders over $98*

(*excludes bulky items)
No SURCHARGE FOR CREDIT CARDS
DJI Price Match Guarantee – Click here for more info

1/2.3-inch, 12-megapixel CMOS Sensor
4K 30fps video and 12 MP photo capture
3-way gimbal
32-megapixel sphere panoramas
Visual Positioning System
Obstacle-avoidance sensors
Image Signal Processor
ActiveTrack and QuickShots
FlightAutonomy 2.0
Gesture control
21 minutes maximum flight time
Foldable legs
Compatible with DJI Goggles
12 Months Australian Warranty
Ever wondered what a cross between the Spark and the Mavic Pro would look like? The pondering is over as DJI has unveiled the Mavic Air drone. As an upgrade from the Spark mini drone, it is capable of 4K 30fps video capture through its 1/2.3-inch CMOS sensor. Meanwhile, its 3-way gimbal and its Image Signal Processor work together to provide more stable and clearer shots. Easily follow subjects by activating ActiveTrack while achieve epic effects with one tap via QuickShots. Flying this DJI drone wouldn't be too hard thanks to its Visual Positioning System that provides better control especially when hovering or when flying indoors. Add to that its obstacle-avoidance sensors that prevent destructive bumps and you can record continuous highlights throughout its 21 minutes maximum flight time. If you want to inject a stunning effect to your shots, you may also capture 32-megapixel sphere panoramas by stitching some images together. Need to operate hands-free? It won't be a bother for the DJI Mavic Air has gesture control too! Despite its numerous features, this quadcopter is housed in a compact yet durable frame that can be securely placed in storage with the help of its foldable legs. Aside from the included remote controller and hands-free control, this aerial video camera is also compatible with the DJI Goggles for a more immersive first-person view.
---
Product Features in Detail

3-Axis Gimbal Camera
The Mavic Air is the most portable DJI drone to house a 3-axis mechanical gimbal, with its angular vibration range reduced to 0.005°. Set in a triangular formation, gimbal dampeners help create even steadier shots.

32-Megapixel Sphere Panoramas
In addition to Horizontal, Vertical, and 180° panoramas, the Mavic Air stitches 25 photos together in just eight seconds to create crystal-clear 32 MP Sphere panoramas. View them from an immersive perspective with DJI Goggles.

4K 100 Mbps Video
The Mavic Air shoots video at an incredible 4K 30 fps, recording at 100 Mbps to capture every second with UHD quality.

Slow-Motion Video
With support for recording 1080p 120 fps slow-motion video, the Mavic Air captures all your epic high-speed adventures.

HDR Photos
New HDR algorithms help you obtain the right exposure settings intelligently, according to lighting conditions. Overexposed or dark areas are processed for more natural transitions between highlights and shadows, while DSP acceleration allows for more efficient shooting.

12-Megapixel stills
The Mavic Air's onboard camera integrates a 1/2.3" 12-megapixel CMOS sensor and an f/2.8 lens with a 35-mm equivalent focal length of 24 mm to shoot high-quality photos and videos.

8 GB Internal Storage
In addition to a Micro SD card slot, 8 GB of internal storage let you save photos and videos directly to the aircraft and export files through its USB 3.0 Type-C port.

Geometric Elegance
Expressing geometric precision, the Mavic Air's arms fold flush against its aerodynamic chassis. Magnesium alloy brackets reinforce the seven onboard cameras, rear vents dissipate heat efficiently, and the primary gimbal camera is recessed forbetter protection.

3D Foldable Design
As tall and wide as a smartphone when folded, the Mavic Air is an ultraportable drone that stretches the boundaries of what's possible for a device its size.

Foldable Remote Controller
The dedicated remote controller uses a foldable, low-profile, ergonomic design to hold your smartphone for maximum convenience. Detachable control sticks store inside the remote controller to pack more comfortably on the go.

ActiveTrack
ActiveTrack can sense up to 16 selectable subjects simultaneously, letting you choose the right tracking subject. With higher tracking precision and broader scenario applications, ActiveTrack follows targets even when they're running, jumping, or cycling.

QuickShots
Choose from six different QuickShots — Rocket, Dronie, Circle, Helix, Asteroid, and Boomerang. All are just a tap away and will get you those epic selfie drone videos without needing to think about composing your shot. Share your new creations to social media through the DJI GO 4 app instantly.

SmartCapture
Fun, simple, and intuitive, SmartCapture offers a new and interactive way of controlling the Mavic Air by hand. Launch and control the drone with hand gestures, then take photos or videos however you like.

TapFly
If you want to focus on just your shot, select TapFly in DJI GO 4, which lets you fly wherever you tap on your mobile device screen. TapFly works in Forward, Backward, Free, and Coordinate modes, and you can adjust flight speed to suit all your aerial needs.

FlightAutonomy 2.0
Using advanced VIO technology, the powerful sensor system in FlightAutonomy 2.0 consists of a primary gimbal camera, forward, backward, and downward dual-vision sensors, downward infrared sensing system, IMU redundancies, and a group of computing cores. Together, they collect and transmit information from the surrounding environment to the high-performance processor for more precise hovering and better flight performance. APAS allow the aircraft to bypass obstacles in front of and behind it actively. Your grand adventures of discovery have never been so safe and easy.

Visual Inertial Odometry
A combination of VIO technology and the new positioning algorithm has doubled the Mavic Air's precision positioning. VIO technology calculates the speed and attitude of the aircraft in real-time and locates it, making dual-camera attitude measurements while hovering or flying at any speed. The working range of the vision positioning system is now 0.5 to 30 meters. With VIO technology, the Mavic Air hovers more precisely indoors and responds better to complex environments with finer control stick movement.

3D Map Building
Equipped with an advanced sensing system, the Mavic Air locates itself with accuracy and precision. By processing data from the seven cameras at the front, bottom, and rear of the body, alongside the advanced infrared sensors and IMU, the Mavic Air will construct a 3D map by sensing the environment in real time, which significantly improves overall flight safety.

Advanced Pilot Assistance Systems (APAS)
APAS is the result of DJI's extensive research on flight path calculation. Users can keep flying forwards and backwards, and APAS will plan an appropriate flight path to bypass obstacles automatically.

Multiple Redundancies
Besides dual IMUs, FlightAutonomy 2.0 has more redundant modules to increase the Mavic Air's safety level. The Vision Compass will assist the navigation system to estimate flight direction when the compass experiences interference. When only one direction of the front, bottom, or rear vision systems is functioning normally, the aircraft will still position itself successfully. There are two sets of sensor fusion algorithms based on two independent hardware platforms. When an error occurs to one set of algorithms, the aircraft will switch to the other pair seamlessly to resume normal functionality.

More Reliable Return to Home
Expanding on existing RTH systems, the Mavic Air will ensure the safest flight path during RTH. It does this by recording its real-time flight path, and when the control signal gets lost, the aircraft will fly towards the Home Point, bypassing any signal obstruction and reconnect to the controller. When the Mavic Air detects an obstacle, it will choose a proper path to bypass it according to its altitude. The aircraft will match the images of the ground with those captured at takeoff for increased landing accuracy. When landing automatically, the Mavic Air will scan the terrain of the landing area in real-time, then warn the user and safely hover if it detects an obstacle or water in the landing area.

Maximum Flight Time
Mavic Air Intelligent Flight Batteries are made with high-density lithium, offering a substantial flight time of up to 21 minutes for all your adventuring needs.

FOC ESCs and Propulsion
The application of FOC sinusoidal drive architecture ESCs provides the Mavic Air with a smoother motor commutation process and higher overall efficiency of both motors and ESCs.

Enhanced Wi-Fi Video Transmission
A new Wi-Fi video transmission system supports dual frequency bands of 2.4/5.8GHz and a 720p live view from up to 4 km away.
AIRCRAFT
Takeoff Weight
430 g
Dimensions
Folded:
168×83×49 mm (L×W×H)

Unfolded:
168×184×64 mm (L×W×H)
Diagonal Distance
213 mm
Max Ascent Speed
3 m/s (S - mode

[1]

)
2 m/s (P - mode)
2 m/s (Wi-Fi mode)
Max Descent Speed
2 m/s (S - mode

[1]

)
1.5 m/s (P - mode)
1 m/s (Wi-Fi mode)
Max Speed (near sea level, no wind)
68.4 kph (S - mode

[1]

)
28.8 kph (P - mode)
28.8 kph (Wi-Fi mode)
Max Service Ceiling Above Sea Level
5000 m
Max Flight Time (no wind)
21 minutes (at a consistent 25 kph)
Max Hovering Time (no wind)
20 minutes
Max Flight Distance (no wind)
10 km (at a consistent 25 kph)
Max Wind Speed Resistance
29 - 38 kph
Max Tilt Angle
35° (S - mode

[1]

)
25° (P - mode)
Max Angular Velocity
250°/s (S - mode

[1]

)
250°/s (P - mode)
Operating Temperature Range
0°C - 40°C
Operating Frequency
2.400 - 2.4835 GHz
5.725 - 5.850 GHz
Transmission Power (EIRP)
2.400 - 2.4835 GHz
FCC: ≤28 dBm
CE: ≤19 dBm
SRRC: ≤19 dBm
MIC: ≤19 dBm

5.725 - 5.850 GHz
FCC: ≤31 dBm
CE: ≤14 dBm
SRRC: ≤27 dBm
GNSS
GPS + GLONASS
Hovering Accuracy Range
Vertical:
±0.1 m (with Vision Positioning)
±0.5 m (with GPS Positioning)

Horizontal:
±0.1 m (with Vision Positioning)
±1.5 m (with GPS Positioning)
Internal Storage
8 GB

SENSING SYSTEM

Forward
Precision Measurement Range: 0.5 - 12 m
Detectable Range: 0.5 - 24 m
Effective Sensing Speed: ≤ 8 m/s
Field of View (FOV): Horizontal 50°, Vertical ±19°
Backward
Precision Measurement Range: 0.5 - 10 m
Detectable Range: 0.5 - 20 m
Effective Sensing Speed: ≤ 8 m/s
Field of View (FOV): Horizontal 50°, Vertical ±19°
Downward
Altitude Range: 0.1 - 8 m
Operating Range: 0.5 - 30 m
Operating Environment
Forward:
Surface with clear pattern and adequate lighting (lux > 15)

Backward:
Surface with clear pattern and adequate lighting (lux > 15)

Downward:
Detects clearly patterned surfaces with adequate lighting (lux>15) and diffuse reflectivity (>20%)

REMOTE CONTROLLER

Operating Frequency
2.400 - 2.4835 GHz
5.725 - 5.850 GHz
Max Transmission Distance (unobstructed, free of interference)
2.400 - 2.4835 GHz:
FCC: 4000 m
CE: 2000 m
SRRC: 2000 m
MIC: 2000 m

5.725 - 5.850 GHz:
FCC: 4000 m
CE: 500 m
SRRC: 2500 m
Operating Temperature Range
0℃ - 40℃
Transmission Power (EIRP)
2.400 - 2.4835 GHz:
FCC:≤26 dBm
CE: ≤18 dBm
SRRC: ≤18 dBm
MIC:≤18 dBm

5.725 - 5.850 GHz:
FCC: ≤30 dBm
CE: ≤14 dBm
SRRC: ≤26 dBm
Battery
2970 mAh
Operating Current/Voltage
1400 mA ⎓ 3.7 V (Android)
750 mA ⎓ 3.7 V (iOS)
Supported Mobile Device Size
Max length: 160 mm
Supported Thickness: 6.5-8.5 mm
Supported USB Port Types
Lightning, Micro USB (Type-B), USB-C

GIMBAL

Mechanical Range
Tilt: -100° to 22°
Roll: -30° to 30°
Pan: -12° to 12°
Controllable Range
Tilt: -90° to 0° (default setting)
-90° to +17° (extended)
Stabilization
3-axis (tilt, roll, pan)
Max Control Speed (tilt)
120°/s
Angular Vibration Range
±0.005°

CAMERA

Sensor
1/2.3" CMOS
Effective Pixels: 12 MP
Lens
FOV: 85°
35 mm Format Equivalent: 24 mm
Aperture: f/2.8
Shooting Range: 0.5 m to ∞
ISO Range
Video:
100 - 1600 (auto)
100 - 1600 (manual)

Photo:
100 - 1600 (auto)
100 - 3200 (manual)
Shutter Speed
Electronic Shutter: 8 - 1/8000s
Still Image Size
4:3: 4056×3040
16:9: 4056×2280
Still Photography Modes
Single shot
HDR
Burst shooting: 3/5/7 frames
Auto Exposure Bracketing (AEB): 3/5 bracketed frames at 0.7EV Bias
Interval: 2/3/5/7/10/15/20/30/60 s
Video Resolution
4K Ultra HD: 3840×2160 24/25/30p
2.7K: 2720×1530 24/25/30/48/50/60p
FHD: 1920×1080 24/25/30/48/50/60/120p
HD: 1280×720 24/25/30/48/50/60/120p
Max Video Bitrate
100Mbps
Supported File System
FAT32
Photo Format
JPEG/DNG (RAW)
Video Format
MP4/MOV (H.264/MPEG-4 AVC)

MOBILE DEVICE CONTROL

Operating Frequency
2.400 - 2.4835 GHz
5.725 - 5.850 GHz
Max Transmission Distance (unobstructed, free of interference)
Distance: 80 m
Height: 50 m

INTELLIGENT FLIGHT BATTERY

Capacity
2375 mAh
Voltage
11.55 V
Max Charging Voltage
13.2 V
Battery Type
LiCoO₂ 3S
Energy
27.43 Wh
Net Weight
140 g
Charging Temperature Range
5℃ - 40℃
Max Charging Power
60 W

CHARGER

Input
100 - 240 V, 50/60 Hz, 1.4 A
Output
Main: 13.2 V ⎓ 3.79 A
USB: 5 V ⎓ 2 A
Voltage
13.2 V
Rated Power
50 W

APP

Video Transmission System
Enhanced Wi-Fi
Name
DJI GO 4
Live View Quality
Remote Controller:
720p@30fps

Smart Device:
720p@30fps

DJI Goggles:
720p@30fps
Latency (depending on enviornmental conditions and mobile device)
170 - 240 ms
Required Operating System
iOS v9.0 or later
Android v4.4 or later

SUPPORTED SD CARDS

Supported SD Cards
microSD
Class 10 or UHS-1 rating required
Recommended microSD Cards
16G
Sandisk Extreme
Kingston 16GB SDHC-I SDCAC/16GB

32G
Sandisk Extreme V30
Sandisk Extreme V30 A1
Sandisk Extreme V30 Pro A1

64G
Sandisk Extreme V30 A1
Sandisk Extreme Pro V30 A1

128G
Sandisk Extreme V30 A1
Sandisk Extreme Plus V30 A1
[1] Remote controller required.
This product comes with 12 Months Australian Warranty.
Our products are sourced from authorised Australian suppliers and therefore come with genuine Australian warranty.
Camera Warehouse does not participate in 'Grey Market' or 'Parallel Import' activities.
Mavic Air Drone Onyx Black
Remote Controller
3 x Intelligent Flight Battery
Battery Charger
Power Cable
6 x Spare Propellers
2 x Propeller Guards
RC Cable (Lightning connector)
RC Cable (Standard Micro USB connector)
RC Cable (USB Type-C connector)
Gimbal Protector
USB 3.0 Type-C Communication Cable
USB Adapter
2 x Small RC Cable Slider
Large RC Cable Slider
2 x Spare Control Sticks
Battery Charging Hub
Battery to Power Bank Adaptor
Carrying Case
Travel Bag
User Guide
12 Months Australian Warranty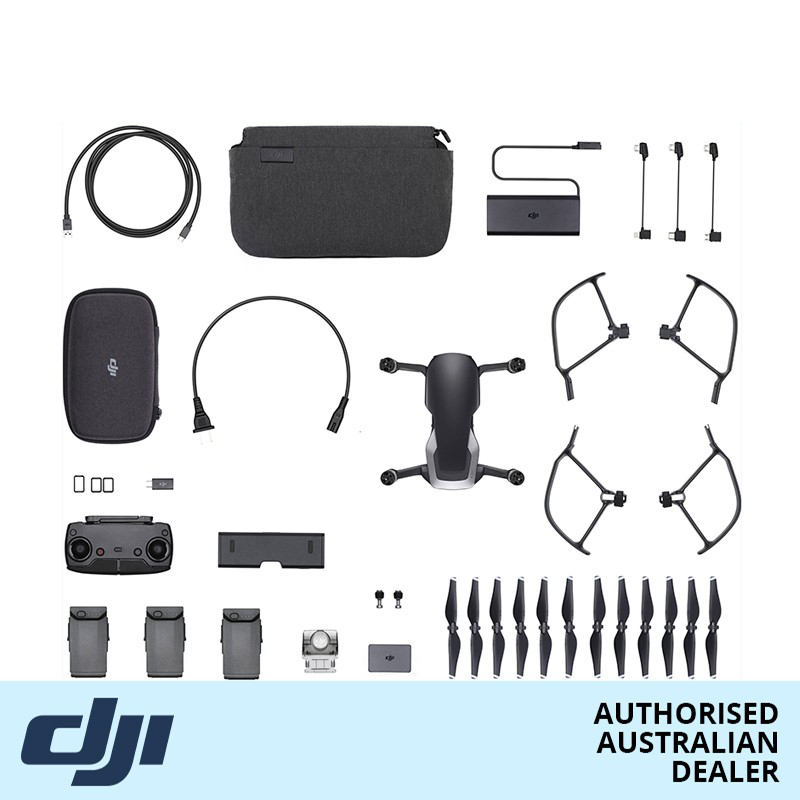 DJI Mavic Air Fly More Combo Onyx Black
SKU: DJI CP.PT.00000152
UPC: 6958265159985