Canon XF605 4K Digital Video Camera
Regular Price
A$7,298.00
Special Price
A$6,998.00
save: A$300.00
Free Shipping for Orders over $98*

(*excludes bulky items)
No SURCHARGE FOR CREDIT CARDS
UHD 4K up to 60 fps, 1080p to 120 fps
1" CMOS Sensor, 4:2:2 10-Bit
H.265/H.264 MP4 Format, XF-AVC
Dual-Pixel CMOS Autofocus Feature
iOS App | 15x Optical/30x Digital Zoom
HDR Recording, Canon Log 3, Wide DR
Optical and Digital Stabilization
12G-SDI and HDMI Outputs
Four XLR Inputs, 4-Channel LPCM Audio
Discrete Focus, Iris, Zoom Lens Rings
---
Product Features in Detail
A versatile 4K camcorder to get your shot and tell your story
XF605 delivers a new level of performance and control for solo shooters. With 15x optical zoom, professional connectivity and advanced autofocus including Eye Detection AF and intelligent Head Tracking for the first time in the XF Series, it's a versatile camcorder that fits comfortably in the studio or in the field.

Imaging excellence
The large 1.0-Type CMOS sensor and DIGIC DV7 processor work in harmony to deliver 4K UHD 60P/50P in 4:2:2 10-bit XF-AVC and MP4 as well as FHD 120P HFR for exceptional image quality and flexibility in post-production. An L-Series 15x zoom lens ensures optical excellence, with powerful 5-Axis Image Stabilisation giving razor-sharp results while on the move.

Recording flexibility
XF605 offers broadcast-friendly MXF based XF-AVC and MP4 recording formats. Enhanced recording modes include Slow & Fast motion (up to 120P), Pre-Recording, Frame Recording and Interval Recording. There's an expanded range of Custom Picture presets and Look File (3D LUT) support, while simultaneous recording to dual SD cards in a variety of formats offers maximum flexibility for your production needs..

High sensitivity and dynamic range
Capture an expanded dynamic range in Canon Log 3 for flexibility in post-production, or shoot directly in broadcast-ready PQ or HLG HDR formats. High Sensitivity Mode, Gain Boost and IR recording ensure that the XF605 captures high-quality images in low light.

Pioneering AF technology
XF605 is the first XF Series camcorder to feature Eye Detection AF and Canon's EOS iTR AF X Intelligent Tracking technology, which ensures that the focus stays locked on to the subject's head even when they turn away from the camera. Other focus assist tools include Dual Pixel Focus Guide to aid manual focusing and Tracking AF to smoothly track any subject.

Professional connectivity
The XF605 is equipped with a versatile range of connections, including 12G-SDI, Ethernet and XLRs, to seamlessly integrate into live and offline production environments. Support for simultaneous output over EVF/LCD/HDMI/SDI enables multi-viewing and external recording using a variety of devices. A multi-function accessory hotshoe expands its capabilities through a range of new accessories.

Remote control and network functionality
The XF605 is designed for IP streaming, with wired and wireless remote control capabilities, offering greater control and integration into multi-camera productions. Take control of XF605 in a multi-cam setup alongside Canon PTZ cameras via the RC-IP100 hardware controller, or use Wi-Fi to operate XF605 through the improved Browser Remote for smartphones and tablets. Video output over USB-C enables XF605 to be used as a webcam.

Content Transfer Mobile App
Content Transfer Mobile is an app for iPhone designed to enable the editing of News ML-G2 standard compliant metadata pre/post capture, as well as the ability to import footage from the camera to the phone, including instant transfer to FTP servers.

Usability and flexibility
Enhanced touchscreen functions include playback control and menu navigation for easy adjustment of settings, while 11 user-assignable buttons and independent lens control rings offering control over Focus, Zoom and Iris make for intuitive handling and customisation. The built-in motorised ND system provides the flexibility to control lighting and depth of field in a variety of shooting conditions.

Durable and lightweight
With its notably compact size and body weight of approximately 2,000g, XF605 is the perfect 'carry-on' companion. Despite its small dimensions, it's a highly capable workhorse camcorder, with a durable dust and drip-proof design.
Image Sensor
Sensor
1.0 Inch-Type CMOS
Filter
RGB Primary Colour Filter
Total Pixels
Approx. 13.4 MP
Effective Pixels per Sensor
Approx. 8.29 MP (3840 x 2160)
Gain Boost Function
Yes, increases gain to 36dB, activated via user assigned button
Sensitivity (PAL)
f/13, 50.00P, 2000 lux, reflectance 89.9%
Minimum Illumination (PAL)
50.00P / 50.00i Approx. 2.5 lux (1/50 second shutter speed)
25.00P Approx. 1.3 lux (1/25 second shutter speed)
Image Processor
Type
DIGIC DV7
Colour Sampling
XF-AVC: 4:2:2
MP4: 4:2:2 or 4:2:0 H.265 / 4:2:0 H.264.
XF-AVC / MP4 Proxy files: 4:2:0
Bit Depth
XF-AVC / MP4 H.265: 10-bit
MP4 H.264: 8-bit
XF-AVC / MP4 Proxy files: 8-bit
Lens
Zoom Ratio
15x optical, (30x Advanced Zoom Full HD)
Focal Length (35mm Equivalent)
Approx. 25.5 to 382.5 mm Standard IS/IS Off
Minimum Focus Distance
10 mm at wide end, 60 cm across entire zooming range
Max. Aperture
f/2.8
Aperture Blades
9 blades
Filter Diameter
58mm
Image Stabilization System
Optical system (lens shift) + electronic stabilization
Dynamic, Standard, Powered, Off
ND Filter
3 Densities: ND 1/4, ND 1/16, and ND 1/64
(Turret Switched, Motor-Driven)
Zoom Control
Zoom rockers on body and handle;
Selectable manual zoom/focus ring on lens;
Wireless controller;
Selectable High Speed mode available.
Zoom Speed
Variable or Constant speed Fast/Normal/Slow, 16 speed level settings
Focus Control
MANUAL: Lens ring and touchscreen point selection (Focus Guide and Peaking assist functions), Focus Preset.
AUTOFOCUS: Touchscreen AF point selection, Face Detection and Tracking, Face Only AF.
(Continuous AF, AF-Boosted MF, AF Speed, AF Response, AF Frame size)
Focus System
Dual Pixel CMOS AF, Contrast AF, Eye Detection AF, EOS iTR AF X
Iris Control
Touchscreen, Auto, Lens ring
Digital Zoom/Teleconverter
300x Digital Zoom, Digital Teleconverter (x1.5/x3/x6. Not available when optical teleconverter used)
Recording
Video Storage Media
SD / SDHC / SDXC card (2 card slots)
Type
Class U3 V90 cards recommended
Recording Time
XF-AVC: 410Mbps. 39 mins. 310Mbps, 51 mins. 260Mbps, 100 mins
MP4 / H.265: 225 Mbps, 71 mins. 170Mbps, 94 mins. 135 Mbps, 118 mins
MP4 / H.264: 150 Mbps, 107 mins. 35 Mbps, 458 mins. 8Mbps, 2006 mins
Recording File System
FAT32/exFAT
Internal Recording Format (PAL)
XF-AVC (MXF) UHD: ALL-I / Long GOP. Full HD / Proxy Files: Long GOP
MP4: H.265 UHD, Full HD
Simultaneous Recording
Yes. Simultaneous recording, relay recording.
Different recording options possible on each memory card.
Recording Frame Rate (PAL)
UHD
XF-AVC 422 10bit: 3840 x 2160 (160 Mbps): 59.94P / 29.97P / 23.98P / 50.00P / 25.00P
MP4 (HEVC / H.264) 422 10bit
3840 x 2160: 59.94P / 29.97P / 23.98P / 50.00P / 25.00P
Full HD
XF-AVC 422 10bit:
1920 x 1080 (45 Mbps): 59.94P / 59.94i / 29.97P / 23.98P/ 50.00P/ 50.00i / 25.00P / 120P
MP4 (HEVC / H.264) 422 10bit:
1280 x 720: 59.94P / 29.97P / 23.98P / 50.00P/ 25.00P
External Recording Output
3840 x 2160: 59.94p / 50.00p / 29.97p / 25.00p / 23.98p
1920 x 1080: 59.94p / 50.00p / 29.97p / 25.00p / 23.98p / 29.97PsF / 25.00PsF / 59.94i / 50.00i
1280 x 720: 59.94p / 50.00p
720 x 480: 59.94i
720 x 576: 50.00i
External Monitoring
Yes, 12G-SDI or HDMI. Simultaneous output available
High Frame Rate
Yes, Up to 120P (FHD, 4:2:2 / 8-bit) including in 50.00Hz mode. Simultaneous Audio Recording.
Pre-Record Function
Yes. 3 seconds
Special Recording Functions
Frame Recording, Interval Recording
Still Photos
JPEG up to 3840x2160
(Still image resolution is dependent on the video resolution)
Photo Storage Media
SD Card (Slot B)
System
Display Type
LCD Electrotstatic Touch Panel.
Size
3.45-inch type Approx. 2.76 million dots
Wave Form Monitor
Yes
Focus Assist
Dual Pixel Focus Guide* / Peaking / Magnify
Peaking
Selectable Peaking Colour: Red / Blue / Yellow/White
False Colour Display
Yes, also via EVF, SDI Out and HDMI output
Zebra
70% or 100% reference level
Markers
Center, horizontal, grid, aspect, safety zone, and user marker.
Each item can be displayed in yellow, blue, green, red, black, gray, or white.
EVF
Size
0.36-inch type, approx. 1.77 million dots
EVF Auto -Off
Yes, function enabled via assignable button
Correction Lens
+2.0 to -5.5 dioptre
Inputs / Outputs
Audio In
XLR 3-pin jack (x2) with 48V phantom power, Line and Mic.
3.5mm microphone input jack (Supply Voltage 2.4V DC), Built-in Mic.
Headphone Output
3.5mm stereo mini jack
Speaker
Yes, built-in
HDMI
HDMITM Type A
USB
1 x Type A. Type A power output 5V/900mA
1 x Type C. Type C compliant with UVC
SDI Output
12G-SDI, BNC connector
Time Code
Yes, BNC connector
Genlock
Yes
LAN
Yes
DC Input
3.4mm jack
Remote Control Terminal
Type A (2.5mm jack), Type B (8-pin connector, RS422-type)
Miscellaneous
Tally Lamp
Yes
Colour Bars (PAL)
Yes. SMPTE or EBU, with 1KHz Tone
Accessory Shoe
Yes, Accessory and Cold shoe
Assignable Buttons
Total of 11 Assignable Buttons with over 100 Assignable Functions
Custom Dial
Av / Tv / M / AGC Limit / Exposure Compensation / Off
Exposure
Exposure Metering
Centre-weighted average or segment evaluative (determined by shooting mode)
Fixed exposure (1/50 sec.)
Exposure Compensation
Highlight AE, Exposure lock, Auto backlight compensation, Exposure compensation amount shown as ±3 when locked or ±2 in AUTO (±8 increments).
Exposure Lock
Yes
ISO Range/Setting
ISO200 - ISO12,800. 1 Stop or 1/3 Stop increments
Gain Range Setting
-6.0dB - 21.0dB. Normal or Fine setting. Fine setting in 0.5dB steps.
Auto ISO / Auto Gain Control Setting
Auto / Manual. Auto Gain set when shooting in IR mode
Auto Gain Control Limit
Yes, selectable from -6dB to 21db, 1dB increments
Shutter
Control Modes
Auto, P, Tv, Manual
Shutter Speed
Up to 1/2000 Sec.
Shutter Angle
Yes, 360° to 11.25°
Slow Shutter (SLS)
50.00i/50.00P:1/4, 1/8, 1/12, 1/25 sec
25.00P: 1/3, 1/6, 1/12 sec
Clear Scan
Yes, 24.00Hz to 2003.17Hz
Streaming, Wi-Fi, & GPS Specifications
IP Streaming Protocols Supported
UDP, RTP, RTP+FEC
News Metadata
Yes, compliant with NewsML-G2 standard
Browser Remote Control
Yes
Wi-Fi
Yes
Supported Wi-Fi
IEEE802 2.4GHz/5GHz 11a/b/g/n/ac
(5GHz may not be available in all regions)
GPS Information (Optional Accessory)
Location (Latitude / Longitude / Altitude), Coordinated Universal Time (UTC), Satellite reception (requires the optional GPS Receiver GP-E2)
White Balance
Auto
Yes. Shockless WB, AWB Response, AWB Hold (via assignable button)
Preset
Daylight (Approx. 5,600K), Tungsten (Approx. 3,200K)
Manual Setting
Colour Temperature range: 2,000–15,000K
Default value for Set 1 and Set 2: 5,600K
Time Code
Count Up System
Regen / Rec Run / Free Run / Preset (Non-Drop Frame)
Start Value Setting
Yes, Via BNC or HDMI
Audio
Recording Format
MP4: MPEG-2 AAC-LC (16-bit 2ch) / LPCM (16-bit 4ch)
XF-AVC: LPCM (24-bit 4ch)
Audio Control
Manual or Auto
Independent 2ch Line/Mic/Mic+48V input;
Independent level control per channel (-∞ to +18 dB);
Independent audio limiters (2-Ch.);
Input mic trimming
Reference Tone
1KHz, -12dB / -18dB / -20dB / Off
Microphone Attenuation
On / Off (20dB)
Microphone Level Meter
Yes
Accessories
Supplied
Lens hood with barrier, Lens Cap, Mic holder unit, Eye Cup, AC Cable,
Compact Power Adapter (CA-200L) Battery Charger (CG-A20), Battery Pack BP-A30
Optionals
Canon Battery Pack BP-A30 / BP-A60
Canon Battery Charger CG-A10 / CG-A20
Canon Compact Power Adapter CA-CP200L
Canon 8 Pin Remote Cable RR-10 / RR-100
Canon Teleconverter TL-U58
Canon Wide Attachment WA-U58
Canon PROTECT Filter 58mm
Canon ND4L Filter 58mm
Canon ND8L Filter 58mm
Canon GPS Receiver GP-E2
Canon Remote Controller RC-V100
Canon Remote Camera Controller RC-IP100
Canon Interface Cable IFC-150AB III
Power Source
Power Supply (Battery)
Canon Battery Pack BP-A30 (supplied), BP-A60 (optional)
Power Supply (Mains)
Battery: 14.5V, DC in: 24V
Power Consumption
Approx 13.6W (50.00P UHD, Long GoP 260 Mbps)
Approx 12.1W (25.00P UHD Intra 410 Mbps)
Recording Time
Approx 185 mins.(50.00P UHD, Long GoP 260 Mbps)
Approx 210 mins. (25.00P UHD Intra 410 Mbps)
Physical Specifications
Dimensions (Main Body Only)
Approx. 168 x 173 x 333 mm (Body Only)
Approx. 200 x 219 x 385 mm (Including lens hood, eye cup, microphone holder unit)
Weight (Body Only)
2010g (Approx.)
Weight (Accessories)
2460g (Approx.)
Operating Temperature Range
Approx. 0 to 40 °C, 85 % (relative humidity)
Approx. -5 to 45 °C, 60 % (relative humidity)
This product comes with 12 Months Australian Manufacturer's Warranty. Our products are sourced from authorised Australian suppliers and therefore come with genuine Australian warranty. Camera Warehouse does not participate in 'Grey Market' or 'Parallel Import' activities.
Canon XF605 4K Digital Video Camera
Battery Pack BP-A30
Compact Power Adapter CA-CP200 L
Charger CG-A20
Lens Hood
Eye cup
Mic Holder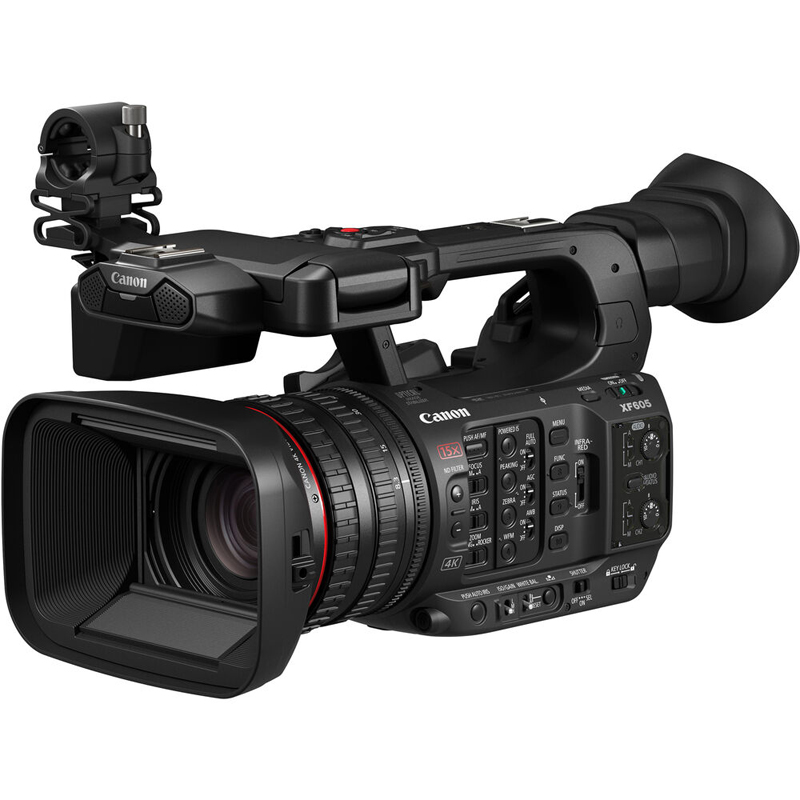 Canon XF605 4K Digital Video Camera
SKU: Canon XF605
UPC: 013803340433