Canon Speedlite 600EX II RT Flash
Regular Price
A$729.00
Special Price
A$707.20
save: A$21.80
Free Shipping for Orders over $98*

(*excludes bulky items)
No SURCHARGE FOR CREDIT CARDS
2.4 GHz Wireless Transmission
Guide number of 197' at ISO 100 and 200mm
20-200mm Zoom Range
180-degree left and right rotation
Tiltable from -7 to 90 degrees
Flash duration of 2.3 ms or less in Quick Flash mode
Dot-Matrix LCD panel
Multiple flash system support
Built-in bounce adapter
Automatic power off function
Product code 1177C002
Power and versatility. That's summarizes the advantages the Canon Speedlite 600EX II RT Flash has against other camera flashes. With a powerful guide number of 197' at ISO 100 and 200mm, it also sports a 20-200mm zoom range for better coverage. This hot shoe flash is also powerful enough to enable flash duration of 2.3 ms or less in Quick Flash mode. In terms of versatility, adjusting the light's angles is also possible through its 180-degree left and right rotation while the flash head itself is tiltable from -7 to 90 degrees. Working on a 2.4 GHz wireless transmission, the Speedlite 600EX II RT is conducive to multiple flash system support of up to 15 flashes in 5 groups. Energy conservation is also possible thanks to the automatic power off function. For more energy conserving, you can optimize the flash settings and view the changes via the Dot-Matrix LCD panel. With a built-in bounce adapter to soften or diffuse the light, this authentic Canon product is tagged with product code 1177C002.
---
Product Features in Detail

It's all in the settings
You can operate this flash under manual power settings from 1/1 to 1/128 power in 1/3-stop increments. Likewise, the quick flash settings enables fast recycling time and flash duration. You can also pre-set up to 15 custom functions and access six personal functions for quick and better customization.

All in the flash
Information about the flash color temperature is automatically relayed to the camera. Meanwhile, exposure compensation range is from -3 to +3 EV and adjusted in 1/2 or 1/3 EV steps. When in quick flash mode, you can trigger the light in 2.3 seconds or less. It is also possible to activate wireless flash ration control of 1:8, 1:1, and 8:1 in 1/2 stop increments. Finally, you can diffuse or diffuse the light coming out of the flash with the help of the bounce adapter.

Peek through the stroboscope
You can activate stroboscopic setting to make rotating objects appear as slow-moving or steady from 1-500 Hz or 1-199 Hz when in optical transmission wireless shooting mode.

Power source and functionality
This Canon Speedlite flash works with two AA alkaline batteries and can deliver from 100-700 flashes. When not in use, the device automatically turns off to conserve energy.

All about attachments
This device has a bracket mounting hole for additional accessories and a built-in, retractable bounce card for flash diffusion. You can also securely place this flash onto any Canon camera via the locking metal foot.
Power

Guide No. (ISO 100). Meters

60 (200mm)
Zoom Head
Yes
Focal Length Coverage
20-200mm
Coverage with Wide Panel
14mm
Auto Zoom for Sensor Size
Yes

Flash Modes

Auto Exposure Control
E-TTLII/E-TTL/TTL
High Speed Sync (FP)
Yes
Manual/Output Settings
Yes - 1/1-1/128
Manual Steps
1/3 step
Strobe/Output Settings
Yes - 1/4 - 1/128
Frequency
1-500Hz (1-199Hz using optical slave)

Flash-Related Function

FE Lock
Yes
Flash Exposure Compensation
Yes
Flash Exposure Bracketing
Yes
Second-Curtain Flash Sync
Yes
Modelling Flash
Yes
Colour Temperature Info Comm.
Yes

Wireless Flash

Transmitter
Yes
Transmission Type
Optical/Radio
Transmitter Max range approx
Indoors: 0.7-15m / 30m
Outdoors: 0.7-10m / 30m
Slave
Yes
No. of groups
3 / 5
No. of channels
4 / 15
Remote Shutter Release
Yes

Flash Head Movement

Up
45, 60, 75, and 90 degrees
Down
7 degrees
Left
60, 75, 90, 120, 150, and 180 degrees
Right
60, 75, 90, 120, 150, and 180 degrees

AF Assist

AF-assist beam
Yes
Number of AF points supported
1 - 65
AF-assist beam type
Infra-red

Power Source

Battery
4 x AA Batteries
Minimum Recycling Time
Approx. 3.3 seconds
External Power Supply
Yes - CP-E4 / CP-E4N

Construction

Dust and water resistance
Yes
Mounting foot material
Metal

Miscellaneous

Custom Function
15 (6 personal functions)
Flash Settings from Camera Menus
Yes
External Flash Exposure Sensor
Yes
PC Terminal
Yes
Compatible Accessories
Compact Battery Pack CP-E4N / CP-E4
Speedlite Transmitter ST-E3-RT
EX Series Speedlite with Slave Function
Off-Camera Shoe Cord OC-E3
Bounce Adapter SBA-E3
Color Filter SCF-E30R1
Color Filter SCF-E30R2
Dedicated Flash Bracket
SB-E2

Dimensions and Weight

Length x Width x Height
7.9 x 14.3 x 12.3 cm (3.1 x 5.6 x 4.8")
Weight (excluding batteries)
0.96 lbs (0.43 kg)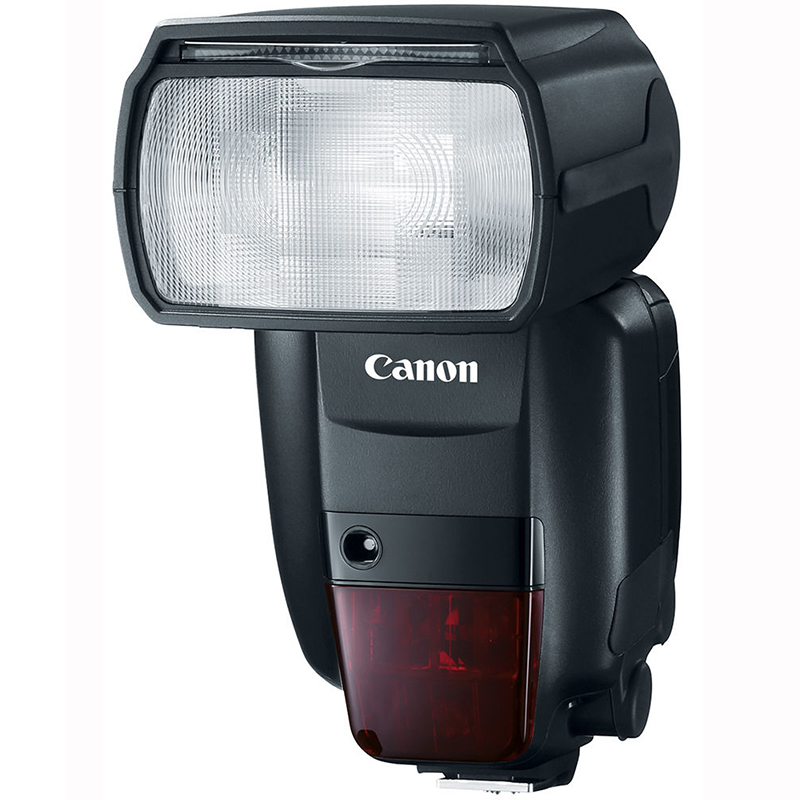 Canon Speedlite 600EX II RT Flash