Canon Speedlite 430EX III-RT Camera Flash
Regular Price
A$397.00
Special Price
A$370.13
save: A$26.87
Free Shipping for Orders over $98*

(*excludes bulky items)
No SURCHARGE FOR CREDIT CARDS
Optical Transmission and 2.4 GHz Wireless Radio Transmission
24-105mm (14mm with Panel) Zoom Range
Maximum of 15 channels
15 Units of Slave Flash Controls
Range of Approximately 30m
141' at ISO 100 and 105mm Guide Numbers
Compatible with Canon E-TTL / E-TTL II
Tilts Upward 90°
Rotates 150° Right & 180° Left
0.1-3.5 Seconds Recycle Time
Multi Dial, Bounce Panel, & Color Filter
High-Speed, 1st & 2nd Curtain Sync
Runs on 4 AA Batteries
In terms of photography, loads of flash capabilities have been a part of our everyday life. But in this case, the new Speedlite 430EX III-RT Camera Flash offers yet another innovation for photographers. It integrates both Optical Transmission and 2.4 GHz Wireless Radio Transmission where it provides a range of approximately 30m; twice than of the 430 EX III. It can hold a maximum of 15 channels though can only manage a maximum of only 15 units of slave flash controls. Very much like its 450EX II predecessor that is compatible with Canon E-TTL / E-TTL II, it fills the need of enthusiasts with 141' at ISO 100 and 105mm Guide Numbers and 24-105mm (14mm with Panel) Zoom Range. Craving to have an expanded flash experimentation? This flash unit tilts upward 90°, and rotates 150° right & 180° left. That means the light will be capable of touching any portion of your subject. Versatility is still incorporated with this compact unit. It offers high-speed, 1st and 2nd curtain sync modes together with a variety of custom functions like multi dial, bounce panel, & color filter for setting the Speedlite up exactly as you need. Its electronics has also been updated to be as fast as 0.1-3.5 seconds recycle time. 430 EX III runs on 4 AA batteries, an easy to find power source anywhere.
---
Product Features in Detail

Powerful, yet compact enough to take anywhere
A guide number of 43 (m, ISO100) means there's enough power for most occasions.
The Speedlite 430EX III-RT weights just 295g and is only 113.8mm long, so there'll always be room for it in your bag.
Powered by readily-available AA batteries, the flash recycles following a full-power flash in just 3.2s.

Simple controls and an intuitive interface
The controls on the Speedlite 430EX III-RT echo those of many EOS cameras. Shortcut controls give access to key features, and a control wheel allows quick adjustments to be made. A lock switch prevents settings from being changed accidentally. An LCD screen shows settings and shooting information at a glance, and is illuminated for low-light conditions.

Use remote flash to create the look you want
Speedlite 430EX III-RT flashes can also be placed away from the camera, to simulate light coming from different directions.
Using Radio frequency triggering, Speedlite 430EX III-RT units can be controlled from up to 30m away, and do not require direct line of sight with the camera. This means they can be situated in more places, letting you create even more moods and effects.
The Speedlite 430EX III-RT can also be remotely controlled with optical triggering, so it will fit in immediately with your existing flash set up. It can be fired from 10m away using the optional Speedlite Transmitter ST-E2 or the Integrated Speedlite Transmitter built in the some EOS cameras.
Use multiple flashes together in groups, controlling the power of each group separately. Up to five groups can be created, with a maximum of 15 flashes in each group.

Shoot flattering portraits using bounced light
A movable flash head allows light to be bounced from large surfaces, like walls or ceilings, creating soft, shadow-free lighting that's perfect for portraiture.
A built-in reflector panel can be deployed to create sparkling 'catch lights' in a subject's eyes, bringing their expression to life.
Fit the included Bounce Adapter to soften the light even more. A coloured filter is also supplied, which aims warm up the colour temperature of the flash's output so that it more closely matches the colour of indoor ambient lighting.
The Speedlite 430EX III-RT can zoom its flash output to match the angle of view of the lens being used.

Integrates with other Speedlites as part of the EOS Family
Use the Speedlite 430EX III-RT with other flashes, such as the Speedlite 600EX-RT, as part of a multiple flash setup.
Control the Speedlite 430EX III-RT off-camera with a flash trigger, such as the ST-E3-RT, or with an EOS camera's built-in Integrated Speedlite Transmitter.

Dual wireless flash triggering
The Speedlite 430EX III-RT can be fired while off-camera using radio-frequency or optical triggering, giving photographers huge versatility. When using radio-frequency triggering, flashes can be placed up to 30m away from the camera and do not have to be within direct line of site. This means they can be placed in many more locations, such as outside a room firing in through a window.
Optical triggering allows EOS cameras featuring a built-in Integrated Speedlite Transmitter (e.g. EOS 760D, EOS 70D and EOS 7D Mark II) to fire the Speedlite 430EX III-RT from up to 10m away, without the need for extra equipment.
Guide No. (ISO100).meters
43 (105mm)
Zoom head
Yes
focal length coverage
24-105mm
Coverage with wide panel
14mm
Auto zoom for sensor size
Yes
Auto exposure control
E-TTLII/E-TTL
High speed sync (FP)
Yes
Manual / output settings
Yes - 1/1- 1/128
Manual steps
1/3 step
FE lock
Yes
Flash exposure compensation
Yes
Flash Exposure bracketing
No
Second-curtain flash sync
Yes
Modelling flash
Yes
Colour temperature info communication
Yes
Transmitter
Yes
Transmission type
Radio
Signal range (Infra-red/Radio)
Indoors: 12-15m / 30m
Outdoors: 8-10m / 30m
Slave function
Infra-red/Radio
Master function
Radio
No of groups (Optical/Radio)
- / 5
No of channels (Optical/Radio)
- / 15
Remote Shutter Release
Yes
Up
45, 60, 75 and 90°
Left
60, 75, 90, 120, and 150°
Right
60, 75, 90, 120, 150 and 180 °
AF-assist beam
Yes
Number of AF points supported
1
AF-assist beam type
Infra-red / flash strobe
Battery
4 x AA batteries
Minimum recycling time *
Approx. 3.5 sec
External power supply
No
Dust and water resistance
No
Mounting foot material
Metal
Custom function
10 (8 personal functions)
Flash settings from camera menus **
Yes
External flash exposure sensor
No
PC terminal
No
Compatible Accessories
Off-camera shoe cord OC-E3
Bounce adapter SBA-E2
Color filter/Bounce adapter holder
Color filter SCF-E2
Dedicated flash bracket
No
Size (W x H x D), mm
70.5 x 113.8 x 98.2
Weight (Excluding batteries), grams
295g
Working temperature range
0 °C - 45 °C / 32 °F - 113 °F
Working humidity
85 % or less
This product comes with 2 Years Warranty with Canon Australia. Our products are sourced from authorised Australian suppliers and therefore come with genuine Australian warranty. Camera Warehouse does not participate in 'Grey Market' or 'Parallel Import' activities.
Canon Speedlite 430EX III-RT Camera Flash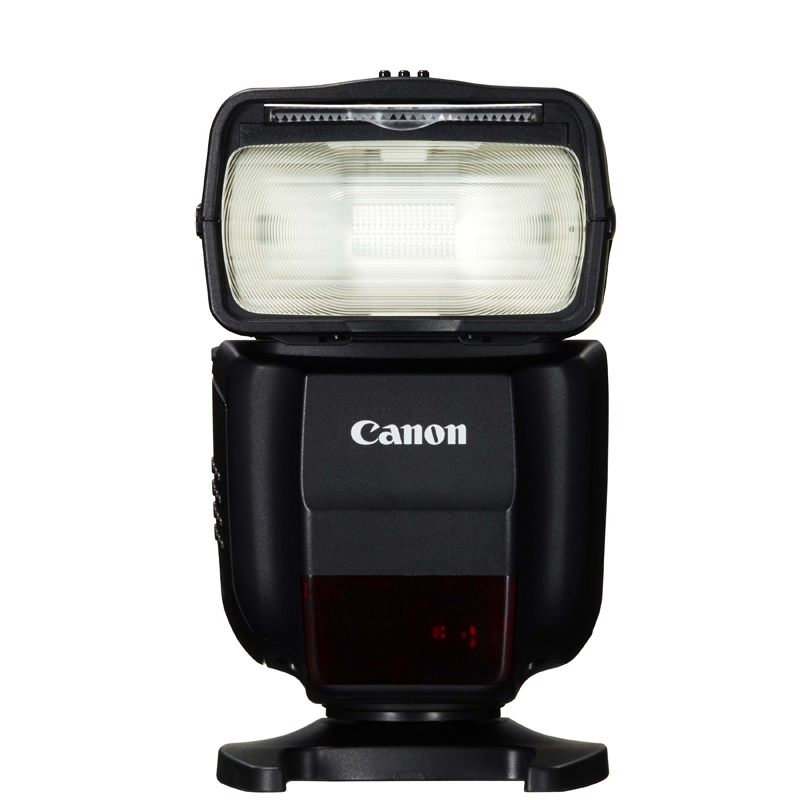 Canon Speedlite 430EX III-RT Camera Flash
SKU: Canon 430EXIIIRT
UPC: 13803257281