Canon Speedlite 430EX II Flash
Free Shipping for Orders over $98*

(*excludes bulky items)
No SURCHARGE FOR CREDIT CARDS
- Shorter recycling time (approx 20% shorter than 430EX)
- Silent Recycling
- Quick-lock attachment
- Guide Number: 141' at ISO 100 and 105mm
- Zoom Range: 24-105mm (14mm with Panel)
- Tilts Upward 90°
- Rotates 90° Right & 180° Left
- Wireless Slave TTL Functionality
- AF Assist Beam and Modeling Flash
- 12 Months Genuine Warranty from Canon Australia
Shorter recycling time (approx 20% shorter than 430EX)
Silent Recycling
Quick-lock attachment
Guide Number: 141' at ISO 100 and 105mm
Zoom Range: 24-105mm (14mm with Panel)
Tilts Upward 90°
Rotates 90° Right & 180° Left
Wireless Slave TTL Functionality
AF Assist Beam and Modeling Flash
12 Months Genuine Warranty from Canon Australia
---
The 430EXII is the ultimate Speedlite for enthusiast DSLR photographers. Shorter recycling time (approx 20% shorter than the 430EX) offers users advanced speed capabilities, whilst silent recycling helps in discreet situations such as weddings. All settings can now be controlled via the camera's menu system (as well as the Speedlite) and the connectivity to the camera has been improved with a new quick-lock mechanism and metal foot mounting. The flash rotates 90° right & 180° left, tilts upward 90° capable of 24-105mm (14mm with Panel) zoom range plus 141' at ISO 100 and 105mm Guide Number. Wireless Slave TTL Functionality, AF Assist Beam and Modeling Flash are also provided.
---
Product Features in Detail
E-TTL II Flash metering
Portable and compact, the Speedlite 430EX II is high powered with a Guide Number of 43 suitable for both bounce flash and telephoto lens shooting. E-TTL II metering with compatible cameras gives accurate flash exposure in all situations, even when bouncing light from a wall or ceiling.
For more control the flash power can be set manually in 1/3rd stop increments from 1/1 to 1/64th power.
24-105mm auto zoom head
Used with a compatible EOS digital SLR, the Speedlite 430EX II automatically detects the camera's sensor size and zooms the flash head for optimum scene coverage. This reduces wasted light and improves both battery life and recycling times.
The 24-105mm auto zoom head and a 14mm wide-panel diffuser provides flash coverage for a wide range of shooting situations.
The swivel and tilt head allow the use of bounce flash to create softer lighting when using a single flash on-camera.
Wireless Slave
The Speedlite 430EX II can be used as a wireless slave flash unit triggered by an appropriate master flash unit. The small size and high power output make it an ideal slave flash for creating a portable studio with multiple flashguns.
Power source
Powered by 4 x AA batteries the Speedlite 430EX II is lightweight, portable and compact enough to keep with you. Recycling is approximately 20% faster than the previous model and nearly silent to avoid scaring timid wildlife subjects.
Durability
A metal mounting foot and quick release latch ensure the connection between the camera and Speedlite is both easy to use and secure.
Flash control
When used with a compatible camera all aspects of flash control, including flash power settings and all nine custom functions can be adjusted from the camera menu**.
AF Assist
Covering 1-9 AF points, the Speedlite 430EX II can emit an infra-red focusing beam providing contrast for the lens to focus on when shooting in low light conditions.
---
Included in the Box
Canon Speedlite 430EX II Flash
12 Months Warranty with Canon Australia
---
Warranty Information
This Canon Speedlite 430EX II Flash comes with 12 Months Warranty from Canon Australia.
Our products are sourced from authorised Australian suppliers and therefore come with genuine Australian warranty.
Camera Warehouse does not participate in 'Grey Market' or 'Parallel Import' activities.
POWER
Guide No. (ISO100).meters
43 (105mm)
ZOOM
Zoom head
Yes
Focal length coverage
24-105mm
Coverage with wide panel
14mm
Auto zoom for sensor size
Yes
FLASH MODES
Auto exposure control
E-TTL II/E-TTL/TTL
High speed sync (FP)
Yes
Manual / output settings
Yes - 1/1-1/64
Manual steps
1/3 step
FLASH-RELATED FUNCTION
FE lock
Yes
Flash exposure compensation
Yes
Flash exposure bracketing
No
Second-curtain flash sync
Yes
Modelling flash
Yes
Colour temperature info communication
Yes
WIRELESS FLASH
Transmitter
No
Slave
Yes
No. of groups
3
No. of channels
4
FLASH HEAD MOVEMENT
Up
45, 60, 75 and 90°
Left
60, 75, 90, 120, 150 and 180°
Right
60, 75, 90°
AF ASSIST
AF-assist beam
Yes
Number of AF points supported
1-9
AF-assist beam type
Infra-red
POWER SOURCE
Battery
4 x AA batteries
Minimum recycling time*
Approx. 3 sec
External power supply
No
CONSTRUCTION
Dust and water resistance
No
Mounting foot material
Metal
MISC.
Custom function
9 (20 options)
Flash settings from camera menus**
Yes
External flash exposure sensor
No
PC terminal
No
Compatible accessories
Off-camera shoe cord OC-E3
Dedicated flash bracket
SB-E2
DIMENSIONS & WEIGHT
Size (W x H x D), mm
72 x 122 x 101
Weight (Excluding batteries), grams
320g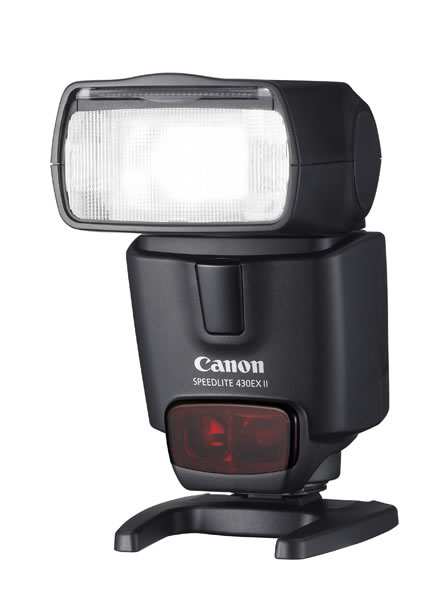 Canon Speedlite 430EX II Flash