Canon PowerShot SX710 HS Digital Camera
Free Shipping for Orders over $98*

(*excludes bulky items)
No SURCHARGE FOR CREDIT CARDS
- 20.3 Megapixel High-Sensitivity CMOS sensor
- 30x Optical Zoom
- 3.0-inch TFT Color LCD with wide viewing angle (4:3)
- Built-in flash
- 4.5mm - 135.0mm focal length
- DIGIC 6 Image Processor
- Maximum aperture of f/3.2
- 1080p Full HD video
- 2 Years Genuine Warranty with Canon Australia
20.3 Megapixel High-Sensitivity CMOS sensor
30x Optical Zoom
3.0-inch TFT Color LCD with wide viewing angle (4:3)
Built-in flash
4.5mm - 135.0mm focal length
DIGIC 6 Image Processor
Maximum aperture of f/3.2
1080p Full HD video
Built-In WiFi
2 Years Genuine Warranty with Canon Australia
---
While on a vacation, why not bring PowerShot SX710 HS along? Having a high 30X Optical Zoom, you can capture memories even from afar. With a 20.3 Megapixel High-Sensitivity CMOS sensor and DIGIC 6 Image Processor, you'll be able to create breathtaking still images and 1080p Full HD video watchable in the 3.0-inch TFT Color LCD with wide viewing angle (4:3). You can even share those moments wirelessly with the built-in Wi-Fi. PowerShot SX710 HS is built with 4.5mm - 135.0mm focal length and a maximum aperture of f/3.2.
---
Product Features in Detail
30x Optical Zoom (25–750mm)
With the PowerShot SX710 HS camera in hand, you'll be impressed at the zooming capabilities of this slim, compact digital camera. The amazing 30x Optical Zoom gets you just where you want to be: down on the field, high atop a skyscraper, deep into a landscape and much more. The camera's advanced technology helps ensure that images and videos are captured in outstanding quality, with Intelligent IS that chooses the stabilization method that's best for the shooting conditions, so images are virtually shake-free in a wide variety of situations.
Intelligent IS
It's easy to capture clear, steady images, even in low light without using a tripod. That's because the camera is equipped with Canon's innovative Intelligent IS. The system automatically analyzes camera movement and applies the best shake correction method for the shooting situation – allowing you to focus on framing and capturing your shot. For stills, the system selects from Normal IS, Panning IS, Macro (Hybrid) IS and Tripod modes. When shooting video, the system selects from Dynamic IS, Powered IS, Macro (Hybrid) IS and active Tripod IS modes. Icons clearly mark the image stabilization mode, whether you're shooting still images or video.
Built-in NFC (Near Field Communication)
PowerShot digital cameras with built-in NFC (Near Field Communication) technology eliminates the need to manually find and open the new Canon Camera Connect app* on your mobile device. Simply touch the NFC icon on your camera to your compatible Android™ device**, and the Camera Connect app will launch automatically for quick, easy sharing of your images. Built-in NFC technology also makes it simpler to install the app. If the app hasn't been installed yet, once you touch the devices together for the first time, the download screen will display automatically. Now, NFC helps ensure making a connection to a compatible Android™ device* truly seamless. Simply touch the camera against an NFC-equipped device with the Canon Camera Connect app installed, and the Wi-Fi® connection is established no camera operations required. Even if your camera is off, NFC turns the camera on and establishes the connection (confirming the camera's nickname and privacy settings before the first connection is required).
Built-in Wi-Fi® makes sharing quick and easy
Built-in Wi-Fi® technology for on-the-go convenience when you want to share your photos and videos with friends, family and the whole world. Easily post your images to social networking and media sites – Facebook®, Twitter®, YouTube™, Flickr®, and Google Drive™ – through CANON iMAGE GATEWAY*** directly from your PowerShot camera, or save them to the online photo album to share anytime, anywhere. The camera can also connect directly to both iOS® and Android™ devices*, and upload images via the free Canon Camera Connect app* without a computer. You can control the destination of your uploads to share with everyone or to selected groups, and even add comments. Sharing video is also easy with Wi-Fi® equipped PowerShot cameras, which record video using the easy-to-share MP4 format. Enhanced Wi-Fi® makes posting in real time possible, so you can keep everyone up to date with photos and video even as events unfold. Wi-Fi® technology also allows you to transfer images to other Wi-Fi® equipped PowerShot cameras or print your photos directly to a PictBridge (Wireless LAN) certified printer.
Compatibility with Canon Connect Station CS100
The PowerShot SX710 HS camera is fully compatible with Canon's brand new photo and video storage device: the Canon Connect Station CS100. By simply tapping with NFC, photos and videos are wirelessly transferred to the Connect Station CS100, where up to 1 TB of hard drive space (has the capacity for approximately 150,000 photos or approximately 70 hours of video content)* and simple menus make them easy to store, manage and sort by albums, date or device name. From there, images and videos can be viewed in Full HD on an HDTV (via an HDMI cable), sent to compatible wireless printers, viewed/uploaded/downloaded from smartphones and tablets or PCs, and shared with other Connect Stations and on social networking sites.
20.3 Megapixel* High-Sensitivity CMOS sensor
The PowerShot SX710 HS camera employs a 20.3 Megapixel* High-Sensitivity CMOS sensor, which delivers state-of-the-art imaging performance and is optimized for use in compact cameras. Utilizing a sophisticated light-capturing design, it provides high sensitivity for improved high ISO capture with reduced noise. It is also a high-speed design, capable of rapidly capturing and moving image data to the processor, enabling faster continuous shooting and faster autofocus.
DIGIC 6 Image Processor
The PowerShot SX710 HS camera is equipped with the DIGIC 6 Image Processor, which makes several important advancements to image quality both in stills and video. Improved light sensitivity allows for higher resolution with less noise when shooting in dark conditions, and Dynamic IS now detects and compensates for tilt and parallel movement (shift blur) to create video that's virtually free of distortion. The processor also enhances the performance capabilities of the PowerShot SX710 HS, enabling high-speed, high quality continuous still image shooting at up to 6.0 frames per second. And video recording is better than ever, as the DIGIC 6 Image Processor enables Full HD at 60p, as well as MP4 recording. Highly compressed MP4 video not only preserves space on your memory card but also improves playback on mobile devices. Plus, with MF Peaking possible thanks to the DIGIC 6 Image Processor, you'll have a pro-level focusing tool at your disposal.
Full HD Video
The PowerShot SX710 HS camera is designed to make beautiful, creative video capture easy and fun. Image quality is luminous and lifelike in 1080p Full HD, with selectable frame rates of 60p, 30p and 24p to match the situation and end use. MP4 format, perfect for sharing and mobile devices, is also available. Newly improved Dynamic IS offers 5-axis image stabilization that corrects even the strong camera shake that happens when you shoot while running or walking backward.
Clear Viewing, Easy Shooting
The large, 3.0-inch high-resolution LCD screen makes it easy to both frame and review your shots. A resolution of 922,000 dots makes even the smallest details clear, and images are viewable even from a wide angle, so showing others what you've captured is easy, too.
Improved Zoom Framing Assist
The camera's Zoom Framing Assist function offers a variety of support for capturing excellent long telephoto shots. When you press and hold the Zoom Framing Assist button, the camera will automatically zoom out to include a wider angle of view, enabling you to more easily locate your moving subject. Once you find it, releasing the button returns the lens to its original zoom position, keeping the subject in focus until you're ready to shoot. You can even make zoom adjustments while the button is pressed, with an animated assist frame that makes viewing easy. When the button is released, the lens will return to the adjusted zoom position. Zoom Framing Assist also offers a seek assist function that detects when you're panning (for instance, to search for the ball on a field) and automatically zooms out to help; stop panning, and the zoom returns to its original position. Zoom Framing Assist keeps even a moving subject's face the same size in the frame with a tap to the Zoom Framing Assist function button; the feature is especially useful for capturing the expressions of fast-moving children. The system lets you choose the subject's size: choices include face, upper body, whole body, manual or off, and now AUTO. In AUTO, the camera evaluates camera movement, distance to subject, and the number of faces to automatically zoom in and out to stay focused on subjects and shoot them at the optimal size, even automatically zooming in to find faces when they are too small. Also new, an Auto Zoom feature that makes it easy for others (at a tourist spot, for example) and even children to take a great picture of you: the camera automatically zooms to frame the shot to just the right size. Conveniently, all Zoom Framing Assist functions are also available when shooting video.
Creative Shot mode
PowerShot digital cameras with Creative Shot mode help turn your images into impressive artistic photos! Rather than randomly applying filters, Creative Shot mode takes advantage of advanced Canon technologies to analyze the individual scene, subject and exposure to apply any of 46 filter options. In addition to the original shot, the camera automatically produces and saves five additional variations of the composition. Filter choices are grouped into Retro, Monochrome, Special and Natural categories to make exploring the world of artistic photography fun and easy, or simply select Auto to access the full range of effects. With Creative Shot mode, the result is stunning artistic photos that are perfect for sharing.
Story Highlights
View your still images and video† as a fun short story with the Story Highlights feature on the new PowerShot SX710 HS camera. You can choose to have the camera create one automatically, creating a short video of approximately three minutes* according to date, event or people, or you can customize your Story Highlights reel for a fun, unique video*. New Story Highlights BGM lets you add background music (choose from three pre-loaded songs) to the clips that Story Highlights automatically generates, for a new level of emotive expression. It's all done in camera, without the need for any additional software. Easily access and enjoy your Story Highlights – simply press the Story Highlights button to start creating your highlight album. The Story Highlights album can be saved to the camera's memory card for quick replay and also shared with the PowerShot SX710 HS camera's built-in Wi-Fi®.
Hybrid Auto and Smart AUTO
Capture the essence of special days – vacations, important occasions or any time you're shooting many shots in a day – using Hybrid Auto on the PowerShot SX710 HS camera. Hybrid Auto records up to four seconds of video every time you shoot a still image, then automatically joins the day's clips and pictures** into a video. The feature also makes sure the "highlight reel" is stunningly beautiful by automatically recognizing the scene and optimizing camera settings to capture the highest possible image quality. The resulting 720p HD video is properly exposed, crisp and steady.
Smart AUTO on the PowerShot SX710 HS camera makes capturing sharp, bright colorful images and video as simple as pressing the shutter button. By assessing various factors in both the background and the subject, the system recognizes 58 predefined shooting situations and automatically selects the camera settings that will yield the best possible results. Simply frame the shot you want, and in dozens of common or challenging scenarios the camera takes care of the rest. Hard-to-capture shots such as moving subjects, night scenes, backlit subjects, and landscapes at evening or on a bright snowy day are instantly and effortlessly captured as "keeper" shots. Smart AUTO makes the PowerShot SX710 HS ideal for capturing excellent quality still images and video on the go.
High Speed AF
The PowerShot SX710 HS camera is equipped with Canon's latest advancements in autofocus (AF) technology. Canon's advanced AF achieves a significant increase in speed for a shooting experience that's spontaneous and natural. The remarkably responsive High Speed AF lets you capture great shots as they happen, with reduced lag time.
---
Included in the Box
Canon PowerShot SX710 HS Digital Camera
Battery Pack NB-6LH
Battery Charger CB-2LY
Wrist Strap WS-800
24 Month Warranty Card with Canon Australia
---
Warranty Information
The Canon PowerShot SX710 HS Digital Camera comes with 24 Months Australian Warranty from Canon Australia.
Our products are sourced from authorised Australian suppliers and therefore come with genuine Australian warranty.
Camera Warehouse does not participate in 'Grey Market' or 'Parallel Import' activities.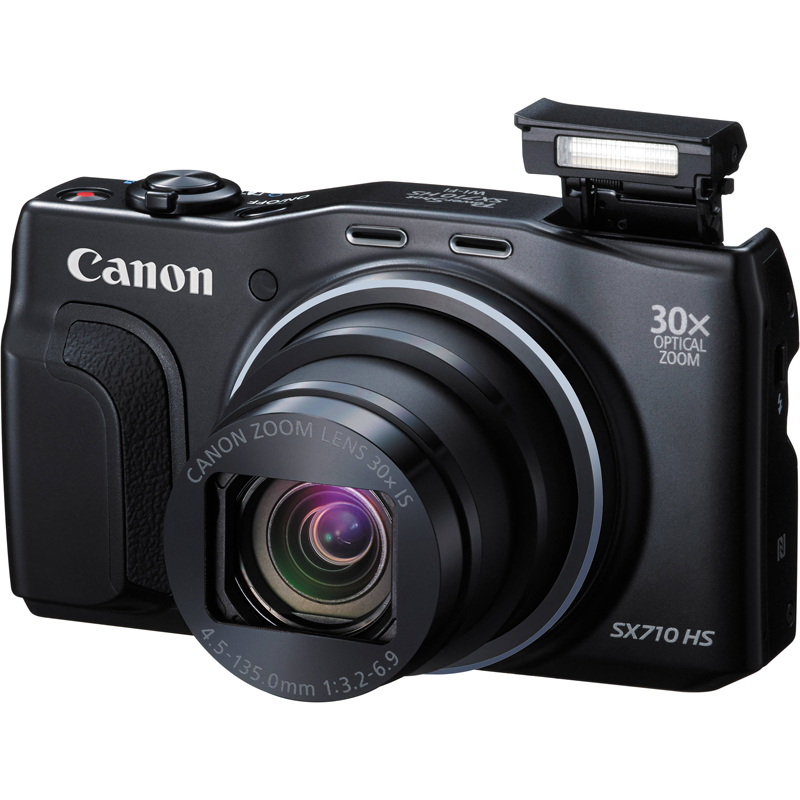 Canon PowerShot SX710 HS Digital Camera