Canon Powershot G5X Digital Camera
Free Shipping for Orders over $98*

(*excludes bulky items)
No SURCHARGE FOR CREDIT CARDS
1.0 type, 20.2 Megapixel CMOS sensor
DIGIC 6 Processor

24 mm, 4.2x Optical Zoom Lens
0.12 Seconds Autofocus
31-point AF Frames
5.9 fps Sustained Continuous Shooting
Captures Full HD 60p Movies
Optical Image Stabilizer

Large Electronic Viewfinder
Vari-angle Touchscreen LCD

Lens Control Ring
Near Field Communication connectivity

Built-In Wi-Fi
2 Years Genuine Warranty with Canon Australia
The Canon Powershot G5 X is a compact camera that is capable of delivering superb image quality. Its 1.0-type, 20.2 Megapixel CMOS sensor can capture accurate details with the help of its DIGIC 6 processor. Setting the view closer to the subject is also possible with its 24 mm, 4.2x optical zoom lens which is capable of 0.12 seconds autofocus and 31-point AF Frames. Combine that with its 5.9 fps sustained continuous shooting and you can take more pictures faster. If you wish to take videos, this camera captures Full HD 60p Movies too. The G5 X also features an optical image stabilizer and large electronic viewfinder. This Canon compact camera is also equipped with a vari-angle touchscreen LCD and lens control ring. Sharing your images to smartphones and the Internet is also possible with its Near Field Communication connectivity and built-in Wi-Fi.
---
Product Features in Detail

1.0-type, 20.2 Megapixel CMOS sensor
The Canon Powershot G5 X can save either JPEG or RAW images at a maximum of 20.2 megapixels. The CMOS sensor also allows more light to be used in capturing an image. This translates to more accurate details from the subject to the photo.

DIGIC 6 Processor
The G5 X's DIGIC 6 Processor improves the camera's light sensitivity. This results in higher resolution images with less noise when shooting in dark conditions. It also enhances the Powershot G5 X's performance particularly in high-speed shooting.

24mm, 4.2x Optical Zoom Lens
The lens' 24 mm diameter gives way for a wider viewable angle. Meanwhile, its 4.2x magnification has a focal length equivalent of 8.8 - 36.8 mm (24-100 mm equivalent on 35 mm). The lens also has a maximum f/number of f/1.8-2.8 and its 9-blade aperture is perfect for stunning background blur.

31-point AF Frames
With more points, you can have better resolution for every focus point in the frame. Having more AF points is also in tracking subjects for motion images such as in sports and wildlife photography.

Captures Full HD 60p Movies
With the G5 X, you have the capability to record memories for a maximum resolution of 1920 x 1080 at a maximum frame rate of 59.94 fps. You can also play the videos on wider screen resolutions without compromising quality. This video function is also perfect for those who are into video blogging.

Optical Image Stabilizer
The G5 X has a three-stop Intelligent Image Stabilizer with 5-axis Advanced Dynamic IS to reduce shaking and blur when taking stills and videos. The result: clear shots even without a tripod or during low light situations.

Large Electronic Viewfinder
Its built-in 2.36 Million pixel electronic viewfinder is positioned perpendicular to the optical axis which gives the photographer a better view on frame and a natural shooting experience.

Vari-angle Touchscreen LCD
The 7.5 cm (3") touch screen is the perfect aid for shooting self-portraits and low angles, and bird's eye view images. And since the LCD is touch screen, you can use it to instantly select AF points, trigger it as a touch shutter, or review images by swiping.

Lens Control Ring
You can adjust the aperture of the Canon Powershot G5 X with this feature to get the ideal amount of light that you need for each shot.

Near Field Communication Connectivity
With NFC connection, you can instantly save your images from the camera to a smartphone or table device.

Built-In Wi-Fi
Instantly share your images on the Internet, particularly in social media platforms, by accessing the G5 X's Wi-Fi connection. Also, the images can be easily stored to cloud services like Google Drive and Flickr with its Image Sync option.

Enhanced Star Mode and Handheld HDR Function
This allows you to record detailed photos and videos at night.

Complete Manual Control
Aside from the Autofocus, the Powershot G5 X is perfect for those who want to customize the effects in every picture through manual photography. You have the liberty to adjust the aperture and zoom

Auto ND Filter
This filter allows you to capture beautiful light trails at night and amazing bokeh in bright conditions.

14-Bit RAW File Support
With this type of file support, you can enhance photo editing options via Canon's Digital Photo Professional software.

Multiple Charging Options
The Canon Powershot G5 X can be charged with typical USB smartphone chargers, through a PC via USB cable, or through the provided external battery charger
IMAGE SENSOR

1.0 type back-illuminated CMOS

Approx. 20.2M (Aspect ratio 3:2) [14]

Approx. 20.9M

Primary Colour

IMAGE PROCESSOR

DIGIC 6 with iSAPS technology

LENS

8.8 – 36.8 mm (35 mm equivalent: 24 – 100 mm)

Optical 4.2x

ZoomPlus 8.4x
Digital Approx. 4x (with Digital Tele-Converter approx. 1.6x or 2.0x [1])
Combined approx. 17x

f/1.8 - f/2.8

11 elements in 9 groups (1 double sided aspherical lens, 1 single sided aspherical UA lens, 1 single sided aspherical lens and 1 UD lens)

Yes (lens-shift type), approx. 3-stop [13].

Intelligent IS with 5-axis Advanced Dynamic IS

FOCUSING

TTL

AiAF (31-point, Face Detection or Touch AF with Object and Face Select and Track), 1-point AF (any position is available or fixed centre)

Single, Continuous, Servo AF/AE [6], Touch AF

Size (Normal, Small)

Yes, via customisable buttons

Yes

Yes, plus MF Peaking

Yes

Closest Focusing Distance

5 cm (Wide) from front of lens

40 cm (Tele) from front of lens

EXPOSURE CONTROL

Evaluative (linked to Face Detection AF frame), Centre-weighted average, Spot (centre or linked to Touch AF frame)

Yes, via customisable buttons

+/- 3 EV in 1/3 stop increments

Manual and automatic dynamic range correction
Automatic shadow correction
ND Filter (3-stop) On/ Auto/ Off [16]

1/3 – 2 EV in 1/3 stop increments

125, 160, 200, 250, 320, 400, 500, 640, 800, 1000, 1250, 1600, 2000, 2500, 3200, 4000, 5000, 6400, 8000, 10000, 12800 [15]

AUTO ISO: 125 - 12800 (possible to set Max. ISO speed and rate of change)

SHUTTER

1 – 1/2000 sec. (factory default)

1/8 - 1/2000 sec. (Movie Mode)
BULB, 30 – 1/2000 sec. (total range – varies by shooting mode)

WHITE BALANCE

TTL

Auto (including Face Detection WB), Daylight, Shade, Cloudy, Tungsten, Fluorescent, Fluorescent H, Flash, Underwater, Custom 1, Custom 2

Multi-area WB correction available in Smart Auto
White Balance Compensation
Colour adjustment in Star mode

COLOUR MATRIX

sRGB

EVF (0.39 type), Approx. 2,360K dots, OLED

Approx. 100%

Eyepoint / Dioptre Correction

Approx. 22 mm (from eyepiece lens centre)

-3.0 to +1 m-1 (dioptre)

LCD MONITOR

Vari-angle 7.5 cm (3.0") Touchscreen LCD (TFT). 3:2 aspect ratio. Approx. 1,040,000 dots. Capacitive type

Approx. 100%

Adjustable to one of five levels. Quick-bright LCD

FLASH

Auto, Manual Flash On / Off, Slow Synchro

Yes. Fastest speed 1/2000 sec.

Yes

Flash Exposure Compensation

+/- 2 EV in 1/3 stop increments. Face Detection FE, Safety FE, Smart Flash Exposure

Yes

3 levels with internal flash (up to 19 levels with external EX Speedlites 270EX II, 320EX, 430EX, 430EX II. 22 levels with 430EX III-RT, 580EX II and 600EX-RT [2])

Second Curtain Synchronisation

Yes

50 cm – 7.0 m (W) / 50 cm – 4.0 m (T)

E-TTL with EX series Speedlites

Canon High Power Flash HF-DC2

SHOOTING

Smart Auto (58 scenes detected), Program AE, Shutter priority AE, Aperture priority AE, Manual, Custom, Hybrid Auto, Creative Shot, SCN (Portrait, Self-Portrait, Star (Star Nightscape, Star Trails, Star Portrait, Star Time-Lapse Movie), Handheld Night Scene, Fireworks, High Dynamic Range, Nostalgic, Fish-eye Effect, Miniature Effect, Toy Camera Effect, Background Defocus, Soft Focus, Monochrome, Super Vivid, Poster Effect), Movie

Smart Auto (21 scenes detected), Standard, Program AE, Manual, Portrait, Nostalgic, Miniature Effect, Monochrome, Super Vivid, Poster Effect, Fireworks, Short Clip, iFrame Movie

My Colors (My Colors Off, Vivid, Neutral, Sepia, Black & White, Positive Film, Lighter Skin Tone, Darker Skin Tone, Vivid Blue, Vivid Green, Vivid Red, Custom Color)

Single, Auto Drive, Continuous, Continuous with AF, Self-Timer

Approx. 5.9 shots/sec

with AF: Approx. 4.4 shots/sec
(all speeds are until memory card becomes full)

RECORDING PIXELS / COMPRESSION

3:2 - (RAW, L) 5472 x 3648, (M1) 4320 x 2880, (M2) 2304 x 1536, (S) 720 x 480

4:3 - (RAW, L) 4864 x 3648, (M1) 3840 x 2880, (M2) 2048 x 1536, (S) 640 x 480
16:9 - (RAW, L) 5472 x 3080, (M1) 4320 x 2432, (M2) 1920 x 1080, (S) 720 x 408
1:1 - (RAW, L) 3648 x 3648, (M1) 2880 x 2880, (M2) 1536 x 1536, (S) 480 x 480
Resize available in playback (M2, S) for JPEG images

RAW, Superfine, Fine

(Full HD) 1920 x 1080, 59.94 / 50 / 29.97 / 25 / 23.98 fps

(HD) 1280 x 720, 29.97 / 25 fps
(L) 640 x 480, 29.97 / 25 fps
Star Time-Lapse Movie (Full HD) 29.97 / 25 / 14.99 / 12.5 fps
Miniature Effect (HD, L) 6 / 3 / 1.5 fps
Hybrid Auto (HD) 29.97 / 25 fps
iFrame Movie (Full HD) 29.97 / 25 fps

(Full HD & HD) Up to 4 GB or 29 min. 59 sec. [7]

(L) Up to 4 GB or 1 hour [4]
(Star Time-Lapse Movie) up to 128 sec

FILE TYPES

JPEG compression (Exif 2.3 [Exif Print] compliant) / Design rule for Camera File system and DPOF ver. 1.1 compliant), RAW (14bit, Canon original RAW 2nd edition), RAW+JPEG

MP4 [Video: MPEG-4 AVC / H.264, Audio: MPEG-4 AAC-LC (stereo)]

iFrame

DIRECT PRINT

Canon SELPHY Compact Photo Printers and Canon Inkjet Printers supporting PictBridge

Yes (via USB or Wireless LAN)

OTHER FEATURES

GPS via Mobile (linked to a compatible smartphone)

Yes, during shooting and playback

My Menu customisation available

Intelligent Orientation Sensor

Yes

Yes, live histogram

Yes, enabled in 10 steps

Approx. 2 or 10 sec., Custom

English, German, French, Dutch, Danish, Finnish, Italian, Greek, Norwegian, Portuguese, Russian, Swedish, Spanish, Ukrainian, Polish, Czech, Hungarian, Turkish, Simplified Chinese, Chinese (traditional), Japanese, Korean, Thai, Arabic, Romanian, Farsi, Hindi, Malay, Indonesian, Vietnamese, Hebrew

INTERFACE

Hi-Speed USB (MTP, PTP) DIGITAL connector

HDMI Micro Connector

Remote Switch Connector

Wi-Fi (IEEE802.11b/g/n), (2.4 GHz only), with Dynamic NFC support [11]

MEMORY CARD

SD, SDHC, SDXC (UHS Speed Class 1 compatible)

SUPPORTED OPERATING SYSTEM

Windows 10 / 8 / 8.1 / 7 SP1 [18]

Mac OS X 10.9 / 10.10
For Wi-Fi connection to a PC:
Windows 10 / 8 / 8.1 / 7 SP1
Mac OS X 10.9 / 10.10
For Image Transfer Utility:
Windows 10 / 8 / 8.1 / 7 SP1
Mac OS X 10.9 / 10.10

SOFTWARE

CameraWindow DC

Map Utility
Image Transfer Utility
Camera Connect available on iOS and Android devices

Digital Photo Professional for RAW development

POWER SOURCE

Rechargeable Li-ion Battery NB-13L (battery and charger supplied)

Approx. 210 shots

Aprrox. 215 shots with in-built EVF
Eco mode approx. 320 shots
Approx. 240 min. playback

Optional, AC Adapter Kit ACK-DC110

Charging via USB available with Compact Power Adaptor CA-DC30E [17]

ACCESSORIES

Camera Jacket DCC-1850

Neck Strap NS-DC12
PowerShot Accessory Organizer

Canon Speedlite (including 270EX, 270EX II, 320EX, 430EX, 430EX II, 430EX III-RT, 580EX, 580EX II and 600EX-RT [2])

Speedlite Transmitter (ST-E3-RT, ST-E2)
Speedlite bracket SB-E2
Off-Camera Shoe Cord OC-E3
Canon High Power Flash HF-DC2

Remote Controller/ Switch

Remote Switch RS-60E3

Power Supply & Battery Chargers

AC Adapter Kit ACK-DC110, Compact Power Adaptor CA-DC30E, Battery Charger CB-2LHE

Interface cable IFC-600PCU

PHYSICAL SPECIFICATIONS

0 – 40 °C, 10 – 90% humidity

112.4 x 76.4 x 44.2 mm

Approx. 377 g (including battery and memory card)
All data is based on Canon standard testing methods (according to CIPA Standards) except where indicated.
Subject to change without notice.
[1] Depending on the image size selected.
[3] Under conditions where the flash does not fire.
[4] Depending on memory card speed / capacity / compression setting.
[6] Some settings limit availability.
[7] The following Speed Class memory cards are required for maximum record time: (HD) 1280 x 720 Speed Class 4 or above. (Full HD) 1920 x 1080 Speed Class 6 or above. (iFrame) 1280 x 720 Speed Class 6 or above.
[11] Wi-Fi use may be restricted in certain countries or regions. Wi-Fi support varies by device and region. For more information visit www.canon-europe.com/wirelesscompacts
[12] Sustained continuous shooting function requires compatible SDHC/SDXC UHS Speed Class 1 memory card, total number of frames captured varies depending on shooting subject.
[13] Values at maximum optical focal length. Cameras whose focal length exceeds 350 mm (35 mm equivalent) are measured at 350 mm.
[14] Image processing may cause a decrease in the number of pixels.
[15] ISO sensitivity denotes Recommended Exposure Index
[16] Auto ND Filter not avaliable in Movie Mode.
[17] Charging via USB requires Interface Cable IFC-600PCU (Sold seperately) or similar cable with USB Micro-B to USB type-A connectors
[18] Software applications compatible with Windows 10 in Windows 10 Desktop Mode only
This product comes with 2 Years Genuine Warranty with Canon Australia.
Our products are sourced from authorised Australian suppliers and therefore come with genuine Australian warranty.
Camera Warehouse does not participate in 'Grey Market' or 'Parallel Import' activities.
Powershot G5 X
Rechargeable Li-Ion NB-13L Battery
External Battery Charger
AC Cable
Camera Strap
Strap Adapters
User Manual
2 Years Genuine Warranty with Canon Australia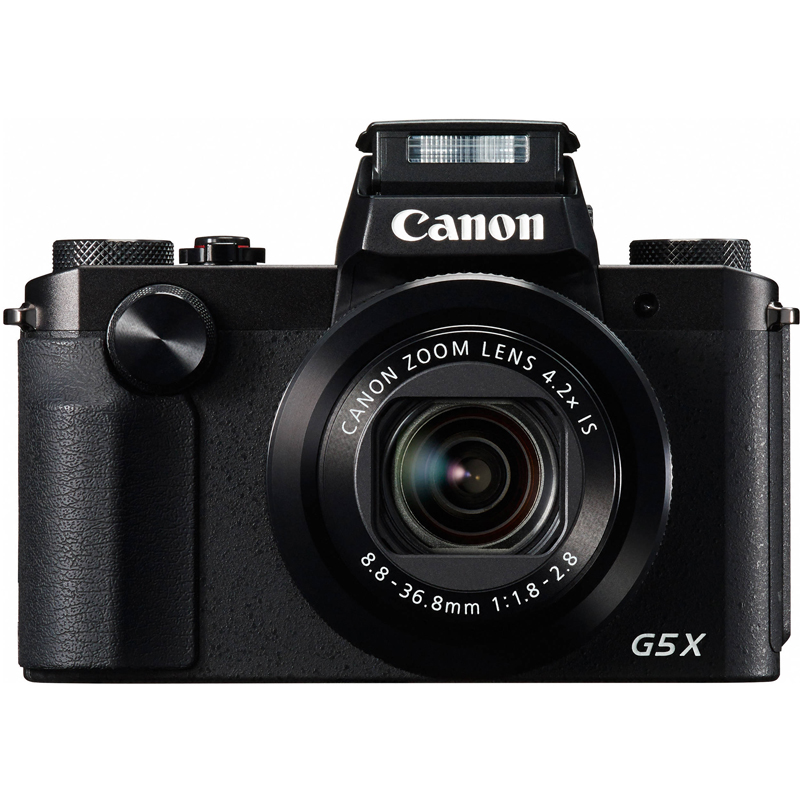 Canon Powershot G5X Digital Camera