Canon EOS M5 Mirrorless Camera Body Only
Free Shipping for Orders over $98*

(*excludes bulky items)
No SURCHARGE FOR CREDIT CARDS
24.2MP APS-C CMOS Sensor
DIGIC 7 Image Processor
Dual Pixel CMOS AF
1080p Full HD recording at 60 fps
High-speed burst shooting of up to 9 fps
Digital 5-Axis Image Stabilization
ISO range of 100-25600
2.36M-dot Electronic Viewfinder
3.2", 1.62M-dot Variable Angle Touchscreen
Touch and Drag Autofocus
Built-in WiFi, NFC, and Bluetooth connectivity
5 Years Warranty from Canon Australia
The Canon EOS M5 Mirrorless Camera boasts of a 24.2MP APS-C CMOS Sensor and DIGIC 7 Image Processor that work together to produce quality images. With the help of the 2.36M-dot Electronic Viewfinder, locking that perfect frame is possible through the Dual Pixel CMOS AF and the Touch and Drag Autofocus. Capture multiple images quickly through its high-speed burst shooting of up to 9 fps. Meanwhile, the Digital 5-Axis Image Stabilization ensures that camera shake will not translate to a blurry image. This Canon mirrorless camera also performs well on any light settings with the help of the ISO range of 100-25600. Aside from taking photos, the EOS M5 can also facilitate 1080p Full HD recording at 60 fps. You can view all stored media and adjust camera settings through the 3.2", 1.62M-dot Variable Angle Touchscreen. Sharing the photos and videos online or to other smart devices is a breeze with the Canon EOS M5's built-in WiFi, NFC, and Bluetooth connectivity.

---
Product Features in Detail

24.2MP APS-C CMOS Sensor
The EOS M5 camera features a 24.2 Megapixel (APS-C) sensor capable of capturing large image and movie files. At 24.2 Megapixels, the EOS M5's sensor delivers images suitable for enlargements with sufficient resolution for significant trimming. Whether making poster-sized prints, zooming in on a particular detail or making Full HD movies, the EOS M5's sensor is primed to deliver. An ISO range of 100–25600 means images can be captured with low noise and high detail, even in dimly lit situations.

Dual Pixel CMOS AF
When the action is happening fast, you and your camera have to be ready to capture that unforgettable photo – and with the EOS M5 camera, there's virtually no wait for it to focus, even in low light. Inside, its Dual Pixel CMOS AF system offers fast and precise autofocus that stays locked onto your subject, even if your subject is in motion, for both photos and videos. This advanced Canon technology uses 24.2 million sensors to quickly determine how far away an object is and therefore where the lens should focus, and is available while using the electronic viewfinder and when using Live View on the rear screen. Dual Pixel CMOS AF helps ensure your images are sharp, while keeping to a minimum the time it takes to lock focus onto your subject, and smoothly maintaining focus where you want it.

DIGIC 7 Image Processor
The new DIGIC 7 Image Processor's enhanced tracking and detection capabilities help keep subjects in focus, while helping to ensure each image has a high level of sharpness and minimum picture noise. Whether you're capturing a fast-moving athlete or a feisty puppy, the DIGIC 7 Image Processor in the EOS M5 camera can stay locked on throughout the action. Improved face tracking helps keep your friend or family member the subject of the photo. Even in extreme cases, like in low saturation or low-light dusk, dawn or darkened interior moments, the DIGIC 7 Image Processor helps keep what you're photographing in focus. It also features the new Dual Sensing IS, which uses data from the image itself to help minimize the blur caused by camera shake and body movement. This results in clear, sharp pictures even at slow shutter speeds. All this is in addition to upgraded detail and noise reduction abilities, especially in low light with high ISO settings. Powerful all around, the DIGIC 7 Image Processor helps ensure your photos and videos look sharp and lifelike with minimal unwanted noise or grain.

Full HD Video Recording
Whether you're creating artistic film clips or capturing special occasions, the advanced video capabilities of the EOS M5 camera can catch them in the quality they deserve. Incredibly realistic 1080p Full HD video is recorded at 60 fps with stereo sound in convenient MP4 format. Video is smooth and richly detailed even when played back on a large-screen HDTV via the camera's HDMI output. The MP4 format's small file size lets you fit more on a single memory card, and makes downloading and sharing quick and easy. Manual movie mode is also available: adjust settings and even select focus points by using the touch panel LCD screen. You can do this even while looking through the viewfinder to express your vision your way however you shoot – all from a powerful camera that is easily portable.

Digital 5-Axis Image Stabilisation
Sometimes you need to move the camera to create the video you want, whether you're panning over a gorgeous scenic vista or chasing after an excited puppy. Even when you hold the camera as steady as you can, some unintentional shaking is possible. To counter this, the EOS M5 camera features 5-axis Digital Image Stabilization when recording video. Blur due to movement in the horizontal and vertical, yaw and pitch (tilting) and roll directions are all digitally minimized in-camera. For more stabilization, when a combination IS-compatible lens is attached, the EOS M5 can use the lens's Optical IS in conjunction with Digital IS for even less chance of blur due to shaking. These help ensure the videos you record are as sharp as possible.

High-resolution Electronic Viewfinder
In certain situations, like a bright sunny day, a viewfinder is preferable to a screen. The built-in high-resolution electronic viewfinder on the EOS M5 camera features approximately 2,360,000 dots so you can see high amounts of detail in what you're capturing. Its Organic Light Emitting Diode (OLED) technology offers high-contrast, high-color images that can help properly display the scene you want to capture. Touch and Drag AF lets you use the rear screen as a touchpad while you're using the viewfinder, so you can choose what you want the camera to focus on with just a tap of your finger and without moving the camera away from your face.

Versatile touch screen LCD
The EOS M5 camera has a large, high-resolution, 3.2" LCD monitor that tilts up 85° and down 180°, ideal for composing pictures at high and low angles with ease. Its touch screen is designed to be fast and easy to use for many operations, allowing accessible AF selection right on the panel.

Customizable settings via the dials
Spending time scrolling through menus and settings can distract you from enjoying the moment, or potentially missing a candid or action-filled shot. The EOS M5 camera features multiple customizable dials to help you keep the adjustments you want, right at your fingertips. The Main Dial is around the shutter, so you barely have to move your finger to change certain settings. The Quick Control Dial and Dial Function button on top lets you adjust settings like ISO speed quickly with your thumb. The handy Exposure Compensation Dial gives you fast access to exposure, so you can brighten shadows or bring down the highlights without having to dive through menus.

Built-in Wi-Fi and NFC
The EOS M5 camera is designed to make Wi-Fi® connections* fast and easy. It can exchange data with other Wi-Fi® compatible Canon cameras, connect directly to Canon's Connect Station CS100 device, upload directly to various web services like CANON iMAGE GATEWAY, Facebook® and YouTube®, and even play back images and movies on DLNA-compatible digital electronics. Likewise, the EOS M5 camera connects directly to Near Field Communication-compliant Android devices by simply touching the NFC icon located on the camera to the device.

Bluetooth Smart
Thanks to Bluetooth® Smart pairing, you can easily connect to and remotely control the EOS M5 camera from compatible smartphones. Once you've set up the initial pairing, you're able to set the camera to automatically connect when turned on. With this connection you're able to control camera operations like capturing an image, without needing to touch the camera. For that next level of connectivity, a direct Wi-Fi® connection can be established, letting you use your phone as a viewfinder, and check and download previously captured photos and videos.
Type

Digital single-lens non-reflex AF/AE camera

SD/SDHC/SDXC memory card
* UHS-I compatible

EF-M lens (when using EF-M Mount Adapter: EF/EF-S lens group)
Equivalent to approximately 1.6x the focal length indicated on a mounted lens

Canon EF-M mount

Image Sensor

CMOS sensor

Effective pixels: Approx. 24.2 Megapixels
Total pixels: Approx. 25.8 Megapixels
Pixels may decrease due to image processing.

Square pixel approx. 3.72 µm

3:2

Auto / Manual

Recording Media

EXIF 2.3 (DCF2.0)

JPEG/RAW (CR2 a Canon 14-bit RAW format)

3:2 Aspect Ratio
Large: 6000 x 4000
Medium: 3984 x 2656
Small 1: 2976 x 1984
Small 2: 2400 x 1600

16:9 Aspect Ratio
Large: 6000 x 3368
Medium: 3984 x 2240
Small 1: 2976 x 1680
Small 2: 2400 x 1344

4:3 Aspect Ratio
Large: 5328 x 4000
Medium: 3552 x 2664
Small 1: 2656 x 1992
Small 2: 2112 x 1600

1:1 Aspect Ratio
Large: 4000 x 4000
Medium: 2656 x 2656
Small 1: 1984 x 1984
Small 2: 1600 x 1600

Continuous, Auto Reset

RAW + JPEG Simultaneous Recording

Yes

Auto, Standard, Portrait, Landscape, Fine Detail, Neutral, Faithful, Monochrome, User Def. 1-3

White Balance

1. Auto
2. Day Light
3. Shade
4. Cloudy
5. Light bulb
6. White fluorescent light
7. Flash
8. Color temperature
9. Custom

Blue/Amber: ±9 levels
Green/Magenta: ±9 levels

Viewfinder

Built-in electronic color viewfinder with 0.39-type screen size and approx. 2.36 million dots

3 types

Provided

Autofocus

Dual Pixel CMOS AF (Face+Tracking AF, 1-point AF)

49 points (Maximum)

EV -1–18 (at room temperature, ISO 100, when using EF-M 22mm f/2 STM)

1. Autofocus
- One-Shot AF
- Servo AF
2. Manual focus
3. AF+MF (Manual focus after One-Shot AF: when shooting still images during movie recording)

Built-in LED lamp

Exposure Control

Real-time metering using the image sensor
1. Evaluative
2. Partial metering
3. Center-weighted evaluative metering
4. Spot

EV 1-20 (at room temperature, ISO 100)

1. Program AE
2. Shutter-priority AE
3. Aperture-priority AE
4. Manual exposure
ISO Auto Range (AUTO mode): ISO 100-6400
Max. ISO Speed (P mode): ISO 25600
Max. Speed Limit Setting in ISO AUTO: ISO 25600
1. Manual: ±3 stops in 1/3-stop increments
2. AE Bracketing: ±2 stops in 1/3-stop increments
AE Bracketing can be used together with manual compensation.

Manual / Auto

Shutter

Electronic control only

1/4000 sec. to 30 sec. in Auto mode
Highest flash-sync shutter speed: 1/200 sec.

Off, 2 sec. delay, 10 sec. delay, Custom, Remote Control

Time Lag (LCD Monitor On)

Camera Start-up Time

Approx. 1.0 sec.

Built-In Flash

Manual pop-up flash

Gno. approx. 5 (ISO 100/m)

Covers approx. 15mm focal length (35mm film size conversion: approx. 24mm)

Flash Exposure Compensation

±2 stops in 1/3-stop increments

External Speedlite

E-TTL II autoflash

Provided

Flash functions settable with the camera

Drive System

Drive Modes

Single shooting, Continuous shooting (High-speed continuous shooting, low-speed continuous shooting)

Video Shooting
MP4
Video: MPEG-4 AVC / H.264
Audio: MPEG-4 AAC-LC (stereo)
Recording Sizes:
1920 x 1080 (Full HD), 1280 x 720 (HD) and 640 x 480 (VGA)
[1920 x 1080]: 59.94 fps / 29.97 fps / 23.976
[1280 x 720]: 59.94 fps
[640 x 480]: 29.97 fps

Provided (±3 stops in 1/3-stop increments)

LCD Monitor

TFT color, liquid-crystal monitor

3.2 type

Approx. 1.62 million dots

Adjustable to one of five brightness levels

25 (English, German, French, Dutch, Danish, Portuguese, Finnish, Italian, Norwegian, Swedish, Spanish, Greek, Russian, Polish, Czech, Hungarian, Romanian, Ukraine, Turkish, Arabic, Thai, Simplified/Traditional Chinese, Korean, Japanese)

Playback

1. Single-image display
2. 1 shot + information display
Simple information
Detailed information
Histogram
Lens information
Picture Style
Noise reduction
Correction data
3. Index display
4. Image rotate

Provided

Provided

Provided

Direct Printing

PictBridge-compatible printers

JPEG, RAW*, MP4 and MOV files are printable.
* Prints JPEG images used for display, which are taken on the same model.

DPOF: Digital Print Order Format

DPOF

DPOF print ordering provided (Complies to DPOF Version 1.1)

Customization

Custom Controls (Camera Controls / Buttons Customization)

Functions can be assigned to the following controls (set in Custom Functions):
- Shutter button
- Main dial
- Quick control dial
- Cross button (up, down, left, right)
- Control dial
- M-Fn button
- Movie button
- Touchpad AF button

Interface

Micro USB

HDMI OUT Terminal Type D
HDMI output while recording available

Power Source

LP-E17

Number of Still Image Shots (CIPA compliant)
Monitor On: Approx. 295 shots
Electronic Color Viewfinder On: Approx. 295 shots

Number of Still Image Shots (Eco Mode On)
Monitor On: Approx. 420 shots

Movie Recording Time (CIPA compliant)
Monitor On: Approx. 85 min.
Electronic Color Viewfinder On: Approx. 90 min.

Approx. 4 hr.

Time when playing back a slideshow of still images.

Dimensions and Weight

Approx. 4.6 x 3.5 x 2.4 in. (115.6 x 89.2 x 60.6mm)
CIPA compliant.

Approx. 13.4 oz. / 380.0g (Body only)
Approx. 15.1 oz. / 427.0g (Including battery pack, memory card)
CIPA compliant.

Operating Environment

14-104°F / -10-40°C

90% or less
This product comes with 5 Years Warranty from Canon Australia.
Our products are sourced from authorised Australian suppliers and therefore come with genuine Australian warranty.
Camera Warehouse does not participate in 'Grey Market' or 'Parallel Import' activities.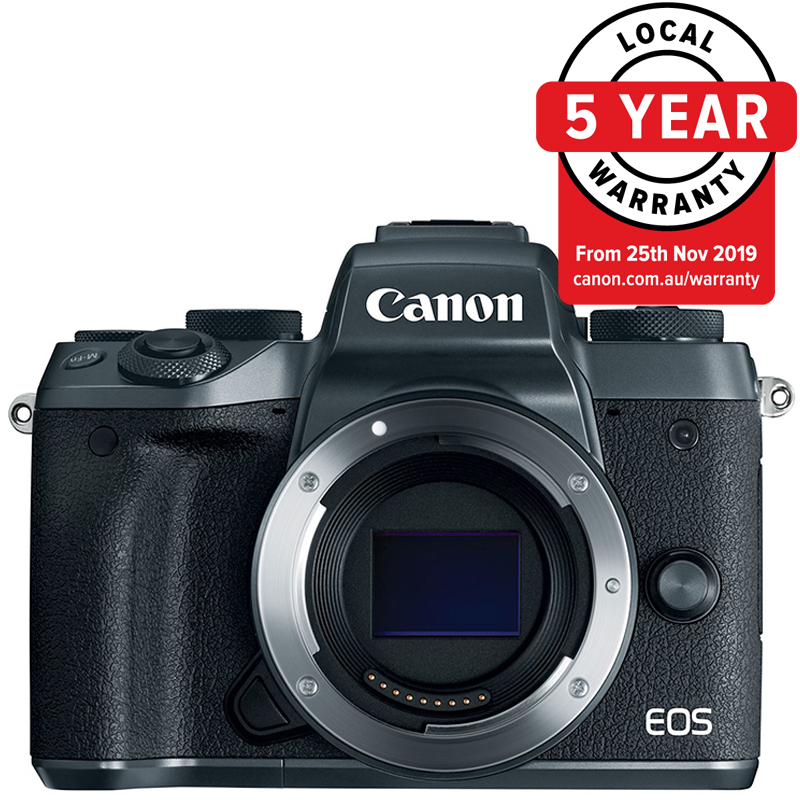 Canon EOS M5 Mirrorless Camera Body Only