Nikon Z 50 + 16-50mm Lens
Regular Price
A$1,749.00
Special Price
A$1,296.88
save: A$452.12
Free Shipping for Orders over $98*

(*excludes bulky items)
No SURCHARGE FOR CREDIT CARDS
2 Years Australian Manufacturer Warranty
Compact and Lightweight
EXPEED 6 Image-Processing Engine
CMOS Sensor
Rich Variety of Lenses Available
Intuitive Operation
Self-Portrait Mode
Spectacular Imaging Expression
Supports SnapBridge App
Silent Photography
Dual Detect Optical VR
With DX 16-50mm f/3.5-6.3 VR Standard Zoom Lens
Perfect for taking selfies and video recordings
Vloggers can now enjoy an amazing variety in imaging expression with the new Nikon Z 50 camera. This is Nikon's first DX-format mirrorless camera which has inherited its operability, design and reliability as a mirrorless system from the original Nikon Z 7 and Nikon Z 6. Their characteristics are condensed and improved to come up with a lightweight, compact and durable body which provides users superior capabilities and powerful expression with each and every shot. Read on for more detailed information.
---
Product Features in Detail
Compact and Lightweight
Despite Z 50's lightweight and compact body, it is also very user-friendly because it provides a grip that is secure and comfortable to hold, and all controls and operations buttons are positioned for right-handed operation.
EXPEED 6 Image-Processing Engine
This spectacular processing engine works with Nikon's DX-format CMOS sensor. This gives users still-image shooting- ISO 51200 the highest standard sensitivity in its class. Other special features include mid-range sharpening plus quick sharp for Picture Controls, the very same imaging options Z 7 and Z 6 owners enjoy.
CMOS Sensor
The Z 50's AF system allows the camera to focus better even in low light compared to any other DX-format mirrorless camera. Meanwhile, the auto-exposure and autofocus continue to function in high-speed continuous shooting at 11 fps. The hybrid AF system's algorithm optimizes the DX-format sensor and focuses by switching automatically between focal-plane phase-detection AF and contrast-detect AF.
Rich Variety of Lenses Available
Nikon's Z mount system supports both the NIKKOR Z FX and NIKKOR Z DX formats. This means all NIKKOR lenses , including NIKKOR Z DX 50-250mm F/4.5-6.3 VR and NIKKOR Z DX 16-5-mm f/3.5-6.3 VR lenses that were released at the same time, can also be used with the Z 50. Even the S-Line lenses which have proven outstanding optical performance can be utilized.
Intuitive Operation
The Nikon Z 50 is fully equipped with a 3.2-inch, 1040k-dot tilting TFT. This touch-sensitive LCD monitor can support touch operation just like that of a smartphone. It has a new function button for zooming in and out and another help function using the touch panel. The electronic viewfinder offers a natural view and also supports the same operations as a camera monitor. This lets users adjust various camera settings without taking their eyes off the viewfinder.
Self-Portrait Mode
The tilting monitor is adjustable for various angles, which makes selfies and video recording a breeze. Enabling the Self-Portrait mode will lock operational buttons and controls except for the shutter-release button to prevent accidental misoperation and give users a firm grip on the camera.
Spectacular Imaging Expression
The Nikon Z 50 supports the recording of the DX-format based full-frame 4K UHD films. This lets users enjoy sharper, high-quality videos. Furthermore, Creative Picture Controls enables unique imaging expression which can be applied with movie recording that will best suit one's creative intent or preference.
Supports SnapBridge App
The Z 50's compatibility with the SnapBridge app allows immediate sharing of still images and videos via social media.
With DX 16-50mm f/3.5-6.3 VR Standard Zoom Lens
This incredibly compact and lightweight lens measures approximately 32 mm*2 in length and weighs around 135 g. It can also support convenient zoom ranges beginning at 16mm and ending at 50 mm*3. This makes it the perfect choice for recording various scenes such as snapshots, landscapes, portraits and close-ups with a minimum focus distance of 0.2 m*4 for both movies and still images. The lens has an optical vibration reduction (VR) mechanism demonstrating an outstanding blur-reduction effect. It also has a camera shake compensation equivalent of a 4.5-stop*5 increase in its shutter speed.
Type
Digital camera with support for interchangeable lenses
Lens mount
Nikon Z mount
Lens
Compatible lenses
Z mount NIKKOR lenses
F mount NIKKOR lenses with mount adapter; restrictions may apply
Effective pixels
Effective pixels
20.9 million
Image sensor
Image sensor
23.5 x 15.7 mm CMOS sensor (Nikon DX format)
Total pixels
21.51 million
Dust-reduction system
Image Dust Off reference data (requires Capture NX-D)
Storage
Image size(pixels)
DX (24x16) image area 5568 x 3712 (L: 20.7 million), 4176 x 2784 (M: 11.6 million), 2784 x 1856 (S: 5.2 million)
1 : 1 (16x16) image area 3712 x 3712 (L: 13.8 million), 2784 x 2784 (M: 7.8 million), 1856 x 1856 (S: 3.4 million)
16 : 9 (24x14) image area 5568 x 3128 (L: 17.4 million), 4176 x 2344 (M: 9.8 million), 2784 x 1560 (S: 4.3 million)
Photographs taken during movie recording at a frame size of 3840 x 2160: 3840 x 2160
Photographs taken during movie recording at a frame size of 1920 x 1080: 1920 x 1080
File format
NEF (RAW): 12 or 14 bit
JPEG: JPEG-Baseline compliant with fine (approx. 1 : 4), normal (approx. 1 : 8), or basic (approx. 1 : 16) compression
NEF (RAW)+JPEG: Single photograph recorded in both NEF (RAW) and JPEG formats
Picture Control system
Auto, Standard, Neutral, Vivid, Monochrome, Portrait, Landscape, Flat, Creative Picture Controls (Dream, Morning, Pop, Sunday, Somber, Dramatic, Silence, Bleached, Melancholic, Pure, Denim, Toy, Sepia, Blue, Red, Pink, Charcoal, Graphite, Binary, Carbon); selected Picture Control can be modified; storage for custom Picture Controls
Media
SD (Secure Digital) and UHS-I compliant SDHC and SDXC memory cards
File system
DCF 2.0, Exif 2.31, PictBridge
Viewfinder
Electronic viewfinder
0.99-cm/0.39-in. approx. 2360k-dot (XGA) OLED electronic viewfinder with color balance and auto and 7-level manual brightness controls
Frame coverage
Approx. 100% horizontal and 100% vertical
Magnification
Approx. 1.02x (50 mm lens at infinity, -1.0 m-1)
Eyepoint
19.5 mm (-1.0 m-1; from center surface of viewfinder eyepiece lens)
Diopter adjustment
-3 to +3 m-1
Eye sensor
Automatically switches between monitor and viewfinder displays
Monitor
Monitor
8-cm/3.2-in., approx. 1040k-dot tilting TFT touch-sensitive LCD with 170° viewing angle, approximately 100% frame coverage, and 11-level manual brightness controls
Shutter
Type
Electronically controlled vertical-travel focal-plane mechanical shutter; electronic front-curtain shutter; electronic shutter
Speed
1/4000 to 30 s (select from step sizes of 1/3 and 1/2 EV), bulb, time
Flash sync speed
X=1/200 s; synchronizes with shutter at 1/200 s or slower; Auto FP High-Speed sync supported
Release
Release modes
Single frame, low-speed continuous, high-speed continuous, high-speed continuous (extended), self-timer
Approximate maximum frame advance rate (measured under Nikon-specified test conditions)
Low-speed continuous: 1 to 4 fps
High-speed continuous: 5 fps
High-speed continuous (extended): 11 fps
Self-timer
2 s, 5 s, 10 s, 20 s; 1 to 9 exposures at intervals of 0.5, 1, 2 or 3 s
Exposure
Metering system
TTL exposure metering using camera image sensor
Metering modes
Matrix metering
Center-weighted metering: Weight of 75% given to 8 mm circle in center of frame; weighting can instead be based on average of entire frame
Spot metering: Meters 3.5 mm circle (about 2.5% of frame) centered on selected focus point
Highlight-weighted metering
Metering range (ISO 100, f/2.0 lens, 20°C/68°F)
-4 to +17 EV
Exposure modes
Auto modes; programmed auto with flexible program (P); shutter-priority auto (S); aperture-priority auto (A); manual (M)
Scene modes: portrait; landscape; child; sports; close up; night portrait; night landscape; party/indoor; beach/snow; sunset; dusk/dawn; pet portrait; candlelight; blossom; autumn colors; food
Special effect modes: night vision; super vivid; pop; photo illustration; toy camera effect; miniature effect; selective color; silhouette; high key; low key
User settings: U1 and U2
Exposure compensation
-5 to +5 EV (select from step sizes of 1/3 and 1/2 EV) available in P, S, A, M, SCN, and EFCT modes
Exposure lock
Luminosity locked at detected value
ISO sensitivity
ISO 100 to 51200 (select from step sizes of 1/3 and 1/2 EV); can also be set to approx. 1 or 2 EV (ISO 204800 equivalent) above ISO 51200; auto ISO sensitivity control available
(Recommended Exposure Index)
Active D-Lighting
Can be selected from auto, extra high, high, normal, low or off
Multiple exposure
Add, average, lighten, darken
Other options
HDR (high dynamic range), photo mode flicker reduction
Focus
Autofocus
Hybrid phase-detection/contrast AF with AF assist
Detection range (single-servo AF, photo mode, ISO 100, f/2.0 lens, 20°C/68°F)
-4 to +19 EV (Without low-light AF: -2 to +19 EV)
Lens servo
Autofocus (AF): Single-servo AF (AF-S); continuous-servo AF (AF-C); AF mode auto-switch (AF-A; available only in photo mode); full-time AF (AF-F; available only in movie mode); predictive focus tracking
Manual focus (M): Electronic rangefinder can be used
Focus points (single-point AF, photo mode, DX image area)
209
AF-area modes
Pinpoint, single-point, and dynamic-area AF (pinpoint and dynamic-area AF available in photo mode only); wide-area AF (S); wide-area AF (L); auto-area AF
Focus lock
Focus can be locked by pressing shutter-release button halfway (single-servo AF) or by pressing AE-L/AF-L (protect) button
Flash
Built-in flash
Manual pop-up flash raised via flash pop-up control Guide number: Approx. 7/22, 7/22 with manual flash (m/ft, ISO 100, 20°C/68°F)
Charging time
Approx. 3 s
Flash control
TTL: i-TTL flash control; i-TTL balanced fill-flash is used with matrix, center-weighted, and highlight-weighted metering, standard i-TTL fill-flash with spot metering
Flash modes
Fill flash, red-eye reduction, slow sync, slow sync + red-eye, rear-curtain sync, auto, auto + red-eye reduction, auto slow sync, auto slow sync + red-eye, flash off
Flash compensation
-3 to +1 EV (choose from step sizes of 1/3 and 1/2 EV) available in P, S, A, M, and SCN modes
Flash-ready indicator
Lights when built-in flash or optional flash unit is fully charged; flashes as underexposure warning after flash is fired at full output
Accessory shoe
ISO 518 hot-shoe with sync and data contacts and safety lock
Nikon Creative Lighting System (CLS)
i-TTL flash control, optical Advanced Wireless Lighting, FV lock, Color Information Communication, Auto FP High-Speed Sync
White balance
White balance
Auto (3 types), natural light auto, direct sunlight, cloudy, shade, incandescent, fluorescent (7 types), flash, choose color temperature (2500 K to 10,000 K), preset manual (up to 6 values can be stored), all except choose color temperature with fine-tuning
Bracketing
Bracketing types
Exposure, white balance and ADL
Movie
Metering system
TTL metering using camera image sensor
Metering modes
Matrix, center-weighted or highlight-weighted
Frame size (pixels) and frame rate
3840 x 2160 (4K UHD); 30p (progressive), 25p, 24p
1920 x 1080; 120p, 100p, 60p, 50p, 30p, 25p,24p
1920x1080 (slow-motion); 30p x4, 25p x4,24p x5
Actual frame rates for 120p, 100p, 60p, 50p, 30p, 25p, and 24p are 119.88, 100, 59.94, 50, 29.97, 25, and 23.976 fps respectively; quality selection available except at sizes of 3840 x 2160, 1920 x 1080 120p/100p, and 1920 x 1080 slow-motion, in which case quality is fixed at ★ (high)
File format
MOV, MP4
Video compression
H.264/MPEG-4 Advanced Video Coding
Audio recording format
Linear PCM, AAC
Audio recording device
Built-in stereo or external microphone with attenuator option; sensitivity adjustable
ISO sensitivity (Recommended Exposure Index)
M: Manual selection (ISO 100 to 25600; select from step sizes of 1/3 and 1/2 EV); auto ISO sensitivity control (ISO 100 to 25600) available with selectable upper limit
P, S, A: Auto ISO sensitivity control (ISO 100 to 25600) with selectable upper limit
Auto, SCN, EFCT (excluding night vision): Auto ISO sensitivity control (ISO 100 to 25600)
Night vision: Auto ISO sensitivity control (ISO 100 to Hi 4)
Active D-Lighting
Can be selected from same as photo settings, extra high, high, normal, low or off
Maximum movie recording length
29 min. 59 s
Other movie options
Time-lapse movies, electronic vibration reduction
Playback
Playback
Full-frame and thumbnail (4, 9, or 72 images) playback with playback zoom, playback zoom cropping, movie playback, photo and/or movie slide shows, histogram display, highlights, photo information, location data display, auto image rotation, and picture rating
Interface
USB
Hi-Speed USB with Micro-B connector; connection to built-in USB port is recommended
HDMI output
Type D HDMI connector
Audio input
Stereo mini-pin jack (3.5 mm diameter; plug-in power supported)
Wi-Fi/Bluetooth
Wireless (may differ by country or area)
Standards: IEEE 802.11b/g/n/a/ac
Operating frequency: 2412 to 2462 MHz (channel 11) and 5180 to 5320/5180 to 5825/5180 to 5805 MHz
Maximum output power (EIRP): 2.4 GHz band: 6.9 dBm, 5 GHz band: 10.2 dBm
Authentication: Open system, WPA2-PSK
Bluetooth
Communication protocols: Bluetooth Specification Version 4.2
Operating frequency: Bluetooth: 2402 to 2480 MHz Bluetooth Low Energy: 2402 to 2480 MHz
Maximum output power (EIRP): Bluetooth: 1.4 dBm Bluetooth Low Energy: -0.1 dBm
Range (line of sight)
Approximately 10 m (32 ft) without interference; range may vary with signal strength and presence or absence of obstacles
Supported languages
Supported languages
Arabic, Bengali, Bulgarian, Chinese (Simplified and Traditional), Czech, Danish, Dutch, English, Finnish, French, German, Greek, Hindi, Hungarian, Indonesian, Italian, Japanese, Korean, Marathi, Norwegian, Persian, Polish, Portuguese (Portugal and Brazil), Romanian, Russian, Serbian, Spanish, Swedish, Tamil, Telugu, Thai, Turkish, Ukrainian, Vietnamese
Power source
Battery
One EN-EL25 Rechargeable Li-ion Battery
Charging AC adapter
EH-73P Charging AC Adapter
Tripod socket
Tripod socket
1/4 in. (ISO 1222)
Dimensions/weight
Dimensions (W x H x D)
Approx. 126.5 x 93.5 x 60 mm (5 x 3.7 x 2.4 in.)
Weight
Approx. 450 g (15.9 oz.) with battery and memory card but without body cap; approx. 395 g/14 oz. (camera body only)
Operating environment
Operating environment
Temperature: 0 to 40°C/32 to 104°F; humidity: 85% or less (no condensation)
Accessories
Supplied accessories (may differ by country or area)
EN-EL25 Rechargeable Li-ion Battery with terminal cover, MH-32 Battery Charger (plug adapter supplied in countries or regions where required; shape depends on country of sale), DK-30 Rubber Eyecup (comes attached to camera), UC-E21 USB Cable, AN-DC20 Strap, BF-N1 Body Cap
NIKKOR Z DX 16-50mm f/3.5-6.3 VR Lens
Focal length
16-50 mm
Maximum aperture
f/3.5-6.3
Minimum aperture
f/22-40
Lens construction
9 elements in 7 groups (including 1 ED glass and 4 aspherical lens elements)
Angle of view
83° - 31°30' (DX image area)
Minimum focus distance
0.2 m/0.66 ft (at 24 mm) from focal plane
Maximum reproduction ratio
0.2x
Diaphragm blades
7 (rounded diaphragm opening)
Filter-attachment size
46 mm (P = 0.75 mm)
Dimensions
Approximately 70 mm/2.8 in. maximum diameter x 32 mm/1.3 in. (distance from camera lens mount flange)
Weight
Approximately 135 g/4.8 oz
Supplied accessories
LC-46B 46 mm snap-on Front Lens Cap, LF-N1 Rear Lens Cap
This product comes with Limited 1 Year Warranty with Nikon Australia. Our products are sourced from authorised Australian suppliers and therefore come with genuine Australian warranty. Camera Warehouse does not participate in 'Grey Market' or 'Parallel Import' activities.
Nikon Z 50 + 16-50mm Lens
EN-EL25 Rechargeable Li-ion Battery with terminal cover
MH-32 Battery Charger (plug adapter supplied in countries or regions where required; shape depends on country of sale)
DK-30 Rubber Eyecup (comes attached to camera)
UC-E21 USB Cable
AN-DC20 Strap
BF-N1 Body Cap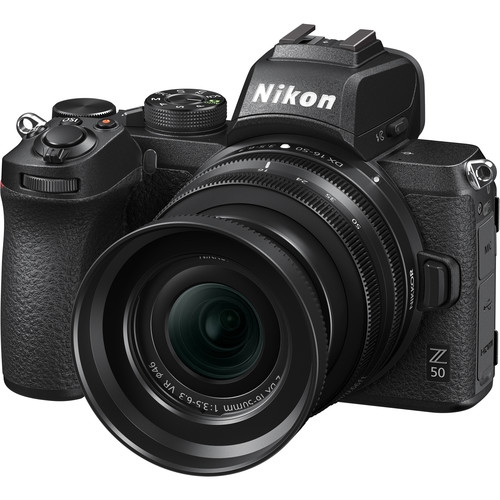 Nikon Z 50 + 16-50mm Lens