We have found that it can be easy to find out the difference in cameras regarding their photo and video capability to make sure it's right for your needs, however, even our own staff get a little stuck when it comes to choosing the right storage card to match your camera. We also frequently see people with cards that don't match the camera, not adequate for what the camera is capable of or even spending too much to buy a card that is not required for a particular camera.
We'll start with the most common conversation we have:
SD and MicroSD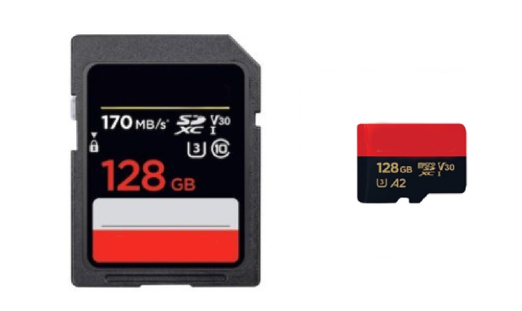 The MicroSD (right) standard was first introduced back in 2005. They had a much smaller physical size than their SD card counterparts, which is a natural advantage when fitting inside smaller devices. While most MicroSD cards do come with an adapter to convert them into standard sized SD cards, it is more designed so they will go into a more common SD card reader, rather than be constantly used in a device. Since MicroSD cards don't lock inside the adapter, so there is a very real risk of them falling out, which may cause your precious photos to be corrupted. Adapters also bottleneck the performance of the cards, which will slow down the write speed. This could just mean you will need to wait longer for the files to be written into the card, however, there is a possibility that the camera will outright not function since it doesn't think the card is fast enough. This is because the reader has not been rated at the same speeds of the card itself. Today, if you are purchasing a drone, an action camera or a time-lapse camera, most likely they will use a MicroSD card. They perform their best when they are used natively without an adapter. If your device uses SD cards, purchasing an SD card will be a much better approach to guarantee compatibility. But bottom line, make sure you buy the right card for your device.
Speed Class
Now that you've established which type of SD card your device uses, the speed of the SD card is the next important thing to decide. There are three types of speed standards, called "speed class", to identify how fast the card is capable of transferring data. In a lot of ways, each of these markers become redundant with the use of the other, but it is good to know what they all mean.
• Speed Class

Denoted with a number inside the letter "C", they determine the minimum speed the card can write data at, in megabytes per second (MB/s). However, nowadays it will be very hard to buy a card less than 10MB/s
• UHS Speed Class

Denoted with a number inside the letter "U", they determine the minimum speed the card can write data at, in 10 megabytes per second. For example, UHS speed class 3 indicates a minimum write speed of 30 MB/s.
• Video Speed Class
Denoted with a number next to the letter "V", they determine the minimum speed the card can write data at, in megabytes per second (MB/s). Note that most common camera video specs are based on another unit called megabit, also written Mbit/s, Mbps. To convert from megabyte to megabit, simply multiply it by 8.
We've included a handy chart to give you a rough guide on which card you need for your device. Note that this chart only serves as a rough guide, as different brands might have different bitrates.
Capacity
There's generally two schools of thought when choosing the capacity of SD cards.
One is to buy a single card with the biggest capacity that's available, so that you don't need to swap them that often.
The other is to get the smaller sizes but multiple, in the extremely rare condition that a card fails, you would lose less data. You can also backup on the go - use one card while backing up the other.
Whichever way you go, having enough capacity is still crucial for being able to capture all the shots. If you know the bitrate at which your camera records, you can use this formula to calculate the duration you can record on a certain capacity card:
Capacity (GB) ÷ Bitrate (Mbps) × 136.53 = Record Duration (minutes)
The bitrate of your camera should be pretty easy to find under the video specifications. Commonly the speeds are between 80 to 200 Mbps.
We've included some estimation charts below on the number of photos you can take and the duration of the video you can record on a single card.