Zeiss 55mm f/1.4 Otus Distagon T* ZF.2 Nikon F Mount Lens
Free Shipping for Orders over $98*

(*excludes bulky items)
No SURCHARGE FOR CREDIT CARDS
f/1.4 – f/16 Aperture range
Focal length of 55 mm
0,5 m (19.68 ″) – ∞ focusing range
Distagon with 12 lens elements in 10 groups
M77 x 0.75 Filter thread
Lens with aspheric surface
"Floating Elements" design
246 x 163 mm (9.69 x 6.42″) coverage at close range
Lens made of special glass with anomalous partial dispersion
Compatibility: with APS-C and Full Frame Sensor DSLR Cameras
12 Months Warranty with CR Kennedy Australia
The Distagon with 12 lens elements in 10 groups of Zeiss 55mm f/1.4 Otus Distagon T* ZF.2 Nikon F Mount Lens makes the captured images free from blur. Its 55 mm focal length is optimized especially for the sensor of Nikon full-format DSLR cameras. Its wide range aperture of f/1.4 – f/16 yields with the lens made of special glass with anomalous partial dispersion in "Floating Elements" designfor a result of an impressive imaging. Even in focusing range from 0,5 m (19.68 ″) – ∞ help you transmit a perfect level of color execution, detail, and cinematic impression. The close range coverage of 246 x 163 mm (9.69 x 6.42″) and the Lens with aspheric surface can be obtained without any field distortion, aberration, and brings you a higher degree of image quality. This lens is for Nikon F mount and is compatible with APS-C and Full Frame Sensor DSLR Cameras.
---
Product Features in Detail

Makes no compromises
The Otus 1.4/55 had one brief: make it the best. Representing the pinnacle of over a century of optical and technical expertise, this prime lens offers truly spectacular, world-class performance. Without compromise.

Accept no substitute
Spectacularly detailed portraits full of contrast. High fidelity images and exceptional performance into the corners even at full aperture. The ZEISS Otus® 1.4/55 makes absolutely no compromises and brings together over a century of ZEISS optical and technical excellence. This standard lens is the exception to the rule: perfect optical correction eliminates nearly all possible flaws, from color fringes and distortion to chromatic aberrations. With the highest contrast performance over the entire image field, even at an aperture of f/1.4, this lens offers the spectacular medium format look when working with a modern SLR camera. Phenomenal detail and exceptional performance, regardless of whether it's using available light or in the studio, the ZEISS Otus 1.4/55 is the absolute best lens in the world today.

Design
In contrast to its predecessors with similar focal lengths and speed, this is first time that the Distagon type has been selected for the optical construction of a standard lens. Only this optical design with its considerably longer construction makes it possible to already realise consistently excellent correction from corner to corner of the frame and extremely low image field curvature at a very large initial aperture.

The ultimate in image contrast
Aberrations caused by extreme differences between shadows and highlights are particularly obvious in images captured at night. Thanks to the outstanding correction of lateral chromatic aberration, the floodlit facade is reproduced with absolute perfection.

No colour fringing
Sources of light located in front of or behind the plane of focus present particular challenges to every lens. In the case of the ZEISS Otus, longitudinal chromatic aberration is so low that practically no colour fringing occurs.

The medium format look
Thanks to its exceptional sharpness, the ZEISS Otus exploits the full potentials of contemporary high-resolution sensors and rewards photographers with images characterised by breathtaking rendition of even the finest details.

Apochromat
Because this lens is an apochromat, chromatic aberrations (axial chromatic aberations) are corrected with elements of special glass with anomalous partial dispersion. The chromatic aberrations are therefore significantly below the defined limits. Bright-dark transitions in the image, and especially highlights, are reproduced almost completely free of color artifacts.

Aspherical design
The aspherical lens design ensures consistent imaging performance throughout the entire focusing range as well as sharpness to the periphery of the image. The asphere's more complex surface profile can reduce or eliminate spherical aberration and also reduce other optical aberrations compared to a simple lens.
Focal length
55 mm
Aperture range
f/1.4 – f/16
Focusing range
0,5 m (19.68 ″) – ∞
Number of elements/groups
12 lens elements in 10 groups
Angular field, diag./horiz./vert.
31° / 26° / 18°
Coverage at close range
43,7 x 36,7 mm (9.69 x 6.42″)
Filter thread
M77 x 0,75
Dimensions (with caps)
ZF.2: 141 mm (5.55 ″)
ZE: 144 mm (5.66″)
Diameter of focusing ring
ZF.2: 83 mm (3.27″), ZE: 83 mm (3.27″)
Weight
ZF.2: 970 g (2.22 lbs), ZE: 1030 g (2.43 lbs)
Camera mounts
F-Mount (ZF.2)
This product comes with 12 Months Australian Warranty.Our products are sourced from authorised Australian suppliers and therefore come with genuine Australian warranty.Camera Warehouse does not participate in 'Grey Market' or 'Parallel Import' activities.
Zeiss 55mm f/1.4 Otus Distagon T* ZF.2 Nikon F Mount Lens
Lens Hood
Front Lens Cap
Rear Lens Cap
12 months warranty with CR Kennedy Australia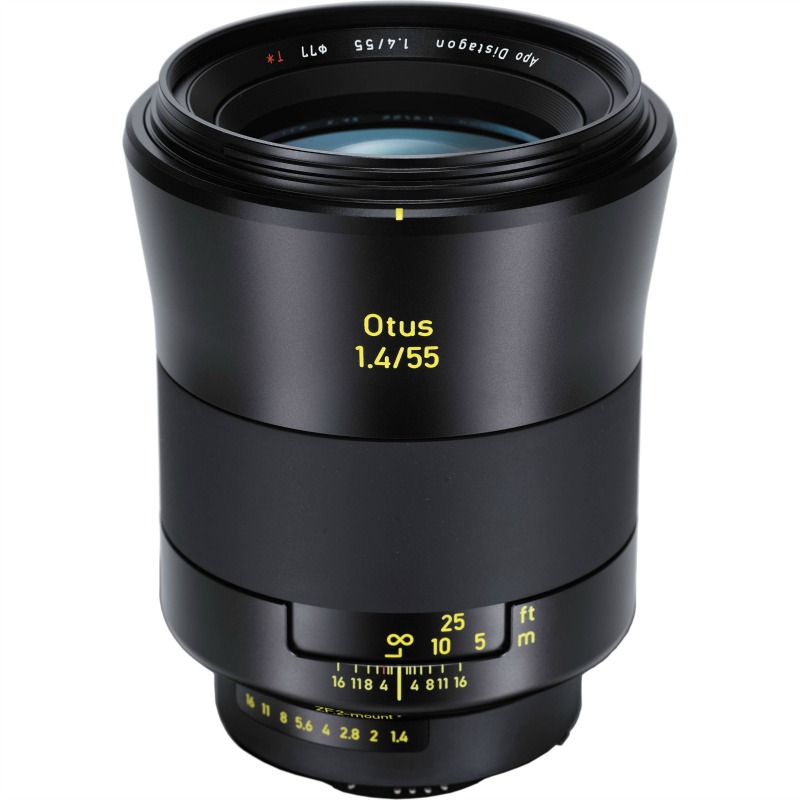 Zeiss 55mm f/1.4 Otus Distagon T* ZF.2 Nikon F Mount Lens
SKU: Zeiss 55mm Otus Dist T* ZF.2 Nikon F
UPC: