Sigma 18-35mm f1.8 DC HSM Art Lens for Nikon
Free Shipping for Orders over $98*

(*excludes bulky items)
No SURCHARGE FOR CREDIT CARDS
Fast Constant Maximum Aperture of f/1.8
Designed for APS-C-Sized Sensors
35mm Equivalent Focal Length: 27-52.5mm
Hyper Sonic AF Motor
Filter Size - 72mm
Compatibility: Only with APS-C DSLR Cameras
2 Years Genuine Warranty with Sigma Australia
Give yourself a chance of discovering new trends in composing artistic photography with the Sigma 18-35mm f/1.8 DC HSM Lens with fast constant maximum aperture of f/1.8 perfect for shooting in any choice of light. The lens is exclusively designed for APS-C-Sized Sensors and runs with a silent autofocus via Hyper Sonic AF Motor. It features 35mm Equivalent Focal Length of 27-52.5mm and a filter size of 72mm. It is compatible only with APS-C DSLR Cameras.
---
Product Features in Detail

Image quality until now found only in a fixed focal length lens. The definitive large-aperture APS-C format standard zoom lens
A large-aperture fixed focal length lens is great for achieving expressive bokeh effects and enjoying ultra-high optical performance. On the other hand, photographers often need to change the angle of view to properly capture the scene that presents itself. To solve this decades-long dilemma, Sigma proudly introduces the 18-35mm F1.8 DC HSM next-generation large-aperture APS-C format standard zoom lens for digital SLR cameras. Taking on the challenge of creating the world's first* wide-aperture lens to offer an aperture of F1.8 throughout the zoom range, Sigma has succeeded in creating a zoom lens that offers the same high optical performance of a fixed focal length lens. These outstanding performance characteristics are especially apparent in an APS-C format camera, since it has a slightly greater depth of focus than a full-frame camera. This is a revolutionary lens that overturns preconceptions while expanding the range of photographic expression.

The full realization of the Art product concept for you to hold in your own hands and appreciate with your own eyes
Designed with a focus on sophisticated optical performance and tremendous expressive power, our new Art line of lenses delivers top-level image quality. With unsurpassed expressive performance, these lenses reach the high standards demanded by photographers with an artistic, creative inclination. Along with landscapes, portraits, still-life, close-up and casual snaps, they're perfect for the kind of photography that unleashes the inner artist. Ideal for studio photography, they offer just as much expressive scope when capturing architecture, starry skies, underwater shots and many other scenes.

Rounded diaphragm
When photographing with point light sources such as electric lights or reflections on a body of water in the background, the rounded 9-blade diaphragm helps produce an attractive bokeh effect—even at large-aperture settings.

Superior functionality across the lineup, thanks to Sigma's proprietary new A1 MTF measuring system
There are three requirements for outstanding lenses: fine design, precise manufacturing and inspection that ensures compliance with all specifications. Sigma lenses are born of well-thought-out design concepts and sophisticated, advanced Japanese manufacturing technology; the final clincher is our lens performance evaluation. We used to measure lens performance using conventional sensors. However, we've now developed our own A1* proprietary MTF (modulation transfer function) measuring system using 46-megapixel Foveon direct image sensors. Applying this system, we check each lens in our new lines at our Aizu factory, our sole production site. Even previously undetectable high-frequency details are now within the scope of our quality control inspections, allowing us to deliver consistently high lens performance.

46-megapixel Foveon direct image sensor
The 46 effective megapixel (4,800 × 3,200 × 3 layers) and 44 recording megapixel (4,704 × 3,136 × 3 layers) 23.5 × 15.7mm APS-C X3 direct image sensor captures all primary RGB colors at each and every pixel location, ensuring the capture of full and complete color. Using three silicon-embedded layers of photo detectors, stacked vertically to take advantage of silicon's ability to absorb red, green and blue light at different respective depths, it efficiently reproduces color more accurately, and offers sharper resolution, pixel for pixel, than any conventional image sensor. Since color moiré is not generated, the use of a low-pass filter is not required, meaning light and color, generated by the 46-megapixel APS-C X3 direct image sensor is captured with a three-dimensional feel.

Ultra-high precision and quality—all made in Japan
Optimizing quality with our integrated production system, Sigma is focused on making things right, with our own hands and our own techniques. We are now one of the very few manufacturers whose products are solely "made in Japan." We like to think our products are somehow imbued with the essence of our homeland, blessed as it is with clean air and water, and focused, hard-working people. We pride ourselves on the authentic quality of Sigma products, born of a marriage between highly attuned expertise and intelligent, advanced technology. Our sophisticated products have satisfied professionals and lovers of photography all over the world, because our manufacturing is based on genuine craftsmanship, underpinned by the passion and pride of our experts.

HSM (hypersonic motor)
HSM (hypersonic motor) delivers high AF speed and extremely quiet performance. An optimized algorithm offers even smoother automatic focusing, and full-time manual focus override is another key feature.
TSC (Thermally Stable Composite)
A first for the industry, the barrel of the lens features a new TSC (Thermally Stable Composite) that offers minimal thermal shrinkage combined with exceptional hardness. It also offers 25% greater elasticity than polycarbonate. Since its thermal shrinkage is low, TSC matches well with metal parts, further contributing to the high-precision construction of the lens. TSC also makes possible slimmer forms for parts like zoom rings and scaling rings.

High-precision, rugged brass bayonet mount
The brass mount combines high precision with rugged construction. Its treated surfaces and enhanced strength contribute to the exceptional durability of the lens.

Incorporating a Inner Focus system
The lens incorporates a rear focus system that prevents focus-dependent variation in aberration, making high-level image quality possible throughout the entire image. With their unchanging barrel length, these lenses also enhance balance and stability for the photographer. Furthermore, since the front of the lens does not rotate, polarizing filters can be used with extra convenience.

Flare and ghosting reduction
From an early stage in the lens design process, flare and ghosting have been measured to establish an optical design resistant to strong incident light sources such as backlighting. Sigma's Super Multi-Layer Coating reduces flare and ghosting to help photographers produce sharp and high contrast images even in backlit conditions. The included lens hood can be attached to block out extraneous light, which can have a negative effect on rendering performance.

New exclusive software and SIGMA USB dock make customization simpleNew exclusive software and SIGMA USB DOCK make customization simple
For our new product lines, we have developed exclusive SIGMA Optimization Pro software that allows the user to update the lens firmware and adjust focus position and other parameters. The user will be able to connect the lens to a computer with a special SIGMA USB DOCK and use easy-to-operate on-screen controls to create personal lens specifications. For Sports line lenses, the focus limiter will also be customizable.
| | |
| --- | --- |
| Lens Construction | 17 elements in 12 groups |
| Minimum aperture | F16 |
| Filter size | φ72㎜ |
| Angle of view (35mm equivalent) | 76.5° - 44.2° |
| Minimum focusing distance | 28cm/11.0in. |
| Dimensions (Diameter x Length) | φ78㎜x 121mm/3.1in. x 4.8in. |
| Number of diaphragm blades | 9 (Rounded diaphragm) |
| Maximum magnification ratio | 1:4.3 |
| Weight | 810g / 28.6oz. |
Appearance and specifications are subject to change without notice.
Corresponding AF Mounts

SIGMA / SONY / NIKON (D) / PENTAX / CANON
* Vignetting will occur if the lens is used with digital cameras with image sensor larger than APS-C size or 35mm SLR, and APS Film SLR cameras.
* The angle of view varies depending on which camera the lens is mounted on.
* AF will not function with Pentax ist* series and K100D DSLR cameras that do not support HSM.
* The appearance and specification are subject to change without notice.
This product comes with 2 Years Warranty with Sigma Australia. Our products are sourced from authorised Australian suppliers and therefore come with genuine Australian warranty. Camera Warehouse does not participate in 'Grey Market' or 'Parallel Import' activities.
Sigma 18-35mm f/1.8 DC HSM Lens
Petal-Type Lens Hood LH780-06
Front Lens Cap LCF III
Rear Lens Cap LCR II
2 Years Genuine Warranty with Sigma Australia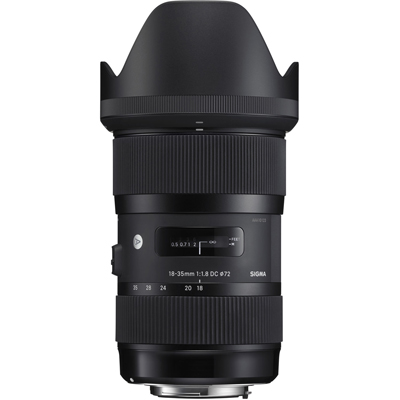 Sigma 18-35mm f1.8 DC HSM Art Lens for Nikon
SKU: Sigma 18-35mm f1.8 DC HSM Art Nikon
UPC: