Pentax K-1 Mark II Full Frame DSLR Camera Body
Free Shipping for Orders over $98*

(*excludes bulky items)
No SURCHARGE FOR CREDIT CARDS
36.4 Megapixel AA-Filter-Less CMOS Sensor
1080p video capture at 30 fps
Burst shooting of 4.4 fps
Up to 819,200 Native ISO
Flexible tilt, 3.2-inch, 1.04M-dot LCD screen
Viewfinder with nearly 100 percent field of view
SR II Shake Reduction 5-axis stabilization system
Dynamic Pixel Shift Resolution mode
33 Autofocus points
Operation Assist Lights
Crop Mode for APS-C photos
Built-in Wi-Fi and GPS functions
Motion Correction Function
Dual SD Card slots
12 Months Genuine Warranty with Pentax Australia
After releasing their first full-frame camera, Pentax has raised the ante with the K-1 Mark II DSLR Camera. Boasting of a 36.4 Megapixel AA-Filter-Less CMOS Sensor, this camera is primed for 1080p video capture at 30 fps and burst shooting of 4.4 fps. Ease of focusing is also made possible through the viewfinder with nearly 100 percent field of view. You can also retain the details of any subject with the help of the K-1's 33 Autofocus points. Previous Pentax lenses can also be used with this camera thanks to its Crop Mode for APS-C photos. To maintain image and video quality, it is equipped with SR II Shake Reduction 5-axis stabilization system and Motion Correction Function. During low light settings, you can activate the Operation Assist Lights for continuous operation. All recorded media, as well as camera settings, can be reviewed through the flexible tilt, 3.2-inch, 1.04M-dot LCD screen. File storage is also not a concern once you maximize the device's dual SD card slots. Housed in a weather-resistant body that is sealed in 87 points, the Pentax K-1 Mark II Full Frame DSLR Camera also has built-in Wi-Fi and GPS functions.

---
Product Features in Detail


High-resolution images of utmost quality
The K-1 Mark II features an AA filterless design that prioritizes image resolution. Coupled with the new PRIME IV imaging engine, capable of 14-bit RAW-format image recording. Its unique full frame sensor and imaging engine design also allows for super-high-sensitivity shooting up to ISO 819200, producing beautiful, high-resolution images.


Shake off the camera shake
The SR II five-axis mechanism enables accurate control of the large full-frame image sensor with all compatible PENTAX interchangeable lenses. In addition to camera shake caused by pitch and yaw, it effectively compensates for camera shake caused by horizontal and vertical shift, as well as camera shake caused by roll, which is difficult to deal with by lens-installed shake reduction mechanisms. Even when taking a panning shot, this system automatically detects the direction of the camera's movement, and efficiently controls the SR unit to always produce the best image possible.


Pixel shift resolution system
The K-1 Mark II uses the latest super-resolution technology, which captures four images of the same scene by shifting the image sensor by a single pixel for each image, and then synthesizes them into a single composite image. Since the K-1 Mark II's SR unit has a flexible design that tilts the image sensor unit in all directions, it provides a host of handy shooting functions, including auto level compensation, image-composition fine-adjustment, and ASTRO TRACER, which simplifies advanced astronomical photography using a built-in GPS module.

Dynamic Pixel Shift resolution
The new Dynamic Pixel Shift Resolution mode, which can be used during handheld shooting, works together with the camera's shake-reduction mechanism, by synthesizing the composite images while detecting the slight fluctuations of the subject's position during the capture process. This technology comes from the reverse thinking of pixel shift technology to utilize the minute camera shake itself to product the composite images. Therefore, by detecting the camera shake in three dimensions, the continuously captured four images are analyzed based on the detected camera shake information and combined into a single file to produce one super high resolution image.

Adjusts to previous Pentax lenses
If you are an existing user of Pentax lenses, you need not worry about upgrading your camera. Through its Crop Mode, the K-1 Mark II can detect the type of lens attached to it which then allows it to configure settings with ease. Therefore, this allows you to shoot APS-C sized photos with lenses built for such images.


Get the perfect angle every time
Like its predecessor, the K-1 Mark II features a newly designed, flexible tilt-type LCD monitor, which tilts horizontally, vertically or diagonally with a single action, without deviating from the lens's optical axis. 35 degrees of horizontal and 44 degrees of vertical adjustment can be achieved, the LCD panel can even be laid flat up or down. The 3.2-inch LCD monitor features a tempered-glass front panel for added durability and a unique air-gapless construction effectively reduces reflection.


In focus with the Autofocus
The SAFOX 12 AF sensor module features 33 AF sensors (25 cross-type sensors positioned in the middle). The center sensor and the two sensors located just above and below it are designed to detect the light flux of an F2.8 lens, making it easy to obtain pinpoint focus on a subject when using a large-aperture lens.


Fly high with AI
The K-1 Mark II's advanced PENTAX Real-Time Scene Analysis System performs near instant analysis of exposure, color, movement and other factors. Combining with a breakthrough artificial intelligence technology called deep learning, the K-1 instantly optimizes settings for even the most difficult shooting situations.


A nearly perfect optical viewfinder
Newly developed for its 35mm full-frame design, its optical viewfinder provides a nearly 100-percent field of view and an approximately 0.7-times magnification. A Natural Bright Matt III focusing screen allows ease of focusing and a true-to-life rendition of defocused areas in the viewfinder image.


A reliable guiding light
The GPS feature records shooting location, facing direction, and date and time into image data. Electronic Compass records the shooting direction, and Astro Tracer combines these features with SRII shake reduction to capture rock-steady images of heavenly objects in the night sky without streaking or blurring during long exposures.
SENSOR
Primary color filter, CMOS, Size: 35.9 x 24.0mm, Effective pixels: 36.40 MP, Total pixels: 36.77 MP
Recorded resolution photo: [35mm Full Frame]
JPG: L (36M): 7360x4912, M (22M): 5760x3840, S (12M): 4224x2816, XS (2M): 1920x1280
RAW: (36M): 7360x4912
Recorded resolution photo: [APS-C size]
JPG: L (15M): 4800x3200, M (12M): 4224x2816), S (8M): 3456x2304, XS (2M): 1920x1280
RAW: (15M): 4800x3200
Movie (resolution/FPS):
Full HD (1920x1080) @ 60i/50i/30p/25p/24p, HD (1280x720) @ 60p/50p
Quality levels: Best, Better, Good, RAW (14-bit) PEF, DNG, RAW + JPEG
LENS MOUNT
Type/construction: PENTAX KAF2 bayonet mount (AF coupler, lens info contacts, K-mount w/ power contacts). Usable lens series: KAF3, KAF2 (power zoom compatible), KAF, KA mount lens
FOCUS SYSTEM
Type: TTL: Phase-matching autofocus
Focus Sensor: SAFOX 12, 33 point (25 cross type focus points in the center)
Brightness Range: EV -3 to 18 (ISO100 @ normal temperature)
AF mode: Single AF (AF.S), Continuous (AF, C)
AF point selection: Spot, Select, Expanded Area (S, M, L), Zone select, Auto (33AF Points)
AF assist light: dedicated LED AF assist light
VIEWFINDER
Type: Pentaprism finder
Coverage (field of view): 100%
Magnification: approx. 0.70X (50mm F1.4 at infinity)
Eye relief length: approx. 20.6mm (from the view window), Approx 21.7 mm (from the center of lens)
Focusing screen: Natural-Bright-Matte III focusing screen
Diopter adjustment: approx. -3.5m to +1.2m-1
Viewfinder overlay: AF Points, Grid Display, Electronic Level, AF Frame, Spot Metering Frame, Crop
LCD MONITOR
Type: wide viewing angle TFT color LCD, Air-gapless glass, Flexible tilt
Size: 3.2 inch (3:2 Aspect)
Resolution: 1037K dots
Adjustment: brightness, saturation and colors adjustable
Outdoor View Setting: adjustable ±2 step
LIVE VIEW
Type: TTL method using image sensor
Focusing mechanism: Contrast detection (Face Detection, Tracking, Multiple AF points, Select, Spot)
Focus peaking : On/Off
Display: field of view approx 100%, magnified view (up to 16x), grid display (4x4 grid, golden section, scale display, square 1, square 2, grid color: black/white), histogram, bright area warning, composition adjustment)
BUILT-IN GPS
Satellites: GPS, QZSS, SBAS (WAAS/EGNOS/GAGAN/MSAS)
Reception frequency: L1 1575.42MHz
Recorded information: latitude, longitude, altitude, time (UTC), direction
Geodesics: World Geodetic System (WGS84)
GPS logging: KML format, logging interval 5/10/15/30 sec./1min., logging duration: 1
24hr (Up to 9 hrs at logging Interval 5 sec, up to 18 hrs. at logging interval 10 sec.)
EXTERNAL FLASH
Flash modes: auto flash discharge, auto flash + red-eye reduction, flash on, flash on + red-eye reduction, slow speed sync, slow-speed sync + red-eye, P-TTL, trailing curtain sync, contrast-control sync*, high-speed sync*, wireless sync
*Contrast-control-sync and high-speed sync requires 2 or more dedicated external flashes
Sync speed: 1/200 sec., flash exposure compensation: -2.0~+1.0 EV
STORAGE MEDIA
Internal memory: n/a
Dual card slot: sequential use, save to both, separate RAW/JPG, image copy between slots possible
Removable memory: SD, SDHC and SDXC memory card (conforms to USH-I standards)
INTERFACES
Connection port: USB 2.0 (Micro B), external power supply terminal, external cable switch terminal, X-sync socket, HDMI output terminal (Type D), stereo microphone input terminal, headphone terminal
USB Connection: MSC/PTP
WIRELESS LAN
Standard: IEEE 802.11 b/g/n
Security: authentication, WPA2, Encryption: AES
POWER SUPPLY
Battery type: rechargeable lithium-ion battery D-LI90
AC Adapter: AC adapter kit K-AC132 (optional)
Battery life: number of recordable images: approx 760, playback time approx 390 min.
* With a fully-recharged rechargeable lithium-ion battery, tested in compliance with CIPA standard. Actual results may vary depending on the shooting condition.
PHYSICAL SPECIFICATIONS
Body dimensions approx. 5.37" (W) x 4.33"(H) x 3.37"(D) (excluding protrusions)
Body Weight: 32.6oz (body only), 35.6oz (with battery and 1x SD card)
Construction material(s): magnesium alloy shell over metal chassis
Weather resistant: yes (87 special sealing parts)
Operating temperature: 14-104°F (-10 to 40°C)
LANGUAGE SUPPORT
English, French, German, Spanish, Portuguese, Italian, Dutch, Danish, Swedish, Finnish, Polish, Czech, Hungarian, Turkish, Greek, Russian
IMAGE STABILIZATION
Type: sensor-shift shake reduction (SRII), 5-axis electronic level function: displayed in VF/LCD (Horizontal and vertical)
Horizon correction: SR on: correction up to 1˚, SR off: correction up to 2˚
METERING SYSTEM
Type: TTL open aperture metering using 86K pixel RGB sensor, multi-segment, center weighted and spot metering
Range: EV-3 to 20 (ISO100 at 50mm F1.4)
Exposure Mode: Scene Analyze Auto, Program, Sensitivity Priority, Shutter Priority, Aperture Priority, Shutter & Aperture Priority, Manual, Bulb, Flash X-sync Speed, USER1, USER2, USER3, USER4, USER5
EV compensation: ±5EV (1/2EV steps or 1/3EV steps can be selected)
AE lock: button type (timer type: two times the meter operating time set in custom setting); continuous as long as the shutter button is halfway pressed
ISO SENSITIVITY
ISO AUTO/100 to 819200 (EV steps can be set to 1EV, 1/2EV or 1/3EV)
WHITE BALANCE
AUTO WB, Multi Auto WB, Daylight, Shade, Cloudy, Fluorescent Light (D: Daylight Color, N: Daylight White, W: Cool White, L: Warm White), Tungsten Light, CTE, Manual WB (up to 3 settings), Color Temperature Configuration (up to 3 settings), copying the white balance setting of a captured image
Fine Adjustment: Adjustable ±7 steps on A-B axis or G-M axis
SHUTTER
Electronically controlled vertical-run focal plane shutter (electronic w/ Pixel Shift Resolution)
Shutter speed: auto: 1/8000 to 30 sec., manual: 1/8000 to 30 sec. (1/3 or 1/2EV steps), Bulb
CAPTURE MODES
Custom image: Auto Select, Bright, Natural, Portrait, Landscape, Vibrant, Radiant, Muted, Flat, Bleach Bypass, Reversal Film, Monochrome, Cross Processing
Cross Process: Random, Preset 1-3, Favorite 1-3
Digital filter: Extract Color, Replace Color, Toy Camera, Retro, High Contrast, Shading, Invert Color, Unicolor Bold, Bold Monochrome
Clarity: adjustable ±4 steps
Skin tone: Type 1/Type 2
HDR: Auto, HDR1, HDR2, HDR3, Advanced HDR, Exposure bracket value adjustable,
Automatic composition correction function
Lens Correction: distortion correction, peripheral illumin. correction, lateral correction, aberration correction, diffraction correction
D-RANGE compensation: highlight correction, shadow correction
Composition adjust: ±1.5mm up, down, left or right (1mm when rotated); 1 degree of range
DRIVE MODES
Mode selection
Still image: single frame, continuous (H, M, L), self-timer (12s, 2s, continuous), remote control (0s., 3s., continuous), bracketing (2, 3 or 5 frames), mirror-up (possible to use with remote ctrl), multi-exposure (possible to use with continuous, self-timer or remote ctrl), interval shooting, interval composite, interval movie record, star stream
Movie: remote control *bracketing, interval shooting, interval composite, interval movie record and star stream are possible to use with self-timer/remote control.
Continuous shooting (approximates)
[35mmFull Frame]
Max. 4.4 fps, JPEG ( L: ★★★ at Continuous H): up to 70 fr., RAW: up to. 17 fr.
Max. 3.0 fps, JPEG L: ★★★ at Continuous M): up to 100 fr., RAW: up to 20 fr.
Max. 0.7 fps, JPEG ( L: ★★★ at Continuous L): up to 100 fr., RAW: up to 100 fr.
[APS-C size]
Max. 6.5 fps, JPEG ( L: ★★★ at Continuous H): up to 100 fr., RAW: up to approx. 50 fr.
Max. 3.0 fps, JPEG L: ★★★ at Continuous M): up to 100 fr., RAW: up to 70 fr.
Max. 1.0 fps, JPEG ( L: ★★★ at Continuous L): up to 100 fr., RAW: up to 100 fr.
*ISO100
Multi-exposure: composite mode (additive/average/bright) # of shots(2 to 2000 images)
Interval shooting:
[Interval shooting] interval: 2s. to 24h./ standby interval: 1sec. to 24hrs., number of images: 2 to 2000, start interval: now/self-timer/remote control/set time
[Interval composite] interval: 2sec. to 24hrs./ standby interval: 1sec. to 24hrs., number of images: 2 to 2000, start interval: now/self-timer/remote control/set time, composite mode: additive/average/bright, save process: on/off
[Interval movie] recorded pixels: 4K/FullHD/HD, file format: motion JPEG (AVI), interval:2sec. to 24hrs./standby interval: 1sec. to 24hrs., number of shots: 8 to 2000 images (8 to 500 images at 4K), start interval: now/self-timer/remote control/set time
[Star stream] recorded pixels: 4K/FullHD/HD, file format: motion JPEG (AVI), interval:2sec. to 24hrs./ standby interval: 1sec. to 24hrs., number of shots: 8 to 2000 images (8 to 500 images at 4K), start interval: now/self-timer/remote control/set time, fade-out: off/low/medium/high
PLAYBACK MODES
Single frame, multi-image display (6,12, 20, 35, 80 segmentation), display magnification (up to 16, 100% display and quick magnification available), grid display (4x4 grid, golden section, scale display, square 1, square 2, grid color: black/white ), rotating, histogram (Y histogram, RGB histogram), bright area warning, auto image rotation, detailed information, copyright information (photographer, copyright holder), GPS information (latitude, longitude, altitude, coordinated universal time) , orientation, folder display, calendar filmstrip display, slide show
FILE FORMATS
Still: RAW (PEF, DNG), JPG (EXIF 2.30), DCF 2.0 compliant
Movie: MPEG-4 AVC/H.264 (MOV) - JPEG(AVI) for internal movie record
CUSTOM FUNCTIONS
Functions available: 26
COMPUTER SYSTEM REQUIREMENTS
For device connectivity. Bundled software requirements may vary.
Windows: Windows 10/Windows 8.1 (32 bit/64 bit) / Windows 8 (32 bit/64 bit) / Windows 7 (32 bit/64 bit) / Windows Vista (32 bit/64bit). Mac: Mac OS X 10.10 / 10.9 / 10.8 / 10.7
This product comes with 12 Months Warranty with Pentax Australia. Our products are sourced from authorised Australian suppliers and therefore come with genuine Australian warranty. Camera Warehouse does not participate in 'Grey Market' or 'Parallel Import' activities.
Pentax K-1 Mark II Full Frame DSLR Camera
Rechargeable Lithium-Ion Battery D-LI90(E)
Battery Charger D-BC90
Finder Cap for ME
AC Plug Cord D-C068U
Software S-SW162
Pentax Strap O-ST162
Eyecup FT
Hotshoe Cover FK
Body Mount Cap KII
Synchro Terminal 2P CAP
Triangular Ring
Protective Cover
12 Months Genuine Warranty with CR Kennedy Australia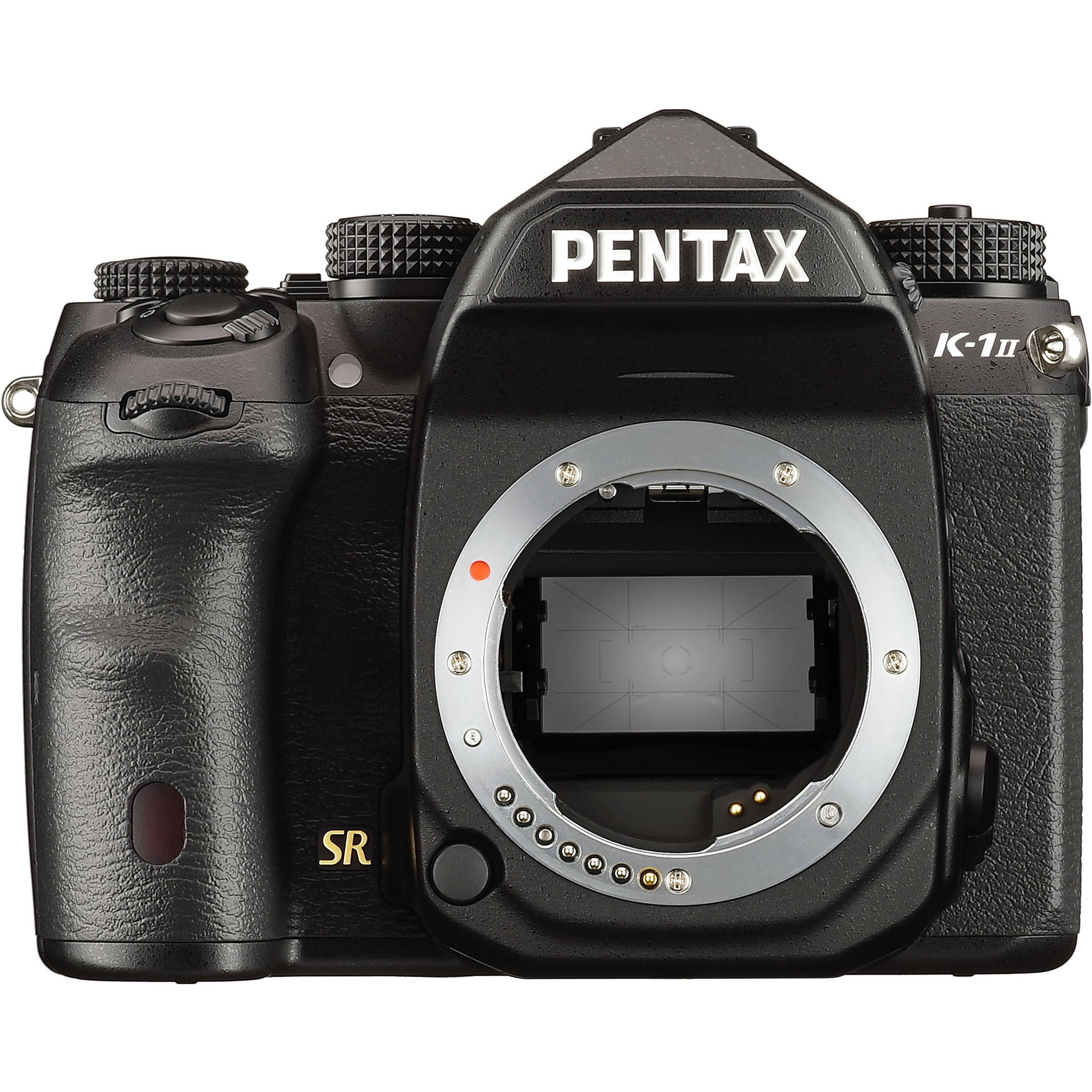 Pentax K-1 Mark II Full Frame DSLR Camera Body
SKU: Pentax 15995
UPC: 027075299887