Nikon Z 6 Body + FTZ Mount Adapter
Free Shipping for Orders over $98*

(*excludes bulky items)
No SURCHARGE FOR CREDIT CARDS
24.5 MP FX-format image sensor
EXPEED 6 Image Processing Engine
Nikon Z Lens mount
4K Ultra HD video capture
3.2-inch, 2.1M-dot tilting touchscreen LCD
ISO range of up to 51,200
273 focus points
12 FPS Continuous Shooting
Advanced Picture Control tools
Compatible with SnapBridge application
Wi-Fi and Bluetooth connectivity
XQD Memory Card Slot
Comes with Mount Adapter FTZ
"Mirrorless reinvented," this is Nikon's answer to innovating its range of mirrorless camera combining a century's worth of imaging technology with a new dimension in optical performance, the Nikon Quality brand, and future proof memory. The Z Series was designed with the creator in mind to inspire creativity in its truest sense.
The Z 6 is the first of the Z System to be released with a high-performing Full-Frame FX format with 24.5-megapixel BSI CMOS sensor, EXPEED 6 Image Processing Engine to deliver high quality, high speed and colour accurate image with a ISO sensitivity of 100-51200 reducing noise effectively even at the higher end while maintaining resolution.
The Nikon Z 6 and the rest of the Z System boasts of a compact body loaded with features comparative to its older siblings like the D850, D750 and D610 with over 20 extra features. The Z 6 can shoot with up to 12 fps and also 273-point hybrid AF system for a more fast and accurate autofocus. Movie recording is at full-frame 4K UHD, Full HD 100/120p and 10-bit N-Log.
---
Product Features in Detail
Nikon Quality of the Z System
Nikon prides itself with its Nikon Quality brand with its 6 components: High-precision development and manufacturing, uniformly high production quality, high image quality, robustness, ergonomics and system compatibility.
Compatibility with ease with the FTZ Adapter
While the new breed of Nikon Z Full-frame FX mirrorless cameras come with its own S-line lens series, the option of attaching the FTZ Adapter opens the doors of compatibility with more than 90 F-Mount NIKKOR lenses and compatibility of other 360 F-Mount lenses. It doesn't diminish image quality and sharpness, and enjoying the advantages of the Z 6's in-body VR, silent shooting, PDAF focusing system, 4K video and more. It's a prayer answered to all our lens compatibility questions.
Fast, accurate autofocus
There are three major points as to why the Z Mount Series is the embodiment of Nikon quality. It has a 273-point on-sensor PDAF which can cover 90% of the frame horizontally and vertically (approximately). It makes for an easy tracking of your subject when shooting whether shooting eye-level with the EVF or on Live View. Additionally, it not only just tracks faces but the upper body as well. The Z 6 uses an AF algorithm optimised for its FX-format sensor. It automatically switches between focal-plane phase-detect AF and contrast-detect AF to fine-tune focus. With its light-shielding phase detection, the pixels are carefully arranged on the sensor to preserve light, ensuring accurate AF even in dim lighting.
Eye on the prize with the Electronic View Finder (EVF)
The Z 6 comes with the new 3.6M-Dot Quad VGA Viewfinder. Its ultra high resolution display coupled with Nikon optics for magnification makes for an experience you might've not experienced with previous Nikon cameras. It has minimal lag and blackout with 100% frame coverage, corner-to-corner clarity and sharper magnification. The new menu is customisable and appears on the right side of the viewfinder enabling you to adjust settings without even taking your eyes off your shot.
Going Steady, in-body VR Image Stabilisation
The Z 6 has a powerful in-body 5-axis VR stabilisation when you're shooting with any of the NIKKOR Z lenses. With up to 5 stops of VR Image Stabilisation, you are assured of shooting steady and sharper photos even in 5 directions: yaw, pitch, roll, X and Y. When you're recording videos, the optical VR is combined with electronic VR (e-VR) for even steadier shots. Normal VR mode for static subjects. Sports VR for moving subjects.
A Movie Powerhouse
As Nikon wants to advance their cameras into the movie making arena, the Z 6 promises to capture cinematic 6:9 4K UHD/30p video in full-frame using the total width and resolution of the Z 6's backside-illuminated sensor. The Z6 is capable of shooting 4K Timelapse videos, 4K Full Pixel Readout, Slow motion videos with 120 fps in 1080p High Definition, 10-Bit HDMI Output for smoother and richer post-processing, smooth and quiet AF, has four-AF area modes for focus pulling whether you're shooting in Single-Point AF, Wide-Area AF (S or L) or Auto-Area AF, N-Log with View Assist for maximum detail.
HD Tilting Touchscreen
The tilting touchscreen of the Z 6 is a 3.2-inch, 2.1 Million-Dot high-resolution touchscreen. It's pretty comparable to smartphone screens with sharp and clear images and videos. It has varying functions of touch to focus, pinch to zoom, touch to fire the shutter, swipe through photos and videos, navigate settings, and pinch to magnify all in a new and improved GUI design.
Versatility
The Z 6 is a breakthrough in optical design. Its internal diameter is 17% larger than Nikon's acclaimed F-Mount. It is also wider than any full-frame mount available as of 2018. It has an enhanced low-light performance (ISO expandable to 204,800), an even illumination from corner-to-corner, maximum apertures as wide as f/0.95, shooting at 12 fps at full resolution, faster data transfer between camera and lens. You'll have an ideal balance between mount diameter, large image sensor and flange focal distance.
Connectivity
The Z Mount Series is Nikon's fastest Wi-Fi transfer yet. It can transfer images to compatible smart devices 2x faster than previously possible—up to 25 mbps (depending on your country). You can choose between the 5 GHz and 2.4 GHz bands for optimum transfer speeds. You can automatically connect the Bluetooth whenever your compatible smart device is in range. Send original resolution JPEGs or have the camera automatically transfer 2MB versions of your photos as you shoot them.
Type

Type

Digital camera with support for interchangeable lenses

Lens Mount
Effective Pixels
Sensor Size
Image Sensor Format
Image Sensor Type
Total Pixels
Dust-Reduction System

Image Dust Off reference data (requires Capture NX-D); image sensor cleaning

Dust-Off Reference Photo
Image Area (pixels)
(L) 8,256 x 5,504

(M) 6,192 x 4,128

(S) 4,128 x 2,752

DX-format

(L) 5,408 x 3,600

(M) 4,048 x 2,696

(S) 2,704 x 1,800

5:4 (30 x 24)

(L) 6,880 x 5,504

(M) 5,152 x 4,120

(S) 3,440 x 2,752

1:1 (24 x 24)

(L) 5,504 x 5,504

(M) 4,128 x 4,128

(S) 2,752 x 2,752

16:9 (24 x 24)

(L) 8,256 x 4,640

(M) 6,192 x 3,480

(S) 4,128 x 2,320

Photographs taken during movie recording at a frame size of 3,840 x 2,160:

3,840 x 2,160

Photographs taken during movie recording at other frame sizes: 1,920 x 1,080:

1,920 x 1,080
File Format Still Images

NEF (RAW): 12 or 14 bit (lossless compressed, compressed, or uncompressed); large, medium, and small available (medium and small images are recorded at a bit depth of 12 bits using lossless compression)

TIFF (RGB)
JPEG: JPEG-Baseline compliant with fine (approx. 1 : 4), normal (approx. 1 : 8), or basic (approx. 1 : 16) compression; optimal quality compression available
NEF (RAW) + JPEG: Single photograph recorded in both NEF (RAW) and JPEG formats
Storage Media
Card Slot
File System
Exif 2.31
PictBridge
Viewfinder

1.27-cm/0.5-in. approx. 3690k-dot (Quad VGA) OLED with color balance and auto and 11-level manual brightness controls

Viewfinder Frame Coverage
100% vertical
Viewfinder Magnification

Approx. 0.8x (50 mm lens at infinity, -1.0 m -1)

Viewfinder Eyepoint

21 mm (-1.0 m-1; from center surface of viewfinder eyepiece lens)

Viewfinder Diopter Adjustment
Eye Sensor

Automatically switches between monitor and viewfinder displays

Depth-of-Field Control
Lens Compatibility at a Glance***
F mount NIKKOR lenses with mount adapter; restrictions may apply
Compatible Lenses
F mount NIKKOR lenses with mount adapter; restrictions may apply
Shutter Type

Electronically-controlled vertical-travel focal-plane mechanical shutter; electronic front-curtain shutter; electronic shutter

Shutter Speed

1/8000 to 30 sec. in steps of 1/3 or 1/2 EV, bulb, time, X200

Fastest Shutter Speed
Slowest Shutter Speed
Flash Sync Speed

Up to: X=1/200 sec.; synchronizes with shutter at 1/200 sec. or slower; Auto FP High-Speed sync supported

Bulb Shutter Setting
Shutter Release Modes
Low-speed continuous
High-speed continuous
High-speed continuous (extended)
Self-timer
Frame Advance Rate

Low-speed continuous: 1-5 fps

High-speed continuous: 5.5 fps
High-speed continuous (extended): 12 fps
Continuous Shooting Options

Low-speed continuous: 1-5 fps

High-speed continuous: 5.5 fps
High-speed continuous (extended): 12 fps
Top Continuous Shooting Speed at Full Resolution
Self-Timer

2, 5, 10, 20 sec.; 1-9 exposures at intervals of 0.5, 1, 2, or 3 sec.

Timer duration electronically controlled
Exposure Metering System

TTL metering using camera image sensor

Metering Method
Center-weighted metering: Weight of 75% given to 12 mm circle in center of frame; weighting can instead be based on average of entire frame
Spot metering: Meters 4 mm circle (about 1.5% of frame) centered on selected focus point
Highlight-weighted metering
Metering Range

Matrix or center-weighted metering: -4 to +17 EV

Spot metering: -4 to +17 EV
Highlight-weighted metering: -4 to +17 EV
Exposure Meter Coupling
Exposure Modes
Programmed auto with flexible program (P)
Shutter-priority auto (S)
Aperture-priority auto (A)
Manual (M)
User settings (U1, U2, U3)
Exposure Compensation

-5 to +5 EV in increments of 1/3 or 1/2 EV available in modes P, S, A, and M

Exposure Lock

Luminosity locked at detected value

Picture Control
Flat
Landscape
Monochrome
Neutral
Portrait
Standard
Vivid
Creative Picture Controls: (Dream, Morning, Pop, Sunday, Somber, Dramatic, Silence, Bleached, Melancholic, Pure, Denim, Toy, Sepia, Blue, Red, Pink, Charcoal, Graphite, Binary, Carbon)
Selected Picture Control can be modified
Storage for custom Picture Controls
ISO Sensitivity

ISO 100 - 51,200 in steps of 1/3 or 1/2 EV

Can also be set to approx. 0.3, 0.5, 0.7 or 1 EV (ISO 50 equivalent) below ISO 100 or to approx. 0.3, 0.5, 0.7, 1 or 2 EV (ISO 204,800 equivalent) above ISO 51,200; auto ISO sensitivity control available
Lowest Standard ISO Sensitivity
Highest Standard ISO Sensitivity
Lowest Expanded ISO Sensitivity
Highest Expanded ISO Sensitivity
Active D-Lighting

Can be selected from: Auto

Extra High
High
Normal
Low
Off
Active D-Lighting Bracketing
Autofocus System

Hybrid phase-detection/contrast AF with AF assist

Detection Range

-2 to +19 EV (-4 to +19 EV with low-light AF)

Detection range (ISO 100, f/2.0 lens, 20 °C/68 °F)
Lens Servo

Autofocus (AF): Single-servo AF (AF-S); continuous-servo AF (AF-C); full-time AF (AF-F; available only in movie mode); predictive focus tracking

Manual focus (M): Electronic rangefinder can be used
Focus Point
AF-area Mode
Single-Point
Dynamic-area AF
Wide-area AF (S)
Wide-area AF (L)
Auto-area AF
Pinpoint and Dynamic-area AF available in photo mode only
Focus Lock

Focus can be locked by pressing shutter-release button halfway (single-servo AF) or by pressing center of sub-selector

Focus Modes
Single-point
Dynamic-area AF
Wide-area AF (S)
Wide-area AF (L)
Auto-area AF
Pinpoint and Dynamic-area AF available in photo mode only
Maximum Autofocus Areas/Points
Vibration Reduction

5-axis image sensor shift

Autofocus Fine Tune
Flash Bracketing
X-Sync Speed
Top FP High Speed Sync
Flash Control

TTL: i-TTL flash control; i-TTL balanced fill-flash for digital SLR is used with matrix, center-weighted, and highlight-weighted metering, standard i-TTL fill-flash for digital SLR with spot metering

Flash Sync Modes
Rear-curtain sync
Red-eye reduction
Red-eye reduction with slow sync
Slow rear-curtain sync
Slow sync
Off
Flash Compensation

-3 to +1 EV in increments of 1/3 or 1/2 EV available

Flash-ready Indicator

Lights when optional flash unit is fully charged; flashes as underexposure warning after flash is fired at full output

Accessory Shoe

ISO 518 hot-shoe with sync and data contacts and safety lock

Nikon Creative Lighting System (CLS)

i-TTL flash control, radio-controlled Advanced Wireless Lighting, optical Advanced Wireless Lighting, modeling illumination, FV lock, Color Information Communication, Auto FP High-Speed Sync, unified flash control

White Balance
Choose color temperature (2,500 K–10,000 K)
Cloudy
Direct sunlight
Flash
Fluorescent (7 types)
Incandescent
Natural light auto
Preset manual (up to 6 values can be stored), all with fine-tuning
Shade
White Balance Bracketing

Exposure, flash, white balance, and ADL

Live View Shooting

Photography Live View Mode

Movie Live View Mode
Movie Metering

TTL exposure metering using main image sensor

Movie Maximum Recording Time
Movie File Format
MP4
Movie Video Compression

H.264/MPEG-4 Advanced Video Coding

Movie Audio Recording Format
AAC
Movie

4K UHD 3,840x2,160 / 30 fps

4K UHD 3,840x2,160 / 25 fps
4K UHD 3,840x2,160 / 24 fps
Full HD 1,920x1,080 / 120 fps
Full HD 1,920x1,080 / 100 fps
Full HD 1,920x1,080 / 60 fps
Full HD 1,920x1,080 / 50 fps
Full HD 1,920x1,080 / 30 fps
Full HD 1,920x1,080 / 25 fps
Full HD 1,920x1,080 / 24 fps
Full HD 1,920x1,080 slow-mo / 30 fps x4
Full HD 1,920x1,080 slow-mo / 25 fps x4
Full HD 1,920x1,080 slow-mo / 24 fps x5
Actual frame rates for 120p, 100p, 60p, 50p, 30p, 25p, and 24p are 119.88, 100, 59.94, 50, 29.97, 25, and 23.976 fps respectively
Quality selection available at all sizes except
3,840 x 2,160, 1,920 x 1,080 120p/100p, and 1,920 x 1,080 slow-mo, when quality is fixed at high
Movie Audio

Built-in stereo or external microphone with attenuator option; sensitivity can be adjusted

Movie ISO

Auto ISO sensitivity control (ISO 100 to 51,200)

P, S, A: Auto ISO sensitivity control (ISO 100 to Hi 2) with selectable upper limit
M: Auto ISO sensitivity control (ISO 100 to Hi 2) available with selectable upper limit; manual selection (ISO 100 to 51,200 in steps of 1/3 or 1/2 EV) with additional options available equivalent to approximately 0.3, 0.5, 0.7, 1, or 2 EV (ISO 204,800 equivalent) above ISO 51,200
Movie Active D-Lighting
Auto
Extra high
High
Normal
Low
Off
Time Code
Drop frame
Movie Log Gamma Output

N-Log with View Assist (HDMI output only)

Movie e-VR
Movie HDMI Output
Start/Stop supported
Movie Focus Peaking
Movie Highlight Display (Zebras)
Time-Lapse Movie

Up to 4K UHD; Silent mode option

AF for Movie

AF Speed and AF Tracking Sensitivity can be adjusted

Monitor Size
Monitor Resolution
Monitor Type
Touch-Sensitive LCD
Monitor Angle of View
Monitor Adjustments
11-level manual brightness controls
Virtual Horizon Camera Indicator

Also visible in LiveView Modes

Also visible in Viewfinder
Playback Functions
Full-frame and Thumbnail (4, 9, or 72 images)
Highlights
Histogram Display
Location Data Display
Movie Playback
Photo and/or Movie Slide Shows
Photo Information
Picture Rating
Playback with Playback Zoom
Playback Zoom Cropping
In-Camera Image Editing
D-Lighting
Image Overlay
NEF (raw) Processing
Perspective Control
Red-eye Reduction
Resize
Side by Side Comparison
Straighten
Trim
Trim Movie
Image Comment
Interface

USB: Type C connector (SuperSpeed USB)

HDMI: Type C HDMI connector
Accessory terminal: Can be used with MC-DC2 and other optional accessories
Audio Input: Stereo mini-pin jack (3.5 mm diameter; plug-in power supported)
Audio Output: Stereo mini-pin jack (3.5 mm diameter)
Wi-Fi Functionality

Standards: IEEE 802.11b/g/n/a/ac

Operating frequency: 2412–2472 MHz (channel 13) and 5180–5700 MHz
Maximum output power (EIRP): 2.4 GHz band: 7.4 dBm 5 GHz band: 12.2 dBm
Authentication: Open system, WPA2-PSK
Smart Device App Connectivity
Bluetooth

Communication protocols: Bluetooth Specification

Version 4.2
Operating frequency: Bluetooth: 2402–2480 MHz
Bluetooth Low Energy: 2402–2480 MHz
Approximately 10 m (32 ft.) without interference; range may vary with signal strength and presence or absence of obstacles
GPS
Save/Load Camera Settings
Supported Languages
Bengali
Bulgarian
Chinese (Simplified and Traditional)
Czech
Danish
Dutch
English
Finnish
French
German
Greek
Hindi
Hungarian
Indonesian
Italian
Japanese
Korean
Marathi
Norwegian
Persian
Polish
Portuguese (Portugal and Brazil)
Romanian
Russian
Serbian
Spanish
Swedish
Tamil
Telugu
Thai
Turkish
Ukrainian
Vietnamese
Date, Time and Daylight Savings Time Settings
World Time Setting
Total Custom Settings
My Menu
Recent Settings
Battery / Batteries

One EN-EL15b rechargeable Li-ion battery

EN-EL15a/EN-EL15 can also be used, but note that fewer pictures can be taken on a single charge and that charging AC adapter can be used to charge EN-EL15b batteries only
Battery Life (shots per charge)
Movies: Approx. 10-15 min of movie recording
AC Adapter

EH-7P Charging AC Adapter

EH-5c/EH-5b AC adapter (requires EP-5B power connector, available separately)
Battery Charger
Approx. Dimensions (Width x Height x Depth)
(134 mm)
x 4 in.
(100.5 mm)
x 2.7 in.
(67.5 mm)
Approx. Weight
(585 g)
camera body only
Operating Environment

Temperature: 32 to 104°F (0 to 40°C)

Humidity: Less than 85% (no condensation)
This product comes with 2 Years Genuine Warranty with Nikon Australia. Our products are sourced from authorised Australian suppliers and therefore come with genuine Australian warranty. Camera Warehouse does not participate in 'Grey Market' or 'Parallel Import' activities.
Nikon Z6 + Mount Adapter FTZ
EN-EL15b Rechargeable Lithium-Ion Battery
MH-25A Battery Charger for EN-EL15 Li-Ion Battery
UC-E24 USB Cable
HDMI/USB Cable Clip
BS-1 Hot-Shoe Cover
AN-DC19 Camera Strap
BF-N1 Body Cap
DK-29 Rubber Eyecup
2 Years Genuine Warranty with Nikon Australia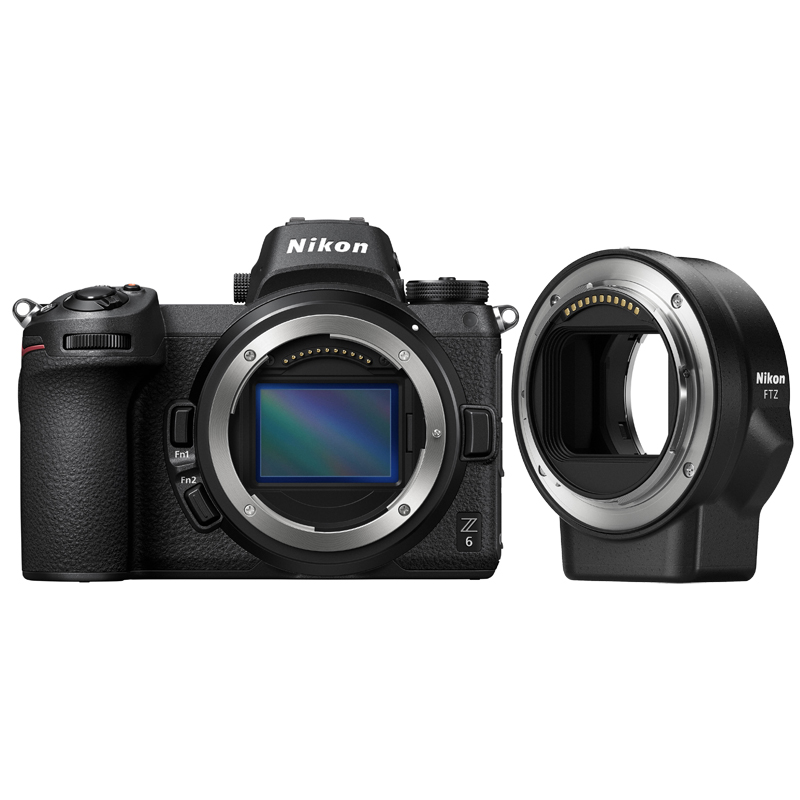 Nikon Z 6 Body + FTZ Mount Adapter
SKU: Nikon VOK020WA
UPC: 4960759901460