Nikon Z 5 + Nikkor Z 24-200mm F/4-6.3 Lens Kit
Regular Price
A$3,468.00
Special Price
A$2,756.21
save: A$711.79
Free Shipping for Orders over $98*

(*excludes bulky items)
No SURCHARGE FOR CREDIT CARDS
24.3MP FX-Format CMOS Sensor
UHD 4K and Full HD Video
EXPEED 6-Image Processor
6m-Dot OLED Electronic Viewfinder
2" 1.04m-Dot Tilting Touchscreen LCD
Nikkor Z 24-200mm F/4 6.3 Lens for Exceptional Portrait and Landscape Shots
5-Axis Sensor-Shift Vibration Reduction
Dual SD UHS-II Card Slots
Nikkor Z 24-200mm F/4-6.3 Kit
1There's nothing better than a camera that focuses on being well-rounded for both your stills and video needs. That's what Nikon had in mind when they designed the Nikon Z 5. Featuring a powerful 24.3 MP CMOS sensor paired with an EXPEED 6-image processor, you can get great, dynamic shots with a wide sensitivity of 51200 while enjoying full UHD 4K video at 30FPS
However, specifications don't always translate to exceptional response and capability. Yet, Nikon Z 5 makes life easier for photographers with its 273 selectable AF points. Doing so allows them to respond to any situation and take the best stills and video possible. The advanced Nikon Z 5 AF uses a hybrid focusing system that utilizes both phase and contrast detection, which helps it achieve high-speed, accurate focusing and subject tracking.
There's no use for full-frame mirrorless cameras that can't adapt to any environmental situation. In this light, the Nikon Z 5's sleek design can adapt to any inclement weather thanks to its magnesium alloy chassis and dust and moisture-proof construction. Furthermore, you can set up a wide variety of shots thanks to its high-resolution 3.6m-dot OLED electronic viewfinder and rear 3.2" 1.04m-dot tilting touchscreen LCD.
---
Product Features in Detail
Advanced CMOS Sensor and EXPEED 6-Image Processor
The 24.3MP CMOS Sensor of the Nikon Z 5 works with the EXPEED 6-Image Processor to create exceptional, dynamic, and fast-response performance when taking stills or videos. It's native sensitivity ranges from ISO 100-51200, allowing photographers to work with a vast variety of lighting situations. Furthermore, resolution and sensor size work together with exceptional clean image quality complemented by high-quality color transitions.
A 273-Point Advanced Hybrid Autofocus System
In addition to its top-notch sensor and processing, the 273-point hybrid AF system uses phase and contrast-detection to provide highly-accurate and dependable face recognition. Furthermore, the system provides top-notch eye detection features, which makes it exceptionally useful for stills and videos.
Flawless 4K Video Recording at 30 FPS
The Nikon Z 5 can take exceptional 4K stills and videos at 30FPS. For action shots and slow-motion captures, it can handle FHD1080 recordings with a 60FPS playback. Additionally, in-camera timelapse is an added time-saving feature that allows photographers to produce finished and processed movies from the camera.
Improved Vibration Reduction
The Nikon Z 5 is equipped with a 5-axis sensor-shift Vibration Reduction (VR) mechanism. This allows photographers to receive up to 5 stops of stabilization. This feature works with all lenses compatible with the Z 5. In turn, photographers can shoot handheld video recording with minimal noises and aberrations.
Can Handle Any Kind of Inclement Weather
The magnesium alloy and airtight seal makes the Nikon Z 5 rugged and ready for the road. You won't need to fear any damages when you're shooting in any location that is snowy, rainy, and hot.
Nikkor Z 24-200mm F/4-6.3 Kit
Taking full advantage of the Z 5's Z-mount system's light-gathering capability, the NIKKOR Z 24-200mm f/4-6.3 VR can deliver high-quality candid street photography, architecture, and landscape shots. Complementing the Nikon Z 5, the 24-200 mm f/4-6.3 VR lens weighs just 570g and deliver top-tier performance in any weather and situation.
Type
Digital camera with support for interchangeable lenses
Lens mount
Nikon Z mount
Image sensor format
FX
Image sensor type
CMOS
Sensor size
35.9 mm x 23.9 mm
Total pixels
24.93 million
Dust-reduction system
Image sensor cleaning, Image Dust Off reference data (Capture NX-D software required)
Effective pixels
24.3 million
Image size (pixels)
[FX (36 x 24)] selected for image area: (L) 6016 x 4016 ( 24.2 million) (M) 4512 x 3008 ( 13.6 million) (S) 3008 x 2008 ( 6.0 million) [DX (24 x 16)] selected for image area: (L) 3936 x 2624 ( 10.3 million) (M) 2944 x 1968 ( 5.8 million) (S) 1968 x 1312 ( 2.6 million) [1:1 (24 x 24)] selected for image area: (L) 4016 x 4016 ( 16.1 million) (M) 3008 x 3008 ( 9.0 million) (S) 2000 x 2000 ( 4.0 million) [16:9 (36 x 20)] selected for image area: (L) 6016 x 3384 ( 20.4 million) (M) 4512 x 2536 ( 11.4 million) (S) 3008 x 1688 ( 5.1 million) Photographs taken while filming movies at a frame size of 3840 x 2160: 3840 x 2160 Photographs taken while filming movies at other frame sizes: 1920 x 1080
File format (image quality)
NEF (RAW): 12 or 14 bit (lossless compressed or compressed) JPEG: JPEG-Baseline compliant with fine (approx. 1:4), normal (approx. 1:8), or basic (approx. 1:16) compression; size-priority and optimal-quality compression available NEF (RAW)+JPEG: Single photograph recorded in both NEF (RAW) and JPEG formats
Picture Control system
Auto, Standard, Neutral, Vivid, Monochrome, Portrait, Landscape, Flat Creative Picture Controls (Dream, Morning, Pop, Sunday, Somber, Dramatic, Silence, Bleached, Melancholic, Pure, Denim, Toy, Sepia, Blue, Red, Pink, Charcoal, Graphite, Binary, Carbon); selected Picture Control can be modified; storage for custom Picture Controls
Media
SD, SDHC (UHS-II compliant), SDXC (UHS-II compliant)
Card slot
2 Secure Digital (SD) cards The card in Slot 2 can be used for overflow or backup storage or for separate storage of NEF (RAW) and JPEG images; pictures can be copied between cards.
Compatible lenses
Z mount NIKKOR lenses F mount NIKKOR lenses (mount adapter required; restrictions may apply)
Type
Electronically-controlled vertical-travel focal-plane mechanical shutter; electronic front-curtain shutter; electronic shutter
Speed
1/8000 to 30 s (choose from step sizes of 1/3 and 1/2 EV), bulb, time, X200
Flash sync speed
X=1/200 s; synchronizes with shutter at 1/200 s or slower; auto FP high-speed sync supported
Modes
S (single frame), CL (continuous low speed), CH (continuous high speed), Self-timer
Approximate frame advance rate
• Continuous L: Approx. 1 to 4 fps • Continuous H: Approx. 4.5 fps * Maximum frame advance rate as measured by in-house tests.
Metering system
TTL metering using camera image sensor
Metering mode
Matrix metering Center-weighted metering: Weight of 75% given to 12 mm circle in center of frame; weighting can instead be based on average of entire frame Spot metering: Meters 4 mm circle (about 1.5% of frame) centered on selected focus point Highlight-weighted metering
Range
-3 to +17 EV * Figures are for ISO 100 and f/2.0 lens at 20 °C/68 °F
Mode
Auto, P: programmed auto with flexible program, S: shutter-priority auto, A: aperture-priority auto, M: manual U1, U2 and U3: user settings modes
Exposure compensation
–5 to +5 EV in increments of 1/3 or 1/2 EV available in modes P, S, A, and M
Exposure lock
Luminosity locked at detected value
ISO sensitivity (Recommended Exposure Index)
ISO 100 to 51200 in steps of 1/3 or 1/2 EV can also be set to approx. 0.3, 0.5, 0.7, or 1 EV (ISO 50 equivalent) below ISO 100 or to approx. 0.3, 0.5, 0.7, or 1 EV (ISO 102400 equivalent) above ISO 51200; auto ISO sensitivity control available
Autofocus system
Hybrid phase-detection/contrast AF with AF assist
Detection range
-3 to +19 EV * Without low-light AF: -2 – +19 EV * Measured in photo mode at ISO 100 and a temperature of 20 °C/68 °F using single-servo AF (AF-S) and a lens with a maximum aperture of f/2.0
Camera on-board VR
5-axis image sensor shift
Lens on-board VR
Lens shift (available with VR lenses)
File format
MOV, MP4
Video compression
H.264/MPEG-4 Advanced Video Coding
Audio recording format
Linear PCM (for movies recorded in MOV format), AAC (for movies recorded in MP4 format)
Audio recording device
Built-in stereo or external microphone with attenuator option; sensitivity adjustable
ISO sensitivity (Recommended Exposure Index)
M: Manual selection (ISO 100 to 25600; choose from step sizes of 1/3 and 1/2 EV); auto ISO sensitivity control (ISO 100 to 25600) available with selectable upper limit P, S, A: Auto ISO sensitivity control (ISO 100 to 25600) with selectable upper limit Auto: Auto ISO sensitivity control (ISO 100 to 25600)
Monitor size
8 -cm ( 3.2 –in.) diagonal
Monitor type
Tilting TFT touch-sensitive LCD with 170° viewing angle, approximately 100% frame coverage, and color balance and 11-level manual brightness controls
Monitor resolution
Approx. 1040 k-dot
Playback
Full-frame and thumbnail (4, 9, or 72 images or calendar) playback with playback zoom, playback zoom cropping, movie playback, photo and/or movie slide shows, histogram display, highlights, photo information, location data display, auto image rotation, and picture rating
Nikkor Z 24-200mm F/4-6.3 Kit
Focal Length Range
24 - 200mm
Maximum Aperture
f/ 4-6.3
Format
FX
Approx. Dimensions (Diameter x Length)
3.1 in. (76.5 mm) x 4.5 in. (114 mm)
VR (Vibration Reduction) Image Stabilization
Yes
Lens shift using voice coil motors (VCMs)
Diaphragm Blades
7
Rounded diaphragm opening
Minimum Focus Distance
1.64 ft. (0.5m) at 24mm zoom position
1.78 ft. (0.54m) at 35mm zoom position
1.81 ft. (0.55m) at 50mm zoom position
1.91 ft. (0.58m) at 70mm zoom position
2.14 ft. (0.65m) at 105mm zoom position
2.24 ft. (0.68m) at 135mm zoom position
2.30 ft. (0.7m) at 200mm zoom position
Filter Size
67mm
This product comes with 12 Months Warranty from Nikon Australia.
Our products are sourced from authorised Australian suppliers and therefore come with genuine Australian warranty.
Camera Warehouse does not participate in 'Grey Market' or 'Parallel Import' activities.
BF-N1 Body Cap, DK-29 Rubber Eyecup (comes attached to camera), Nikkor Z 24-200mm F/4-6.3 Kit, EN-EL15c Rechargeable Li-ion, Battery with terminal cover, MH-25a Battery Charger (comes with either an AC wall adapter or power cable of a type and shape that varies with the country or region of sale), AN-DC19 Strap, UC-E24 USB Cable, BS-1 Accessory Shoe Cover,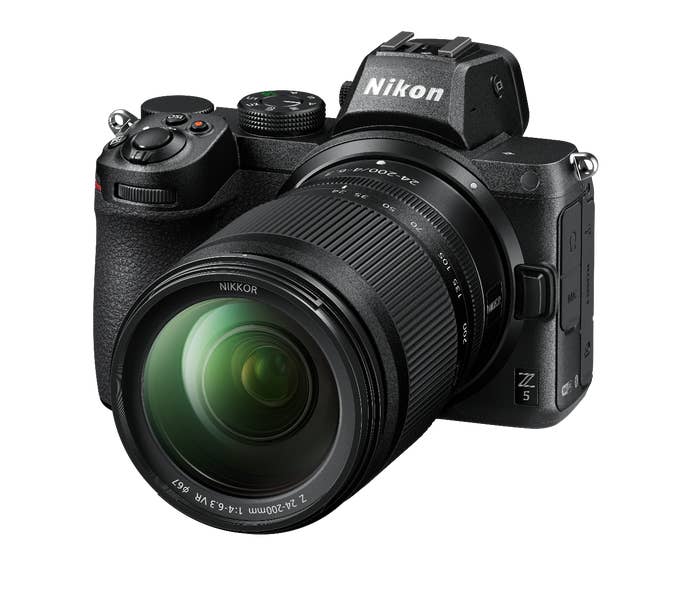 Nikon Z 5 + Nikkor Z 24-200mm F/4-6.3 Lens Kit
SKU: Nikon Z5 24-240 VOK040YA
UPC: 4960759904461