Metz Mecablitz 44 AF-1 Digital Flash Unit
Free Shipping for Orders over $98*

(*excludes bulky items)
No SURCHARGE FOR CREDIT CARDS
- Max. guide number 44 for ISO 100/21° and 105 mm
- Vertical (+90°) and horizontal (300°) swivel reflector
- Motorised zoom for 24–105 mm illumination
- 1st and 2nd shutter curtain synchronisation
- TTL mode
- Manual flash mode with 4 partial lighting levels
- 12 Months Warranty with CR Kennedy Australia
max. guide number 44 for ISO 100/21° and 105 mm
Vertical (+90°) and horizontal (300°) swivel reflector
Motorised zoom for 24–105 mm illumination
1st and 2nd shutter curtain synchronisation
TTL mode
Manual flash mode with 4 partial lighting levels
motorised zoom function (24–105 mm)
Integrated autofocus flash metering
fully swivelling reflector with flip-out reflector card
integrated wide-angle diff user (12 mm)
12 Months Warranty with CR Kennedy Australia
---
The Mecablitz 44 AF-1 digital is the best answer for those novice photographers looking for cheaper yet effective flash for Canon, Nikon, Olympus/Panasonic, Pentax, Sony and Samsung. The motorised zoom for 24–105 mm illumination of the unit impresses with its simple operation offering a high level of functional reliability. The high performance flash affords reserve power in any photo condition (max. guide number 44 for ISO 100/21° and 105 mm). Depending on the camera, it has the appropriate application possibilities for any lighting conditions in TTL mode. The photographer can set up the manual flash mode 4 partial light levels to enable the manipulation of lighting effects. Having the right camera, the mecablitz can operate with 1st and 2nd shutter curtain synchronisation, enabling various options for creative lighting. It also features a slave mode, making wireless TTL to open up new dimensions in flash photography. Its integrated autofocus flash metering, the fully swivelling reflector with flip-out reflector card and the integrated wide-angle diffuser (12 mm) would give the photographer additional creative possibility.
---
Product Features in Detail
System flash units
Capturing the perfect shot is now even easier with powerful Metz system flash units – your convenient fully automatic device ensures optimal illumination for every picture. Whether amateur or professional: there's the right model to meet any requirements and userfriendly operation makes even sophisticated flash techniques child's play.
Specialist flash units
Regardless of whether you prefer to take digital or analogue photos, Metz has the perfect flash unit to tackle any challenge – whether multi-purpose flash units with SCA adapter for different cameras, handy compact automatic flash units or slave/servo flash units for creative macro lighting design.
Miscellaneous accessories
Metz provides a comprehensive range of accessories for all flash unit requirements – from rechargeable batteries and charging units for power supply, to technical equipment such as TTL or sync cables, and equipment for professional flash scenarios using reflector umbrellas and soft boxes. Many accessories are also compatible with non-Metz flash units.
Spanning great distances
Thanks to digital flash control (e.g. E-TTL) the light output of a Metz system flash unit can be controlled via the camera. In order to preserve the ambient mood lighting, the shutter speed should be longer than the flash sync speed – but no longer than 1⁄60 second for portraits.
Bouncing flash
When it comes to portraits, turning or rotating the reflector head for a bouncing flash can be highly effective. Light can be deflected via a special reflector umbrella or a flip-out reflector card integrated into the flash unit itself – to create soft harmonious lighting.
Contre-jour flash
Manipulated with skill, contre-jour can deliver interesting lighting effects. Using a flash is a must. Reducing the f-stop by one or two points makes it possible to retain the character of the ambient light. The higher the guide number, the greater the range of the flash unit.
Long shutter speeds
Get creative and try taking shots with longer exposure times than sync times. In this way, moving subjects can, in around one second, create interesting blur effects and a corresponding lightening of the foreground.
"Off-camera flash"
Slave flash mode is perfect for particularly creative lighting design. This involves the positioning and use of an external flash unit wherever required, and entirely without the need for a cable. This can create interesting light accents – or with the use of several slaves, the split lighting of subject and background.
---
Included in the Box
Metz Mecablitz 44 AF-1 Digital Flash Unit
12months warranty with CR Kennedy Australia
---
Warranty Information
This Metz Mecablitz 44 AF-1 Digital Flash Unit comes with 12months warranty with CR Kennedy Australia.
Our products are sourced from authorised Australian suppliers and therefore come with genuine Australian warranty.
Camera Warehouse does not participate in 'Grey Market' or 'Parallel Import' activities.
| | |
| --- | --- |
| Product name | mecablitz 44 AF-1 digital / Canon |
| Dedicated flash unit | Canon |
| Type of adapter | |
| Colour temperature approx. | 5600 K |
| GN with ISO 100 and 35 mm res. 50 mm | 32 |
| GN with ISO 100 and max. zoom | 44 |
| Partial light output increments | 4 |
| Manual flash mode | • |
| Metz remote flash mode (master/slave) | – |
| Master flash mode (Metz remote) | – |
| Canon E-TTL remote mode as master/controller/slave | –/–/• |
| Servo function without preflash | – |
| Servo function with preflash | – |
| Illumination onwards ... mm (35mm format) | 12 |
| Main reflector tilt / swivel | •/• |
| Vertical range in ° | 90 |
| Horizontal range in ° | 300 |
| Motor zoom main reflector | • |
| Motor zoom main reflector with automatic / manual focus length | •/– |
| Zoom positions of main reflector in mm (35mm format) | 24/28/35/50/70/85/105 |
| Integrated wide angle diffuser for illumination onwards ... mm (35mm format) | 12 |
| Attachable wide angle diffuser / tele / bounce diffuser attachment | –/–//– |
| Integrated reflector card for main reflector | • |
| Secondary reflector / partial light output level (manual adjustable) | –/– |
| LC display / illuminated | –/– |
| Indication of flash readiness / corect exposure indication on flash unit | •/• |
| Canon E-TTL-/E-TTL-II flash mode | •/• |
| Canon FE lock in E-TTL- and E-TTL-II flash mode | • |
| Automatic fill-in flash | • |
| Indication of flash readiness in camera's viewfinder | • |
| Automatic flash sync speed control | • |
| Automatic AF assist beam / multi zone A assist beam | • /– |
| Firmware update by Metz service | • |
| Firmware update via USB socket | • |
| Automatic cut off (auto off) | • |
| Wake up function by camera | • |
| Use with alkaline batteries (1,5 V) | • |
| Use with nicad batteries res. hydride batteries (1,2 V) | • |
| Use with lithium batteries (1,5 V) | • |
| Use with alkaline batteries (1,5 V) | 220 |
| Use with NiMh batteries (1,2 V/2100 mAh) | 270 |
| Use with Metz NiMH battery pack | |
| Use with lithium batteries (AA, 1,5 V) | 450 |
| Use with alkaline batteries (1,5 V) | 0,1 / 3 |
| Use with nicad batteries res. hydride batteries (1,2 V) | 0,1 / 3 |
| Use with lithium batteries (1,5 V) | 0,1 / 4 |
| Weight without power sources in g (approx.) | 306 |
| Measurements in mm approx. (L x H x D) | 73 x 130 x 106 |
DATA SHEET
Flash output
High max. guide number 44 (meters), High max. guide number 144 (feet) for ISO 100/21° and 105 mm
Basic configuration
Vertical (+90°) and horizontal (300°) swivel reflector
Simple operating concept
Motorised zoom for 24–105 mm illumination
Integrated wide-angle diff user for 12 mm illumination
Flip-out reflector card
Modelling light (permanent light to check shadow)**
Integrated autofocus flash metering
Flash readiness indicator and correct exposure display on unit and on camera**
Automatic unit shut-off
Standard flash modes
TTL flash mode (digital only)
Manual flash mode with 4 partial lighting levels
1st and 2nd shutter curtain synchronisation**
Manual flash exposure correction for TTL flash mode**
Camera-specific system flash modes
Canon Version
E-TTL- / E-TTL-II flash mode
E-TTL remote mode*
Nikon
i-TTL / i-TTL BL flash mode
i-TTL remote mode*
Olympus / Panasonic / Leica Version
Micro four thirds TTL flash mode
Micro four thirds TTL remote mode*
Pentax Version
P-TTL flash mode
P-TTL remote mode*
Sony Multi Interface
ADI flash mode / pre-flash TTL
ADI remote mode*
Samsung
A-TTL flash mode
A-TTL remote mode*
Ready for the future
Firmware update via integrated USB socket
Power supply
4 x AA alkaline-magnesium or lithium batteries
4 × AA NiMH rechargeable batteries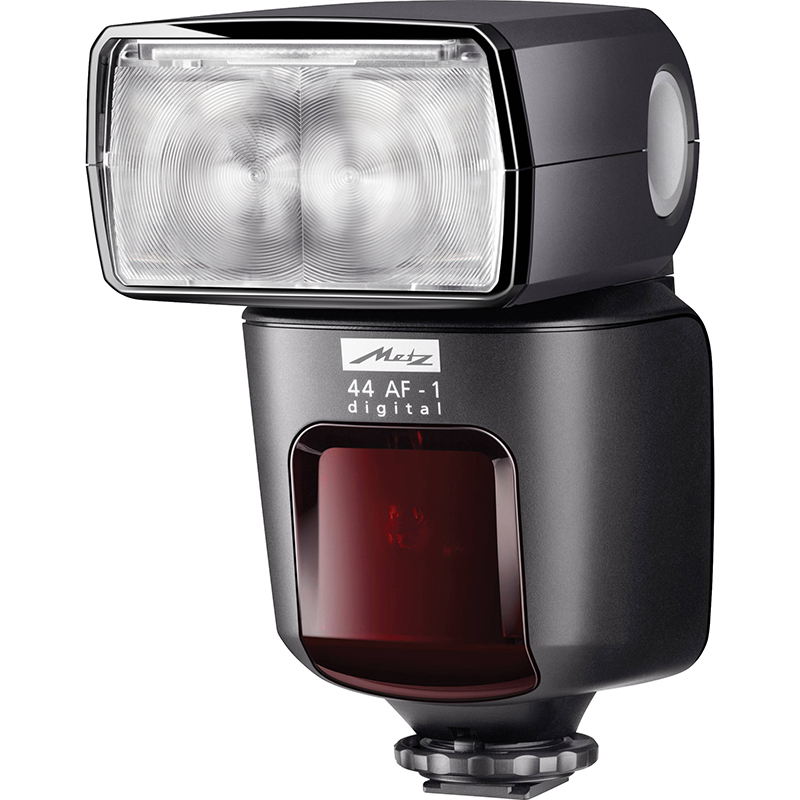 Metz Mecablitz 44 AF-1 Digital Flash Unit