Master Instruments CX1500 Video Camcorder and Camera Universal Charger
Free Shipping for Orders over $98*

(*excludes bulky items)
No SURCHARGE FOR CREDIT CARDS
For Select Lithium Ion Video, Camcorder & Digital Camera even NiCD/NiMH AA/AAA Batteries
100-240VAC Input
8.4VA Output
Switchmode SAA and 12VDC Car Plug
9 Months Australian warranty with MI Australia
The Master Instruments Video Camcorder and Camera Universal Charger is used for select Lithium Ion Video, Camcorder & Digital Camera even NiCD/NiMH AA/AAA Batteries. It features 8.4VA Output with 100-240VAC input and comes with Switchmode SAA and 12VDC Car Plug.
---
Product Features in Detail
Elegant packaging
This universal battery charger comes attractively packaged in a clam shell than can be hung or free standing. The unit has a built in base plate & includes additional adaptor plates that will fit the majority of major brand lithium ion battery packs for Video/Camcorder/Digital Cameras.

Includes adaptor plate
Adaptor Plate now included for charging 1 to 4 AA or AAA size NiCd or NiMH batteries.

Fast charging time
Charging time - standard batteries will take around an hour to charge & high capacity batteries from 2-6 hours dependant on the battery capacity.

LCD charge indicator display
Features LCD charge indicator display.
Model No
CX1500
Description
Lithium Ion Video, Camcorder & Digital Camera + NiCD/NiMH AA/AAA Battery Charger
Brand
Master Instruments
Input
12VDC via car cigarette lighter plug or 100-240VAC power supply included
Output
Auto voltage detect 8.4VA. SAA, GS, UL, CE approved
Width
25mm
Height
130mm
Length/Breadth/Depth
72mm
Weight
400g
Inner Quantity
2
Outer Quantity
12
Compatible With:
Aosta 024-910001-10
Master DCB-NB2L
Panasonic DMW-BCC12
Benq 02491-0015-00
Master DCB-NB2LH
Panasonic DMW-BL14
Benq 02491-0017-00
Master DCB-NB3L
Panasonic DMW-BM7
Benq DLI-102
Master DCB-NP1
Panasonic DMW-BMA7
Canon BP-2L12
Master DCB-NP100
Panasonic PV-DBP5
Canon BP-2L14
Master DCB-NP120
Panasonic VQ-VBA12
Canon BP-2L5
Master DCB-NP20
Panasonic VSB0418
Canon BP-406
Master DCB-NP200
Panasonic VSB0419
Canon BP-407
Master DCB-NP40
Panasonic VSB0471
Canon BP-412
Master DCB-NP400
Panasonic VW-VBA05
Canon BP-422
Master DCB-NP60
Panasonic VW-VBA10
Canon BP-508
Master DCB-NP80
Panasonic VW-VBD07
Canon BP-511
Master DCB-NP900
Panasonic VW-VBD1
Canon BP-512
Master DCB-NPFC10
Panasonic VW-VBD140
Canon BP-514
Master DCB-NPFE1
Panasonic VW-VBD1E
Canon BP-522
Master DCB-NPFR1
Panasonic VW-VBD2
Canon BP-535
Master DCB-NPFT1
Panasonic VW-VBD21
Canon BP-608
Master DCC-NP-40
Panasonic VW-VBD210
Canon BP-617
Master VB-BP970G
Panasonic VW-VBD22
Canon BP-911
Master VB-CGA-D54S
Panasonic VW-VBD25
Canon BP-914
Master VB107
Panasonic VW-VBD2E
Canon BP-915
Master VB114
Panasonic VW-VBD3
Canon BP-924
Master VB120
Panasonic VW-VBD33
Canon BP-927
Master VB214
Panasonic VW-VBD40
Canon BP-930
Master VB220
Panasonic VW-VBP10
Canon BP-950G
Master VB221
Pentax D-L12
Canon BP-970G
Master VB2L12
Pentax D-LI50
Canon NB-1L
Master VB312
Pentax D-LI7
Canon NB-1LH
Master VB320
Pentax D-LI8
Canon NB-2F12
Master VB408
Pentax D-Li63
Canon NB-2L
Master VB416
Polaroid PR-105DR
Canon NB-2L12
Master VB422
Polaroid PR-110DG
Canon NB-2LH
Master VB428
Polaroid PR-111DG
Canon NB-3L
Master VB441
Polaroid PR-200L
Canon NB-4L
Master VB511
Premier 024-910001-10
Casio NP-20
Master VB514
Premier 02491-0017-00
Casio NP-30
Master VB522
RCA BB-75L
Casio NP-40
Master VB535
RCA BB-90L
Contax 186003
Master VB607
RCA EPO96FL
Contax BP1500S
Master VB608
Ricoh DB-20
Digimaster LP27
Master VB610
Ricoh DB-30
Digital Concepts BP2LCL
Master VB615
Ricoh DB-40
Duracell CP1
Master VB620
Ricoh DB-43
Duracell DR2
Master VB712
Ricoh DB-60
Duracell DR3
Master VB812
Rollei 02491-0015-00
Energizer ER-D100
Master VB814
Saft CL-200
Energizer ER-D120
Master VB907
Saft CL-212
Energizer ER-D200
Master VB915
Saft RC9616
Energizer ER-D210
Master VB927
Samsung SB-L110A
Energizer ER-D300
Master VBDU07
Samsung SB-L160
Energizer ER-D310
Master VBDU14
Samsung SB-L320
Fujifilm NP-100
Master VBDU21
Samsung SB-L480
Fujifilm NP-120
Master VBF10
Samsung SLB-0737
Fujifilm NP-30
Master VBF200
Samsung SLB-0837
Fujifilm NP-40
Master VBF550
Samsung SLB-1037
Fujifilm NP-60
Master VBF730
Samsung SLB-1137
Fujifilm NP-80
Master VBF750
Sanyo DB-L10
GP GPVJL003
Master VBF950
Sanyo DB-L20
GP GPVJL004
Master VBFF50
Sanyo DB-L30
GP VCL001
Master VBFF70
Sanyo DB-L50
GP VCL003
Master VBFP50
Sanyo UR-211
GP VCL006
Master VBFP70
Sanyo UR-421
GP VCL007
Master VBFP90
Satter 06BP200
GP VCL008
Master VBFS21
Satter 06BP85
GP VCL009
Master VBL160
Satter 06RH25
GP VCL010
Master VBL2
Sharp AD-S30BT
GP VJL001
Master VBL22
Sharp AD-S31BT
GP VJL002
Master VBL320
Sharp AD-T50BT
GP VJL003
Master VBQM51
Sharp AD-T51BT
GP VJL004
Master VBQM71
Sharp BT-L1
GP VJL005
Master VBQM91
Sharp BT-L11
GP VPL001
Minolta NP-200
Sharp BT-L11U
GP VPL002
Minolta NP-400
Sharp BT-L12
GP VPL005
Minolta NP-500
Sharp BT-L12U
GP VSL002
Minolta NP-700
Sharp BT-L1U
GP VSL006
NEC TH71-464
Sharp BT-L2
GP VSL008
Nikon EN-EL1
Sharp BT-L22
GP VSL009
Nikon EN-EL10
Sharp BT-L221
Gateway 024-910001-10
Nikon EN-EL2
Sharp BT-L226
Gateway 02491-0017-00
Nikon EN-EL3
Sharp BT-L226U
Genius 084-07042-001
Nikon EN-EL5
Sharp BT-L227
Grundig BPL-98
Nikon EN-EL8
Sharp BT-L241
Grundig BPL-99
Olympus BLM-1
Sharp BT-L2U
Hewlett Packard L1812A
Olympus Li-10B
Sharp BT-L31
Hewlett Packard R07
Olympus Li-12B
Sharp BT-L41
Hitachi DZ-BP14
Olympus Li-20B
Sharp BT-L441
Hitachi DZ-BP14R
Olympus Li-40B
Sharp BTL-22U
Hitachi DZ-BP14S
Olympus Li-42B
Sony LIP-10
Hitachi DZ-BP14SW
Olympus PS-BLM1
Sony LIP-4WM
Hitachi DZ-BP16
Panasonic 024-910001-10
Hitachi DZ-BP28
Panasonic AG-BP15P
Hitachi DZ-BP7S
Panasonic AG-BP25
Hitachi MP-BP1
Panasonic AGBP-15A
Hitachi VM-BPL13
Panasonic AGBP-25A
Hitachi VM-BPL13L
Panasonic BP-DC2
Hitachi VM-BPL27
Panasonic CGA-001
Hitachi VM-BPL27L
Panasonic CGA-D07S
Hitachi VM-NP700
Panasonic CGA-D54S
JVC BN-V101
Panasonic CGA-DU06
JVC BN-V107
Panasonic CGA-DU07
JVC BN-V114
Panasonic CGA-DU07E/1B
JVC BN-V207
Panasonic CGA-DU12
JVC BN-V214
Panasonic CGA-DU14
JVC BN-V306
Panasonic CGA-DU14E/1B
JVC BN-V312
Panasonic CGA-DU21
JVC BN-V408
Panasonic CGA-DU21E/1B
JVC BN-V416
Panasonic CGA-S001E
JVC BN-V428
Panasonic CGA-S002
JVC BN-V507
Panasonic CGA-S002E
JVC BN-V514
Panasonic CGA-S003
JVC BN-V606
Panasonic CGA-S004
JVC BN-V607
Panasonic CGA-S004A
JVC BN-V615
Panasonic CGA-S005
JVC BN-V628
Panasonic CGA-S005E
JVC BN-V712
Panasonic CGA-S006
JVC BN-V714
Panasonic CGA-S006E
JVC BN-V812
Panasonic CGA-S101E
JVC BN-V814
Panasonic CGA-S301
JVC BN-V907
Panasonic CGA-S301A
JVC BN-VF707
Panasonic CGA-S302
JVC BN-VF714
Panasonic CGA-S302A
JVC BN-VF733
Panasonic CGP-D105
Jenoptik LP37
Panasonic CGP-D110
Kodak 8499741
Panasonic CGP-D110E
Kodak KLIC-3000
Panasonic CGP-D120
Sony NPFS30
Kodak KLIC-5000
Panasonic CGP-D210
Sony NPFS33
Kodak KLIC-5001
Panasonic CGP-D220
Sony NPFT1
Konica DR-LB1
Panasonic CGP-D28A
Sony NPQM50
Konica DR-LB4
Panasonic CGP-D320
Sony NPQM51
Konica Minolta NP-1
Panasonic CGP-D815
Sony NPQM70
Konica Minolta NP-200
Panasonic CGR-B202A
Sony NPQM71
Konica Minolta NP-400
Panasonic CGR-B403A
Sony NPQM90
Konica Minolta NP-600
Panasonic CGR-D08A
Sony NPQM91
Konica Minolta NP-700
Panasonic CGR-D08R
Toshiba PDR-BT1
Konica Minolta NP-800
Panasonic CGR-D08S
Toshiba PDR-BT2
Konica Minolta NP-900
Panasonic CGR-D08SE
Toshiba PDR-BT3
Kyocera BP-1000
Panasonic CGR-D105
Toshiba PDR-BT9
Kyocera BP-1100R
Panasonic CGR-D110
Uniden BT-1003
Kyocera BP-800S
Panasonic CGR-D120
Varta V270
Kyocera BP-900
Panasonic CGR-D16A
Varta V271
Leica BP-DC1
Panasonic CGR-D16S
Varta V272
Leica BP-DC2
Panasonic CGR-D16SE
Varta V273
Leica NP-100
Panasonic CGR-D210
Varta V274
Leica NP-80
Panasonic CGR-D220
Varta V275
Maginon 02491-0017-00
Panasonic CGR-D28A
Varta V277
Master DCB-AD50
Panasonic CGR-D28S
Varta V278
Master DCB-BLM-1
Panasonic CGR-D53A
Varta V279
Master DCB-CGAS001
Panasonic CGR-D53D
Varta V280
Master DCB-CGAS002
Panasonic CGR-D815A
Varta V281
Master DCB-CGAS003
Panasonic CGR-DU06
Varta V282
Master DCB-CGAS004
Panasonic CGR-DU07
Varta V283
Master DCB-CGAS005
Panasonic CGR-S001
Varta V284
Master DCB-CGRS006
Panasonic CGR-S002
Varta V285
Master DCB-CGRS101
Panasonic CGR-S004E
Varta V286
Master DCB-CGRS602
Panasonic CGR-S006
Varta V287
Master DCB-DBL10
Panasonic CGR-S006E
Varta V290
Master DCB-DBL20
Panasonic CGR-S101
Varta V291
Master DCB-DRLB4
Panasonic CGR-S602
Varta V292
Master DCB-ENEL1
Panasonic CGR-S602E
Varta V293
Master DCB-ENEL2
Panasonic CGR-V14
Varta V296
Master DCB-ENEL3
Panasonic CGR-V14SE
Vivanco BL1367L
Master DCB-ENEL5
Panasonic CGR-V26
Vivanco BP0937L
Master DCB-ENEL8
Panasonic CGR-V610
Vivanco BP2767L
Master DCB-KLIC-5001
Panasonic CGR-V620
Vivitar 024-910001-10
Master DCB-LIP10
Panasonic CGR-V620T
Vivitar 02491-0017-00
Master DCB-Li-40B
Panasonic DMW-BC7
Yashica BP-1000
Master DCB-NB1L
Panasonic DMW-BCA7
Yashica BP-800S
Master DCB-NB1LH
Panasonic DMW-BCB7
Yashica BP-900
This product comes with 9 Months Australian Warranty with Master Instruments. Our products are sourced from authorised Australian suppliers and therefore come with genuine Australian warranty. Camera Warehouse does not participate in 'Grey Market' or 'Parallel Import' activities.
Master Instruments CX1500 Video Camcorder and Camera Universal Charger
World voltage 100V-240V switch mode AC/DC adapter
Cigarette lighter plug cord
Battery adaptor plates
User manual
9 Months Australian Warranty with Master Instruments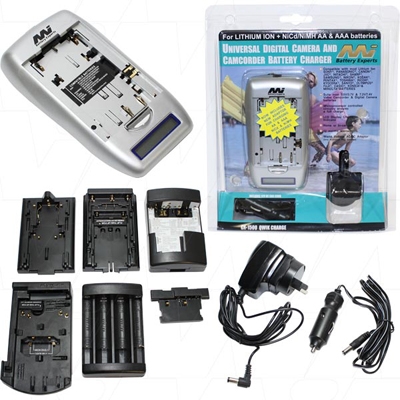 Master Instruments CX1500 Video Camcorder and Camera Universal Charger
SKU: Master Instruments CX1500
UPC: