Haida M10 Enthusiast Kit II
Free Shipping for Orders over $98*

(*excludes bulky items)
No SURCHARGE FOR CREDIT CARDS
Haida M10 Filter Holder
For Filters 100mm Wide, 2mm Thick
Solid 10-Stop Neutral Density Filter
Holds 3 Rectangular and Polarizer Filters
Graduated 3-Stop Soft-Edge ND Filter
Drop-In Circular Polarizer Filter
67, 72, 77, and 82mm Adapter Rings
Darkens Entire Image
Reduces Exposure in Selective Areas
Gaskets for Light-Blocking Seals
The Haida M10 Enthusiast Kit II is a set that comes with the M10 Filter Holder which allows the use of up to three separately available 100mm wide and 2mm thick filters. It comes with four filter holder adapter rings (67, 72, 77, 82mm) along with the kit's drop-in circular polarizer filter. There are two gasket seals positioned so they can prevent stray light coming in between the filters, which could have unwanted effects on exposure. A push-and-release lock lever allows the filter holder to rotate 360°. The included Haida 100 x 100mm Red Diamond Neutral Density 3.0 Filter is a solid neutral density filter providing 10-stop exposure reduction. The Haida 100 x 150mm Red Diamond Soft-Edge Graduated Neutral Density 0.9 Filter provides up to a 3-stop reduction of light in selective areas and as well darkens bright areas of an image, while leaving the remainder of the frame unaffected.
---
Product Features in Detail
New quick release design
Featuring a new quick release design, the new M10 filter holder allows for fast filter installation and ease of operation. First install the adapter ring, then the holder, then it's just an easy "drop-in" process to inserting filters. The included CPL will lock in to place with just a push and can be easily removed by pulling outward on the filter. Once the top gear is turned the CPL will rotate smoothly.

Strong and durable filter holder
The M10 100mm filter holder is made from aviation grade aluminum and PC materials, resulting in a strong and durable filter holder that is also lightweight. The M10 holder is designed to allow for use of up to 2 filters (100x100mm or 100x150mm) as well as the round CPL on a full frame camera at a focal length of 16mm without vignetting. A full 360-degree light gasket is fitted to prevent light leakage on long exposures. Haida's latest line, Red Diamond filters, promises all the advantages of the Nanopro filters and are engineered to be the toughest line of filters in Haida's current offerings.

Red Diamond filters
The Red Diamond filters feature a shock-and-scratch-resistant design, making them ideally suited to the harsh challenges of outdoor landscape photography. Haida Red Diamond Filters feature an ultra-thin Nano Multicoating that retains superb image sharpness as well as delivering true color with zero color cast. The Red Diamond series is double the strength of a normal glass filter, which provides for a low risk of accidental breakage. An ND Filter provides a solid stop exposure, creating a darkening of the entire image and allowing you photograph with a wider aperture and slower shutter speed. By slowing your exposure time or increasing your aperture, you are able to control depth of field and convey movement more easily.

Soft Edge Graduated Neutral Density Filters
Soft Edge Graduated Neutral Density Filters start clear at the bottom of the filter before transitioning into the Neutral Density effect as it approaches the center and gradually becoming strongest at the top of the filter. These filters are rectangular in shape (100x150mm, 4x6") to provide more flexibility to move the filter up or down within the holder to precisely position the graduation line, for ultimate create control.
Filter Holder
Accepts up to Three 100mm Wide Rectangular Filters up to 2mm Thick and Included Drop-In Circular Polarizer Filter for Haida M10 Filter Holder
Adapter Ring
Attaches Filter Holder to Lenses with 77mm Front Filter Threads
Material
Filter Holder: Aluminum Alloy
Circular Polarizer Filter: Optical Glass
Filter Case: Leather
Rotation
360°
Haida Drop-In Circular Polarizer Filter for Haida M10 Filter Holder
Filter Type: Circular Polarizer
Density: 0.45 to 0.6
Filter Factor: 2.8 to 4x (1.5- to 2-Stop)
Rotating: Yes
Haida 100 x 100mm Red Diamond Neutral Density 3.0 Filter
Filter Type: Solid Neutral Density
Density: 3.0
Filter Factor: 1000 (10-Stop)
Size: 3.9 x 3.9" / 100 x 100 mm, Thickness: 0.08" / 2 mm
Haida 100 x 150mm Red Diamond Soft-Edge Graduated Neutral Density 0.9 Filter
Filter Type: Graduated Neutral Density
Graduation Type: Soft Edge
Density: 0.9
Filter Factor: 8 (3-Stop)
Size: 3.9 x 5.9" / 100 x 150 mm, Thickness: 0.08" / 2 mm
This product comes with 12 Months Australian Warranty. Our products are sourced from authorised Australian suppliers and therefore come with genuine Australian warranty. Camera Warehouse does not participate in 'Grey Market' or 'Parallel Import' activities.
Haida M10 Enthusiast Kit II
Haida M10 100mm Filter Holder
6 x Filter Slots
Haida M10 Adapter Rings: 67, 72, 77, 82mm
Haida M10 Drop-in Nano-coated Circular Polarizer
Haida Red Diamond 100x100mm ND 3.0 10-Stop Filter
Haida Red Diamond 100x150mm Soft Grad ND 0.9 3-Stop Filter
Drop-In Cover for Filter Holder's Drop-In Filter Accessory Slot
Haida M10 Filter Bag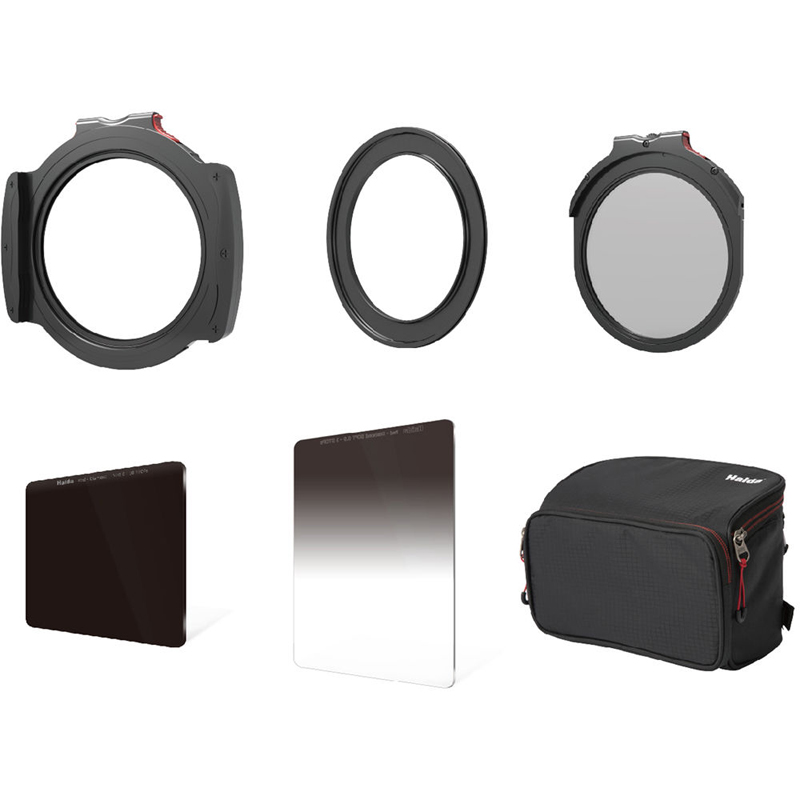 Haida M10 Enthusiast Kit II
SKU: Haida HD4502
UPC: 6972288550406