Godox AD600B TTL Flash with Li-ion Battery plus Reflector
Free Shipping for Orders over $98*

(*excludes bulky items)
No SURCHARGE FOR CREDIT CARDS
600WsTTL and HSS flash unit
Supports Canon E-TTL II and Nikon i-TTL & Sony Systems
Built-in 2.4G X1 TTL Radio Remote System
Up to 500 Full Power
Bowens S-Mount
Adjustable 10W LED Modelling Light
Integrated Professional 11.1V/8700mAh lithium Battery Pack
0.01 – 2.5 Seconds Recycle Time
1/8000s High Speed Sync
100m Range + X1 Transmission
Local Australian Warranty
The powerful and portable Godox AD600B TTL Flash with Li-ion Battery plus Reflector has a built-in 2.4G X1 TTL Radio Remote System that supports Canon E-TTL II and Nikon i-TTL and Sony Systems. The AD600 AD600B (Bowens mount) have a variety of accessories including the Integrated Professional 11.1V/8700mAh lithium Battery Pack with up to 500 Full Power Flashes even in only one charge. With the AD600B's Adjustable 10W LED Modelling Light with 600WsTTL and HSS flash unit will make your shooting simpler and faster through its 0.01 – 2.5 Seconds Recycle Time. You can easily achieve a correct flash exposure with the 1/8000s High Speed Sync in complex light-changing environments and can even overpower the light of the sun.
---
Product Features in Detail

Built-in Godox 2.4G Wireless X System Optical and 2.4G wireless transmission to offer stable output
When using Godox 2.4G wireless X system. AD600/AD600B is compatible with Canon E-TTL II autoflash. Nikon i-TTL autoflash. SONY etc.
As a slave unit. AD600/AD600B can use in combination with Godox TTL camera flash, TTL outdoor flash. TTL studio flash, etc.

Wireless Remote Control and Triggering
Use Godox 2.4G wireless X system to achieve TTL control or use Godox TTL wireless flash trigger X1 to wirelessly control TTL functions. wirelessly adjust flash's posses levels, sound beep, as well as triggering the flash.
There are 3.5mm sync cord jack and wireless control port to achieve multiple triggering methods.

Strong Power and Abundant Functions
AD600/AD600B has 600Ws and GN87 (rn ISO 100. with AD-R7 standard reflector). Stable color temperature at 5600±200K over the entire power range. 25 steps of power adjustment (1/1 to 1/256) offer better lights effects. Fully support TTL autoflash. flash exposure compensation, 1/8000s high speed sync, first-curtain sync, second-curtain sync, manual flash, multi flash, C.Fn custom functions, etc.

Professional Lithium Battery Pack with Great Flexibility
Professional lithium battery pack has large capacity (11.1V/8700mAh) to provide 500 full power flashes and recycle in 0.01-2.5 second. DC/AC are both applicable. (change to AC alternating current module after lithium battery pack detached)

Useful and Handheld Flash Head
Purchase a H600 portable flash head (sold separately) to fire flashes with great convenience. Two AD600 flashes can be connected to a H1200 portable flash head (sold separately) to achieve 1200W power output.
As PB-600 portable bag is designed with reclosable cover, it is easy to adjust the flash's parameters and effective to avoid rain and dust simultaneously.
Model

AD600
Wireless Slave Unit Mode
Radio transmission mode (compatible with Nikon & Canon)
Optical transmission mode (compatible with Nikon & Canon)
Flash Mode
Wireless Off
M/Multi
Slave unit of radio transmission
TTL/M/Multi
Slave unit of optical transmission
TTL/M/Multi
Compatible Cameras under Radio Transmission (as slave unit)
Nikon cameras, supporting i-TTL-M/RPT flash (X1N as master unit, etc)
Canon EOS cameras, supporting E-TTL-M/RPT flash (X1S as master unit)
Guide No. (1/1 Output)
87 (m ISO 100, with AD-R7 standard reflector)
Flash Durationt 0.1 (approx.)
1/220 to 1/10000 seconds
POWER
600W
Power Output
9 steps: 1/256~1/1
Stroboscopic Flash
Provided (up to 100 times, 100Hz)
Flash Exposure Compensation (FEC)
Manual. FEB: ±3 stops in 1/3 stop increments
Sync mode
High-speed sync (up to 1/8000 seconds), first-curtain sync, and second-curtain sync
Delay Flash
0.01~30 seconds
Mask
√
Beeper
√
Modeling Lamp (LED)
√
Optic Slave Flash
S1/S2
Flash Duration Indication
√
Display
Dot-matrix panel
Wireless Flash (optical transmission and 2.4G transmission)
Wireless flash function
Slave, Off
Controllable slave groups
Optical
3 (A, B, and C)
2.4G
5 (A, B, C, D, and E)
Transmission range (approx.)
Optical
Indoors: 12 to 15 m / 39.4 to 49.2 ft.
Outdoors: 8 to 10 m / 26.2 to 32.8 ft.
2.4G
80m
Channels
Optical
4 (1, 2, 3, and 4)
2.4G
32 (1~32)

Power Supply

Power Supply
Lithium battery pack (11.1V/8700mAh)
Full Power Flashes
500
Recycle Time
Approx. 0.01-2.5s
Battery Indicator
√
Power Indication
Power off automatically after approx. 60 minutes of idle operation
Sync Triggering Mode
3.5mm sync line, Wireless control port
Color Temperature
5600±200k

Dimensions

Dimensions (with battery)
220x245x125mm (flash tube & reflector not included)
Net Weight (with battery)
2.66Kg (flash tube & reflector not included)
This product comes with 12 Months Australian Warranty. Our products are sourced from authorised Australian suppliers and therefore come with genuine Australian warranty. Camera Warehouse does not participate in 'Grey Market' or 'Parallel Import' activities.
Godox AD600B TTL Flash with Li-ion Battery plus Reflector
Battery
Lampshade
Flashtube
Charger Adapter
Power Cable
Pergear Clean Kit
Instruction Manual
Local Australian Warranty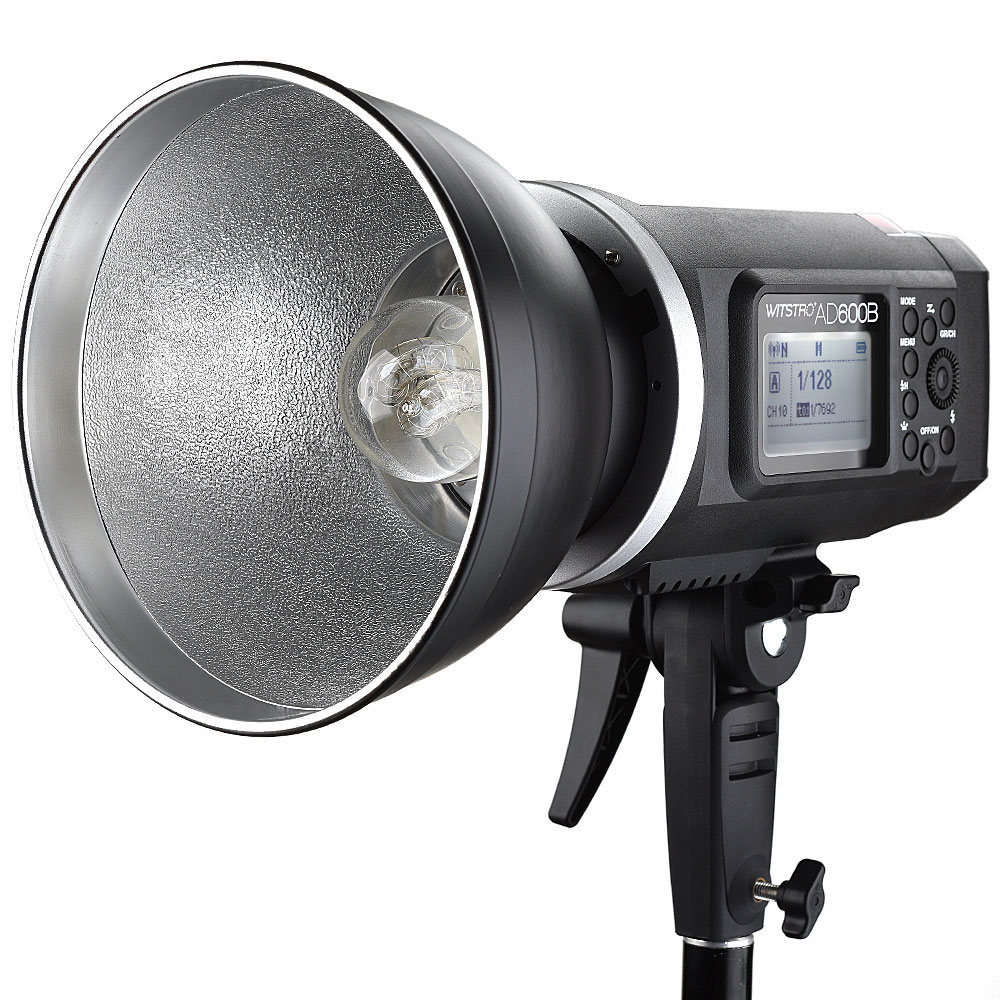 Godox AD600B TTL Flash with Li-ion Battery plus Reflector