Godox 685S TTL Speedlite Flash For Sony
Regular Price
A$199.00
Special Price
A$189.05
save: A$9.95
Free Shipping for Orders over $98*

(*excludes bulky items)
No SURCHARGE FOR CREDIT CARDS
Built-In 2.4GHz X Wireless Radio System
Compatible with Sony ADI / P-TTL
High-Speed 1st & 2nd Curtain Sync
Guide Number: 197' at ISO 100 and 200mm
Zoom Range: 20-200mm
Tilts from -7 to 90°
Rotates Left & Right 180°
Operates as wireless master/slave TTL functionality
Recycle Time: 0.1-2.6 Seconds
Product Code: TT685S
The Godox TT685S TTL Speedlite Flash is built to support Sony ADI / P-TTL, which includes high-speed sync and a built-in 2.4GHz radio system. When used, simple or elaborate lighting setups can be integrated where it can be an applicable lighting tool with its 197' guide number at ISO 100 and 200mm, a zoom range of 20-200mm. This speedlite is capable of tilting from -7 to 90° and 360° rotation. Being a TTL unit, it can operate as a full wireless master or slave unit with TTL operation. It also comes with a 3.5mm sync port which is available for setting up connection to a camera or trigger. It runs on four alkaline or NiMH AA batteries delivering 230 full-power flashes with 0.1-2.6 seconds of recycle time. A USB connection is available for installing firmware updates.
---
Product Features in Detail
Thinklite TTL Camera Flash TT685S
This TT685S camera flash applies to Sony DSLR series cameras and is compatible with TTL autoflash. With this TTL compatible flash, your shooting will become simpler.

Two Transmitting styles to offer creative light effects
Optical transmission with even illumination and stable output. 2.4G wireless transmission with all-in-one functions and 100 meters further transmission.

Master & Slave Flash
TT685S is compatible with Sony Wireless Lighting System (WL). It can function as either an optical wireless master or slave flash. As a master unit, T685S can control camera flashes e.g. HVL-FV60M, HVL-F43M, and HVL-F32M via wireless. As a slave unit, TT685S can be controlled by wireless signals of Sony camera flashes e.g HVL-FV60M, HVL-F43M, and HVL-F32M.

Full TTL Functions
Supports HSS (max. 1/8000s); front & rear curtain sync, FEC, multi flash, manual flash, etc.

TTL Wireless Flash Transmitter X1T-S (for Sony) Offers Better User Experience (sold separately)
With 2.4G wireless transmission, X1T-S fits for Sony cameras (MI Shoe) and can be used to trigger camera flash, studio flash, and camera shutter over 100-meter distance. Support for TTL autoflash, manual flash, multi flash, 1/8000s high-speed sync, flash exposure compensation, flash exposure lock, manual focus assist, rear curtain sync, etc. With wireless grouping system to satisfy various shooting requirements. Big LCD panel to offer convenient operation.

Convenient Dot-matrix LCD Panel
With dot-matrix LCD panel to offer clear and easy operation. Use 4 function buttons to change various settings according to different situations. Turn the select dial to choose the amount of the settings.

Withstanding Overheat and Useful Functions
GN60 (m ISO 100, @200mm), 22 steps of power output (1/1~1/128). Approximately 0.1-2.6s recycle time, 230 full power flashes (using 2500mA Ni-MH batteries. Support TTL/M/Multi/S1/S2 modes, 20-200mm auto/manual zooming. With C.Fn custom function settings.

Compatible Camera Models
TT685S can be used on the following Sony DSLR models: a77II, a7RII, a7R, a58, a99, ILCE6000L, etc.
Type
Compatible Cameras
Sony DSLR cameras (TTL autoflash)
Guide Number (1/1 output at 200mm)
60 (m ISO 100)
190 (feet ISO 100)
Flash Coverage
20 to 200mm (14mm with wide panel)
Auto zoom (Flash coverage set automatically to match the lens focal length and image size
Manual zoom
Swinging/tilting flash head (bounce flash): 0 to 360 horizontally and -7 to 90 vertically
Flash Duration
1/300 to 1/20000 seconds
Exposure Control
Exposure control system
TTL autoflash and manual flash
Flash exposure compensation (FEC)
Manual. FEB: ∓3 stops in 1/3 stop increments (Manual FEC and FEB can be combined.)
Sync mode
High-speed sync (up to 1/8000 seconds), first-curtain sync and second-curtain sync
Multi flash
Provided (up to 100 times, 199Hz)
Wireless Flash (Optical transmission and 2.4G transmission)
Wireless flash function
Master, Slave, Off
Controllable slave groups
Optical
2 (A and B)
2.4G
3 (A, B, and C)
Transmission range (approx)
Optical
Indoors: 12 to 15m/39.4 to 49.2 ft
Outdoors: 8 to 10m/26.2 to 32.8 ft
Master unit reception angle: ∓40° horizontally, ∓30° vertically
2.4G
≤100m
Channels
Optical
4 (1, 2, 3, and 4)
2.4G
32 (1~32)
Slave-ready indicator
Two red indicators blink
Modeling flash
Fired with camera's depth-of-field preview button
Auto Focus Beam
Effective range (approx)
Center: 0.6~10m / 2.0~32.8 feet / Periphery: 0.6~5m / 2.0~16.4 feet
Power Supply
AA batteries
Ni-MH batteries (recommended) or 4*LR6 alkaline batteries
Recycle time
Approx 0.1~2.6 seconds (eneloop Ni-MH batteries of Panasonic). Red LED indicator will light up when the flash is ready.
Full power flashes
Approx 230 (2500mA Ni-MH batteries)
Power saving
Power off automatically after approx 90 seconds of idle operation. 60 minutes if set as slave.
Sync Triggering Mode
Hotshoe, 3.5mm sync line, Wireless control port
Colour Temperature
5600∓200k
Dimensions
W x H x D
64*76*190mm
Weight without battery
410g
Weight with battery
530g
This product comes with 12 Months Australian Warranty. Our products are sourced from authorised Australian suppliers and therefore come with genuine Australian warranty. Camera Warehouse does not participate in 'Grey Market' or 'Parallel Import' activities.
Godox 685S TTL Speedlite Flash For Sony
Mini Stand
Protective Case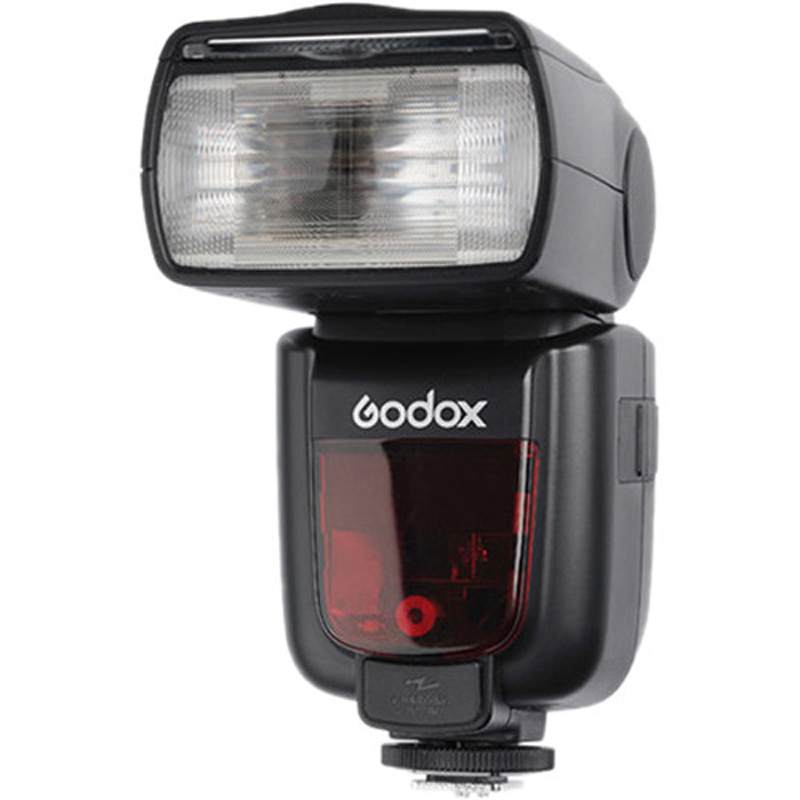 Godox 685S TTL Speedlite Flash For Sony
SKU: Godox TT685S
UPC: 0712383670397