Feiyu Tech AK2000S 3-Axis Gimbal Stabilizer
Regular Price
A$769.00
Special Price
A$692.10
save: A$76.90
Free Shipping for Orders over $98*

(*excludes bulky items)
No SURCHARGE FOR CREDIT CARDS
2.2 kg Payload
Supports Mirrorless/DSLR Cameras
Arca-Swiss QR Plate
LCD Touch Screen
Wireless Sound Recording
Motor Lock and Quick Release System
Attachable Underslung Rear Handle
Dual USB Ports for Focus and Zoom Motors
14-Hour Runtime; Fast Charging Supported
An update to the Feiyu Tech AK2000 family has come to provide three axis handheld gimbal designed for Mirrorless/DSLR cameras and video makers. This stabilizer supports up to 2.2 kg payload and includes an attachable underslung rear handle that attaches to the gimbal for effortless operation. The handle also helps better hold the gimbal in all other modes. As an update to its predecessor, also features fast charging support via the onboard USB Type-C port and 14-hour runtime with the built-in battery. Some new features include Dual USB Ports for connecting Feiyu brushless lens focus and zoom motors and zoom control. A touchscreen display allows you to set parameters and make other selections thru onboard control buttons, modes and other functions. An Arca-Swiss-compatible QR plate assembly allows efficient movement of the camera between the gimbal and optional accessories with Arca-Swiss support. Each axis is equipped with motor lock and quick release system making the gimbal more stable during balancing and the folding.
---
Product Features in Detail
Stable
Our flagship, 16.8V high voltage actuation & high torsion, brushless motor guarantees a strong and powerful gimbal. The latest W6 algorithm makes the margin for error of any angle less than 0.05°.

Smooth
The AK2000S has a quicker response speed and smoother operation thanks to our latest generation algorithm. Multiple levels of sensitivity settings allows for smoother video creation.

Easily Supports Mirrorless/DSLR Cameras
The AK2000S is portable yet has a huge payload capacity, compatible with various camera models and accessories. The Motor is equipped with a new generation of Cortex M4 core and a 200MHz CPU. The maximum motor control frequency is 20,000 times per second, with a 2.2kg payload capacity thanks to the strong motor torque.
Made of ultra-light space-grade aluminum alloy , the net weight is just 1.1kg. The folded size is equal to an A4 paper, which will fit into a normal bag and is easy-to-carry.

Shooting at Different Angles With Detachable Handles
As a pioneer in integrating detachable handles into Mirrorless camera gimbals, the AK2000S can be held in two ways making it suitable for various situations.

Unique LCD Touch Screen Enables One-Handed Operation
Without the APP, you can also operate the AK2000S by the unique LCD touch screen. The screen can be locked to avoid accidental touches.
One-click into Inception mode. The speed, number of rotates, and directions can all be customized, make movie-level blockbuster shooting easier.
One-click into time-lapse photography. The interval and duration can be set directly on the touch screen, and the system intelligently remembers the last shooting path, helping you to get rid of the APP and achieve "one-screen control everything."
One-click into selfie mode and portrait mode without any accessory, don't need to balance again, making things simple.
Intelligent human-machine interactive experience. You can directly set the basic parameters of your camera such as exposure compensation, ISO, and white balance through the touch screen. Humanized design to meet various shooting needs.
A truly exclusive customized machine. Motor power, shooting scenes, functions of knob, various parameters can all be customized, creating a super satisfactory user experience for you.

Wireless Sound Recording
Record sound at a distance with the wireless recording set.

Delicate Appearance and Comfortable Feeling Grip
The gimbal has a comfortable touch thanks to the well-polished rosewood handle. The ergonomic design provides you with a cozy grip experience.

Motor Lock & Quick Release System
Each axis is equipped with locks which make the gimbal more stable during balancing and the folding process.
Quick release 2.0: quick release plate. The ARCA quick release system gives seamless switching between popular quick release systems; Mount camera within 1 second with the ARCA quick release system.

Quicker Response Speed
The improved motor response speed allows you to go from: Starting speed; start the gimabl in 2 seconds, or: Warm start in 1 second from sleep mode.

Ultra-long endurance from a single charge
The high-density built-in battery can be used for 7 hours and standby for 14 hours. It can be fully charged within 1.5 hours because of the 18w fast charge battery design. photographers can create as much as they want.

One Click Enters Different Modes
Enter time-lapse shooting mode, inception mode, Vlog Selfie mode, and portrait mode with just one click. The AK2000S meets all the requirements for professional shooting, Vlogs and Tik-Tok.
Main Features
Max payload updates to 2.2 kg, easily work with popular mirrorless cameras.
Detachable versatile arm, switch between single handle and underslung position to use in more different shooting scenes.
Quick release plate design for camera to get real quick setup in 1 second.
Base and upper quick release plate is compatible with ARCA quick release system, which can fast switch between popular quick release system and AK2000S.
3 Axis motor-lock design to get a convenient balance and storage.
Unique light rosewood handle which combine metal with solid wood make it feel excellent while holding.
Touch screen operation without APP to directly set up parameters and change working mode.
Just touch one icon and you will directly enter Inception mode/Long exposure timelaspe/ VLOG selfie/ TikTok portrait shoot and got more popular shooting ways.
Supply USB Cable control/Wireless control way to take picture/recording/timelapse.
USB C quick charging port for gimbal, takes only 1.5 hour to fully charge it.
Charge camera via 5V output charging/ cable control port Camera2 (Only for charging SONY camera)
Dual available USB ports for external follow focus/Zoom in&out set.
Customize trigger button, follow speed/dead zone, motor power, etc. to fit for different usage.
Auto-adapt motor power and customize motor power to be chose to work with more cameras and lens.
Optional motion-sensing remote control provides remote shooting and more creative possibilities.
Optional wireless microphone kit for better sound recording, make your VLOG / TikTok video come with sound more easily.
One 1/4inch thread hole and one 3/8inch thread hole at the base of handle for all types tripod/ monopod in the market.
Cameras Supported
Popular DSLR& mirrorless camera supported (Check Camera Compatibility Lists for more details, will be updated continuously ):
1、SONY:A9 series、A7 series and other DSLR camera series;A6300/A6400 and other Mirrorless camera series;
Lenses: SONY FE 24-70mm F4 ZA OSS, FE 16-35mm f/4 , FE28-70mm , FE 4/24-105 G OSS , FE 85mm F1.4 GM and etc.
2、CANON:EOS R, M50, M6 and other cameras with similar size and weight;
Lenses: Canon RF 24-105mm F4L IS USM、RF 50mmF1.2L、RF 35mmF1.8 and etc.
3、Panasonic : GH4、GH5/GH5S and other similar DSLR cameras;GX9、GF9 and other similar Mirrorless camera;
Lenses:LEICA DG Vario-Elmarit 12-60 f/2.8-4 Power OIS、LUMIX G 14-140mm f/4-5.8 OIS、LEICA DG Vario-Elmarit 8-18mm f/2.8-4.0 ASPH and etc.
4、Nikon:Z6、Z7 and other similar Mirrorless camera
Lenses:NIKKOR Z 24-70mm f/4 S,NIKKOR Z 14-30mm f/4 S and etc.
5、Fuji:XT3/XT2、X-T20 、X-T30、XH-1 and other similar Mirrorless camera
Lenses:XF 16-55mm 1:2.8 R LM WR,XF 18-135mm f/3.5-5.6 R LM OIS WR and etc.
The size of compatible cameras for reference :
Camera height (include the height of viewfinder)≤130mm
The distance from screw hole to the right edge of camera ≤95mm
Maximum length at lens direction: about 175mm
Payload
2.2Kg/4.85 lb(well balanced)
Weight
1.1kg/2.4 lb (not included the battery, shutter release cable, camera, lens and so forth)
Usage time
7h for normal working state, 14h for standby mode(well balanced)
Charging Time
≥1.5h, Support all the normal charger and quick charger which charging power≤18W(for example: 9V*2A=18W, 12V*1.5A=18W)
How to charge the gimbal
Charging via the USB C port on the handle( Quick charger which charging power≤18W is supported) The screen will show charging icon, and disappear after 1 second. Press any button to show the current charging state.
Materials In Main Body
Aluminum Alloys +Rosewood
Water-Proof Grade
Not Water-proof
Dimensions
158.7*203.6*372.8mm(Normal state),71*208.8*350.4mm(Storage)
Rotatable Range
Tilt:230°(with limitation)
Roll:360°(Unlimited)
Pan:360°(Unlimited)
Controllable Range
Tilt:+175°to -55°
Roll:360°unlimited(it could be automatically rotated 360° in one circle or several circles in Inception mode)
Pan:360°(unlimited)
Quick release plate
There are two kinds of quick release plate together in one.
Bottom mounting plate and upper quick release plate are both compatible with ARCA quick release system, which can be removed from the gimbal together with the camera, and fast switch between popular quick release systems without re-assembling and re-balancing the camera.
Installation of Camera and Balance
Unlock the motor:AK2000S has 3 motor locks, Please unfold the gimbal and lock the motor to mount the camera. After installation, unlock each motor to balance the gimbal, then turn on the gimbal.
Tighten the camera:Insert upper quick plate vertically on bottom mounting plate, and fix the mounting plate with safety lock.
【optional Multifunctional bracket】Fix hot shoe at upper side of the camera with fixing frame of tilt axis to get two-way fixation and install more accessories.
Tips: ① When lens facing front, tilt motor should be at the right side because of tilt limitation.
② When the lens is longer than the mounting plate, please install lens supporting frame.
Balance:Step by step to adjust vertical and horizontal direction of tilt axis, roll axis and pan axis. The standard of balance: camera can stay there without holding by hand ,no matter where you point it to (tilt axis should be perfectly balanced).
Working mode
Pan follow: The roll and tilt direction are fixed, and the camera moves according to the left-right movements of user's hand. (tilt axis keep vertical and roll axis keep horizontal)
Follow mode(Pan and tilt): The roll direction keep horizontal, and camera moves according to the left-right movements, up-down movements of user's hand.
Lock mode: The orientation of the camera is fixed no matter how the handle rotates.
All Follow Mode: All 3 axis of gimbal follows the movements of handle without limitation.
Touch Screen
Main interface: Show working state, change working mode and operation
Main display shows different camera modes (After connecting WIFI), Bluetooth, Zoom & Follow Focus & the axis controlled by Multifunction Knob, Battery, and Working Modes. Icon in grey means the option is not available.
Swipe to left Once & Twice:Adjust the parameters of camera when Wifi connection between gimbal and camera is done, including ISO, Exposure Compensation, Scenes, etc,.
Button operations
★Power button(right side):
Long Press:power on & off
Single tap(on the main interface): lock/unlock Touch screen;
Single tap(other interfaces): return to the main interface
Double tap: Standby mode
★ Mode Button(front side):
Single tap: Switch between Pan Mode /Lock Mode.
Double tap: follow mode
Triple tap: all follow mode
★ Shutter Button(front side)——similar as camera shutter button:
When shutter release cable or WIFI of camera is connected with gimbal and camera, users can control camera through gimbal (See Camera Compatibility List for more):
1. Press Halfway: Focus
2. Single Press : Photo shooting or start/stop video recording(take photo in photo mode,start/stop video recording in video mode)
3. Long press: Auto-burst shot(Press again to quit)
★Function Button(front side):
Single tap:Switch between Video/photo mode
Tips:
①Ak2000S can control camera to switch between photo/ video mode while connecting camera via USB cable except Panasonic cameras. Users have to manually switch photo/ video mode on the camera while connecting Panasonic cameras via shutter release cable.
②Ak2000S can control camera to switch between photo/ video mode while connecting camera via WIFI except SONY cameras. Users have to manually switch photo/ video mode on the camera while connecting SONY cameras via WIFI.
★ Joystick(front side):
1. Control gimbal and turn left/right/up/down
2. Adjust parameters when setting through touch screen
★Trigger Button(back side):
Double Tap: Reset gimbal, 3 axis return to default position(Pan Mode)
Long Press: Enter Follow Mode, back to previous mode after loose it.
(You can set up this operation to Lock mode, follow mode, action mode with APP)
Triple tap: Selfie mode(Turn 180° at pan axis ), double tap to reset.
★Multifunction Knob(left side):
Long Press: switch between gimbal control and camera control
Single Tap:
When gimbal control is activated, single tap to switch among Pan Control / Roll Control / Tilt Control.
Camera Control:
1. when camera control is activated, and WiFi/ USB cable of camera is connected, users can switch between Zoom and Follow Focus options (They are available to those cameras in the list, check Camera Compatibility List for more details).
2.When an external follow focus unit is connected, its rotation could be controlled.
★ Rotate: Adjust parameters you choose.
How to control the camera
USB cable Control: While connecting gimbal and cameras with cable (standard accessories for SONY,CANON,NIKON, Panasonic) ,users can control focus/ picture-taking/ recording/Auto-burst shot with shutter button (see Camera Compatibility List for more), switch photo/ video mode with mode button( expect Panasonic, because it is using shutter release cable)
WIFI control: Gimbal can connect with camera via Feiyu On app and WiFi. When connection is done, camera could be controlled to take photo/video/zoom/follow focus.
Tips:
1. WiFi feature should be included so that camera could be connected via WiFi.
2. Digital Zoom and Follow Focus could be performed when they are supported. Please refer to the list of controllable cameras.
3. Recommend using Sony Type C to Multi cable to control SONY cameras,which is more stable and rapid reaction .
Motor Power Auto -Adaption
Auto-adapt of Motor power is available to the App or Touch Screen. Gimbal auto adjust the motor power according to the camera you install.
Auto Adapt operation: Enter the payload setting through touch screen, and tap Auto Adaption, then put gimbal on the table until the display prompt complete.
Gimbal will vibrate slightly while Auto Adaption to weigh the camera, it's a normal phenomenon.
Available Functions for Users
Change working mode via touch screen/buttons, directly show the state of camera connection, Bluetooth, control state , battery at the display without APP.
One tap to enter Inception mode, long exposure timelapse, VLOG Selfie and portarit shooting for TikTok, and more special shooting way.
Manually set up the rotation speed, picture interval, long exposure time and the movement route in auto-rotation mode for long exposure timelapse.
Control and set up the camera, taking photo, recording, follow focus ,zoom in&out with USB cable control or WIFI control.
Take only 1.5 hour to quickly charge it and get it ready.
Customize the trigger button, motor power, shooting scene (follow speed/dead zone), controlled object , etc.
Initialize the gimbal when it is not level.
Manually set up the shooting angle on tilt axis by hand .
More optional accessories available ,such as Hyperlink remote controller/ AKF2/ monitor/ monopod/ wireless microphone kit and other accessories.
Upgrade the firmware , Set up the parameter, virtual remote control on APP.
Extended Ports
There are nine extended ports in single handle
On the top of sliding arm of tilt axis : One 1/4 thread hole for installation of extension support or other accessories.
At the back of mounting plate:Camera1 USB-C port and Camera2 USB port to connect and control the camera.
In front of mounting plate: UART1、UART2 USB ports to connect external AFK II
At the left and right side of handle:1/4 inch thread hole to extension support other accessories, such as monitor, Mic , versatile arm and so forth.
At the bottom of the handle:1/4inch thread hole and 3/8inch thread hole to mount Tripod or other accessories.
At the right side of handle:USB-C port for quick charging & update firmware(need a separate USB adapter)
Accessories for standard kit
lStandard Kit(including versatile arm 、anti-slip Tripod 、USB cables and other accessories) AK2000S *1
Versatile arm + tighten screw*1 set
anti-slip metal tripod *1
Sony USB control /camera charging cable: USB2.0 to Micro(A01)*1
Sony USB control cable: Type C to Multi*1
Canon USB Cable USB 2.0 to Mini(B01)*1,
5D Mark IV USB Cable USB 3.0 to Micro 3.0(A02)*1
Shutter release for Panasonic TYPE C to DC2.5 *1
Nikon &EOS R USB control/gimbal charging cable: USB 2.0 to Type C(C01)*1
FUJI shutter cable(Type C to TRS2.5)*1
Bottom quick release plate *1
ARCA quick release plate *1
lens supporting frame + fixed screw *1
Thumb screw to fix the camera(short)*1
EPP box*1
This product comes with 12 months Australian Warranty. Our products are sourced from authorised Australian suppliers and therefore come with genuine Australian warranty. Camera Warehouse does not participate in 'Grey Market' or 'Parallel Import' activities.
Feiyu Tech AK2000S 3-Axis Gimbal Stabilizer
Mini Tripod
Rear Handle with Mounting Screw
Sony USB to Multi-Port Control Cable
Sony USB Charging Cable
Canon 5D Mark IV USB Cable
Canon USB Cable
Nikon & Canon EOS R USB Charging Cable
Panasonic USB Type-C to 2.5mm DC Shutter Release Cable
Arca-Swiss Quick Release Plate
Bottom Quick Release Plate
Short Camera Thumbscrew
Lens Support Bracket
EPP Storage Box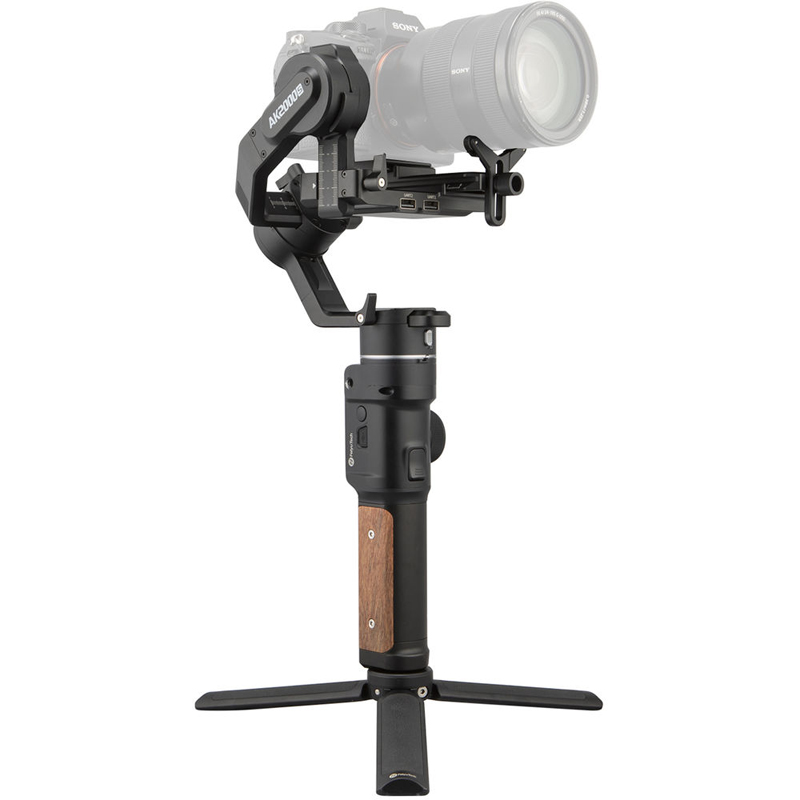 Feiyu Tech AK2000S 3-Axis Gimbal Stabilizer
SKU: Feiyu Tech 888160
UPC: 6970078071827