DJI S1000 Plus + A2 + NEX7
Free Shipping for Orders over $98*

(*excludes bulky items)
No SURCHARGE FOR CREDIT CARDS
Spreading Wings Octocopter
Comes With A2 Flight Control System
Zenmuse Z15 Gimbal for NEX-7
Compatible with Zenmuse Gimbals
Designed to Carry DSLR-Sized Camera
Supports A2 and WooKong-M FCs
Up to 24 Pound Total Take-Off Weight
Collapsible Frame and Folding Propellers
Retractable Landing Gear
Low Gimbal Mounting with Dampening
Up to 15 Minutes Flying at 15,000mAh
12 Months Australian Warranty
DJI S1000 Plus is the Spreading Wings Octocopter made to be compatible with Zenmuse gimbals to capture aerial still and video images. Now the package also comes with A2 flight control system, an Advanced Stabilization Controller for Multi-Rotor Platforms plus Zenmuse Z15 Gimbal for NEX-7 that you can use to mount the Sony NEX-7 camera. It is designed to carry DSLR-sized cameras and features carbon fiber frame arms, collapsible frame and folding propellers for easy transport and safekeeping plus a retractable landing gear to suppress unwanted vibrations during the shoot. It supports up to 24 pound total take-off weight and has low gimbal mounting with dampening. It supports A2 and WooKong-M FCs, depending on the preference and the types of radios to be used. S1000 Plus has the capability of up to 15 minutes flying at 15,000mAh.
---
Product Features in Detail

Large Carrying Capacity, Strong And Stable
Free yourself from weight limits and fly with heavy DSLR cameras such as the 5D Mark III with the advanced eight-rotor propulsion system of the S1000+. The S1000+'s arms and landing gear are made of sturdy carbon fiber, giving remarkable stability and strength. You're flying in a variety of flight conditions with confidence, knowing your gear is safe.

Highly Portable, With Foldable Arms
With arms that fold in to save space, the S1000+ is built to be taken wherever you need to go. Then when you want to fly, you are ready to start shooting in just a few minutes.

Removable Upper Center Board
The upper center board can be removed, giving you access to the IMU. Additionally, there are eight positions reserved for your extra equipment. So installation of your main controller, iOSD, Lightbridge, or any other accessories is faster and easier than ever before.
This new center board structure is perfectly compatible with the DJI WKM and A2 flight controllers.

New Power Distribution System
A redesigned, rebuilt power distribution system improves safety and reliability. Gold-plated metal bearings with a unique screw design secure the power cords, ensuring cables will not come loose during flight and allowing easy setup.

Sparkproof Plug
Prevent short circuits and easily plug in your power supply with the AS150 sparkproof plug.

Professional Quality
Weighing just 4.4kg, the S1000+ has a maximum takeoff weight of 11kg. This means you can easily carry most cameras and gimbals, including your 5D Mark III. Used with a 6S 15000mAh battery, it can fly for up to 15 minutes.

Wide Range Of Shooting Angles
Retractable landing gear and a low gimbal mounting bracket combine to enable a wide range of possible shooting angles and camera motions.

Compatible With Zenmuse Gimbals
Full compatibility with DJI's entire line of Zenmuse Z15 camera gimbals, including the new Z15-5D III (HD), provides unmatched stability in flight.

Reduced Vibrations, Clearer Footage
The S1000+'s gimbal bracket is separated from the main frame by specifically designed dampers. This significantly reduces high-frequency vibrations and makes your shots clearer and sharper.

Greater Power
A 40A electronic speed controller (ESC), our fastest available, is built in to each arm. The 4114 pro motors, high performance 1552 folding propellers, and V-type mixer design combine to give each arm of the S1000+ a maximum thrust of 2.5Kg.
Our latest motor adopts a single wire stator design, offering improved heat dissipation, better performance, and a tidier, more reliable system.

Innovative Arm Design
Each arm is designed with an 8° inversion and a 3° inclination, making the aircraft more stable when rolling and pitching, yet more flexible when rotating.
Frame

1045mm

386mm

Frame Arm Weight (Including Motor, ESC, Propeller )

325g

337mm

Center Frame Weight (With Landing Gear Mounting Base, Servos)

1520g

460mm(Length)×511mm(Width)×305mm(Height)

Motor

41×14mm

400rpm/V

500W

158g

ESC

40A

6S LiPo

30Hz ~ 450Hz

8KHz

35g

Foldable Propeller (1552/1552R)

High strength performance engineered plastics

15×5.2inch

13g

Flight Parameters

6.0Kg ~ 11.0Kg

4.4Kg

LiPo (6S,10000mAh~20000mAh,15C(Min))

4000W

1500W (@9.5Kg Takeoff Weight)

15min (@15000mAh & 9.5Kg Takeoff Weight)

Working Environment Temperature

-10 °C ~ +40 °C

Gain Value Settings

Basic: Roll 120%, Pitch 120%, Yaw 120%

Attitude: Roll 170%, Pitch 170%, Vertical 120%

For WooKong-M Flight Controller

Basic: Roll 130%, Pitch 130%, Yaw 120%

Attitude: Roll 180%, Pitch 180%, Vertical 120%
For A2 Controller:

Peripheral

Quad-Rotor: +4,x4;

Hex-Rotor +6,x6,Y6,Rev Y6;
Octo-Rotor +8,x8,V8

400Hz refresh frequency

Supported Transmitter For Built-In Receiver

Futaba FASST Series and DJI DESST Series

External Receiver Supported

Futaba S-Bus, S-Bus2, DSM2

2S ~ 6S LiPo

-5°C to +60°C

Assistant Software System Requirement

Windows XP SP3 / 7 /8 (32 or 64 bit)

Other DJI Products Supported

Z15, H3-2D, H3-3D, iOSD, 2.4G Data Link, S800 EVO, S900, S1000, S1000+, etc.

Flight Performance

Hovering Accuracy(In GPS Mode)

Vertical: ± 0.5m

Horizontal: ± 1.5m

< 8m/s (17.9mph/28.8km/h)

150 deg/s

35°

±6m/s

Electrical & Mechanical

MAX 5W (Typical Value: 0.3A@12.5V)

Built-in Receiver

Multiple Control Modes
2-axis Gimbal Supported
Low Voltage Protection
PC & Bluetooth Ground Station
External Receiver Supported
Intelligent Orientation Control
Sound Alarm
4 Configurable Output

Total Weight: <= 224g(overall)

Flight Controller: 54mm x 39mm x 14.9mm

IMU: 41.3mm x 30.5mm x 26.3mm
GPS-Compass Pro: 62mm (diameter) x 14.3mm
LED-BTU-I: 30mm x 30mm x 7.9mm
PMU: 39.5mm x 27.6mm x 9.8mm
For Zenmuse Z15 Gimbal for NEX-7:

General

• Three Working Modes

◊ Orientation-locked control
◊ Non orientation-locked control
◊ FPV mode (Reset)
• Built-in independent IMU module
• DJI gimbal special servos drive module
• HDMI-AV module
• Wireless video transmission support
• Camera shutter control support
• Wide range voltage input support
Electrical & Mechanical Characteristics

• Static current: 200mA (@25V)

• Dynamic current: 400mA (@25V)
• Locked-rotor current: 4A (@25V)

-10°C ~ 50°C

• Z15-N: 1.25Kg

• Z15-G: 1.3Kg

200mm × 200mm × 230mm

Frame Dimensions For Camera (Inside)

• Z15-N: 115mm × 75mm

• Z15-G: 142mm ×76mm

10A@12V

GCU Wireless Video Transmission Power

1A @12V

63g

64.2 mm ×34.1mm ×19.5mm

Working Performance

Load Weight (Reference Value)

336g(@Sony NEX-5N with Lens and Battery)

344g(@Sony NEX-5R with Lens and Battery)
417g(@Sony NEX-7 with Lens and Battery)
489g(@Panasonic GH2 with Lumix G14 mm/F2.5 and Battery)
534g(@Panasonic GH2 with Lumix G20 mm/F1.7 and Battery)

Controlled Angle Accuracy

±0.05°

Maximum Controlled Rotation Speed

Pan axis: ±130°/s

Tilt axis: ±130°/s
Roll axis: ±30°/s

Controlled Rotation Range

Pan axis control: ±360° continuous rotation

Tilt axis control: ±360° continuous rotation
Roll axis control: ±40° (±360° mechanic continuous rotation)
Peripheral

• SONY:Nex-5N/5R/Nex-7

• Panasonic:GH-2

• SONY: E 16mm f/2.8(SEL16F28)

• Panasonic: Lumix G14 mm/F2.5
• Panasonic: Lumix G20 mm/F1.7

4S~12S LiPo (Recommend 6S if with S800)

Four spare receiver channels at least

Assistant Software System Requirement

Windows XP SP3; Windows 7; Windows 8

Regulatory Approvals

YES

YES

YES
This product comes with 12 Months Australian Warranty.
Our products are sourced from authorised Australian suppliers and therefore come with genuine Australian warranty.
Camera Warehouse does not participate in 'Grey Market' or 'Parallel Import' activities.
DJI S1000 Plus + A2 + NEX7
A2 Flight Control System
Zenmuse Z15 Gimbal for NEX-7
Center Frame
8 Frame Arms
2 Landing Skid Tubes
2 Landing Gear legs
GPS Collapsible Mount
2 Springs
Connector Set
3-pin Servo Cable
Screw Package
2 Spare CW Propellers
2 Spare CCW Propellers
4 Magic Tapes
8 Red Knobs
Screw Package
50 Soft Dampers
12 Months Australian Warranty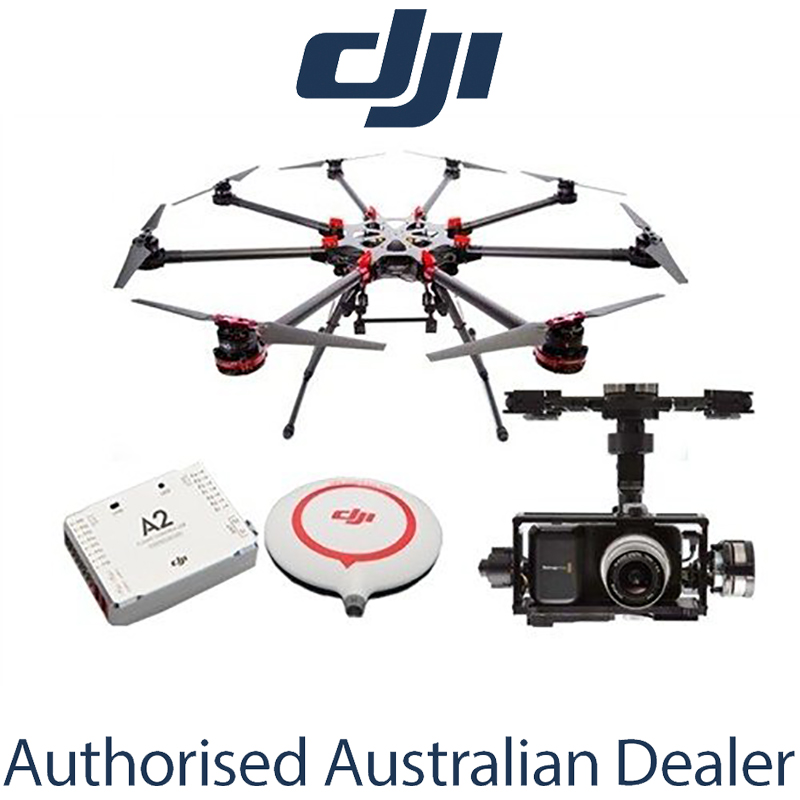 DJI S1000 Plus + A2 + NEX7