Free Shipping for Orders over $98*

(*excludes bulky items)
No SURCHARGE FOR CREDIT CARDS
One-inch image CMOS sensor
22mm lens with three-axis gimbal
5.4K 30fps video capture
20 MP still images
10-bit Dlog-M color profile
MasterShots automated filming
FocusTrack subject tracking
Advanced Pilot Assistance System
1080p video transmission for up to 12km
Automatic Dependent Surveillance-Broadcast
Compact and foldable
With the DJI Mavic Air 2S, you finally have a drone camera that can capture the breathtaking views you see at limitless angles and depth. If the scenery is calling you out to record them on video, there's no excuse anymore for not recording those stunning views at mesmerizing perspectives. The drone's one-inch CMOS sensor and 22mm wide-angle lens can shoot Ultra HD videos of up to 5.4K and take 20-megapixel snapshots.
It is also equipped with MasterShots for preset shooting templates and FocusTrack to follow a certain subject in three different ways. Meanwhile, the QuickShot modes provide fantastic camera techniques and the Hyperlapse helps condense long videos into a minute or two. The DJI Mavic Air 2S also has an obstacle sensing system that works in four directions.
This DJI drone is also capable of transmitting 1080p videos to receivers as far as 12km. Navigating the Mavic Air 2S is easy thanks to the included remote controller which you can enhance via the DJI Fly app. If you're looking for a drone that will always deliver regardless of the challenges provided by the shooting location, the DJI Mavic Air 2S is for you.
---
Product Features in Detail
Large sensor
With a one-inch CMOS sensor, the DJI Mavic Air 2S is capable of capturing Ultra HD videos of up to 5.4K. Capture every moment with the rich clarity and authentic color tones it deserves.
MasterShots
This automated feature captures your subject via any of three flight routes, namely Landscape, Portrait, and Proximity. The drone selects the appropriate sequence based on the distance between the drone and the subject. As the Mavic Air 2S records the videos, it also edits them using stock templates that can be accessed easily. You can also add music or subtitles, as well as edit the sequence.
FocusTrack
There are three modes under FocusTrack. The first is ActiveTrack 4.0 wherein the drone will keep the subject on the center of the frame. It will move with the subject while keeping a safe distance and avoids obstacles along the way. If it loses the subject while avoiding an obstacle, the drone will automatically put the subject on lock once more.
Meanwhile, Spotlight 2.0 selects a subject that will keep centered on the frame so that you can navigate freely. Finally, POI 3.0 instructs the drone to circle around the subject depending on the radius and flight speed.
Hyperlapse Modes
The DJI Mavic Air 2S comes with four hyperlapse options. Circle mode lets the drone fly around the subject while recording a timelapse. Meanwhile, Course Lock lets the drone fly in a straight line while tracking the subject and keeping it at the center. Waypoint establishes a flight plan wherein the Air 2S will fly onto while recording the timelapse. These destinations may vary in distance, altitude, and gimble angle. Finally, you can set your own parameters through the Free mode.
Turn on the night
Capture the allure of the world, even as it darkens, thanks to a high dynamic range, high resolution, and accurate color reproduction, even low-light scenes are sharp and vibrant. The DJI Mavic Air 2S also has a 10-bit Dlog-M color profile that enhances the hues of the scenes you record.
On the other hand, its HyperLight technology gives you a chance to take better shots in low-light settings. Partner it with SmartPhoto and you get five automatic scenes that optimizes pictures by recognizing textures such as grass, snow, and sky.
RAW format
Shoot RAW format photos with a dynamic range of up to 12.6 stops to capture more visual information in every scene, even when lighting conditions are bad or complex. This provides more flexibility in post-processing, giving creators more possibilities to get the look they want.
HDR Technology
Intelligent HDR technology merges multiple shots automatically, increasing the dynamic range of images without the need for post-processing. That means more nuanced details in both the highlights and shadows for richer images with greater depth.
Uninterrupted drone flights
The DJI Mavic Air 2S has the ability to perceive its environment in four directions: up, down, forward, and backward. The algorithms for Advanced Pilot Assistance Systems (APAS 4.0) have been further improved, allowing DJI Air 2S to actively avoid obstacles in more complex scenarios and at high speeds.
Avoid collisions with other drones and aircraft
This DJI drone provides an added layer of airspace safety with the industry-leading AirSense safety system. This receives Automatic Dependent Surveillance-Broadcast (ADS-B) flight location information from airplanes and helicopters in your area that transmit ADS-B signals, displays those aircraft on a map, and provides audio and visual alerts through the DJI Fly app to help you keep the drone out of the way of those aircraft.
Aircraft

Takeoff Weight
595 g
Dimensions
Folded:
180×97×77 mm (length×width×height)

Unfolded:
183×253×77 mm (length×width×height)
Diagonal Length
302 mm
Max Ascent Speed
6 m/s (S Mode)
6 m/s (N Mode)
Max Descent Speed
6 m/s (S Mode)
6 m/s (N Mode)
Max Service Ceiling Above Sea Level
5000 m
Max Flight Time (no wind)
31 minutes
Max Hovering Time (no wind)
30 minutes
Max Flight Distance (no wind)
18.5 km
Max Flight Speed (near sea level, no wind)
19 m/s (S Mode)
15 m/s (N Mode)
5 m/s (C Mode)
Max Wind Speed Resistance
8.5-10.5 m/s
Max Tilt Angle
35° (S Mode)
25° (N Mode; 35° under heavy winds)
Max Angular Velocity
250°/s (S Mode)
90°/s (N Mode)
Operating Temperature Range
0° to 40°C (32° to 104°F)
(upward sensors and camera AF will be disabled at -10°C or lower)
Operating Frequency
2.4 GHz
5.8 GHz
Transmission Power (EIRP)
2.4 GHz:
FCC: ≤30 dBm
CE: ≤20 dBm
SRRC: ≤20 dBm
MIC: ≤20 dBm
5.8 GHz:
FCC: ≤30 dBm
CE: ≤14 dBm
SRRC: ≤29 dBm
Hovering Accuracy Range
Vertical:
± 0.1 m (with vision positioning)
± 0.5 m (with GPS positioning)

Horizontal:
± 0.1 m (with vision positioning)
± 1.5 m (with GPS positioning)
Propellers
Quick release, low noise, folding
Aircraft Arms
Foldable
GNSS
GPS+GLONASS
Compass
Single Compass
IMU
Single IMU
Internal Storage
8 GB

Intelligent Flight Battery

Capacity
3500 mAh
Voltage
11.55 V
Max Charging Voltage
13.2 V
Battery Type
LiPo 3S
Energy
40.42 Wh
Weight
198 g
Charging Temperature Range
5° to 40°C (41° to 104°F)
Max Charging Power
38 W
Built-in Battery
N/A

Camera

Sensor
1" CMOS
Effective Pixels: 20 MP; 2.4μm Pixel Size
Lens
FOV: 88°
AF, 35 mm Format Equivalent: 22 mm
Aperture: f/2.8
Shooting Range: 0.6 m to ∞
ISO Range
Video:
100-3200 (Auto)
100-6400 (Manual)
10-Bit Dlog-M Video:
100-800 (Auto)
100-1600 (Manual)
Photo:
100-3200 (Auto)
100-12800 (Manual)
Still Image Size
20 MP
5472×3648 (3:2)
5472×3078 (16:9)
Still Photography Modes
Single shot: 20 MP
Burst shooting: 20 MP (continuous burst)
Auto Exposure Bracketing (AEB): 20 MP, 3/5 bracketed frames at 0.7 EV bias
Timed: 20 MP, 2/3/5/7/10/15/20/30/60s
SmartPhoto (including HDR and HyperLight): 20 MP
HDR Panorama:
Vertical (3×1): 3328×8000 (width×height)
Wide-angle (3×3): 8000×6144 (width×height)
180° (3×7): 8192×3500 (width×height)
Sphere (3×8+1): 8192×4096 (width×height)
JPEG/DNG (RAW)
Video Resolution
5.4K: 5472×3078 @ 24/25/30 fps
4K Ultra HD: 3840×2160 @ 24/25/30/48/50/60 fps
2.7K: 2688x1512 @ 24/25/30/48/50/60 fps
FHD: 1920×1080 @ 24/25/30/48/50/60/120 fps
MP4/MOV (H.264/MPEG-4 AVC, H.265/HEVC)
Max Video Bitrate
150 Mbps
Supported File System
FAT32/exFAT
Supports a microSD card with a capacity of up to 256 GB.
Digital Zoom
Zoom recording is not available while recording 10-bit videos and 120fps videos.
4K/30fps:
4x;
2.7K/60fps:
4x;
2.7K/30fps:
6x;
1080p/60fps:
6x;
1080p/30fps:
8x

Gimbal

Stabilization
3-axis (tilt, roll, pan)
Mechanical Range
Tilt: -135° to 45°
Roll: -45° to 45°
Pan: -100° to 100°
Pan Axis
Controllable
Controllable Range
Tilt: -90° to 0°(default); -90° to 24° (extended)
Pan: -80° to 80°
Max Controllable Speed (tilt)
100°/s
Angular Vibration Range
±0.01°

Sensing System

Forward
Precision Measurement Range: 0.35-22.0 m
Detection Range: 0.35-44 m
Effective Sensing Speed: ≤15 m/s
Field of View (FOV): 71° (horizontal), 56° (vertical)
Backward
Precision Measurement Range: 0.37-23.6 m
Detection Range: 0.37-47.2 m
Effective Sensing Speed: 12 m/s
Field of View (FOV): 57° (horizontal), 44° (vertical)
Downward
Available Downward Sensors: Dual Vision Sensors + Time of Flight Sensors (ToF)
ToF Measurement Range: 0.1-8 m
Hovering Range: 0.5-30 m
Left/Right
N/A
Upward
Precision Measurement Range: 0.35-22.0 m
Field of View (FOV): 78° (horizontal), 63° (vertical)
Downward Auxiliary Light
Single LED
Video Transmission
Transmission System
O3
2.4 GHz/5.8 GHz Auto-Switching (compatible with OcuSync 2.0)
4-antenna 2T4R
Max Transmission Distance
12 km (FCC), 8 km (CE)
8 km (SRRC), 8 km (MIC)
Live View Quality/Latency
Drone + Remote Controller: 1080p/30fps 12 Mbps <120 ms
Drone + DJI Smart Controller: 1080p/30fps 12Mbps <130 ms
Max Transmission Bitrate
44 Mbps
Operating Frequency
2.4 GHz
5.8 GHz

Remote Controller

Multiple Controllers
N/A
DJI Smart Controller
Supported
Remote Controller Transmission System
OcuSync 2.0
Battery Life
6 hours (4 hours when charging a mobile device)
Supported Mobile Device Connectors
Lightning, Micro USB, USB-C
Max Supported Mobile Device Size
180×86×10 mm (length×width×height)
Operating Temperature
-10° to 40°C (14° to 104°F)
Transmitter Power (EIRP)
2.4 GHz:
FCC: ≤26 dBm
CE: ≤20 dBm
SRRC: ≤20 dBm
MIC: ≤20 dBm

5.8 GHz:
FCC: ≤26 dBm
CE: ≤14 dBm
SRRC: ≤26 dBm

Charger

Charging Input
100-240V, 50/60 Hz, 1.3 A
Charging Output
Charging Port: 13.2 V⎓2.82 A
USB Port: 5 V⎓2 A
Voltage
13.2 V
Rated Power
38 W
This product comes with 12 Months Australian Warranty.
Our products are sourced from authorised Australian suppliers and therefore come with genuine Australian warranty.
Camera Warehouse does not participate in 'Grey Market' or 'Parallel Import' activities.
DJI Air 2S Drone
RC-N1 Remote Controller
Intelligent Flight Battery
Battery Charger
AC Power Cable
3 x Pairs of Low-Noise Propellers
Gimbal Protector
USB Type-C Cable
USB Type-C Remote Cable
Lightning Remote Cable
Micro-USB Remote Cable
2x Control Sticks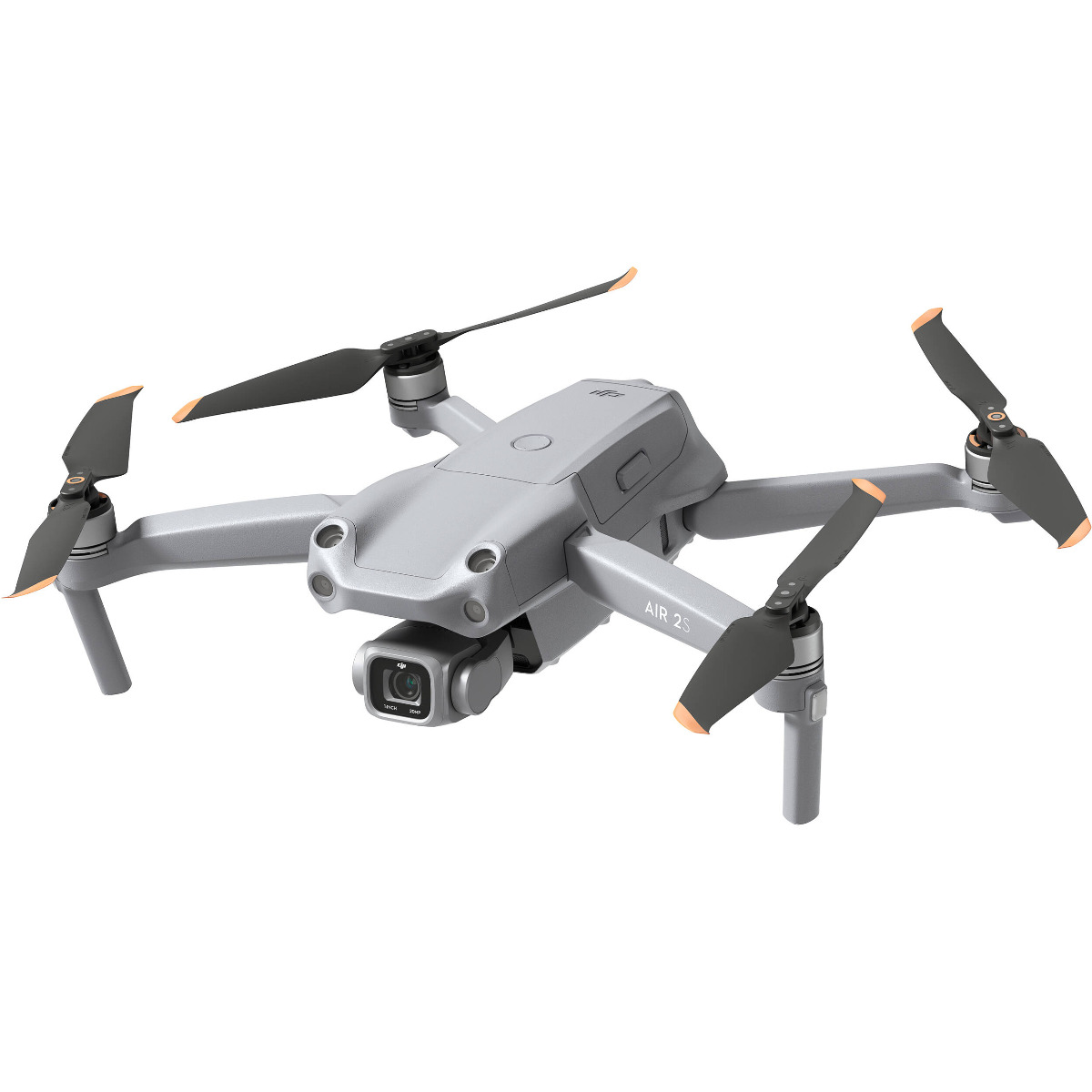 DJI Mavic Air 2S Drone
SKU: DJI CP.MA.00000358.01
UPC: 190021036796