DJI Mavic Air 2 Fly More Combo
Free Shipping for Orders over $98*

(*excludes bulky items)
No SURCHARGE FOR CREDIT CARDS
Quad Bayer 48MP Sensor

28mm f/2.8 lens

4K Footage at 60 FPS

HDR Stills and Video Capabilities

APAS 3.0 Zero-Collision Obstacle Sensors

8K Hyperlapse QuickShots

10KM 1080p Video Transmitter

Extra Propellers, Batteries, and More
The first DJI Mavic Air was one letter away but bears so many similarities that fit right in with the word magic. Two years later, DJI releases a new magical marvel with the DJI Mavic Air 2 Fly More Combo. It has all the goodness of the DJI Mavic Air 2 but with more extras -- extra propellers, batteries, 3 ND filters, battery charging hub, battery to power bank adapter, and a shoulder bag.
While it's bigger and bulkier than its predecessor, it's packing much more under its weighty look. It removed WiFi and now favours its own custom OcuSync technology. Doing this helped DJI achieve 34 minutes of flight time while giving the Mavic Air 2 the capability to transmit 1080p videos even if it's 10km away.
In addition to its amazing capabilities, Mavic Air 2 can detect scenes, which saves time on adjustments when changing settings from tundra, forests, blue skies, sunsets, and sunrises.
Furthermore, it's Quad Bayer sensor might be using the same 48MP sensor tech powerful smartphones use nowadays. The sensor allows it to capture highly-detailed 4K shots at an impressive 60FPS, HDR panorama videos, 8K time-lapse videos, and 4K stills.
All in all, the Mavic Air 2 Fly More Combo is a worthy and powerful successor of the original Mavic Air. It's a worthy investment at its current price tag too.
---
Product Features in Detail
240FPS Slow Motion 1080p Video
Featuring a powerful 48MP sensor found in advanced smartphones, DJI's Mavic Air 2 delivers exceptional 4K videos with the whopping motion clarity of 60FPS and 1080p Full HD videos at 240FPS. Capture rich cinematic detail with full slow-motion capabilities without any lags or downtime.
The Most Dynamic Camera in the Series
The Quad Bayer image sensor allows DJI Mavic Air 2 the capacity to shoot videos and photographs with full dynamics capturing the light and dark details at different levels like never before. High dynamics make for an eye-catching picture that is colourful, nuanced, and beautifully balanced.
48MP Videos
In addition to 48MP standard and panoramic stills, the Mavic Air 2 can capture 48MP photographs and videos. Using the HEVC (H.265) video codec allows it to record more image information while improving the built-in drone data storage capacity. In doing so, you capture the fullness of any video's dynamic range and detail.
SmartPhoto Synthesis
Integrating scene recognition, HyperLight, and HDR into one single feature allows the Mavic Air 2 to identify pre-existing sceneries and choose the best parameters for scenes. Whether you're shooting in snow, skies, low-light sunsets, grass, and forestry, the Mavic Air 2 saves your time by adjusting its settings on the fly.
Longer Flight Time
With a maximum flight speed of 68 KPH and an impressive battery life of 34 minutes, you can capture and accomplish so much in just a short span of time.
Advanced Obstacle and Aircraft Warning
The Mavic Air 2 perceives its environment in three directions. In doing so, it avoids collisions from the top, middle, and bottom.
Aircraft
Weight
570 g
Size

Folded:
180×97×84 mm (Length×Width×Height)
Unfolded:
183×253×77 mm (Length×Width×Height)

Diagonal Distance
302 mm
Max Ascent Speed
4 m/s (S Mode)
4 m/s (N Mode)
Max Descent Speed

3 m/s (S Mode)
3 m/s (N Mode)
5 m/s (S Mode during a sharp descent)
3 m/s (all modes at elevations over 4500 m)

Max Service Ceiling Above Sea Level
5000 m
Max Flight Time (without wind)
34 minutes
Max Hover Time (without wind)
33 minutes
Max Flight Distance
18.5 km
Max Horizontal Flight Speed
19 m/s (S Mode)
12 m/s (N Mode)
5 m/s (T Mode)
Satellite Systems
GPS+GLONASS
Internal Storage
8 GB
Battery
Capacity
3500 mAh
Voltage
11.55 V
Charging Voltage Limit
13.2 V
Battery Type
LiPo 3S
Energy
40.42 Wh
Weight
198 g
Camera
Sensor

1/2" CMOS
Effective Pixels: 12 MP and 48 MP

Lens

FOV: 84°
Equivalent Focal Length: 24 mm
Aperture: f/2.8
Focus Range: 1 m to ∞

ISO

Video:
100-6400

Photo (12 MP):
100-3200 (Auto)
100-6400 (Manual)
Photo (48 MP):
100-1600 (Auto)
100-3200 (Manual)

Max Photo Resolution
Photo Modes

Single: 12 MP and 48 MP
Burst: 12 MP, 3/5/7 frames
Automatic Exposure Bracketing (AEB): 12MP, 3/5 Frames at 0.7EV Bias
Timed: 12 MP 2/3/5/7/10/15/20/30/60 seconds
SmartPhoto: Scene Recognition, HyperLight, and HDR
HDR Panorama:
Vertical (3×1): 3328×8000 pixels (Width×Height)
Wide (3×3): 8000×6144 pixels (Width×Height)
180° Panorama (3×7): 8192×3500 pixels (Width×Height)
Sphere (3×8+1): 8192×4096 pixels (Width×Height)

Photo Formats
Video Resolution and Frame Rates

4K Ultra HD: 3840×2160 24/25/30/48/50/60 fps
2.7K: 2688×1512 24/25/30/48/50/60 fps
FHD: 1920×1080 24/25/30/48/50/60/120/240 fps
4K Ultra HD HDR: 3840×2160 24/25/30 fps
2.7K HDR: 2688×1512 24/25/30 fps
FHD HDR: 1920×1080 24/25/30 fps

Color Profiles
Video Formats

MP4/MOV (H.264/MPEG-4 AVC, H.265/HEVC)

Max Bitrate
120 Mbps
Supported SD Cards

Supports a microSD with capacity of up to 256 GB
13.2 V

Vision System
Vision System

Downward, Forward, Backward

Forward Field of View
71° (Horizontal)
56° (Vertical)
Backward Field of View
44° (Horizontal)
57° (Vertical)
Safety
Obstacle Avoidance System

Advanced Pilot Assistance Systems (APAS) 3.0

Video Transmission
Transmission System

OcuSync 2.0
2.4 GHz/5.8 GHz Auto-Switching

Max Transmission Distance

10 km (FCC), 6 km (CE), 6 km (SRRC), 6 km (MIC)

Live View Quality
This product comes with 12 Months Warranty from DJI Australia.
Our products are sourced from authorised Australian suppliers and therefore come with genuine Australian warranty.
Camera Warehouse does not participate in 'Grey Market' or 'Parallel Import' activities.
DJI Mavic Air 2, 3 x Intelligent Flight Battery, Battery Charger, Remote Controller, AC Power Cable, USB Type-C RC Cable, Lightning RC Cable, USB Type-C Cable, Micro-USB RC Cable, 6 x Pair of Low-Noise Propellers, Gimbal Protector, Pair of Spare Control Sticks, ND Filter Set (ND16, ND64 & ND256), Limited 1-Year Warranty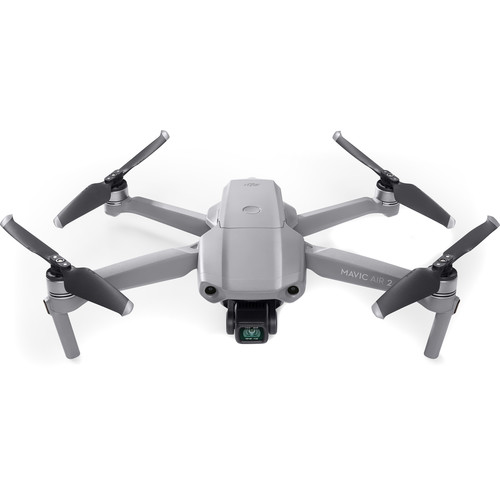 DJI Mavic Air 2 Fly More Combo
SKU: CP.MA.00000173.01
UPC: 6958265100406