Regular Price
A$2,098.00
Special Price
A$1,799.00
save: A$299.00
Free Shipping for Orders over $98*

(*excludes bulky items)
No SURCHARGE FOR CREDIT CARDS
Immersive Flight Experience

4K/60FPS Super-Wide 150 Field of View

10KM HD Low-Latency Video Transmission

S, N, M Flight Modes

Emergency Brake and However

Fully Assembled

Auxiliary Bottom Light

Comes With Motion Controller and Immersive Goggles
Take your drone cinematography and stills to the next level with the DJI FPV Drone Combo. The newest and most advanced drone in existence, the DJI FPV Drone Combo has a remarkable immersive flight experience made possible by its specially-manufactured goggles. Unlike other drones, you can take your DJI FPV Drone Combo at higher speeds and top-notch maneuvering thanks to its advanced design, hardware, and performance.
The Goggles V2 included with your DJI FPV Drone Combo gives you a full 150-degree viewing experience. To make controls intuitive, the DJI FPV Drone Combo has re-designed DJI Motion Controller, which allows you to maneuver your drone using natural hand motions, making it feel like a part of your body and easy for beginners to use.
The DJI FPV Drone Combo has a powerful 4K/60FPS super-wide 150 FOV on a 1-axis gimbal. Alternatively, you can use 1080p/120FPS for ultra slow-mo videos. The DJI FPV Drone Combo captures all its videos at 120mbps within a low-latency transmission range of 10KM, ensuring a high-fidelity output each time. The drone has a battery life of 20 minutes and comes out of the box fully assembled and ready for use.
A DJI FPV Drone Combo buyer's box comes with the FPV drone, Goggles V2 + battery, Remote Controller 2, DJI FPV Power Adapter, a set of DJI FPV propellers and other cables and accessories. Plus, you have free access at DJI's Flight Apps tutorials and simulators to take your skills up to task and maximize the drone's possibilities! For the DJI FPV Drone Combo, beginner FPV pilots can connect their Goggles V2 and Motion Controller to their smartphone, activate the DJI Virtual Flight app, and start learning how to fly drones properly.
Lastly, if anything happens to your drone due to an accident, you can purchase the optional DJI Care Refresh 1-year or 2-year plan. The 1-Year plan gives you two replacement units for just a fraction of the DJI FPV Drone Combo's price. Alternatively, the 2-Year Plan gives you three replacements in two years without any extra charges.
---
Product Features in Detail
High-Definition Video Capture at 4K/60FPS
Revolutionizing the power of drone photography and videography, the DJI FPV Drone Combo allows you to capture photos and videos at 4K/60FPS thanks to its 12MP ½.3" sensor . Plus, you can go for 1080p/120FPS for the best 120FPS slow-motion action shots from your 150-degree FOV.
Goggles V2 and Advanced Intuitive Motion Controller 2
Get the best immersive flight possible with the DJI FPV Drone Combo's Goggles V2 and Advanced Intuitive Motion Controller 2. The motion controller uses your natural hand movements, allowing even the most inexperienced beginner to enjoy the flying and video recording experience.
Fully Assembled and Use Right Out The Box
While the DJI FPV Drone Combo has a modular design, it comes fully assembled right out the box. No need to assemble it. But, if something happens, you can purchase a parts replacement kit and address it quickly thanks to the drone's modular design.
Built-in Accident-Prevention Mechanisms
To avoid emergency collisions, the DJI FPV Drone Combo has a built-in emergency brake and hover mode. This function works in sync with the drone's sensors, saving your drones from any possible collision, which is helpful for high-speed and fully-maneuverable drones.
Accident Damage Coverage
You can purchase the optional 1-Year or 2-Year DJI Care Refresh Plan to get 2-3 replacements if an accident damages and disables your drone from properly functioning.
Sensor

1/2.3" CMOS

Effective pixels: 12 million
Lens

FOV: 150°

35mm Format Equivalent: 14.66 mm
Aperture: f/2.8
Focus Mode: Fixed Focus
Focus Range: 0.6 m to ∞
ISO

100-12800

Shutter Speed

1/50-1/8000 s

Still Photography Modes

Single shot

Max Image Size

3840×2160

Photo Format

JPEG

Video Resolution

4K: 3840×2160 at 50/60fps

FHD: 1920×1080 at 50/60/100/120fps
Video Formats

MP4/MOV (H.264/MPEG-4 AVC, H.265/HEVC)

Max Video Bitrate

120 Mbps

Color Profile

Standard, D-Cinelike

RockSteady EIS

Available

Distortion Correction

Available

Supported File Formats

exFAT (recommended)

FAT32

Gimbal

Mechanical Range

Tilt: -65° to 70°

Controllable Range

Tilt: -50° to 58°

Stabilization

Single-axis (tilt), electronic roll axis

Max Control Speed

60°/s

Angular Vibration Range

±0.01° (N mode)

Electronic Roll Axis

Available (can stabilize footage when the aircraft is tilted at angles of up to 10°)

Aircraft

Takeoff Weight

Approx. 795 g

Dimensions

255×312×127 mm (with propellers)

178×232×127 mm (without propellers)
Diagonal Distance
Max Ascent Speed

M mode: No limit

S mode: 15 m/s
N mode: 8 m/s
Max Descent Speed

M mode: No limit

S mode: 10 m/s
N mode: 5 m/s
Max Speed

140 kph; M mode: 39 m/s (27 m/s in Mainland China)

S mode: 27 m/s
N mode: 15 m/s
Max Acceleration

0-100 kph: 2 s (in ideal conditions while flying in M mode)

Max Service Ceiling Above Sea Level

6,000 m

Max Flight Time

Approx. 20 mins (measured while flying at 40 kph in windless conditions)

Max Hover Time

Approx. 16 mins (measured when flying in windless conditions)

Max Flight Distance

16.8 km (measured while flying in windless conditions)

Max Wind Speed Resistance

39-49 kph (25-31 mph)

Operating Temperature

-10° to 40° C (14° to 104° F)

Transmitter Power (EIRP)

2.400-2.4835 GHz

FCC: ≤ 31.5dBm
CE: ≤ 20 dBm
SRRC: ≤ 20 dBm
MIC: ≤ 20 dBm
5.725-5.850 Ghz
FCC: ≤ 31.5 dBm
CE: ≤ 14 dBm
SRRC: ≤ 25.5 dBm
Number of Antennas

Four

GNSS

GPS+GLONASS+GALILEO

Hovering Accuracy Range

Vertical:

±0.1 m (with Vision Positioning)
±0.5 m (with GPS positioning)
Horizontal:
±0.3 m (with Vision Positioning)
±1.5 m (with GPS positioning)
Supported SD Cards

microSD (up to 256 GB)

Internal Storage

N/A

Sensing System

Forward

Precision Measurement Range: 0.5-18 m

Obstacle Sensing: Available in N mode only
FOV: 56° (horizontal), 71° (vertical)
Downward (dual vision sensors + ToF)

ToF Effective Sensing Height: 10 m

Hovering Range: 0.5-15 m
Vision Sensor Hovering Range: 0.5-30 m
Downward Auxillary Light

Single LED

Operating Environment

Refers to non-reflective, discernible surfaces

Diffuse reflectivity >20% (e.g. walls, trees, people)
Adequate lighting conditions (lux >15 in normal indoor lighting conditions)

Charger

Input

100-240 V, 50/60 Hz, 1.8 A

Output

Battery charging interface:

25.2 V ± 0.1 V
3.57 A ± 0.1 A (high current)
1 A ± 0.2 A (low current)
USB Port:
5V/2A (×2)
Rated Power

86 W

Intelligent Flight Battery

Battery Capacity

2000 mAh

Voltage

22.2 V

Max Charging Voltage

25.2 V

Battery Type

LiPo 6S

Energy

44.4 Wh@0.5C

Discharge Rate

Standard: 10C

Weight

295 g

Charging Temperature

5° to 40° C (41° to 104° F)

Max Charging Power

90 W

Video Transmission

Operating Frequency

2.400-2.4835 GHz

5.725-5.850 GHz
Communication Bandwidth

40 MHz (Max.)

Live View Mode

Low-Latency Mode: 810p/120fps ≤ 28ms

High-Quality Mode: 810p/60fps ≤ 40ms
Max Video Bitrate

50 Mbps

Transmission Range

10 km (FCC), 6 km (CE), 6 km (SRRC), 6 km (MIC)

Audio Transmission Support

Yes
This product comes with 12 Months Australian Manufacturer WarrantyOur products are sourced from authorised Australian suppliers and therefore come with genuine Australian warranty. Camera Warehouse does not participate in 'Grey Market' or 'Parallel Import' activities.
DJI FPV Drone, DJI FPV Intelligent Flight Battery, DJI FPV Propellers (Pair)
DJI FPV Gimbal Protector, DJI FPV Top Shell, DJI FPV Remote Controller 2
Spare Control Sticks (Pair), DJI FPV Goggles V2, DJI FPV Goggles Antenna (Dual Band)
DJI FPV Goggles Battery, DJI FPV Goggles Power Cable (USB-C), DJI FPV Goggles Headband, DJI FPV Goggles Foam Padding, DJI FPV AC Power Adapter
DJI FPV AC Power Cable, USB-C Data Cable, USB-C OTG Cable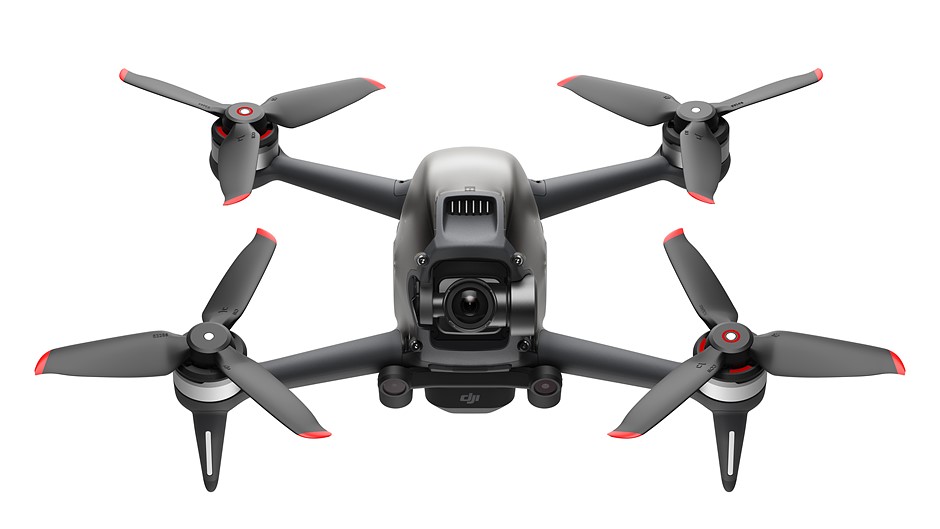 DJI FPV Drone Combo
SKU: DJI CP.FP.00000001.01
UPC: 190021029491