Canon WFTE7E Ver2 Wireless File Transmitter
Free Shipping for Orders over $98*

(*excludes bulky items)
No SURCHARGE FOR CREDIT CARDS
For Wired or Wireless File Transfers
For Use With Canon EOS 5DS R
Supports Wired LAN Ethernet 10BASE-T, 100BASE-TX, and 1000BASE-T
Supports Wireless LAN IEEE 802.11 a/b/g/n
GPS Devices Can Connect via Bluetooth
DLNA Media Server Compatible
Designed for use with Canon EOS 5DS R, WFTE7E Ver2 Wireless File Transmitter allows wired or wireless file transfers. It is designed to supports wired LAN Ethernet 10BASE-T, 100BASE-TX, and 1000BASE-T and wireless LAN IEEE 802.11 a/b/g/n. DLNA Media Server compatibility is also supported and also GPS devices can connect via Bluetooth for direct geotagging capabilities.
---
Product Features in Detail


Support for wired LAN Ethernet-1000BASE-T for high speed communication
For wired connections, the WFT-E7E Ver2 supports Gigabit (LAN Ethernet-10BASE-T, 100BASE-TX, and 1000BASE-T) as well. For circumstances that do not allow for a wireless transfer, this option is ideal for photographers who want secure and even faster data transfers.

Enhanced linked multi-camera shooting
The Wireless File Transmitter WFT-E7E Ver2 offers enhanced linked multi-camera shooting—It's possible to link up to 10 cameras to take a picture of one subject simultaneously. It has improved linkage to a WFT server allowing it to start simultaneously when the master camera and slave cameras are manually connected. Each slave camera will have its own IP address to gain access to the server allowing the user to conveniently browse and load images. If desired, when the user accesses the master camera to release the shutter, the slave cameras, in turn, will perform the same.

Media server (DLNA) supported
Canon understands the needs of EOS DSLR camera users to have a wide range of options when handling and viewing their images on a variety of devices as electronics become more connected than ever before. Now, the Wireless File Transmitter WFT-E7E Ver2 can transfer images through a local area network connection to a DLNA Certified® device. DLNA (Digital Living Network Alliance) makes it possible for a range of electronics to work seamlessly together regardless of brand. If desired, photographers can easily and conveniently view their images (JPEG only) stored on the EOS DSLR camera on a TV or mobile device.

Wireless time syncing
Syncing cameras is simple with the Wireless File Transmitter WFT-E7E Ver2's wireless time syncing feature. Capable of syncing time on up to ten EOS 5DS R's, the WFT-E7E Ver2 enables recording of a timed succession of images from different sources and can be saved with a dependable level of precision. Event photographers will find this feature especially helpful as it's now possible to make time adjustments without having to connect directly to a computer.

Bluetooth-compatible GPS devices can be connected wirelessly
For even more versatile connectivity, an internal Bluetooth function (Bluetooth v2.1 + EDR) allows the transmitter to have a secure connection to third-party Bluetooth compatible GPS devices, making it possible to append location information for each file during high-volume data transfers.

USB terminal for easy connectivity
A USB terminal provides a fast and easy connection between the Wireless File Transmitter WFT-E7E Ver2 and the EOS 5D Mark III. The EOS Utility software's features can be used when connected via USB so no matter the situation, you'll be able to have a fully functional workflow.
Type
Image transfer accessory compatible with IEEE 802.11a, IEEE 802.11b, IEEE 802.11g and IEEE 802.11n wireless LAN support (IPsec-compatible). Can support GPS devices with an internal Bluetooth function.
Compatible Cameras
Canon EOS 5DS R
FTP Transfer
Transfer images over a network to FTP servers
EOS Utility
EOS Utility-based control of cameras over a network
WFT Server
Browser-based remote capture and downloading of images over a network
Linked Shooting
·Max. 10 cameras
·Transmission Range: 328.1 ft. / 100m from the master camera (when single strength is favorable)
·WFT Server Start: possible when connecting manually to slave camera
Transmission Range
Linked Shooting:
Approx. 328.1 ft. / 100 m from the master camera when signal strength is favorable
Wireless LAN:
Approx. 492.1 ft. / 150 m
·With no obstructions between the transmitting and receiving antennas and no radio interference·When a large, high-performance antenna is installed at a wireless LAN access point
Bluetooth v2.1 + EDR:
Approx. 32.8 ft. / 10 m
Camera Connection
USB Terminal
Wired Lan Connection
Ethernet 10BASE-T, 100BASE-TX, 1000BASE-T
External Device Connection
Available
Power Supply
Powered by one Battery Pack LP-E6
Image Transfer Capacity
Note:
·Using a fully charged LP-E6
·Under Camera & Imaging Products Association (CIPA) conditions for testing shooting capacity, when using automatic image transfer with images that are approx. 6MB.
·Fewer images can be transferred if the wireless LAN transfer rate drops, and for consecutive image transfer over wireless LAN.
·If the remaining battery level drops below 19%, captured images cannot be transferred.
W x H x D
5.3 x 1.2 x 2.4/134.1mm x 31.1mm x 62.2mm
Ounces/grams
5.8oz./165g
Temperature
32°F to 104°F/0°C to 40°C
Humidity
85% or less
This product comes with 12 months Warranty with Canon Australia
Our products are sourced from authorised Australian suppliers and therefore come with genuine Australian warranty.
Camera Warehouse does not participate in 'Grey Market' or 'Parallel Import' activities.
Canon WFTE7E Ver2 Wireless File Transmitter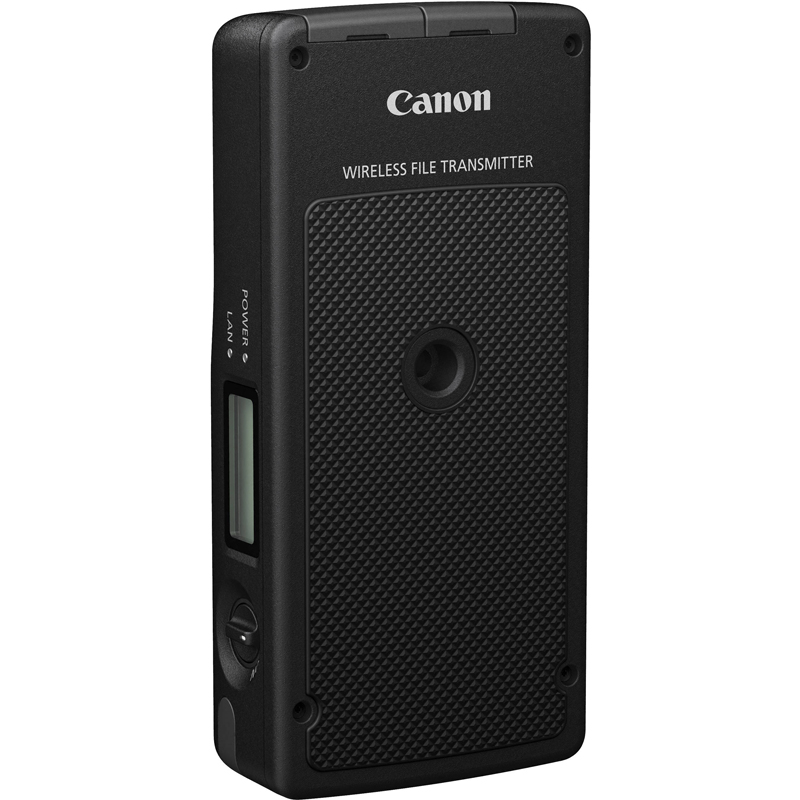 Canon WFTE7E Ver2 Wireless File Transmitter