Canon Legria HF G40 Video Camera - HFG40
Free Shipping for Orders over $98*

(*excludes bulky items)
No SURCHARGE FOR CREDIT CARDS
20x Optical Zoom and 400x Digital Zoom
2.91 megapixels 1/2.84 type advanced HD CMOS PRO Sensor
3.5" (8.8cm) Organic LED touch screen, 100% view
SM-V1 microphone
Intelligent IS with advanced dynamic mode
F1.8 to F2.8 (8 Blade Circular Aperture)
AVCHD and MP4 formats
SDXC/SDHC/SD memory card
Wide DR Gamma
Control settings remotely and share with Wi-Fi
Simultaneous recording of AVCHD and MP4
Full manual control
Instant AF; Face Detection
2 Years Genuine Warranty from Canon Australia
Shoot your videos like a pro with Canon's Legria HF G40 Video Camera and see how perfect your shots can be. With 2.91 megapixels 1/2.84 type advanced HD CMOS PRO Sensor, 20x Optical Zoom and 400x Digital Zoom, you can accommodate the videos in its most detailed imaging. The stabiliser and control settings can be remotely shared via Wi-Fi. Rolled into one compact body, this camcorder is perfect for video enthusiasts who want to complement their creativity with professional quality videos. With the Intelligent IS with advanced dynamic mode, you can say goodbye to blurry images. The cam records videos in AVCHD and MP4 format simultaneously and can be saved to the SDXC/SDHC/SD memory cards for future use. Video review can be shared through its 3.5" (8.8cm) Organic LED touch screen with 100% view and voices and third party sound are recorded via the SM-V1 microphone. Once you grab the Legria HF G40 Video Camera, you'll be in full manual control while focusing to a particular object can be made in an instant thanks to the Instant AF; Face Detection. As for the Wide DR Gamma, it compresses high brightness areas flawlessly and offers an expanded dynamic range of 600%.
---
Product Features in Detail

Professional video quality
Capture outstanding high bitrate AVCHD 1080p video with variable frame rates in any light thanks to an extensive range of professional features and manual controls. These include a high sensitivity 1/2.84 type CMOS PRO sensor, a large 8-bladed aperture, Wide DR and Highlight Priority modes and powerful optical image stabilisation.

Versatile handheld shooting
The LEGRIA HF G40 offers great versatility in a compact handheld design. Capture broad landscapes and detailed close ups with the bright 20 x wide angle f/1.8 zoom lens and simultaneously record in both AVCHD and MP4 format. A high resolution, tilting viewfinder allows use in tight spaces and from many awkward angles.

Advanced connectivity
Wi-Fi allows remote shooting via your smart device with control of shutter speed, focus and exposure. A wide range of advanced connections include mic and headphone sockets, direct HDMI and AV out, a Mini Advanced Shoe and tripod mount, USB and dual SD card slots. Geo-tagging is also available via optional accessory.

Quick custom control
Enjoy fast access to essential functions thanks to intuitive touchscreen menus and touch-autofocus with focus recall. A switchable zoom/focus ring plus customisable function buttons and dial, which keep your most used controls to hand, speed up operation so you don't miss a shot.

Creative footage
Switch between full auto, manual and Cinema mode, which lets you quickly shoot creative footage with movie-style filters that can be applied during or after recording. Get dramatic effects with slow motion and timelapse recording and capture great audio. Selectable focus speed adds to your creativity.
VIDEO SYSTEM

MP4 / AVCHD

SDXC / SDHC / SD (2 slots)

Double slot recording
Relay recording

Variable total, depending on memory card size¹

64GB SDXC card: 24hrs 30mins²³ (not supplied)
SENSOR

1/2.84 Type Advanced HD CMOS PRO

3.09MP (2208x1398)

2.91MP (2136x1362)

2.07 megapixels (16:9)

RGB Primary Colour Filter

LENS

20x

400x

3.67 - 73.4mm

35mm Equivalent Focal Length

26.8 - 576 (without Dynamic IS)

28.8 - 576 (with Dynamic IS)

f1.8 - f2.8

8 Blade Circular Diaphragm

Minimum focusing distance

10mm

Optical Image Stabiliser, Intelligent IS

58mm

Optional TL-H58

Wide Attachment Accessory

Optional WD-H58 (not included)

No

Included cap, plus integrated cover on lens hood

IMAGE PROCESSOR

DIGIC DV 4

Face Detection Technology

Yes

SCREEN

3.5" (8.77cm), 100% view

Yes

1.23m dots equivalent

Yes - Capacitive type Organic LED panel

Yes

Yes

Yes

Colour balance, brightness standard/high

WI-FI FUNCTION

2.4GHz / 5GHz¹

Remote Control & Streaming

Yes

Yes

Yes

Yes

Yes

GPS SUPPORT

Yes (via accessory GP-E2, not included)

EXTERNAL HDD STORAGE

Direct storage to external HDD

No

VIEWFINDER

0.24" (0.61cm), 100% view

1.56m dots equivalent

MINIMUM ILLUMINATION

1 lux

Low Light (0.1 lux)

Auto Gain Control Limit Adjustment

Yes

FOCUS

Yes / Yes

Auto: Face Detection AF, Face Only AF, Instant AF, Medium AF, TV AF

Manual: Lens Ring, Touchscreen LCD, Focus Preset

Peaking, Magnification

CREATIVE FEATURES

1/2 speed

2x, 4x, 10x, 20x, 60x, 120x, 1200x

Yes, select from 2, 4, or 8 seconds

No

No

Yes, Cinema Standard, Vivid, Dream, Cool, Sepia, Old Movies, Memory

AE MODE

Yes

Manual Mode: P, Tv, Av, M

Scenes - Portrait, Sports, Snow, Beach, Sunset, Night, Low Light, Spotlight, Fireworks
Cinema Mode: P, Tv, Av, M

Yes

BACKLIGHT COMPENSATION

Yes (auto or user controlled)

WHITE BALANCE

FAWB

Yes

Set 1, Set 2, Daylight, Shade, Cloudy, Tungsten, Fluorescent, Fluorescent H, Colour Temperature

2,800K to 8,000K

SHUTTER SPEED

1/2000 sec

1/6 sec

IMAGE QUALITY ADJUSTMENT

Standard, Wide DR, Highlight Priority

Brightness, Contrast, Sharpness, Colour Depth

CUSTOM CONTROL

5 buttons plus dial

STILL IMAGE

1920x1080 (not cinema mode)

Simulaneous Photo Recording

Yes

Touchscreen LED

REC. REVIEW/REC. SEARCH

Yes

RECORDING MODE

MP4 and AVCHD

AVCHD¹²

1920x1080 50p 28Mbps
1920x1080 50i/25p 24Mbps 17Mbps
1440x1080 50i/25p 5Mbps
MP4¹²
1920x1080 50p 35Mbps
1920x1080 25p 24Mbps, 17Mbps
1280x720 25p 4Mbps
640x360 25p 3Mbps

Progressive Shooting Mode

50p, 25p

Slow and Fast Motion Recording

Yes

Multi Directional Inverted

Yes

Yes (during recording)

Yes

Colour Bars and Test Tone

Off/EBU/SMPTE

Rec Run/Free Run

MEMORY CARD

SD / SDHC / SDXC

Yes

Yes, card A to B

AUDIO

Stereo Electret Condenser Mic

Dolby Digital 2ch (AC-3 2ch) 5.1ch surround sound (via Optional SM-V1 microphone)

Yes

Yes (customisable frequency response and directionality)

Manual Rec. Level Control

Yes

Built in: Mic Wind Screen, Mic Attenuate, Mic Frequency Response, Directionality

Input Jack: Mic Attenuate, Mic Low Cut

Internal mic with external input

TERMINAL

Yes

Yes

Yes (Mini B, USB 2.0 Hi-Speed)

Yes (output only)

No

Yes (HDMI Mini Connector: v1.3, output only, CEC supported)

Yes

Yes

Yes

Yes

ACCESSORY SHOE

Yes ( cold shoe and mini Advanced Accessory Shoe)

PC CONNECTION KIT

Yes

Yes

WIRELESS REMOTE CONTROL

Yes

BATTERY PACK

Lithium Ion

Intelligent Battery System

Yes

Battery Included in the Kit

BP-820

Max Recording Time (Included Battery)

3hrs

BP-828

4hrs 35mins¹

DIMENSIONS

115 x 84 x 231mm (with lens hood)

900g (with lens hood and battery)
This product comes with 5 Year Warranty from Canon Australia.
Our products are sourced from authorised Australian suppliers and therefore come with genuine Australian warranty.
Camera Warehouse does not participate in 'Grey Market' or 'Parallel Import' activities.
Canon Legria HF G40 Video Camera
Compact Power Adapter CA-570
Wireless Controller WL-D89
Battery Pack BP-820
Stereo Video Cable
Lens Hood with Barrier
USB Cable
High-Speed HDMI Cable
Documentation
2 Years Genuine Warranty from Canon Australia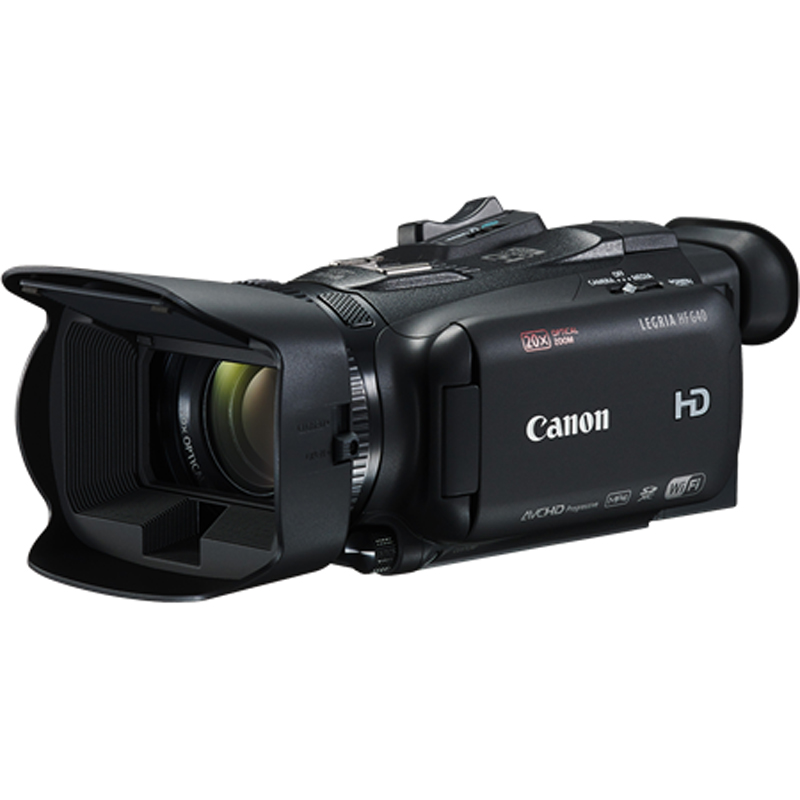 Canon Legria HF G40 Video Camera - HFG40