Bushnell NatureView Cam HD
Free Shipping for Orders over $98*

(*excludes bulky items)
No SURCHARGE FOR CREDIT CARDS
- Up to 8 MP high-quality full color resolution
- Full HD Video resolution (1920x1080p)
- External power compatible
- Multi-image mode: 1-3 images per trigger
- Day/night autosensor
- 0.7-second trigger speed
- Adjustable PIR (Lo/Med/High)or Auto PIR
- Field Scan 2x time-lapse mode takes images at pre-set intervals, 1 minute to 60 minutes
- Programmable trigger interval of 1 sec. to 60 min.
- Video length: 1 second to 60 seconds, programmable
- Temperature range -20°C to 60°C
- Hybrid capture mode - video and photo for every trigger
- PIR sensor is motion activated out to 60 ft. / 18 m
- Adjustable web belt and 1/4-20 socket
- SD card slot (Up to 32 GB)
Up to 8 MP high-quality full color resolution
Full HD Video resolution (1920x1080p)
External power compatible
Multi-image mode: 1-3 images per trigger
Day/night autosensor
0.7-second trigger speed
Adjustable PIR (Lo/Med/High)or Auto PIR
Field Scan 2x time-lapse mode takes images at pre-set intervals, 1 minute to 60 minutes
Programmable trigger interval of 1 sec. to 60 min.
Video length: 1 second to 60 seconds, programmable
Temperature range -20°C to 60°C
Hybrid capture mode - video and photo for every trigger
PIR sensor is motion activated out to 60 ft. / 18 m
Adjustable web belt and 1/4-20 socket
SD card slot (Up to 32 GB)
---
Record your breath-taking Full HD Video resolution (1920x1080p) with Bushnell NatureView Cam and get up to 8 MP high-quality full color resolution. It features multi-image mode: 1-3 images per trigger with 0.7-second trigger speed where you can set the programmable trigger interval of 1 sec. to 60 min. The camera is capable of Field Scan 2x time-lapse mode which takes images at pre-set intervals, 1 minute to 60 minutes. The motion sensor has an Adjustable PIR (Lo/Med/High) or Auto PIR with PIR sensor motion can be activated out to 60 ft. / 18 m offering a dramatically expanded coverage area. Everytime you record media, the video length can be programmed from 1 second to 60 seconds. Its day/night autosensor can detect the working temperature range -20°C to 60°C. Bushnell NatureView Cam features adjustable web belt and 1/4-20 socket and an SD card slot (Up to 32 GB).
---
Project Features in Detail
Audio Record
In video mode, this feature allows you to record audio with the video simultaneously.
Field Scan 2x
Time-lapse technology automatically snaps images at preset intervals of one minute to one hour, within the hours of your choice. Now with two available time slots so you can monitor dusk and dawn movement. Because it's not triggered by animals, it provides the widest viewing area possible. But unlike all other time-lapse cameras, its simultaneous live trigger will still capture images of anything that walks by.
Freeze Frame Shutter
Night vision shutter speed adjustment for ultimate stop action images
GPS Geotag
All 2012 Trophy Cams have the option to embed (manually) GPS coordinates to make tracking animals and camera placement simple.
HD VIDEO 1080p
Records wide-screen video with up to 1920x1080 resolution
Hybrid Capture Mode
Hybrid Capture Mode. Capture full resolution images and video simultaneously on every trigger.
Hyper Night Vision Flash
A quantum leap in distance and brightness, this new system ensures the sharpest after-dark imagery.
Hyper PIR
Hybrid PIR. Motion sensor reaches out to 60 feet /18 meters or beyond and offers dramatically expanded coverage area over leading competitors. This new system's built-in temperature sensor self-regulates the passive infrared sensor for more consistent function in all conditions.
Moon Phase Stamp
Select Bushnell trail cameras have a "moon phase" stamp feature. This links the current date (as set by the user in the setup procedure) to the phase of the moon on that date (this data is stored on an internal memory chip), and imprints a icon on your photo which represents the moon phase when the photo was taken. The moon phase icon will appear on your photos in the lower left, next to the Bushnell logo. Some users will find this to be a useful reference, as it can help determine if particular animals are inactive at night when a full or nearly full moon is present, causing them to be more visible to predators. Or, if some of your night photos seem to have a darker or lighter background (beyond the range of the LED lamps or flash), you can see if that was related to how bright the moon was at the time.
Multi Flash Mode
Allows you to adjust flash power for different setups to conserve battery power where applicable.
No Glow Black LEDs
Completely invisible to animals and human-beings. Also ideal for security surveillance
Temp Stamp
Select Bushnell trail cameras have a temperature stamp feature. This puts a temperature stamp on each picture at the time it was taken.
Wide Screen - 16:9
Now in 16:9 format and 4:3 format. Only featured on 2012 Trophy Cam (119437 - 119447 - 119476 - 119477)
---
Included in the Box
Bushnell NatureView Cam HD
12 Months Genuine Australian Manufacturers Warranty
---
Warranty Information
This Bushnell NatureView Cam HD comes with 12 Months Genuine Australian Manufacturers Warranty.
Our products are sourced from authorised Australian suppliers and therefore come with genuine Australian warranty.
Camera Warehouse does not participate in 'Grey Market' or 'Parallel Import' activities
| | |
| --- | --- |
| Sensor Resolution | 3, 5, 8MP |
| Images Resolution | True 5 MP sensor with 3 MP compression and 8 MP interpolation |
| Flash | 32 LED No Glow Black LED |
| Flash Range (ft. / m) | 60 ft. / 18m |
| Backlit LCD Display | Color Image LCD |
| Exposure | Auto |
| White Balance | Auto |
| Color | Green |
| Battery Type | AA (4-12) |
| Battery Life | Up to 1 year |
| Video Resolution | 1920x1080p |
| Night Vision Infrared Imaging | Yes |
| Infrared Sensor Range (ft. / m) | 60 ft. / 18m |
| Audio Record | Yes |
| Multi Flash Mode | Yes |
| Hyper Night Vision | Yes |
| Auto PIR | Yes |
| Field Scan 2x | Yes |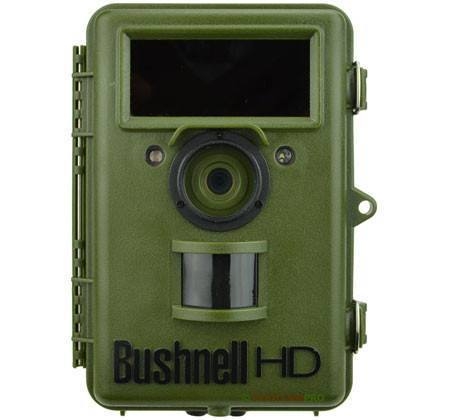 Bushnell NatureView Cam HD