Olympus TG-6 Tough Underwater Camera (Black)
Regular Price
A$608.00
Special Price
A$569.00
save: A$39.00
Free Shipping for Orders over $98*

(*excludes bulky items)
No SURCHARGE FOR CREDIT CARDS
12 Megapixel BSI CMOS Sensor
TruePic VIII Image Processor
High Speed 25-100mm (35mm Equivalent)
Olympus 4x Optical Zoom f/2 Lens
4K Video Recording and Full HD at 120p
3.0" 1.04m-Dot LCD Monitor
ISO 12800 and up to 20-fps Shooting
Sensor Shift Image Stabilization
Pro Capture Mode
Variable Macro System
Waterproof for up to 50 ft/15m
Shockproof for up to 7 ft /2.1 m
Crushproof for up to 220 lbf / 100 kgf
16 ART Filters
Built-In Wi-Fi, GPS, Field Sensor System
Get the best in every shot in your underwater adventure with the Olympus TG-6 Tough Underwater Camera. Maintaining its toughest capabilities in outdoor activities, the TG-6 boasts a 12 Megapixel BSI CMOS Sensor with TruePic VIII Image Processor that promises image noise reduction while maintaining true image colors. Even with a portable size, this supercam exhibits High Speed 25-100mm (35mm Equivalent) with Olympus 4x Optical Zoom f/2 Lens, capable of bringing you 4K Video Recording and Full HD at 120p. Image enhancement however, can be enhanced easily via 16 ART Filters. When shooting on shaky terrain, the Sensor Shift Image Stabilization keeps the images sharp even if the camera moves. Image clarity and low-light performance plus the BSI design of the sensor offers cleaner quality at higher sensitivities of up to ISO 12800 and up to 20-fps Shooting. At close-up shooting, the TG-6 has four shooting modes within the Variable Macro System including Microscope, Microscope Control, Focus Stacking, and Focus Bracketing. Wireless connection is also made possible with the cameras Built-In Wi-Fi, GPS, Field Sensor System. Furthermore, in any activity indoor or outdoor, this cam is made to be waterproof for up to 50 ft / 15 m, shockproof for up to 7 ft / 2.1 m and crushproof for up to 220 lbf / 100 kgf.
---
Product Features in Detail

Tough Performance for Shooting Anytime, Anywhere
The TG-6 delivers Tough performance that is waterproof to 15 m, dustproof, shockproof to 2.1 m, crushproof to 100 kgf, freezeproof to -10℃, and anti-fogging. These features make for worry-free use in the harshest environments.

Waterproof to 15 m
Sealing and a double-lock mechanism delivers waterproof performance up to depths of 15 m. Not only does this make it possible to shoot in heavy rain, but it also lets you shoot while snorkelling.
Dustproof
The design features an airtight construction that shuts out sand and dust. If your camera gets dirty, simply rinse with fresh water to wash off any excess dirt.
Shockproof to 2.1 m
Even with a large, bright f/2.0 lens, this model can still clear drop tests of up to 2.1m. Olympus know-how has been utilised in every facet, including the lens shape, lens positioning, and the lens drive method, resulting in a high level of shock-absorbing performance.
Crushproof to 100 kgf
To protect all inner parts including the lens unit and circuit boards, an interior protective structure which can withstand a weight of 100kgf has been employed. With this crushproof construction, you won't have to worry about accidentally sitting on your camera when carrying it in your back pocket.
Freezeproof to -10℃
Operation at low temperatures is guaranteed down to -10℃. With this feature, you can feel confident capturing your ski and snowboarding trips, and other winter adventures.
Anti-fog
The dual-pane protective glass helps prevent lens fogging in locations with sudden changes in temperature.

LB-T01 Lens Barrier
The new LB-T01 Lens Barrier accessory (available separately) helps protect the lens surface from scratches and dirt. It can be opened and closed easily, by simply turning the edge, even when wearing gloves.

High Image Quality for Improved Detail
The bright F2.0 high-resolution lens delivers high image quality thanks to a combination of the high-speed back-illuminated CMOS image sensor and the latest image processor.

High-resolution F2.0 lens
The TG-6 features a high-resolution, F2.0 lens with an optical 4x zoom. Lenses developed with advanced optical technology are used, including a DSA (Dual Super Aspherical) lens for high image quality. The bright F2.0 lens makes it possible to use a fast shutter speed to reduce subject blur, even when capturing moving subjects in dark locations.

4x optical zoom + 2x digital teleconverter
The TG-6 is equipped with a 2x digital teleconverter, enabling zooming up to 8x (35mm equivalent: 25 - 200mm). It provides a broad range of photography, from wide-angle bird's-eye view of scenic landscapes, to zoomed-in telephoto close-ups of distant subjects.

Image sensor and image processor
This camera is equipped with a high-speed, high-sensitivity back-lit CMOS image sensor, and the TruePic VIII, the same image processor as on the OM-D E-M1 Mark II professional model. This design allows for low noise and high-resolution image quality.

AR coating reduces ghosts and flares
Anti-reflective (AR) coating is now used on both sides of the sealing glass over the image sensor. This construction minimises ghosts and flaring.

RAW photography
The TG-6 allows shooting in RAW format. RAW images can be edited and processed on a computer using the new image editing software, Olympus Workspace. RAW processing on the camera is also supported.

Amazing Variable Macro System
The Variable Macro System consists of four modes and two separately available accessories for macro shooting. This system makes it possible to capture amazing photos of the tiniest details.

Advanced Underwater Shooting
The dedicated underwater mode for capturing high quality images underwater is now more advanced than ever. Accessories that support underwater photography are also enhanced, with the addition of the fisheye converter lens for circular fisheye photography.

5 underwater modes
This model is equipped with five modes that are optimal for underwater shooting. Simply set the mode dial to Underwater.

Underwater WB (White Balance)
There are now three more underwater white balance options to select from in order to achieve the optimal colour reproduction depending on the depth of water. Each of the five underwater modes has the optimal underwater WB preset (can be changed if desired).

Superb System Expandability
The TG-6 features superb system expandability with a wealth of accessories including those for macro shooting and converter lenses. This design also delivers control required in punishing environments.
SD, SDHC[1]

, SDXC

[1]
1 UHS-I compatible.
1/2.33 inch
Number of pixels
Number of effective pixels: 12 million pixels
Total number of pixels: Approx. 12.7 million pixels
Aspect ratio
Aspect ratio: 1.33 (4:3)
9 lens elements in 7 groups
Focal length (equiv. 35mm)
4.5mm -18.0mm (25mm - 100mm)
Maximum aperture
f/2.0 (wide-end) to f/4.9 (tele-end)
Optical zoom
4x
Shooting range (from lens tip)
Throughout entire zoom range: 0.1m - infinite (Super macro : less than f=5.4mm, from 0.1m to 0.3m / above 5.4mm, from 0.01m to 0.3m / Microscope: 0.01m - 0.30m)
DCF2.0, Exif2.3
File format
RAW (12-bit lossless compression), JPEG, RAW + JPEG
Recording image size
[RAW] 4000 x 3000
[JPEG] 4000 x 3000 - 1280 x 960

Image Stabilisation System

Still image: CMOS shift
Mode
On / Off
Stabilisation performance
2.5 EV[*]

(Focal length set to 18 mm. 35 mm Equivalent Focal Length: 100 mm)

Based on CIPA measurement conditions.
Approx. 100% field of view, Exposure compensation preview, WB adjustment preview, Gradation preview, Face detection preview (up to 8 faces), Grid line, Display modes: Standard, Histogram, Highlight & Shadow, Level Gauge, Off
3.0-inch colour LCD[*]
Approx. 1040K dots (Aspect ratio: 3 : 2)
Brightness control
±7 levels
CMOS Contrast Detection (with AF Illuminator)
Focusing point / Focusing point selection mode
25 point / All target, single target
Focus mode
Single AF (S-AF) / AF tracking / Manual Focus (MF) / Super macro (AF) / Super macro (MF)
Face detection AF
With
Manual focus assist
Live View image magnification and focus peaking are available during manual focus operations.
Peaking function
With
Colour selection: white, black, red, yellow
AF illuminator
With

Metering system (TTL Image sensor metering)

Digital ESP metering / spot metering
Metering range
EV 2-20 (f/2.0 / ISO 100)
Exposure mode / Shooting mode
Intelligent Auto (iAUTO), Program Auto (P), Aperture Priority (A), Custom1, Custom2, Underwater (Snap, Wide, Macro, Microscope, HDR), Microscope (Microscope, Focus stacking, Focus bracket, Microscope control), Scene Mode (SCN), Movie
Scene select AE
Portrait, e-Portrait, Landscape, Portrait +Landscape, Hand-held Starlight[*]

, Nightscape, Portrait + Nightscape, Children , Sport , Candlelight, Sunset, Fireworks, Beach & Snow, Panorama, Live Composite, Backlight HDR

6 images automatically shot and combined into a single composite image
ISO sensitivity
AUTO ISO: 100 - 1600 with customisable upper limit from 100 to 12800
Manual ISO: 100 - 12800 (1/3 EV step)
Exposure compensation
±2 EV (1/3 EV step)
AE lock
Locks with a half-press of the shutter button
1/2 to 1/2000 sec. (Night Scene, A mode: up to 4 sec.)

Sequential shooting maximum speed

[Sequential shooting H][*]

: approx. 20 fps with selectable 10 / 20fps

[Sequential shooting L]: approx. 5 fps
[Pro Capture][*]

: approx. 10 fps

Electronic Shutter
Maximum recordable frames prior to second release (for Pro Capture)
Max. 5 frames
Sequential shooting maximum recordable frames
[Sequential shooting H] RAW: Max. 14 frames, JPEG (LN): Until card is full
[Sequential shooting L] RAW: Max. 40 frames, JPEG (LN): Until card is full
Self-timer
Operation time: 12 sec., 2 sec., custom (Wait time: 1-30 sec., Number of shots: 1-10, Shot interval: 0.5 / 1 / 2 / 3 sec.)

Flash intensity control method

TTL Auto, Manual
Built-in flash
With
Flash mode
Auto, Red Eye Reduction, Slow sync. (1st curtain), Red-eye Slow sync. (1st curtain), Fill-in, Manual (1/1 (FULL)-1/64), Flash Off
Synchronization speed
Compatible with all shutter speeds
Flash intensity control
Up to ±2 EV in 1/3 EV steps

Compatible external flash

FL-50R, FL-36R, FL-300R, FL-600R, FL-900R, FL-700WR
Control method
Triggered and controlled by Olympus Wireless RC Flash system
Commander Flash: Built-in flash
Channel
1 channel
Group No.
1 group
Auto WB, 6 Preset WBs, 3 Underwater WBs, 4 Capture WBs, Custom WB (Kelvin setting)
White balance compensation
±7 steps along A-B / G-M axis
Except for Custom WB
sRGB, Adobe RGB
i-Enhance, Vivid, Natural, Muted, Portrait, Monotone, Custom, e Portrait, Art Filters
Gradation
Auto, Normal, High Key, Low Key [except when using i-Enhance, Underwater, Art Filters, Colour Creator]

Art Filter (Variation / Art Effect)

Pop Art (I, II / a, b, c. d, e, f)
Soft Focus ( - / c, e)
Pale & Light Colour (I, II / a, b, c, d, f)
Light Tone ( - / d, f)
Grainy Film (I, II / b, c, d, g, h)
Pin Hole (I, II, III / d)
Diorama ( I,II / d)
Cross Process (I, II / b, c, d, f)
Gentle Sepia ( - / a, b, c, d, f)
Dramatic Tone (I / b, c, d, e, f) (II / b, c, d, e, f, g, h)
Key Line (I, II / a, b, c, d, e)
Watercolour (I, II / a, b, c, d)
Vintage (I, II, III / a, b, c, d, e, f, i)
Partial Colour (I, II, III / a, b, c, d, e, f)
Bleach Bypass (I, II / a, b, c, d, e, f, i)
Instant Film (- / a, b, c, d, e, f, i)
Detail of Art Effect
a. Soft Focus Effect
b. Pin-Hole Effect
c. White Edge Effect
d. Frame Effect
e. Star Light Effect
f. Blur Effect (Top & bottom, Left & Right)
g. B&W Effect (None, Yellow, Orange, Red, Green)
h. Pict. Tone (None, Sepia, Blue, Purple, Green)
i. Shade Effect (Top & bottom, Left & Right)
Colour Ring (for partial colour)
18 colour selectable
Number of images 10 / 20 / 30
Focus step: Wide / Standard / Narrow
Focus stacking
With[*]
Angle of view becomes slightly smaller
HDR[*]
SCN position

Update interval time / composite method

0.5sec - 4.0 sec / Lighten Mode (Bright area prioritisation)
Interval Time 1sec. - 24 Hours, Max 299 frames.
Available to make Time Lapse movies automatically
Available
4:3, 3:2, 16:9, 1:1, 3:4
x2 (P, A, Movie mode), x2 / x4 (Microscope mode)
2-axis
MOV (MPEG-4AVC/H.264)
Mode / Frame rate
[MOV]
3840x2160 (4k) / 30p, 25p (Bit rate: Approx. 102Mbps)
1920x1080 (FHD) / 30p, 25p / IPB (SF, F, N)
1920x1080 (FHD) / 60p, 50p / IPB (SF, F, N)
1280x720 (HD) / 30p,25p / IPB (SF, F, N)
60p: 59.94fps, 50p: 50.00fps, 30p: 29.97fps, 25p: 25.00fps
FHD (Superfine / 52Mbps, Fine / 30Mbps, Normal / 18Mbps)
HD (Superfine / 52Mbps, Fine / 30Mbps, Normal / 18Mbps)
Frame rates may drop when particular Art Filters and Movie Effects are used.
UHS-I Speed Class 3 SD card must be used for 4K video and high speed movie.
Maximum recording time
[MOV]
Approx. 29min
Art Filter Movie
With
Except for 4K and high speed movie
Frame rates may drop when certain Art Filters are used
Time Lapse Movie
[MOV]
3840×2160 (4K) / 5fps
1920×1080 (FHD) / 5fps, 10fps, 15fps
1280×720 (HD) / 5fps, 10fps, 15fps, 30fps
High Speed Movie
1920x1080 (FHD) / 120fps, recording time 20 sec.
1280x720 (HD) / 240fps, recording time 20 sec.
640x360 (SD) / 480fps, recording time 20 sec.
Image Stabilisation for Video
Digital stabilisation (angle of view becomes slightly smaller)
Grid Line
2 types of grid lines
Live View Output via HDMI
Monitor Mode (outputs video and info display to a connected monitor)[*]
Info display is not shown on the camera while recording.
Exposure Control
Programme AE
Wave format (Stereo linear PCM/16-bit, Sampling frequency 48kHz)
Microphone / Speaker
Built-in stereo microphone / built-in mono speaker
Microphone function
Wind noise reduction, recording volume, microphone volume limiter Audio dubbing possible for still pictures (up to 30 sec.)
May affect audio quality.
Via smartphone GPS data
Wireless Control[*]
Live View, Rec View, Wireless Touch AF shutter, Self Timer (w/countdown guidance, consecutive shooting, short video recording), power off, wireless release, video recording (video quality is restricted)
Using the OI.Share app
iAuto / P / A / Live Composite and Microscope can be selected.
Aperture, exposure, ISO sensitivity, white balance. Drove can be adjusted.
Private connection only.
Image Share
File Type: JPEG, MOV
Connect to up to 4 devices simultaneously. Marking function for image share.
Easy Connection
QR code setting
Single-frame, information display, index display (4 / 9 / 25 / 100 frames), calendar, enlargement (2x - 14x), movie (with sound, FF / REW / Pause), slideshow (with sound including BGM, picture rotation (auto)
Information display
Histogram (independent luminance / RGB available), Highlight / Shadow point warning, AF frame, Photographic information, OFF
Trimming (beginning / end) / in-movie image extraction (4K only)
Editing function
RAW data edit, Gradation auto, Monochrome, Sepia, Red-eye fix, Saturation, Resize (1280x960, 640x480, 320x240), Trimming, Aspect, e-Portrait, Image Overlay, Post recording
RAW data edit
RAW data edit based on settings of the camera (including e-Portrait, Art Filter, ART-BKT). Preview capability.
Print reservation (DPOF)
34 languages selectable:
English, French, German, Spanish, Italian, Japanese, Korean, Traditional Chinese, Simplified Chinese, Russian, Czech, Dutch, Danish, Polish, Portuguese, Swedish, Norwegian, Finnish, Croatian, Slovenian, Hungarian, Greek, Slovakian, Turkish, Latvian, Estonian, Lithuanian, Ukrainian, Serbian, Bulgarian, Rumanian, Indonesian, Malay, Thai
JIS/IEC protection class 8 (IPX8)
Dustproof
JIS/IEC protection class 6 (IP6X)
Freezeproof
Down to -10℃
Crushproof
Up to 100 kgf
Shockproof
Up to 2.1 m
GPS (GLONASS,QZSS), compass, manometer, temperature sensor, Acceleration sensor
Modes C1 and C2 can be accessed by mode dial
Copyright Settings
With

Remote controller connector

USB microB
HDMI connector
Micro HDMI (type D)
Wireless LAN
Built-in (IEEE 802.11 b / g / n)
PC interface
USB2.0 Hi-Speed
DC connector
USB micro B
LI-92B Li-ion battery
AC Adapter
F-5AC
Number of recordable images
Approx. 340 shots (using Toshiba SDHC UHS-I Card Exceria with IS ON, based on CIPA test standards)
Battery life for movie recording
Approx. 50 minutes[*]

(under standard JEITA testing)

Approx. 110 minutes (when zoom and other operational functions are not used)
When repeatedly recording at the maximum time of 29 minutes
W: 113 mm H: 66 mm D: 32.4mm
(based on CIPA standards: excludes protrusions)
Weight
Approx. 253 g (with a battery and memory card, based on CIPA standards)
-10 - +40℃ (when in operation) / -20 - +60℃ (when stored)
Humidity
30 - 90% (when in operation) / 10 - 90% (when stored)
Body, USB cable, Hand Strap, instruction manual, warranty card, LI-92B Li-ion battery, F-5AC USB-AC adapter
This product comes with 12 Months Genuine Warranty with Olympus Australia. Our products are sourced from authorised Australian suppliers and therefore come with genuine Australian warranty. Camera Warehouse does not participate in 'Grey Market' or 'Parallel Import' activities.
Olympus TG-6 Tough Underwater Camera (Black)
USB cable
Hand Strap
Instruction Manual
Warranty Card
LI-92B Li-ion battery
F-5AC USB-AC adapter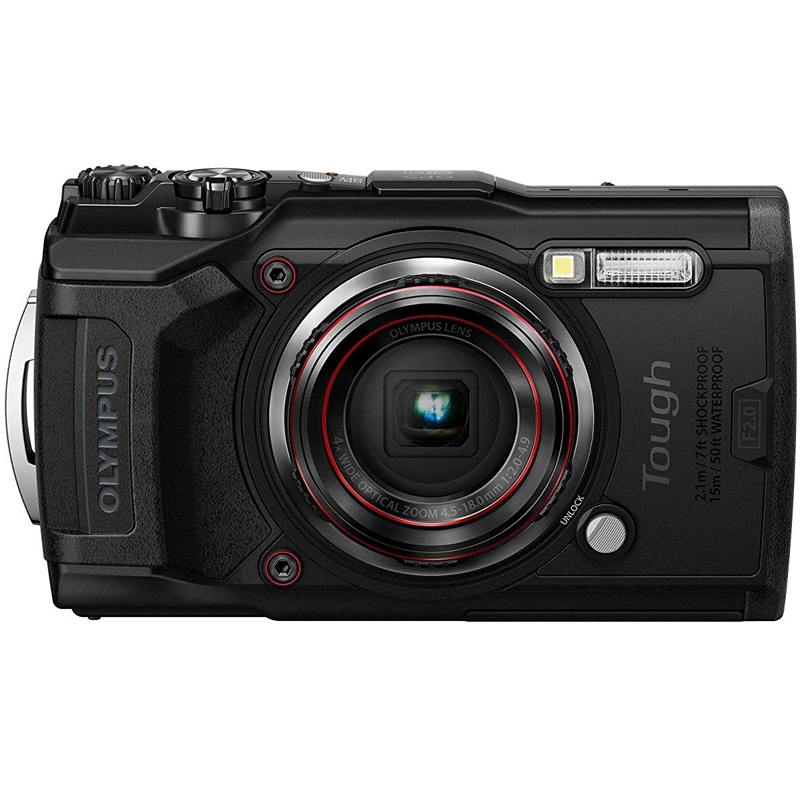 Olympus TG-6 Tough Underwater Camera (Black)
SKU: Olympus V104210BA000
UPC: 4545350052676