Canon EOS 80D DSLR Camera with Tokina 11-16mm f/2.8 AT-X Pro DX II Lens
Free Shipping for Orders over $98*

(*excludes bulky items)
No SURCHARGE FOR CREDIT CARDS
- 24.2 Megapixel APS-C Sensor
- Comes with Tokina 11-16mm f/2.8 AT-X Pro DX II Lens
- DIGIC 6 Image Processor
- Full HD 1080p video recording at 60 fps
- Burst shooting of up to 7 fps
- ISO range of 100-25,600
- Near 100% coverage optical viewfinder
- Servo AF II Autofocusing system
- 3.0", 1.04M-dot, variable angle touchscreen LCD
- 45-point Autofocus system
- Improved Dual Pixel CMOS Autofocus
- HDR and Time Lapse movie modes
- Creative Filter options
- Built-in Wi-Fi and NFC capability
- 2 Years Genuine Warranty with Canon Australia
24.2 Megapixel APS-C Sensor
Comes with Tokina 11-16mm f/2.8 AT-X Pro DX II Lens
DIGIC 6 Image Processor
Full HD 1080p video recording at 60 fps
Burst shooting of up to 7 fps
ISO range of 100-25,600
Near 100% coverage optical viewfinder
Servo AF II Autofocusing system
3.0", 1.04M-dot, variable angle touchscreen LCD
45-point Autofocus module
Improved Dual Pixel CMOS Autofocus
HDR and Time Lapse movie modes
Creative Filter options
Built-in Wi-Fi and NFC capability
2 Years Genuine Warranty with Canon Australia
---
The improved Dual Pixel CMOS Autofocus feature of the Canon EOS 80D DSLR Camera makes it a very formidable upgrade from its predecessor, the 70D. With the help of the Servo AF II Autofocusing system and its 45-point Autofocus module, tracking subjects during still live view shooting is a breeze. However, this Canon DSLR is more than a one-trick pony. Sporting a 24.2 Megapixel APS-C Sensor, it captures captivating stills via the DIGIC 6 Image Processor. Image enhancements can also be accessed through the device's Creative Filter options. Low-light shooting is no problem too because of its wide ISO range of 100-25,600. Taking more images in a shorter time is also allowed via the 80D's burst shooting of up to 7 fps. Likewise, its near 100% coverage optical viewfinder reduces the need to crop images during processing. Full HD 1080p video recording at 60 fps is also possible with this Canon prosumer camera and you can also take advantage of HDR and Time Lapse movie modes. All recorded media and live views of shots can be reviewed through the 3.0", 1.04M-dot, variable angle touchscreen LCD. Once you are satisfied with the shots, you can share them to other mobile devices with its built-in Wi-Fi and NFC capability. This camera comes with Tokina 11-16mm f/2.8 AT-X Pro DX II Lens.
---
Product Features in Detail

DIGIC 6 Image Processor
The EOS 80D camera is equipped with Canon's DIGIC 6 Image Processor, which helps provide excellent image quality and processing speed in both photos and video. High light sensitivity allows for high resolution with less noise when shooting in dark conditions at ISO 12800. The DIGIC 6 Image Processor also powers the camera's performance capabilities, providing full resolution high-speed continuous still shooting and distortion correction in-camera. Video recording in MP4 format provides seamless compatibility with mobile devices and tablets. Highly compressed MP4 video not only preserves space on your memory card but also improves playback on mobile devices. Recording HD videos using HDR movie feature is possible, expanding creative possibilities.

A touchscreen LCD that offers flexibility
The EOS 80D camera comes with a Vari-angle Touch Screen 3.0-inch Clear View LCD monitor II for shooting videos and stills at a variety of angles, high or low, with up to 270° of vertical rotation and up to 175° of horizontal rotation. Whether shooting with a tripod or handheld, the EOS 80D's LCD excels in moviemaking at virtually any number of angles and positions, making it easy to create great movies of athletes on the field, kids in the park, documentary interviews and more. The screen is touch-sensitive, delivering intuitive touch panel operation. Two-finger touch gestures can be used for zooming or changing images. Menu and quick control settings can be accessed, and focus point and shutter release can be activated with the touch of a fingertip using Touch AF. Displaying fine detail (at approximately 1.04 million dots), this screen can be ideal for composing and reviewing images. The LCD's surface is also treated with a smudge-resistant coating to help minimize fingerprints and maintain a bright, clear image display, even in bright light.

45-point, all crossfire Autofocus system
For next-level AF operation, the EOS 80D camera has a wide-area, 45-point, all cross-type AF system. Excellent in dim light, it has improved low luminance performance to EV -3 and is compatible with most EF lenses (lenses with maximum apertures of f/8 or higher, and some lenses with extenders attached may operate at a maximum of 27 points). It also features 4 types of AF area selection modes useful for a number of different AF situations. These include user-selectable Single-point AF, Zone AF, where users can select from one of 9 predefined AF zones; Large Zone AF, where one of three zones can be selected; and 45-point AF auto selection, where the camera detects the AF point automatically.

An almost perfect viewfinder
Providing a bright and comprehensive view, the EOS 80D camera's Intelligent Viewfinder helps bring the thrill of SLR photography with each use. Approximately 100% coverage means there's virtually no guesswork when it comes to composition, and with all settings available at a glance, the Intelligent Viewfinder helps photographers keep their eye on their subject so the image can be captured at the right instant. The Intelligent Viewfinder displays AF points and AF mode, has a grid display, a horizontal electronic level, plus numerous other points of information, all of which can be hidden for manual focus, or if the photographer simply wants to observe his/her subject without all the image parameters displayed.

Dual Pixel CMOS AF 2.0
The EOS 80D camera features Canon's improved Dual Pixel CMOS AF for fast and smooth AF during Live View and movie shooting. Boasting enhanced speed, smoother tracking and compatibility with all EF and EF-S lenses, the EOS 80D's Dual Pixel CMOS AF system excels, providing stellar AF and tracking even in difficult shooting conditions. This Canon technology is made possible by placing two photodiodes per pixel, instead of one, and enabling each pixel to perform phase-difference detection autofocus. This means fast, accurate AF and virtually no loss in image quality with extended coverage across approximately 80% of the image plane.
The benefits of Dual Pixel CMOS AF are clearly evident in video shooting, where bringing scenes and subjects into focus is a critical element of the final composition. On the EOS 80D, Dual Pixel CMOS AF helps ensure focus is achieved naturally and precisely, even when switching between subjects. Combined with the predictive power of Movie Servo AF, subjects in motion are smoothly and consistently tracked – once the EOS 80D locks focus, it virtually doesn't let go.
Aim high with NFC and Wi-Fi
The new EOS 80D camera incorporates wireless technology right into its compact design. The camera's exposure settings, such as aperture, shutter speed, ISO, focus and shutter can be operated wirelessly using a compatible iOS® or Android™ smartphone with the free Canon Camera Connect app. Using a compatible smartphone with the Camera Connect app installed, you can shoot remotely from a distance, even in Live View mode, for those difficult-to-capture shots; you can also review images on the EOS 80D without having to take it out of the bag, and easily transfer and save images directly from the camera to a smartphone. Full DLNA (Digital Living Network Alliance) compatibility means easy sharing between the EOS 80D and other DLNA products, like HDTVs, smartphones and more. Still images can even be transferred between two wireless-enabled Canon cameras over a Local Area Network (LAN). Images and video can be uploaded instantly to CANON iMAGE GATEWAY# for easy sharing on social networking sites, and photos can even be printed on a wireless PictBridge-certified printer without the need for a PC. Remarkably, the EOS 80D has all of these wireless features without the need for any additional accessories; they're built right in!
Meanwhile, Near Field Communication helps provide a virtually seamless connection to numerous compatible Android™ smartphones, and the Canon Connect Station CS100. To transfer your photos and videos, simply tap the EOS 80D camera to the Connect Station CS100 and the transfer is done! With the Connect Station CS100, you can store, view and organize all of your photos and videos from just one device.

Superb HD video recording
The EOS 80D camera makes it easy to capture and share high-definition, high-quality movies quickly, easily and with virtually no compromise. In bright daylight or at dusk, whatever the speed of the action, the EOS 80D can help make sharp, beautifully exposed movies that are as easy to share as they are to capture. The camera's Dual Pixel CMOS AF system focuses fast, and Movie Servo AF tracking helps maintain focus even when the action gets going. The Vari-angle Touch Screen monitor also makes it easy to compose from most any vantage point, while Creative Filters and a clever Video Snapshot feature encourage experimentation. The ability to record movies as both MOV and MP4 files makes sharing fast and easy. Manual volume recording control, digital zooming and a headphone terminal add to the EOS 80D's impressive collection of high-end moviemaking features.

RGB + IR Metering Sensor
Among the advanced electronics onboard the EOS 80D camera, a fine-tuned RGB+IR metering sensor not only helps ensure accurate exposure, but also uses Color Tracking to detect skin color and help provide precise AF. This is particularly useful when establishing focus for portraits in situations where other AF systems may falter. When a skin tone is detected, AI Servo AF starts off on skin-colored points, then tracks the subject based of the original AF point's color information, maintaining focus on the person even when they're in motion.

Enhance videos wth HDR and Time Lapse
The EOS 80D camera introduces a number of new HDR (High Dynamic Range) modes that offer a great range of highlight and shadow detail for naturally rendered images, especially in contrasting lighting. In HDR Movie mode, the EOS 80D captures two HD movie frames at different exposures, one standard and one underexposed, in short succession at up to 60 fps, then combines them together for playback at up to 30 fps. HDR effects for still photography include Natural, Art standard, Art bold, Art vivid and Art embossed.

Meanwhile, it also has a Time-Lapse Movie feature that takes still photos at set intervals and joins them to create a silent movie. Ideal for showing the moving clouds across the sky, growth of a plant, changes in scenery, the flow of people walking and more, the EOS 80D's Time-Lapse Movie function creates professional-quality movies in-camera without the need for a computer, saving precious time when out in the field.
---
Included in the Box

Canon EOS 80D DSLR Camera with Tokina 11-16mm f/2.8 AT-X Pro DX II Lens
Rechargeable Lithium-Ion Battery LP-E6N
Battery Charger LC-E6
Eyecup Eb
Wide Strap
24 months warranty card with Canon Australia
---
Warranty Information
This Canon EOS 80D DSLR Camera with Tokina 11-16mm f/2.8 AT-X Pro DX II Lens comes with 24 Months Warranty with Canon Australia.
All our cameras are sourced from authorised Australian suppliers and therefore come with genuine manufacturers warranty.
Camera Warehouse does not participate in 'Grey Market' or 'Parallel Import' activities.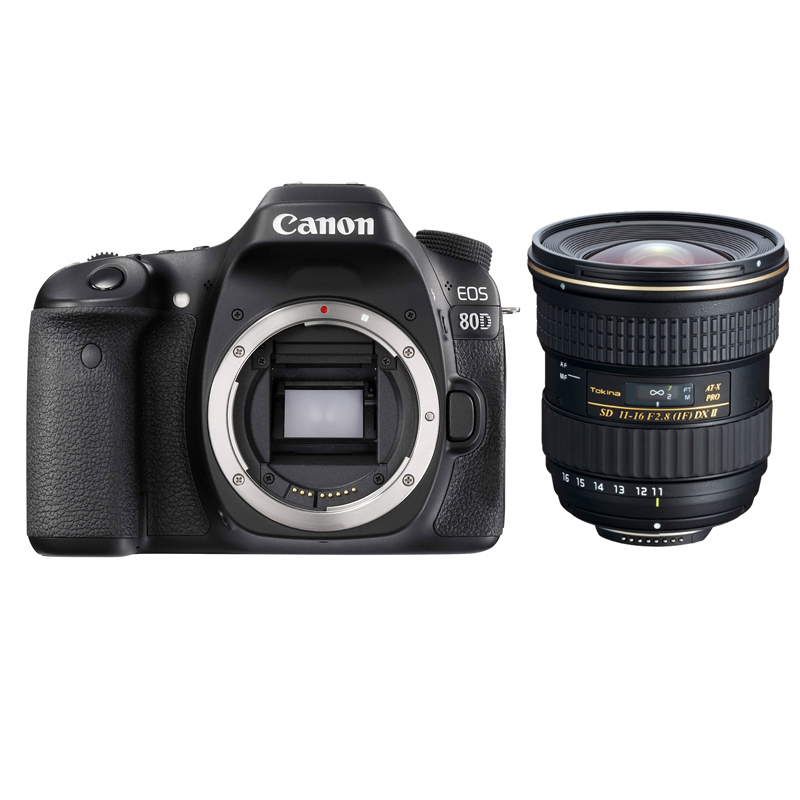 Canon EOS 80D DSLR Camera with Tokina 11-16mm f/2.8 AT-X Pro DX II Lens