Nikon Z Macro Kit Z MC 50mm 2.8 Lens & SB-5000 Speedlight
Regular Price
A$1,459.00
Special Price
A$1,251.95
save: A$207.05
Free Shipping for Orders over $98*

(*excludes bulky items)
No SURCHARGE FOR CREDIT CARDS
Comes with the Nikon Speedlight SB-5000 Radio-Controlled Flash
Z-Mount Lens/FX Format
f/2.8 to f/22 Aperture Range
50mm Focal Length
One ED Element, One Aspherical Element
1:1 Magnification
0.53ft (0.16m) Minimum Focus Distance
Magnification and Focus Distance Indexes
STM Autofocus System
Focus Range Limiter
Weather-Sealed Construction
Compatible with ES-2 Film Digitizing Set
Let your photography be at the top of uncanny shooting possibility especially in shooting in a life-size 1:1 maximum magnification along with its 0.53ft (0.16m) Minimum Focus Distance for close-up shots. Having an f/2.8 to f/22 Aperture Range lets you confidently work in any light conditions and helps increase control over depth of field for subjects.
It offers full scale sharpness is excellent and in addition, a rounded nine-blade diaphragm ensures beautiful bokeh and background blur to isolate the subject from the background. The lens incorporates STM Autofocus System and a stepping motor for fast, smooth, precise, and quiet autofocus, the quiet drive system makes it perfect for use when shooting video. ED and aspherical lens elements are integrated to the optical construction to provide optimal correction of blurs and chromatic aberration, while a fluorine coating prevents the sticking of dirt, water, and smudges to the lens. Front-focusing design lessens the size and weight of the lens for effortless transporting. This lens is also built with weather-sealed construction and is compatible with ES-2 Film Digitizing Set. This kit comes with the Nikon Speedlight SB-5000 Radio-Controlled Flash.
---
Product Features in Detail
Set your sights on a new world.
50mm is a natural focal length. Similar to our field of vision, it just feels right in so many situations. The NIKKOR Z MC 50mm f/2.8 brings that just-right feeling to the exciting world of macro. Shoot as close as 0.16m and capture the smallest details at 1x lifesize magnification—ideal for spontaneous snapshots, food photography or exploring the small details of everyday life. Or use it as an an everyday lens to enhance foreground/background separation and selective focus. Compact, lightweight and weather-sealed, it's likely to become one of your most prized and versatile lenses.
Up close & personal.
Get as close as 0.16m to highlight the smallest details. Exciting new possibilities open at this distance—frame-filling views that reveal hidden textures, shapes and details, all in a natural-feeling 50mm perspective.
Optimal optics.
NIKKOR Z MC 50mm f/2.8's AF system is optimized for close distances—fast, accurate and virtually silent with suppressed hunting and breathing. Manual adjustments are silky smooth and precise. Flip the Focus Limiter switch and get even more speed and accuracy across a smaller distance range.
Large as life.
The key to transporting your viewer to smaller worlds is 1x lifesize magnification. This 1:1 reproduction ratio creates an effect unique to macro lenses. Use it to draw attention, add drama or accurately reproduce small objects and documents.
The beauty of bokeh.
Wide open at f/2.8, The NIKKOR Z MC 50mm f/2.8 creates a beautiful soft background blur or bokeh. Create images with dramatic selective focus, background/foreground separation for drawing in your viewer's attention.
More than macro.
The NIKKOR Z MC 50mm f/2.8 is also an outstanding everyday and portrait lens. The combination of its shallow depth of field and 1x lifesize magnification creates a unique, almost three-dimensional, effect in your stills and videos. And its compact, rugged design make it a multipurpose workhorse.

Mini to the max.
Nikon's unique front-focusing design minimizes the size and weight of the NIKKOR Z MC 50mm f/2.8. This is a wonderful compact, comfortable prime you'll want to leave on your camera.

Real-world ready.
Getting close to your subject means sometimes accidentally coming in contact with it. When this happens, the NIKKOR Z MC 50mm f/2.8's nonstick Fluorine coating prevents fingerprints, smudges and grime on the front surface. It's also weather sealed against dust, dirt and moisture, so you can confidently take it anywhere.

The mount that makes the difference.
Nikon uses the largest lens mount of any full-frame mirrorless system. It may seem like a small difference, but it's impact is huge. More light capture. Sharper details. Better colors. Less distortion. Lighter lenses.
Stop stopping down.
The sweet spot of traditional lenses are often a stop or two from wide open. Not NIKKOR Z lenses. They're just as sharp wide open as they are stopped down.
Edge-to-edge sharpness.
NIKKOR Z lenses are as sharp at their edges as they are at their centers. Vignetting and light falloff seen in traditional lenses are virtually nonexistent.
Minimal distortion.
NIKKOR Z lenses have conquered many traditional imperfections. The NIKKOR Z MC 50mm f/2.8 uses both Aspherical and Extra-low Dispersion glass elements to virtually eliminate chromatic aberration usually seen in macro close-up shooting.
Keep it clean.
Unique dust, dirt and moisture repelling coating. Easy to clean.
Range limiter.
Shorten the autofocus range for close distances. Faster, more precise performance.
Front focus = compact.
Compact, sturdy design, thanks to a front-focusing system.
Digitize your memories.
Attach the optional ES-2 Film Digitizing Adapter Set to the NIKKOR Z MC 50mm f/2.8 and turn your full-frame Z series camera into a high-resolution film digitizer. Bring 35mm film negatives or slides back to life as stunning digital images.
Aspherical Lens
A lens with a curved, non-spherical surface. Used to reduce aberrations and enable a more compact lens size. Aspherical lenses minimize coma and other types of lens aberrations, even when used at the widest aperture. They are particularly useful in correcting distortion in wide-angle lenses and help contribute to a lighter, more compact design by reducing the number of standard (spherical) elements necessary. Aspherical lens elements correct these distortions by continuously changing the refractive index from the center of the lens.
ED (Extra-Low Dispersion) Glass
An optical glass developed by Nikon that is used with normal optical glass in telephoto lenses to obtain optimum correction of chromatic aberrations.
Stepping Motor
NIKKOR Z lenses use a stepping motor for fast, accurate, smooth, quiet autofocus with reduced wobbling. This quiet drive system makes the lenses ideal for use when shooting video.
Electromagnetic Diaphragm Mechanism
An electromagnetic diaphragm mechanism in the lens barrel provides highly accurate electronic diaphragm or aperture blade control when using auto exposure during continuous shooting.
Fluorine Coat
Photographers need gear that can withstand the elements. Nikon's fluorine coat effectively repels dust, water droplets, grease or dirt, ensuring easy removal even when they adhere to the lens surface. Nikon's fluorine coat endures a high frequency of lens surface wiping and its anti-reflective effect also contributes to the capture of clear images.
Mount Type
Nikon Z Mount
Focal Length
50mm
Maximum Aperture
f/ 2.8
Minimum Aperture
f/ 22
Format
FX
Maximum Angle of View (DX-format)
31°30′
Maximum Angle of View (FX-format)
47°
Maximum Reproduction Ratio
1x
Lens Elements
10
Lens Groups
7
Diaphragm Blades
9
ED Glass Elements
1
Aspherical Elements
1
Fluorine Coat
Yes
Autofocus
Yes
AF Actuator
STM (stepping motor)
Minimum Focus Distance
0.53ft (0.16m) from focal plane
Focus Mode
Auto/Manual
Filter Size
46mm
Approx. Dimensions (Diameter x Length)
3 in. (74.5 mm) x 2.6 in. (66 mm)
Distance to end of lens from camera lens mount flange. Based on CIPA guidelines
Approx. Weight
9.2 oz. (260 g)
Based on CIPA guidelines
Micro
Yes
Lens Type
Prime

For Nikon Speedlight SB-5000 Radio-Controlled Flash:

Commander Function

Yes

Remote Function

Yes

Transmission Mode

Radio control and optical communication

Transmission Range

Radio control approx. 98 ft. (30m), optical communication - line of sight

Guide Number

34.5 m/113 ft. (at 35 mm) 55 m/180 ft. (at 200 mm) (FX format, standard illumination pattern) (at ISO 100)

Electronic Construction

Automatic Insulated Gate Bipolar Transistor (IGBT) and series circuitry

Flash Exposure Control

i-TTL Balanced Fill-Flash with CLS compatible cameras

Lens Coverage

24 to 200mm lens, 14mm with wide panel (in FX format)

Illumination pattern

The light distribution angle is automatically adjusted to the camera's image area in both FX and DX formats
Standard
Even
Center-Weighted

Other Available Functions
Test-Firing
Monitor Pre-flashes
AF-assist illumination for multi-point AF
Modelling illuminator
Bounce Function (Tilt)

Flash head tilts down to -7° or up to 90° with click-stops at -7°, 0°, 45°, 60°, 75°, 90°

Bounce Function (Rotate)

Flash head rotates horizontally 180° to the left and right with click-stops at 0°, 30°, 60°, 75°, 90°, 120°, 150°, 180°

Minimum Recycling Time

1.8 sec. (approx.) with Ni-MH (2600 mAh) batteries
2.6 sec. (approx.) with AA-size Alkaline (1.5V) batteries

Flash Duration

1/980 sec. at M 1/1 (full) output
1/1,110 sec. at M 1/2 output
1/2,580 sec. at M 1/4 output
1/8,890 sec. at M 1/16 output
1/13,470 sec. at M 1/32 output
1/18,820 sec. at M 1/64 output
1/24,250 sec. at M 1/128 output
1/30,820 sec.at M 1/256 output

Required Power Source

Four 1.5 V alkaline AA-size batteries

Optional Power Supply

SK-6 Power Bracket Unit, SD-9 High-Performance Battery Pack

Flash-ready Indicator

Rear and Front lights blink: Insufficient light for correct exposure (in i-TTL, Auto Aperture flash, Non-TTL Auto flash, or Distance-priority manual flash operations).
Rear lights up and Front blinks: recycled and ready to fire.

Ready Light
Front, Back
Flash Compensation

–3.0 EV to +3.0 EV in increments of 1/3 steps in i-TTL auto flash, Auto Aperture flash, Non-TTL auto flash and Distance-priority manual flash modes

Custom Setting

AF-Assist Illumination

Minimum Number of Flashes and Recycling Time

150/2.6-30 sec. (1.5V AA Alkaline-manganese)
190/1.8-30 sec or more (1.2V AA rechargeable Ni-MH batteries)

Wireless Flash Modes
Master, Remote
Wireless Groups

Radio controlled: Master + 6 groups
Optically controlled: Master + 3 groups

Other Functions

Improved Thermal Cut-out

Dimensions

73 x 137 x 103.5 mm (Approx.)

Weight (Approx. without batteries)

14.9 oz. (420 g)
This product comes with 12 Months Australian Manufacturer Warranty with Nikon. Our products are sourced from authorised Australian suppliers and therefore come with genuine Australian warranty. Camera Warehouse does not participate in 'Grey Market' or 'Parallel Import' activities.
Nikon Z Macro Pack with Nikkor Z MC 50mm f/2.8 Macro Lens & SB-5000 Speedlight
Nikon LC-46B 46mm Front Lens Cap
Nikon LF-N1 Rear Lens Cap
HN-41 Lens Hood
Lens Case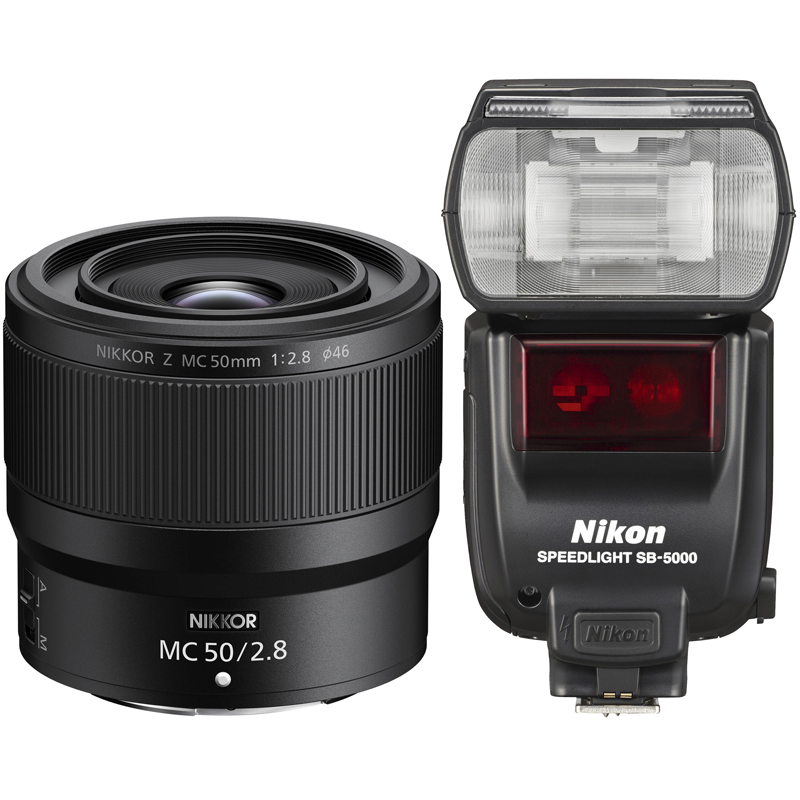 Nikon Z Macro Kit Z MC 50mm 2.8 Lens & SB-5000 Speedlight
SKU: Nikon 850603
UPC: 9322250001929