DJI OM5 Smartphone Gimbal - White
Free Shipping for Orders over $98*

(*excludes bulky items)
No SURCHARGE FOR CREDIT CARDS
Extendable/Foldable Smartphone Gimbal Stabilizer
Magnetic Phone Clamp with Strong Torque
Even More Compact, up to 230g Load
215mm Extension Rod
Dynamic Zoom, SpinShot, Story Mode
ActiveTrack 4.0, Follow, and Sport Modes
Supports Smartphones up to 84mm Wide
Time-Lapse, Hyperlapse, Panorama Modes
Control Gimbal/Phone with DJI Mimo App
Make way of satisfying your stabilization needs with DJI's OM5 Smartphone Gimbal. An Extendable and Foldable Smartphone Gimbal Stabilizer offering a Magnetic Phone Clamp with Strong Torque so to provide a steady, smooth footage to achieve clear and crisp high-resolution shots and HD movies.
It is made to be more compact at only 292 g but can easily carry a load capacity of up to 230 g with maximum phone width of 84mm wide. A 215mm Extension Rod provides additional length to make even more creative shots.
The OM 5 features Bluetooth 5 control and syncs with the gimbal and phone with the DJI Mimo app to provide multiple shooting modes and functions, including Sport, Portrait, Underslung, Landscape, Time-Lapse, Hyperlapse, Story Mode, Panorama Modes, Dynamic Zoom (Dolly Zoom), enhanced "CloneMe" Panorama, SpinShot (Inception-style spin), Slow-Motion, ActiveTrack 4.0, Follow and Sport mode.
---
Product Features in Detail
Portable and Easy to Use
Compact and easy to fit in your pocket or bag when folded, DJI OM 5 features a magnetic design to shoot anywhere, anytime.

Perfect for Selfies and Creative Angles
Include more friends in a selfie, or capture footage from unique new angles with the built-in 215mm extension rod.

ActiveTrack 4.0
With more advanced recognition capabilities and higher responsiveness, ActiveTrack 4.0 reliably tracks subjects with just a tap.

3-Axis Stabilization
Enhanced gimbal stabilization makes sure your phone stays where it needs to be, even during dynamic movements and when using larger smartphones.

Effortlessly Shoot Like a Pro
ShotGuides automatically recognizes your environment and recommends a corresponding shot sequence along with short video tips for how to get it

Master Every Shot
Portable and palm-sized with a built-in extension rod, DJI OM 5 is a versatile companion that unlocks the full potential of your smartphone. Enjoy flawless selfies, super-smooth video, automatic tracking, and much more. A new ShotGuides feature even provides creative tips, empowering you to get stunning shots wherever you go. With OM 5, get ready to master every shot.

DJI Stabilization Technology
DJI OM 5 gives users the ability to film with flawless stabilization, resulting in smooth footage that wows.
The key to OM 5's stabilization is three powerful motors that make sure your phone stays where it needs to be, even during dynamic movements and when using larger smartphones.
Loaded with some of the smartest algorithms we've ever made, OM 5 adapts to your movements while filming, whether you're riding a bike or using gesture control. That means ultra-smooth results. Anytime. Anywhere.

New Design, Better Results
Foldable and lightweight, OM 5 was designed to fit in the palm of your hand. That means you can easily take it along for any adventure. And for the first time, we've included a built-in extension rod, letting you include more friends in a selfie or capture footage from unique new angles.
OM 5 makes no compromises when it comes to quality, and that includes its flexible, highly durable metal joints for a premium fit and finish.A precision-crafted 215mm extension rod extends smoothly and uniformly, providing easier adjustments and more creative options when shooting.The handle is ergonomically designed to fit perfectly in the palm of your hand.

Two Colors, Infinite Style
DJI OM 5 comes in a gorgeous new sunset white color, which represents the subtle hues of a sunset. Inspired by Greek architecture, DJI OM 5 is available in a classic Athens Gray.

Shoot Like a Pro
ShotGuides automatically recognizes your environment and recommends helpful shooting tips and creative templates. From recording to editing, this advanced new feature lets even first-time users capture stunning results.

Stay in Frame
What did we improve for ActiveTrack 4.0? Pretty much everything. From more advanced recognition capabilities to higher responsiveness, there's even a new automatic face tracking feature for selfie mode. Tracking that's this good and reliable lets you focus on your surroundings and stay in the moment.

A Mode for Every Moment
Any moment can be a masterpiece, and with DJI OM 5, a wide range of intelligent shooting modes means you'll always be ready to creatively capture it all.
General
Gimbal Dimensions
Unfolded: 264.5×111.1×92.3 mm
Folded: 174.7×74.6×37 mm
Weight
Gimbal: 292 g
Magnetic Phone Clamp: 34 g
Max Length of Built-in Extension Rod
215 mm
Compatible Phone Weight
230 ± 60 g
Compatible Phone Thickness
6.9-10 mm
Compatible Phone Width
67-84 mm
Battery
Type
Pouch Cell
Capacity
1000 mAh
Energy
7.74Wh
Voltage
6-8.8 V
Charging Temperature
5° to 40°C (41° to 104°F)
Operating Temperature
0° to 40°C (32° to 104°F)
Operating Time
6.4 hrs (under ideal conditions with the gimbal fully balanced)
Charging Time
1.5 hrs (measured with a 10W charger)
Gimbal Charging Port
USB-C
External Device Charging Port
No.
Universal Mount
1/4" Threaded Hole
Gimbal
Power Consumption
1.2 W (under ideal conditions with the gimbal fully balanced)
Mechanical Range
Pan: -161.12° to 172.08°
Roll: -127.05° to 208.95°
Tilt: -101.46° to 229.54°
Max Control Speed
120° /s
Wireless Mode
Model
Bluetooth Low Energy 5.0
Others
App
DJI Mimo
Grip Tripod
Gimbal Dimensions
Length: 138 mm
Diameter: 32 mm
Weight
72 g
This product comes with 12 Months Australian Manufacturer Warranty. Our products are sourced from authorised Australian suppliers and therefore come with genuine Australian warranty. Camera Warehouse does not participate in 'Grey Market' or 'Parallel Import' activities.
DJI OM5 Smartphone Gimbal - White
Magnetic Phone Clamp 2
Grip Tripod
Wrist Strap
USB Type-C to Type-A Charging Cable
Storage Pouch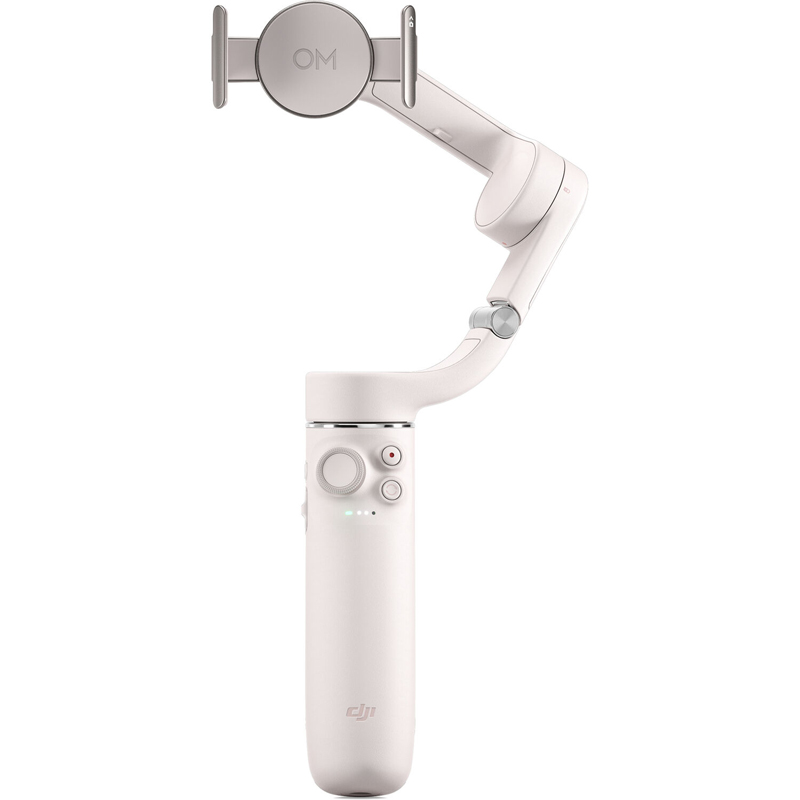 DJI OM5 Smartphone Gimbal - White
SKU: DJI CP.OS.00000160.01
UPC: 6941565917690