B-Plus-W F-Pro 010 UV-Haze Filter MRC 82mm
Free Shipping for Orders over $98*

(*excludes bulky items)
No SURCHARGE FOR CREDIT CARDS
- 82mm Front Filter Thread
- Clear Protective Filter
- F-Pro Brass Filter Ring
- Absorbs Ultraviolet Light
- MRC Multi-Resistant Coating
- Reduces Bluish Cast of Daylight
- 1x Filter Factor, No Exposure Change
- Schott Glass Construction
- Part Number BW-45076
- 12 Months Genuine Australian Warranty with Blonde Robot
82mm Front Filter Thread
Clear Protective Filter
F-Pro Brass Filter Ring
Absorbs Ultraviolet Light
MRC Multi-Resistant Coating
Reduces Bluish Cast of Daylight
1x Filter Factor, No Exposure Change
Schott Glass Construction
Part Number BW-45076
12 Months Genuine Australian Warranty with Blonde Robot
---
A wide variety of camera lens filters are scattered all around the globe. But do you know what really fits for use in different circumstances? Photographers should always know what should be used in any occasion. If you are to use your lens and needs to infiltrate unwanted cast of the sun, B+W F-Pro 010 UV-Haze Filter MRC is the right filter for you. It Reduces Bluish Cast of Daylight, Absorbs Ultraviolet Light, and at the same time acts as a Clear Protective Filter to your lens. It is of Schott Glass Construction and comes with 82mm Front Filter Thread. These filters have 1x Filter Factor, where No Exposure Change takes place. They are also made of F-Pro Brass Filter Ring and finished with MRC Multi-Resistant Coating. It comes with Part Number BW-45076.
---
Product Features in Detail
Schneider's Proprietary MRC Coating
MRC refers to the unique Multi Resistant Coating developed by Schneider-Kreuznach, which comes as standard on B+W XS-Pro Digital Filters. It provides perfect anti-reflection, brilliant colors and high contrast. Only Schneider lenses and B+W filters are protected by this extremely resistant multi-layer broadband coating (eight layers on both sides). In addition, the scratch-resistant, water- and dirt- repellent outer layer makes it easier to clean the glass surface. Due to its low residual reflection (0.5%) MRC prevents ghosting or double images, which can be caused by return reflections from sensors.
Multi-Resistant Coating (MRC) with Nano Technology
The nano coating is an outer layer of protection that comes standard with all F-Pro 007 Clear MRC filters. The nanotechnology based characteristic (lotus effect) produces a better beading effect with water making the cleaning of this filter even simpler and faster than ever before. MRC nano has an improved outer (8th) layer over regular MRC.
Front Threads
B+W XS-Pro Digital Filters have front threads for mounting additional accessories such as filters, screw on shades and lens covers. These filter rings are made of brass and are matt black to prevent reflections.
B+W protection filters
The classic amongst the B+W protection filters blocks the annoying UV component of daylight. Invisible UV light is more intense in pure sea air and in high mountain regions and can cause blurring and a blueish cast. The color-neutral B+W F-Pro 007 Clear MRC filter is equally suitable for both analog and digital cameras. It ensures more brilliant images and can remain on the lens permanently as front lens protection.
---
Included in the Box
B+W F-Pro 010 UV-Haze Filter MRC 82mm
12 Months Genuine Australian Warranty with Blonde Robot
---
Warranty Information
This B+W F-Pro 010 UV-Haze Filter MRC 82mm comes with 12 Months Genuine Australian Warranty with Blonde Robot.
Our products are sourced from authorised Australian suppliers and therefore come with genuine Australian warranty.
Camera Warehouse does not participate in 'Grey Market' or 'Parallel Import' activities.
| | |
| --- | --- |
| Type | UV/Haze Filter |
| Filter Size | 82 mm |
| Filter Factor | 1 (0 stop) |
| Multi-Coated | Yes |
| Color Temperature | Does not affect color |
| Effect | Protection to the camera lens |
| Construction | Schott glass |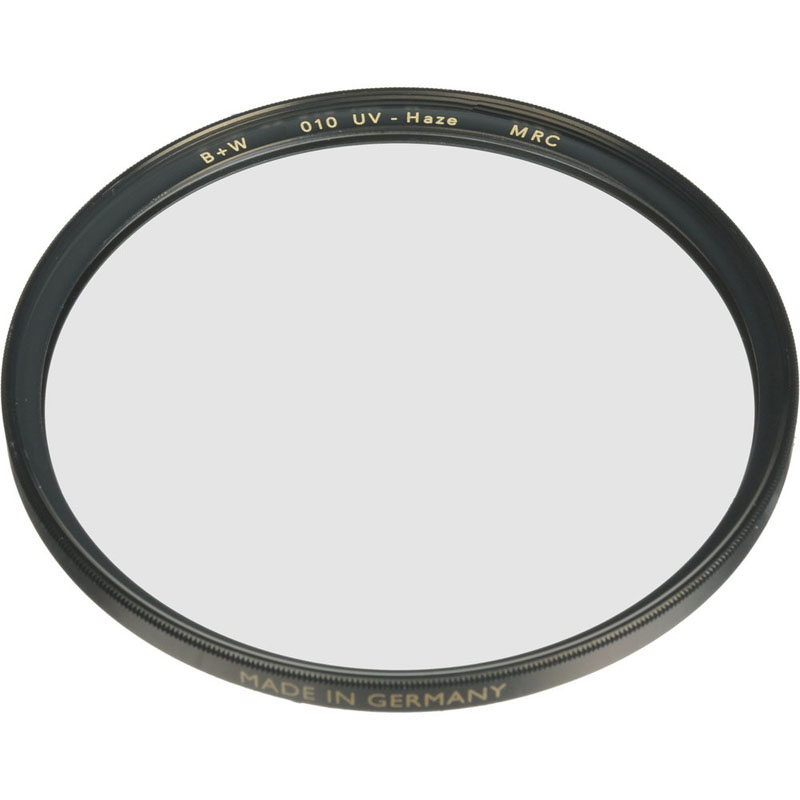 B-Plus-W F-Pro 010 UV-Haze Filter MRC 82mm